Event Access Permission
Event Access Permission
Choose the level of access that each participant will have on the platform
Attendees can have different roles in the event. The different levels can be specified by the admin  of that specific company and they can optimize the control necessary to maintain the organization and success of your event.
Types of Permission
There are 4 types of permission in a event:
User: Are able to download the app and use the features. They are not able to edit any information of the event.
Admin: Can modify all the information of the event.
Presenter: A guest speaker of your event can have access control of their camer, microphone and screensharing capabilities
Data Collector: Can collect information, such as access control and read attendees QR Codes.

How to change the role of a participant
To change the role of your participant, click on PEOPLE > ATTENDEES > EDIT > PERMISSION and select the option.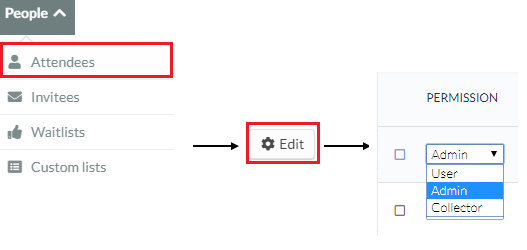 ---
How Did We Do?
---