Beginner Workflow - InEvent App
Would you like to start organizing your event but do not really know where to start? We can help you by suggesting a workflow.
This guide will take you through a common workflow of Customizing your InEvent app and uploading your event attendees
How to download the InEvent app
Go to you Google Play or apple Store and search for "InEvent App"
Once you have downloaded the app you will be prompted to enter a four digit code:
To find your four digit company code go to the InEvent platform and click on "DETAILS"
You will find a four digit code towards the top left corner of the details page, enter the code on the app.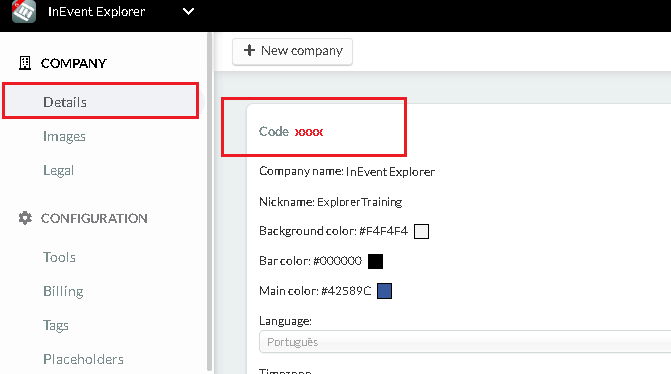 Then enter your login details - Email/username and password.
Create your event
In the Company Settings, Click on EVENTS in the left side menu. Then create a new event.
Your main event summary page will look like this: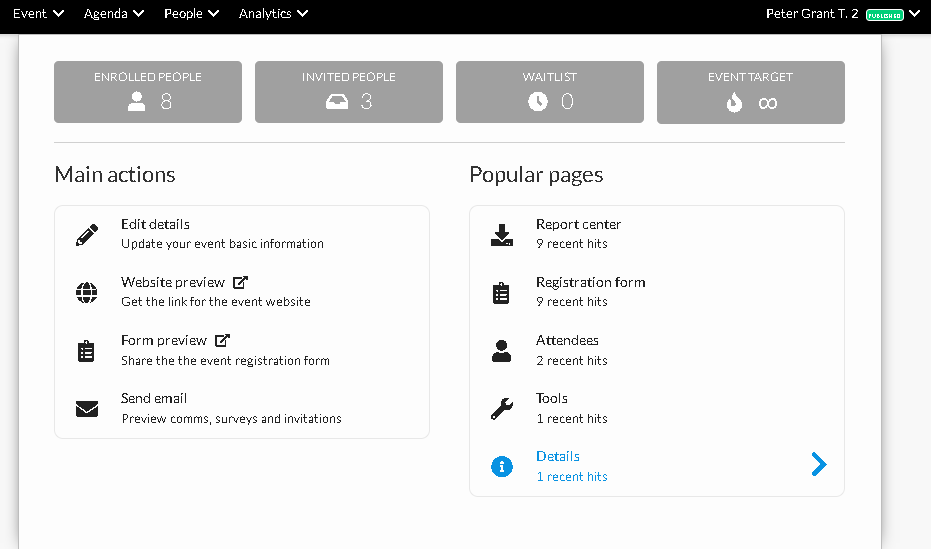 1. Edit Details
The first step in creating an event is to set the Event details.
Click on EVENT  > DETAILS.
Here you can set the structure of your event and input important information such as event dates & times, security, time zones, currency etc...
To learn more click here: Event Details
2.Tools
You can configure any tools ON/OFF for your event.
To take a look at the tools Click SETTINGS  >  TOOLS
To learn more about event tools click here: Event Tools
3. Content
Start uploading your content to the event for your attendees to view via the website or the app. Click on the links below to learn more:
- Who will speak at your event: SPEAKERS
- Who is supporting your event: SPONSORS
- Share Files & Materials with your Attendees
- Add Photos: Photo Gallery
- Organize your event, attendees, sponsors, speakers and activities using TAGS
4. Agenda
Next you can upload your agenda to the platform.
Click on AGENDA > ACTIVITIES.
The agenda is where you place all the activities that you will have at your event.
To learn more about Agenda Click here: Agenda Management
5. Customize your tabs
Here you can create new tabs in your app and also hide default tabs or move the order and the sections they appear on.
To configure your app Tabs click on SETTINGS > TABS
To learn more about tabs click here: Customizable tabs
6. Default texts
Default text allows you change the placeholders of certain buttons inside the app. You can change the wording of these placeholders:
Activity Bind Button (pin to an activity)
Activity dismiss button (unpin from an activity)
Activity details button
activity not available button
To create a placeholder, click on SETTINGS > DEFAULT TEXTS > +ADD HOLDER
To learn more about default texts click here: Default texts
7. App Interactions
Create audience engagement by setting up interactions within the app.
8. Push notifications
Push notification allows you to communicate directly with your attendees.
You can send push messages in real time or schedule them to be send at specific times in your event.
To send/schedule a push notification, click on MARKETING > COMMUNICATION > PUSH MESSAGES > + CREATE MESSAGE.
Important - when scheduling a push message, the server runs on GMT time, so your message should allow for the time difference.
To learn more about it click here: Push notifications
9. Confirmation e-mail
Your app is ready, so it's time to send your attendees the information and download links.
Important
Once your attendees have been uploaded to the platform they will receive an automatic confirmation email.
You can configure this conformation email to be designed how you like and also add important information such as App download links.
You can also add information for the users to login to the app. Containing each individuals company code, username and password.
To design your confirmation email go to MARKETING > COMMUNICATION > AUTOMATIC EMAILS
To learn more about confirmation emails click here: Confirmation emails
10. Uploading attendees
Now you can upload your attendees to the platform, allowing them to receive the confirmation email with the app download links for Google play and App store.
To insert a new attendee, simply click on PEOPLE > ATTENDEES > +ADD PERSON. Then, you can manually insert attendee information, confirm the action and finish by clicking on the blue button CREATE. 
Or you can do a mass import by using spreadsheets. To do this, click on PEOPLE > ATTENDEES > EDIT > IMPORT > DOWNLOAD DEMO FILE. Once your spreadsheet is ready with all your attendees information, all you need to do is click on IMPORT. 
To learn more about how to upload attendees to the platform click here: Managing attendees
---
---