GDPR - General Data Protection Regulation
Established by the European Union, the GDPR - General Data Protection Regulation , is a law that aims the protection of individuals privacy and data.
What is GDPR?
GDPR stands for General Data Protection Regulation. It was established in 2016 by the European Union, and came into effect in May 2018. The law aims to give access and control to individuals over their personal data. It unifies other regulations for international business.

What does GDPR imply to companies outside the European Union?
There are are several ways companies follow the regulation. All companies that are collecting, storing, or processing data of EU citizens are required to follow the standard.

How does this apply to InEvent?
InEvent is an event technology company. Through the use of our application and platform, InEvent records and stores large amounts of personal data. Thus, we are subject to the regulations of the GDPR.

Does InEvent comply to the GDPR standards?

Yes, we do comply with all standards. InEvent constantly upgrades the platform with security level, in order to manage data storage and ensure the company meets all data protection regulations.

At InEvent, we are constantly working towards the reality of responsibly controlling mass data, towards the structural compliance of data protection and privacy. Along with this, adopting a position of greater transparency and openness in our collection, use, and processing, of personal data.

How can a user export their own data?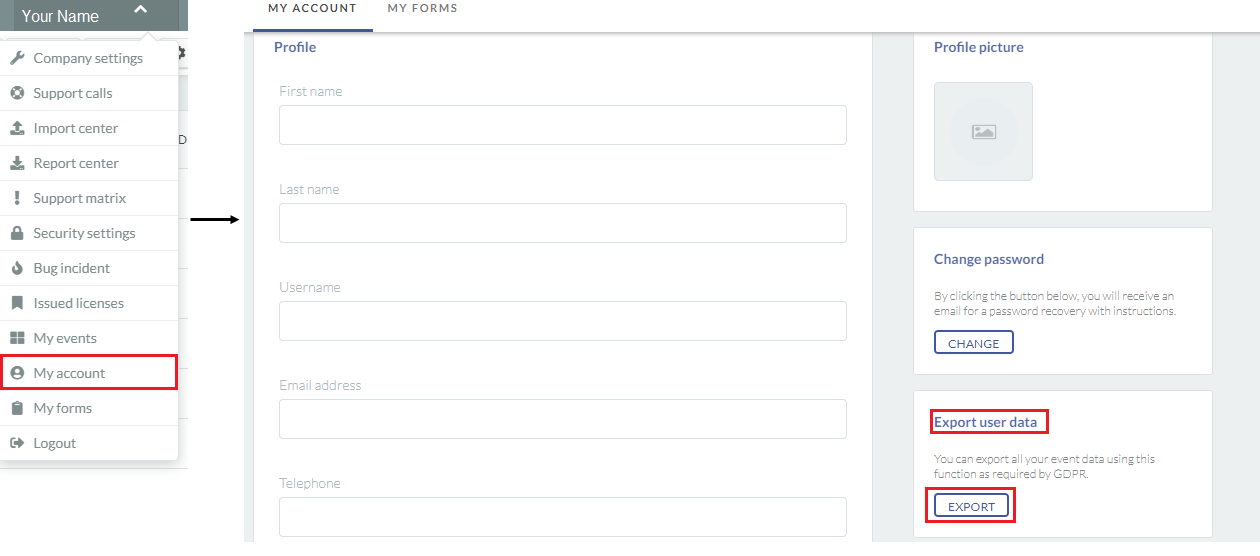 As soon as you click on "Export" you will receive an email with your data.

For details on how InEvent complies with the GDPR, see: Data Security and Management

---
---