Beginner Workflow - Registration website
Would you like to start organizing your event but do not really know where to start? We can help you by suggesting a workflow.
This guide will take you through a common workflow of Creating a registration website and sending out Invites.
In the Company Settings, Click on EVENTS in the left side menu. Then create a new event.
Your main event summary page will look like this: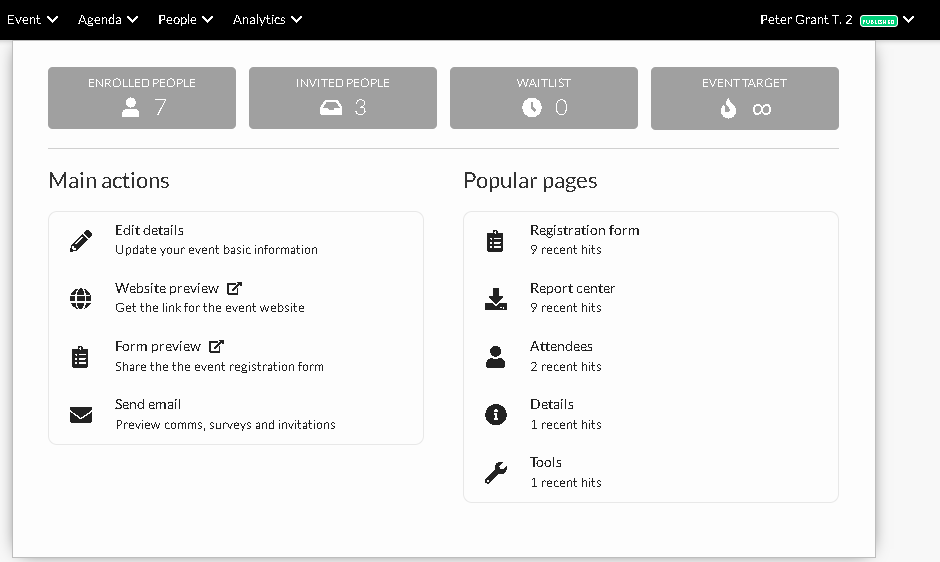 1. Edit Details
The first step in creating an event is to set the Event details.
Click on EVENT > DETAILS.
Here you can set the structure of your event and input important information such as event dates & times, security, time zones, currency etc...
To learn more click here: Event Details
2.Tools
You can configure any tools ON/OFF for your event.
To take a look at the tools Click SETTINGS > TOOLS
To learn more about event tools click here: Event Tools
3. Content
Start uploading your content to the event for your attendees to view via the website or the app. Click on the links below to learn more:
- Who will speak at your event: SPEAKERS
- Who is supporting your event: SPONSORS
- Share Files & Materials with your Attendees
- Add Photos: Photo Gallery
4. Agenda
Next you can upload your agenda to the platform.
Click on AGENDA > ACTIVITIES.
The agenda is where you place all the activities that you will have at your event.
To learn more about Agenda Click here: Agenda Management
5. Registration form
Now you're ready to work on your registration form.
Click on MARKETING > REGISTRATION > REGISTRATION FORM.
Create the registration form for your invitees. Add unlimited questions and choose from a selection of different answer types, including parental.
Click here to learn more: Registration form.
6. Website
Now you can start to easily build your website.
To start, click on MARKETING > LANDING PAGES > WEBSITE.
You'll be able to create a customized Website for your event in a few minutes, select the sections you would like to add, from the left side menu and the data will be pulled automatically from the platform with the content you previously entered.
The registration form can be made available on the website.
To learn more about building your website click here: Website
7. Invitees
Now you can start uploading Invitees. The invitation list of the event allows the creation of a personalized invitation.
To begin importing your invitee list Click on PEOPLE > INVITEES
To learn more about uploading your invitees click here: Invitation List
8. Confirmation email
Important
Once your invitees have registered to the event they will receive an automatic confirmation email.
You can configure this conformation email to be designed how you like and also add important information such as App download links.
To design your confirmation email go to MARKETING > COMMUNICATION > AUTOMATIC EMAILS
You can also turn this automatic email off, in the scenario in which you wish to send targeted confirmation emails to separate attendee groups. This scenario would need the use of Custom Lists & Email Creator
To learn more about the confirmation email click here: Confirmation email
9. Email Creator
You can create and design an email to send out to your invitee list or custom lists containing your website link or simply the registration form.
To learn more about creating an email click here: Email creator
10. Attendees
Once your attendees have registered to the platform, you can view and control the information in the attendee page.
You can also add attendees directly to your event (if confirmation email is ON your attendee will receive a confirmation email when manually added to the platform)
To view your attendees click on PEOPLE > ATTENDEES
To learn more about attendees click here: Attendees
Extra steps
Take a look at some extra steps we can add to this workflow
Waitlist & Approval requirement
---
---