Email Analytics
Using InEvent, you'll be able to send automatic confirmation emails to all your attendees or also to send out personalized emails or some specific communication that you want to pass to your event attendees or some predetermined list.
Besides sending those emails, you'll be able to check how many emails have been sent out, the delivery rate as well as the open rate and bounce rate. To do so, press Marketing > Communication > Email creator. Then, click Analytics in the upper left corner.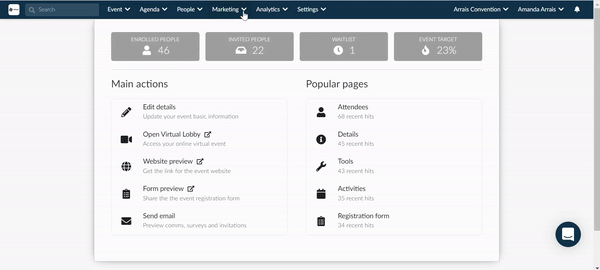 Overview
The main page contains an overview of the analytics. On this page, if you press VIEW you'll be able to check:

Sent: how many emails have been sent out
Delivery rate: how many emails were delivered to its targets
Bounce rate: the percentage of email addresses in your subscriber list that didn't receive your message because it was returned by a recipient mail server.
Open rate: the percentage of your audience that opened the emails you sent them
Click rate: a percentage that tells you how many successfully delivered emails got at least 1 click
Conversion rate: it refers to the percentage of subscribers who complete the desired action. For example, if you add a registration form link, it will count how many people completed their registration converting from an invitee to an attendee.
Engagement and best performing emails
You can see the engagement over time and also your best performing emails.

Email performance: check analytics for one specific email
If you'd like to check analytics for one specific email, scroll until you see the section Email performance
Select the email you'd like to analyze and click on the blue button in the right side of the screen.

You'll be taken to a new page where you'll be able to see the email logs and statistics such as who opened your emails and how many link clicks, spam complaints, and conversions your email had.

Click here to learn more about Email Logs
---
---