Event Access Permission
You can choose the level of access that each attendee will have on the platform
Attendees can have different roles in your event. The different levels can be specified by the admin  of that specific company and they can optimize the control necessary to maintain the organization and success of your event.
Types of Permission
There are 4 types of permission in a event:
Admin: Administrators an modify all the information of the event, in the backend and inside the virtual lobby.
Presenter: A guest speaker of your event can enter all activities with control of their camera and microphone, and have screen sharing capabilities
User: Are able to download the app and use the features. They are not able to edit any information of the event.
Data Collector: Can collect information, such as access control and read attendees QR Codes. This is used for in-person events only.
In addition, you can also set attendees as the following:
Host: This is not a permission level, however, any attendee can be assigned as a room host, and will be provided with admin permissions for that specific activity. They will also be responsible for the control room live stream.
Linked Speaker/Attendee: This is not a permission level, however speaker profiles can be linked to attendee profiles, so when they are outlined to speak at an event, they will be provided with presenter permissions for that specific activity.
To find out how to set a host, or to link a speaker profile to an attendee,
click here.
What can each permission level do?
The following table depicts what abilities each has, and if this is related to all activities within your event, or specific, dependent on the attendee being linked to the event via host or speaker options.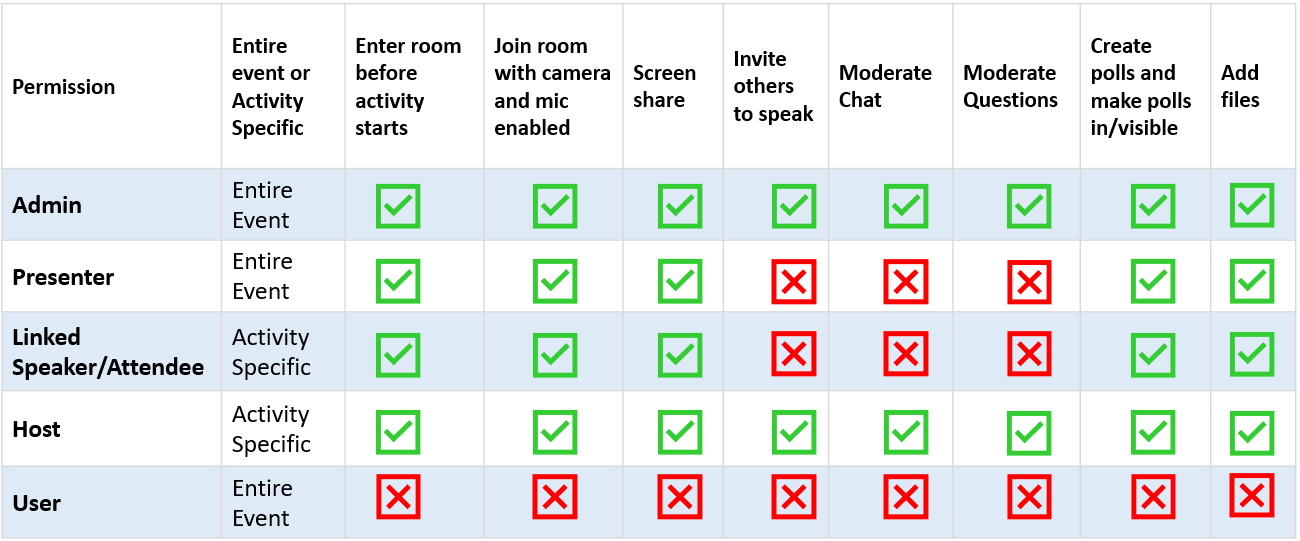 How to change the role of an attendee
To change the permission level of your attendee, go to People>Attendees, click on EDIT, and select your desired option from the Permission dropdown menu. Press END to save your changes.

---
How Did We Do?
---