HD Video in the Virtual Lobby
HD (High Definition) video streaming is available for presenters when joining virtual rooms.
Presenters will now be able to choose their video quality, choosing between:
SD 480p
HD 720p
Full HD 1080p (connection and hardware dependent)
How do I activate HD Video?
To activate HD video for your activities, go to Settings > Tools. In the Live section, locate the option Full HD Video. Click Edit and check it to make it available for your presenters.

If after pressing 
Edit
 instead of seeing a checkbox, you see 
Purchase
, it's because this feature isn't included. 
Click here
 to check the features available on each plan.
How do I join an activity with HD Video?
When joining a session as a presenter, users will be shown the device configuration screen, enabling them to choose their video, camera, and microphone output, and also their video quality.
The dropdown video quality default is SD 480p (Standard Definition).
Open the dropdown menu to find the HD 720p and Full HD 1080p options.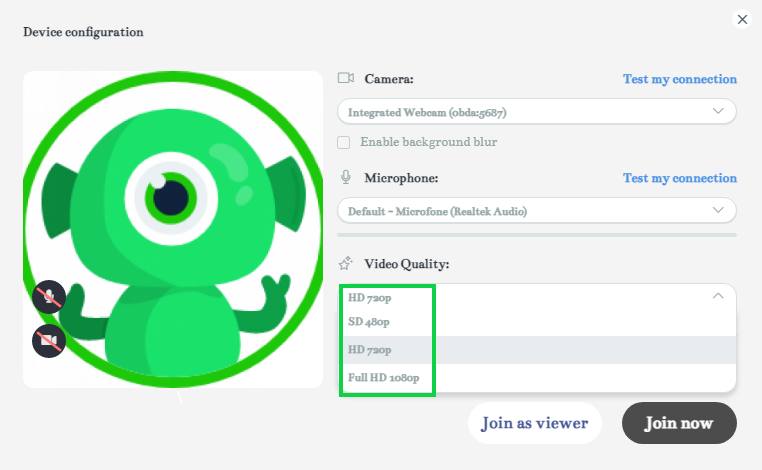 Please note, activating Full HD 1080p is dependent on both the machinery and connection available.
The recommended requirements for this setting is:
i7 Quad-Core Processor or higher
Minimum connection of 1.8Mpbs
These requirements will be visible when this option is selected.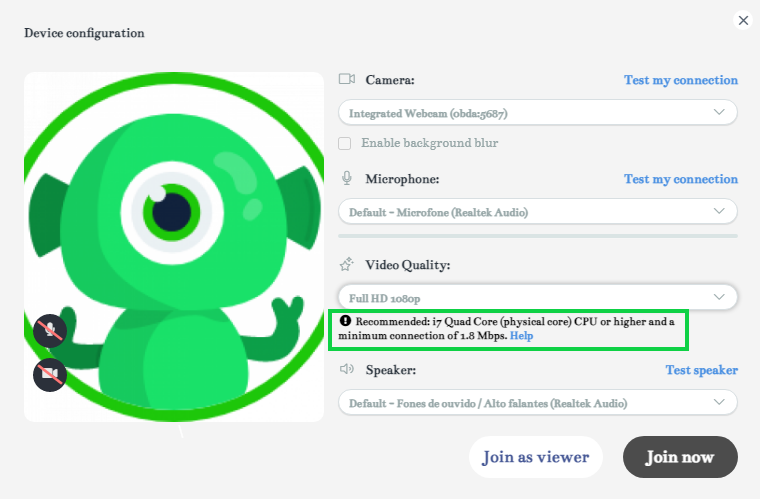 .
Screen sharing is not affected by HD Video. Video quality from screen sharing will show the same resolution as the desktop or application of the screen being shared.
---
---