Check Log
Here you can find a log containing the check-in & check-out times and dates of your attendees.
The log will give you an excel sheet report and also visual graphs, showing bar charts of the amount of attendees checked in per activity and a timeline previewing the check in times.
Check Log
To go to your check log, click on PEOPLE > REGISTRATION > CHECK LOG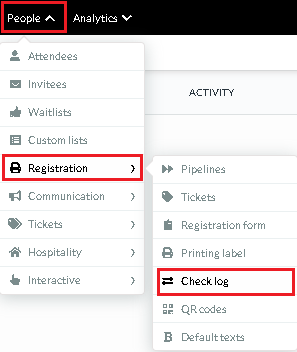 Here you can view the full check log which gives you information on the following:
Name - The name of the attendee
Email - The email of the attendee
Activity - the activity in which the attendee has checked-in to
Collector - the device in which the attendee checked-in through
Type - Print/Check-in/Check-out
Date - The date and time of print/check-in/check-out
Accreditation ( Badge printing)
When using
badge printing
you will see in the type information ; print and/or check-in, when an attendee checks in to the event.

Access Control
When using
Access control
you will see the Activity, Collector and the type (check-in/check-out)

Excel Report
To pull an excel report, click on the "REPORT" button in the top left corner.

Visual charts
To view visual charts from the check log click on the "Pie chart Icon" in the top left corner.

1. Bar chart
The first chart will preview a bar chart with data regarding the amount of check-ins and check-outs per activity.
Click on the drop down bar (left) to choose an activity to display or choose "All logs" to display the total amount of prints/check-ins/check-outs at the event.
Click the drop down bar (right) to choose a collector to display or choose "All collectors" to display all the devices used to check people in/out.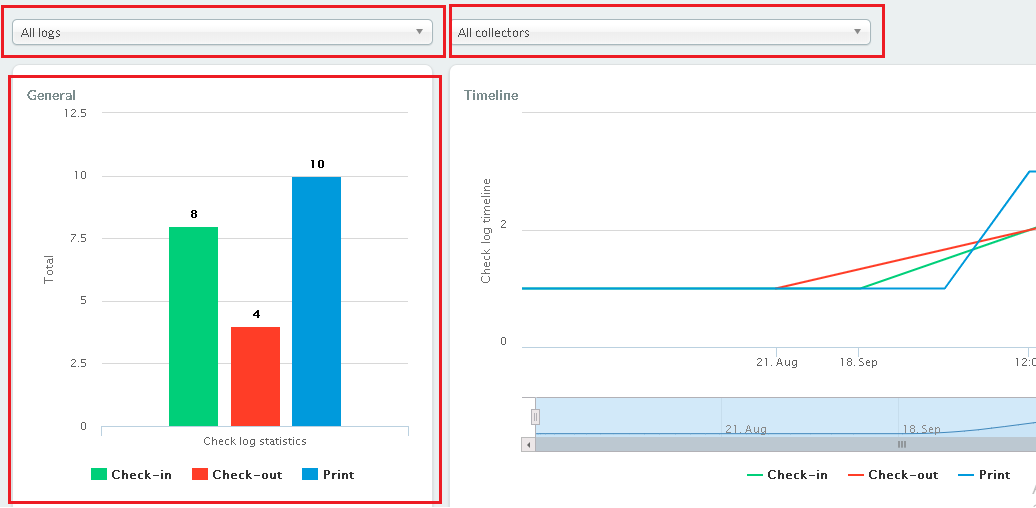 2. Time line
The second chart will give you a timeline previewing the dates/times of check-in/out
Once again you can filter by clicking on the drop down bars and choosing separate activities and collectors.

---
How Did We Do?
---