EventMarket: hiring certified partners
The InEvent platform provides you with a vast array of tools to create your own personalized events. To add additional services to your InEvent platform, we also have a list of certified partners, experienced in InEvent technologies, to help with hardware, production studios, virtual reality, and much more.
If you're looking for a trusted partner to help you with your event, we suggest you check out our exclusive EventMarket to find and make contact with a partner to help you excel in your event!
When to hire a certified partner?
Here are some tips on when to contact each InEvent Certified Partner:
Support: When you need the help of a company that is certified in the InEvent technologies and is capable of offering support with our software or if onsite support is needed.
Development: When you need help to build API integrations, create customized reports, custom CSS, DNS configuration, etc.
Production: When you need an agency that is certified with InEvent technologies and knows how to manage an event with the support of our software leveraging the best usage of it.
Equipment: When you need a hardware structure for booths such as tablets, computers, NFC material, video cameras, and so on.
How do I browse through the partners' catalog?
Through the website
All of our certified partners are available on our website. To find them, visit the InEvent website and at the bottom of the page, look for the More section and click EventMarket.
You will then be taken to the EventMarket so you can browse through our partners' catalog.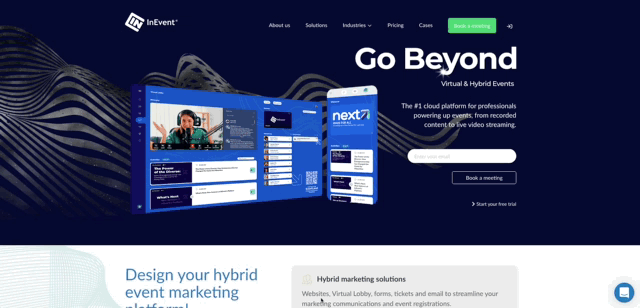 Filtering the options
If you wish to filter the partners' options, you can do it based on region or services:
Under Region, you can choose from North America, Europe, Australia, Pacific, South America, and the Caribbean. To select a region simply tick the checkbox.
Under Services, you should select the services you need. All options - including 3D Layouts, API development, CSS layouts, In-person onsite support, Interpretation service, among others that are listed in the image below.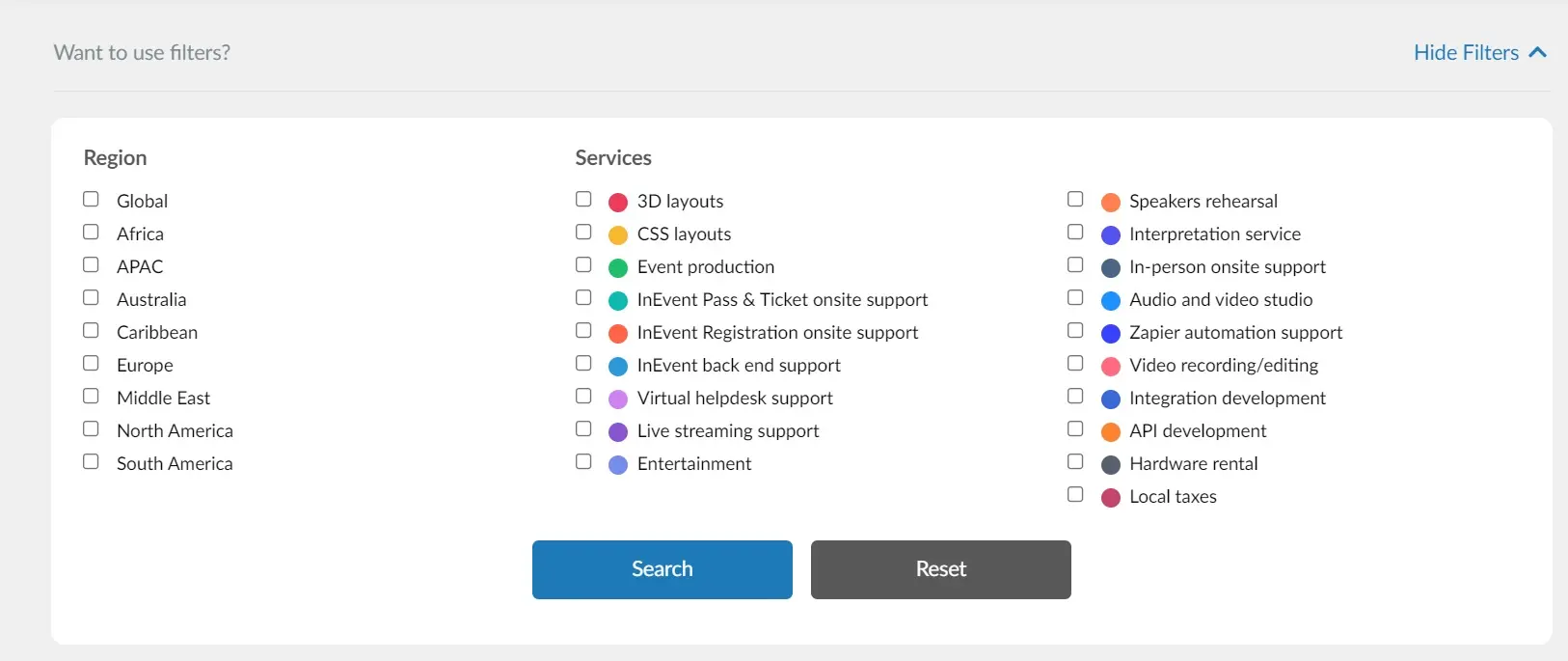 Once you have selected the region and/or services, press Search. Then, you will see a list of partners that combine your service and region needs.
You will be able to browse through the partners' catalog through the website, but
to contact them directly
, you need to be logged in to the platform.
Through the platform
If you are logged in to the InEvent platform, you can access the EventMarket by going to Event > EventMarket.

On this page, you can browse through our partners' catalog. If you wish to filter the partners' options based on region or services, you can type keywords to find the ideal partner.
On your keyword research, we recommend using the filter options listed in this section.
Once you have typed in the keywords, press Search.

Then, you will see a list of partners that offer the services you are looking for.
Contacting a partner
To contact a partner, click on one and a window will pop up with their information.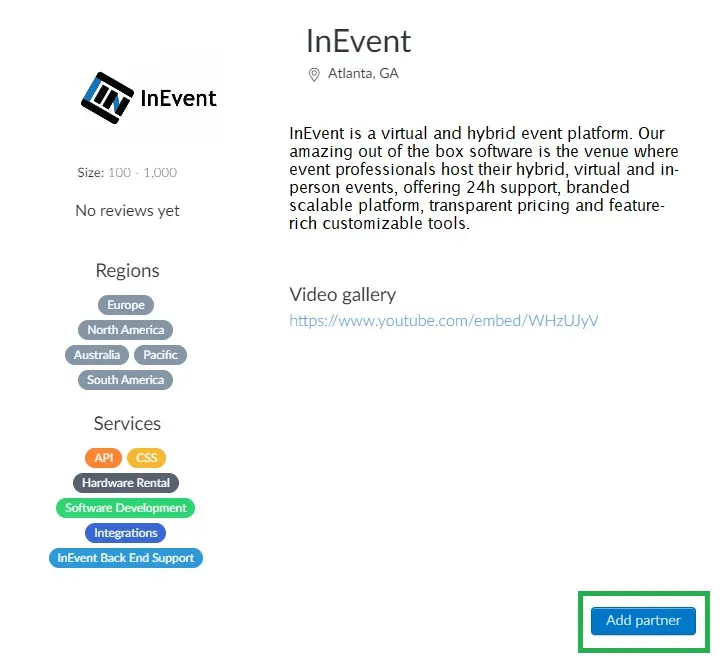 Next, you will need to explain your needs to the potential partner. Describe your event details such as dates, speakers, sponsors, attendees, and press Add partner.

Then, you will see a confirmation message that the partner has been added successfully.

Status of the request
Under My Partners, you will see all your requests, including the partner names, the services they provide, and the status of the request.
There are 3 status variations:
Pending
You have sent your request to the partner and are still waiting for their response. Right after contacting the partner, they will receive an email of your intro request, and you will see a Pending Status.

Confirm
Once the partner accepts your intro request after reviewing and analyzing it, you will receive an automated intro mail and the request status will change to Confirm.

Below is an example of an automated intro mail that you and the Partner will receive: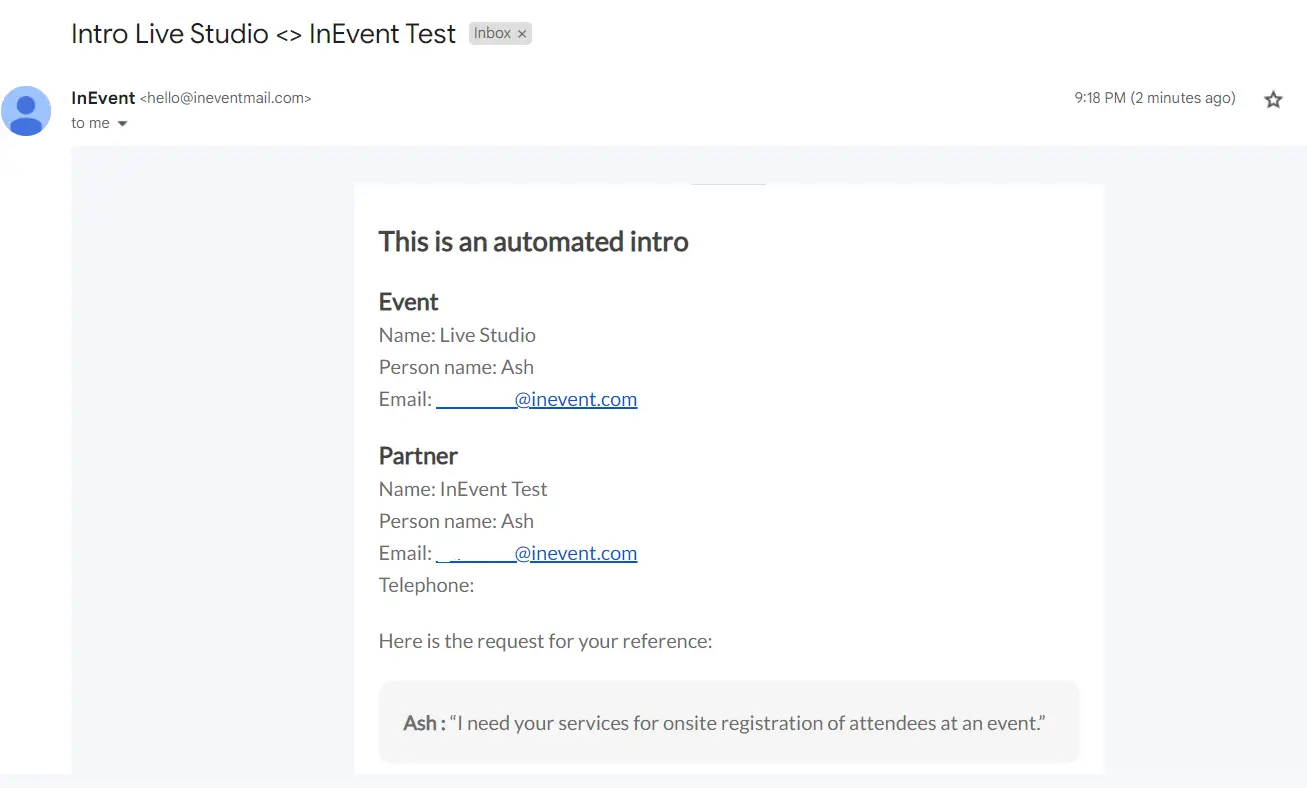 Approved
Once you are ready, you can approve the partner by clicking on Confirm and pressing Approve partner.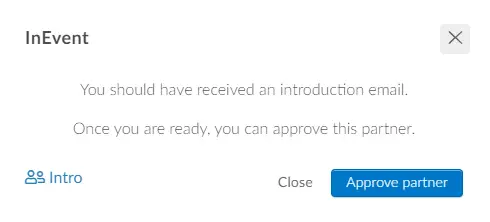 Then, you will receive a confirmation that says Partner approved successfully and the Status will become Approved.

Now, we recommend you add the partner to your event so you can start working together.
Reviewing partners
You can write a review about the partner you have worked with to help our users make the right choice for their business.
To write a review, click the blue button Review.

You can review the partners on a rating scale of 1-5 based on star classification, then write your comments and press Send review.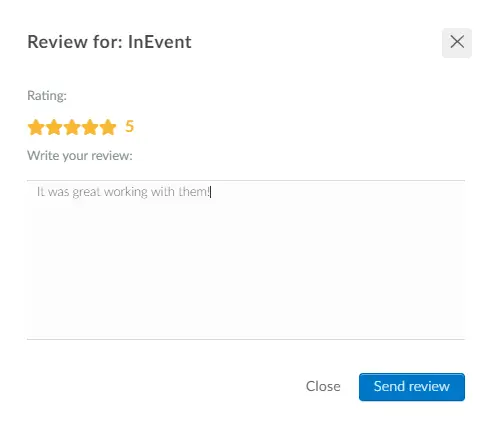 The review will be visible in the partner profile for all other InEvent customers to see.
Partners who receive three ratings that are below four stars, will be unlisted from EventMarket.
---
---