Partnership Program
Do you want to have access to hundreds of marketing professionals looking for event partners? Join our community and become an InEvent Partner.
Types of partnerships
Tier I: Business Partners
Tier II: Certified Support Partners
Business Partners
Exclusive for partners that hold commercial agreements and are licensed to resell InEvent technologies. Business partners must have credits to maintain their status.
Certified Support Partners
Exclusive for partners that have completed our training in order to give technical support on InEvent technologies. They must have the Certified Partner badge on their website to maintain their status.
For further information on how to become a Certified Support Partner, click here.
Click here
to check which incentives and benefits will be granted to each of these types of partnerships.
What are the premium incentives and benefits granted to partners?
Revenue sharing: Generate revenue from deals based on the performance and expertise of your agency.
Exclusive partner tools: Create new customer accounts from our dashboard and also develop new customized layouts on your product portfolio.
Special marketing benefits: Join our partner program to be listed as a partner on our marketplace, access exclusive live events, and get insider sales help.
Priority support: Access our customer success team to ask specific questions, receive additional training, and join events exclusive for our partners.
Aggregated volume pricing: Special pricing for our high-volume partners who use our recurrent platform for multiple events and conferences all around the year.
Included educational programs: Get your event management certification at no charge with innovative globally awarded event marketing technology.
Incentives and benefits per types of partnership
The incentives and benefits granted to each partner will be based on their type of partnership.
Check the table below to verify which incentive and benefit will be granted to each partnership type: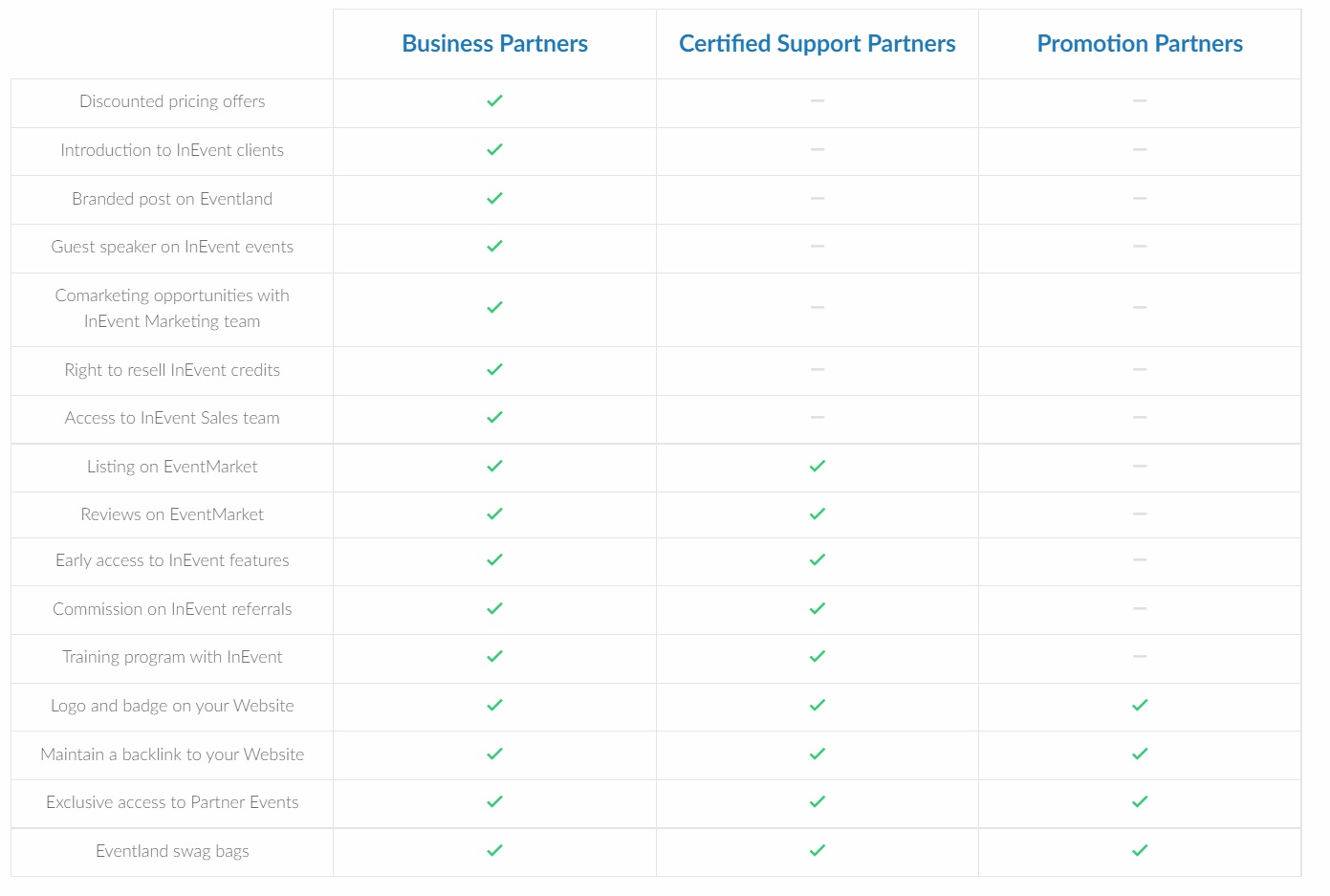 Implementation Plan
InEvent aims to align expectations and ensure you enter into a successful journey, teaching you how to best exploit the potentials that we can offer to the maximum.
This journey outlines all the interactions from when you receive the welcome kit to your assessment call, and everything in between, including every touchpoint.
31-day journey

With this purpose, we have created an Implementation Plan based on a 31-day journey. The partners' journey will not necessarily be organized in 31 days. The implementation plan is just a suggestion with that time frame as an example. You should adapt the steps listed in this article according to the time you have available.

Welcome Kit
After your contract is signed, you will get your resources kit and access to the InEvent platform with instructions to schedule your training sessions.
Kickoff
You will get connected with your InEvent counterpart to introduce the key results of your tier goals. The tasks specific to your tier will be assigned to your dashboard.
Activation
Set your website partner page up with InEvent badges and links to formalize our partnership. This is a required step to maintain your status.
Certification
Become an expert on InEvent technologies by completing our Certification Program, with help from our 24/7 Customer Success team.
Campaigning
Your goals will be available on the dashboard to start promoting, supporting, or reselling software. Tier benefits will be unlocked as you progress through goals.
Assessment
Track the results of the first month and improve on them. Our dashboard will highlight outstanding tasks and successful tasks for the next run.
---
---