Virtual Lobby - Create a backstage area for your speakers
You can create a hidden backstage area for your speakers and hosts to come and prep or talk before their session starts.
Using custom lists you can create a room which will only be visible to people on the list.
Step 1: Create the list of speakers
First you need to create the list
Go to PEOPLE > CUSTOM LIST > NEW LIST
Then name the list (for example - Backstage list)
To learn more Click Here
Step 2: Add the speakers to the list
Bulk move:
Go to PEOPLE > ATTENDEES > EDIT
tick the check box of each speaker you would like to add to the list
In the menu to the right find your custom list in the drop down menu of "Add to custom list"
Then click "Run bulk operation"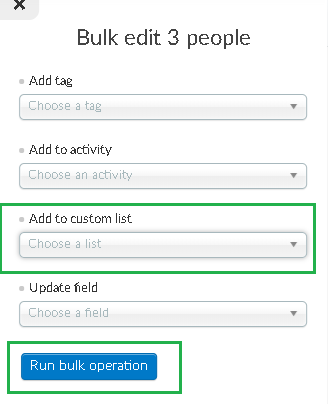 You can also add your speakers manually or via spreadsheet, to learn how Click Here This process can be used if your speakers have not registered yet.
Once complete, the speakers will now be added to your custom list.
Step 3 : create the room
Go to AGENDA > ACTIVITIES > ADD ACTIVITY
Set the title, dates and times of this activity and click "Create"
Next, inside the activity settings, you will need to configure the following:
Make sure the Virtual Lobby tool is ticked
Add a room cover
Select the room host
Allow for camera and microphone
Select the maximum number of speakers allowed to share their camera and microphone in the room at one time.
Untick Automatic enrollment (disable)
To learn more about the configurations Click Here
Step 4: Add the list to the room
Inside the activity you created, click on PEOPLE LISTS
Click EDIT and choose the list you created.
Then click "ADD LIST"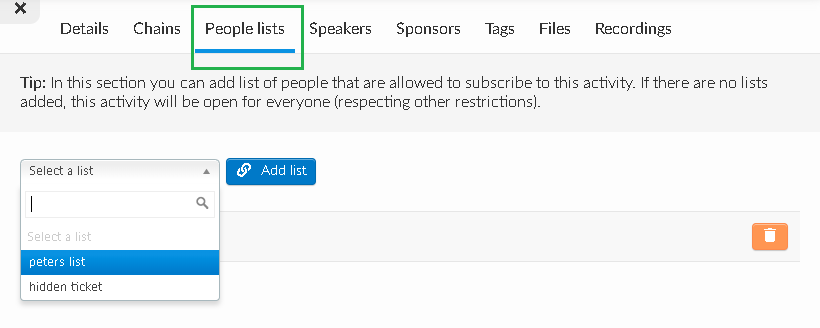 Important
The speakers should be set as presenters of the event, so they can join the backstage area with their camera and microphone automatically, instead of the room owner giving them permission. To learn how to set a speaker as an admin
Click Here
---
How Did We Do?
---