User guide for speakers and room hosts
Virtual Lobby is a tool that allows events to happen virtually. As a speaker, you will be able to screen share, answers the participant's questions, create polls, upload files, and networking with other presenters and attendees. As a room host, you will be able to not only control the layout of the session but also to start and stop the streaming.
First steps
It is important for you to get familiarized with the Virtual Lobby and ensure your computer meets all the requirements of the platform.
Before you go ahead, please make sure to check the Top 5 troubleshooting tips, including system checks and compatible browsers.
Speakers and/or presenters (those who will share their video, microphone, and/or screen) must access the Virtual Lobby and the activity via a computer, and preferably using Google Chrome.
How can I access the Virtual Lobby?
As a speaker or room host of an event, you will be able to access the Virtual Lobby by receiving an email with a unique and non-transferable link.
Exclusive links are unique and non-transferable. If the link is shared and someone else accesses the event, the first access will be disconnected.
How do I navigate the Virtual Lobby?
InEvent offers two different layout options:
In this article, we will show you what you will see when navigating the Virtual Lobby in the Neo layout.
Click here to check what you will see if your event is using the Classic layout.
When using the Neo layout, The Virtual Lobby will appear as below.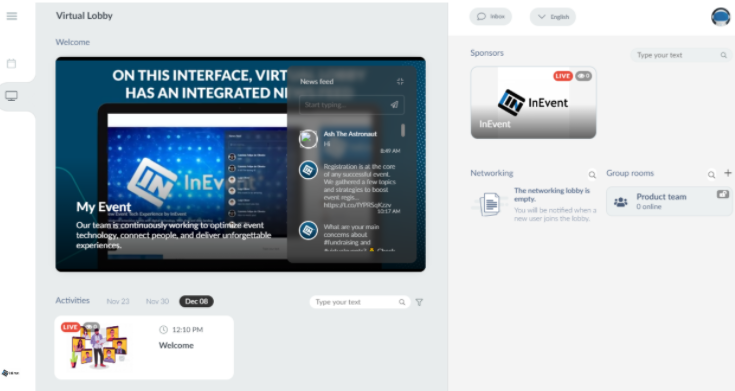 Once you access it, you can select a session you wish to join. Once you are in, you'll see a screen similar to this one: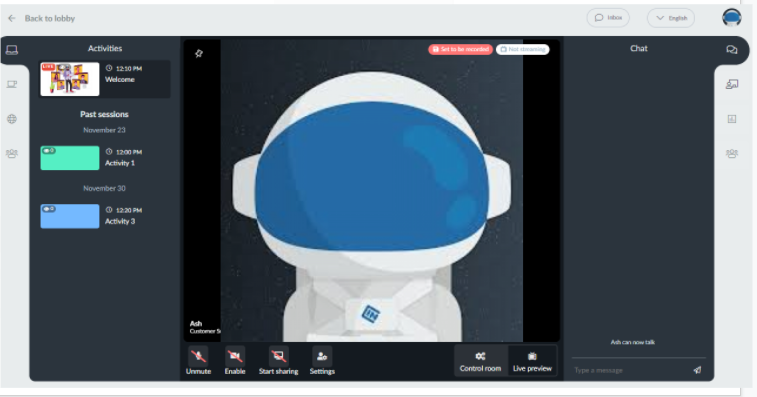 Device configuration
Once you enter an activity, you should see a pop-up to configure your devices such as camera, speaker, and microphone.
Press Join now to join with camera and microphone on. Click here for further information on how to give InEvent access to your camera and microphone.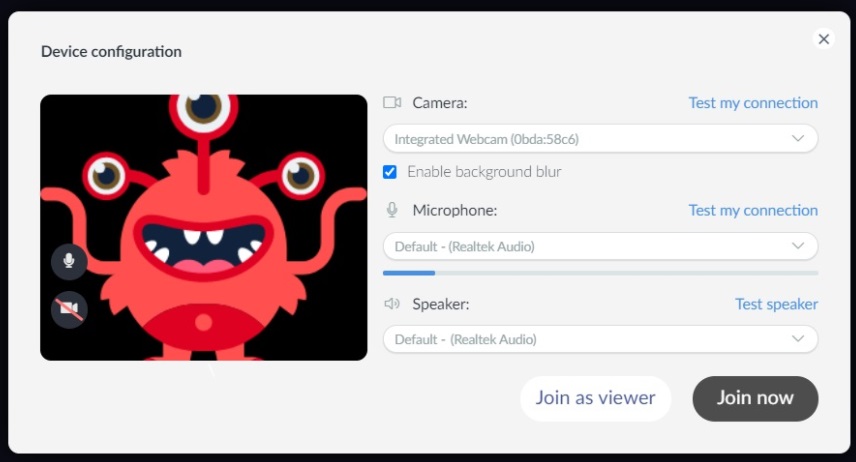 Once you are inside the room, you should see different buttons depending on if you are a guest speaker or the room host.
A guest speaker of your event can enter an activity with control of their camera and microphone, have screen sharing capabilities and use the private chat when presenting. The room host can do the same and besides that, they will also be responsible for the control room live stream.
Click here
to better understand the difference between speakers and room hosts and which permissions each one will have inside a room.
I'm a speaker
As a speaker, you don't need to wait for the host to give you access to present.
Once you are inside the room, at the bottom of the page, you should see the buttons shown below:
Mute: you should click here to enable or disable your microphone
Enable: you should click here to enable or disable your camera
Start sharing: you should click here to screen share. Click here to learn how to share slide presentations in the Virtual Lobby
Settings: you should click here to configure your device
Control Room: this option will allow speakers to interact in real-time. This is the recommended view for speakers, as they will experience latency in the Live preview, as is standard with live streaming technology.
Live Preview: this option will allow speakers to see what attendees are seeing. Here, they will also be able to see changes to the layout that the Room Host has selected. On the Live preview, there is a stream latency, which is the delay between cameras capturing an image and displaying it to viewers.
The buttons that you will see will depend on which room video mode was defined for the session you are at. You will only see the Control Room and the Live Preview buttons if the room video mode defined by the event organizer was the Control Room video mode, otherwise, you will only see the first four buttons (Device configuration) shown below.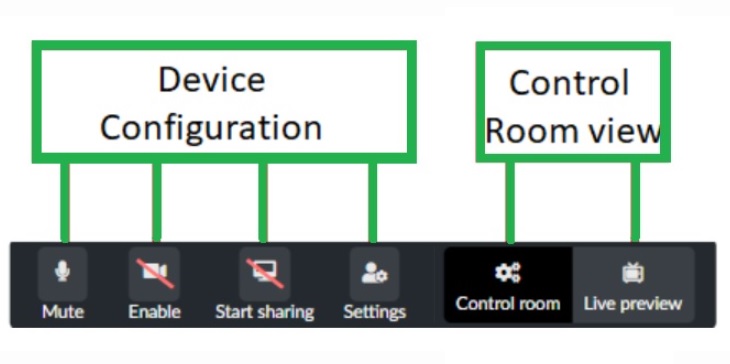 Speakers are free to toggle between both Control Room views without any impact on the stream or attendee experience.
I'm the room host
Only one host is allowed per room. If you were chosen to be the host and you are using the Control Room Video Mode, you will be the one responsible for starting and stopping the streaming. You will be also able to choose the layout of the session. Learn how to perform this by clicking here.
The Room Host will see two additional settings in their Speaker Settings; the Start/Stop Stream button and the Layout Button:

If you are using Control Room, we recommend setting the layout to Automatic, so it will switch between Space Between and Focus Mixed. When the speakers are not screen sharing, the layout displayed will be Space Between. If the speakers are screen sharing, the layout displayed will be Focus Mixed.
Room host can also join the private chat even when not presenting.
Interactions in the Virtual Lobby
On the right-hand side, you'll see five tabs:
Chat: participants will be able to chat during the session.
People: all participants who are online in this session will be listed.
Questions: all participants who are online in this session will be able to ask questions and vote for them.
Polls: all participants who are online in this session will be able to answer polls. Click here to learn how to create polls during a session.
Files tab, participants will be able to view and download the available files. Click here to learn how to upload files during a session.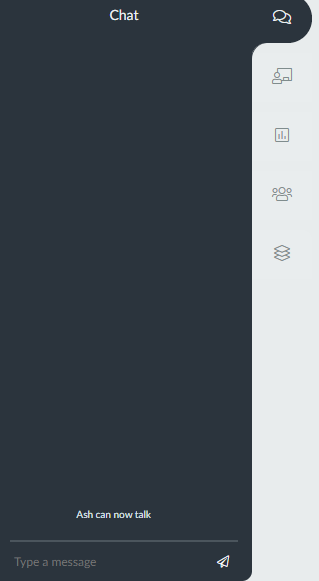 If you are not seeing all five tabs, is because the event organizer decided to hide the tab.
Private chat
When presenting, you will also have the option to switch from public to private chat. There, you will be able to communicate with other speakers (if they are also presenting), admins, staff, sponsor reps (on sponsor booths), and room hosts. Attendees with User permission will not be able to join the private chat nor see those messages.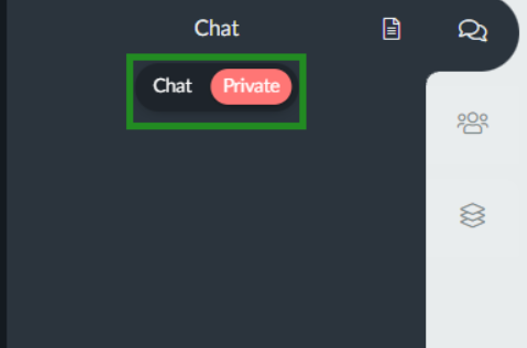 How do I change rooms?
On the left of the screen, you can scroll between the sessions and enter another just by clicking on the chosen session and pressing Yes to confirm that you do want to change rooms.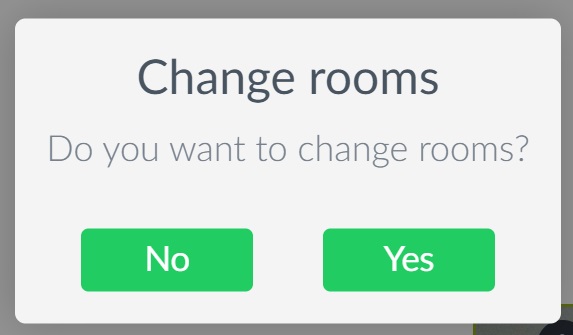 If you want to leave the sessions and go back to the Lobby main page, press the Back to Lobby icon on the top left-hand corner above the sessions. Then, press Yes to leave.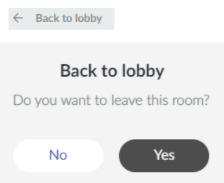 Networking
On the Virtual Lobby main page, there is a Networking space, in which you can simply click on a person's name and create a Group room or have individual meetings. Once you send someone an invite, they will receive a video request and they will be able to either accept it or decline it.
To learn more about Networking, click here
If you receive a pop-up notification saying To watch the session, you must click on the link below press Watch now to avoid possible audio/video blocks from your browser.
---
---