Training hours
For all Global Administrators of the InEvent platform, training implementation control is available.
To access your control, go to the Company settings menu, Scroll down to the Users section and press: Administrators: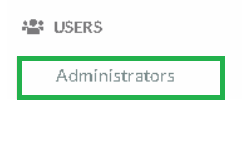 What are the training hours?
Each global administrator can click on their profile by pressing the blue button to the right, which will show the hours of training required to fully understand the InEvent software and its functionalities.
If you do not wish to comply with the training, you must inform the Customer Success Team by email, informing that you want to continue without training.
Once a training hour has been completed, it will be updated by the Customer Success representative and you will be able to follow your progress until completion. Example:

Remembering that 1 training count is equivalent to 1 hour, based on the Packages or Modules selected for each global user.
How many hours of training are needed per InEvent package?
| | | |
| --- | --- | --- |
| Package | Required Hours | Required Training |
| Basic | 4 Hours | 4 training counts |
| Express | 9 Hours | 9 training counts |
| Advanced | 10 Hours | 10 Training Counts |
| Full | 18 Hours | 18 Training Counts |
How many hours of training are needed per InEvent module?
| | | |
| --- | --- | --- |
| Modules | Required Hours | Required Training |
| Start | 2 Hours | 2 Training counts |
| Live | 2 Hours | 2 Training counts |
| Registration | 6 hours | 6 Training counts |
| Pass | 3 Hours | 3 Training counts |
| Compliance | 2 Hours | 2 training counts |
| Hospitality | 3 Hours | 3 Training counts |
---
---