Artificial Intelligence for Emails
InEvent has artificial intelligence for emails, which can be analyzed through the Email Health feature. This tool allows the event admin to verify email lists and filter these lists, to reduce bounce emails.
How do I verify if the email is secure or not?
First, click on Marketing > Communication > Email Health.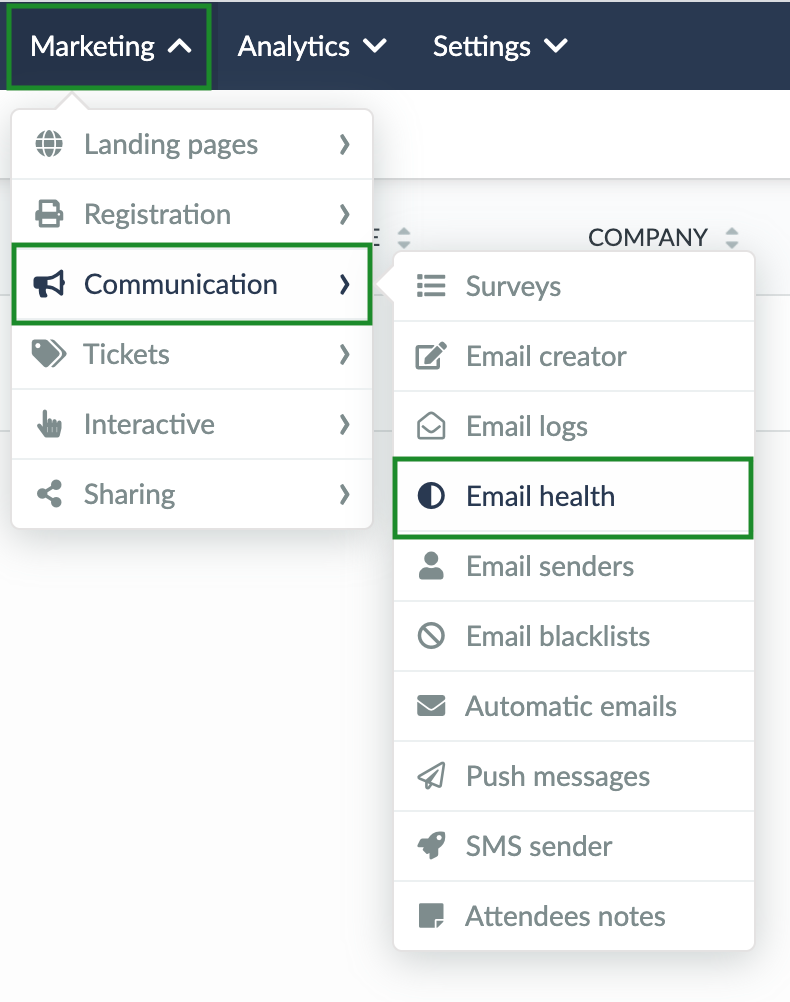 You will see a list with all registered emails, from your attendees' list. Beside each email, there will be a checkbox indicating whether the email is safe or not.
If the email is considered risky, the checkbox will not be marked, and there will be an explanation as to why it is not safe.
The definitions for Email Health has 4 variations:
Catchall | Valid Domain 
Valid | Valid Domain
Invalid | Nonexistent Domain
Unknown | Domain not found
In case several emails bounce back because it is considered risky, the platform will stop sending emails.

How do I search, filter, and extract a report on email health?
You can search for a specific email by clicking on Search. It is also possible to filter safe or risky emails by clicking on Filter.  You can export this list by clicking on the Report button.

How do I send a communication to an invalid or unknown email?
If you would like to send emails that are considered RISKY, you will need to click on the Edit button and mark the checkbox on the Email Health column.
In case of bounce by sending emails to addresses of emails considered risky the whole quota of emails of the event will be blocked for sending. You can not roll back this dimension lock.


If you want to register email addresses for testing on the platform, please use one of the below domain suffixes so you do not increase your bounce rate, for example: anything.here@no-email.inevent.com. The domain prefixes you can use for testing are: no-email.inevent.com, no-email.inevent.com.br or no-email.inevent.biz
---
---