Information Security
InEvent seeks to obey all laws, even if they are just acts of good faith and/or fair policies, that's why we have data management and privacy policies to keep your data safe from threats. Trust in our partners is very important to provide a solution available globally.
Privacy and Encryption
InEvent has a process to ensure the protection of incoming data. We do not share or sell personal information to third-party organizations. We have a code of conduct and information security policy based on this premise. Our company is compliant with:
AICPA Service Organization Control Reports.
Payment Card Industry Data Security Standard (PCI DSS).
EU-US and SWISS-U.S. Privacy Shield Certified. 
Password Protected Content Manager - Optional Password Activation for Attendees.
Attendees can choose when and how they would like to share their data through our privacy options.
If the company or event has a privacy policy, it can be indexed to the platform to be displayed to attendees in their first login flow.
InEvent follows the Web Content Accessibility Guidelines (WCAG), which makes web content more accessible to people with disabilities.
Click here
for further information on event accessibility.
Our servers are located in Virginia (USA), and Dublin (Ireland). We follow Data Processing Agreements (DPA) and Standard Contractual Clauses (SCC) with each of our sub-processors. These agreements ensure that each sub-processor is operating in compliance with the GDPR, subject to data processing best practices and other applicable privacy laws. Our Data Processing Agreement is reviewed yearly and satisfies all current General Data Protection Regulation requirements.
Spam Policy
We do not send any type of spam mail to our clients or event attendees. Besides that, our policy states that any campaign that has a bounce rate greater than 5% is considered abusive and is automatically blocked from our systems.
In addition to that, spam complaints may limit only 0.01% (1 in 10,000) emails to follow the guidelines of most ESM providers. To reduce bounce emails, we offer you an artificial intelligence for emails, the Email health tool. Click here to learn more about it.
Cookies Policy
What are cookies?

Cookies are small data files that are placed on your computer or mobile device when you visit a website. Cookies are widely used by website owners in order to make their websites work, or to work more efficiently, as well as to provide reporting information.
The Cookie Policy explains how InEvent, Inc. uses cookies and similar technologies to recognize you when you visit our websites at https://inevent.com/, ('Websites'). It explains what these technologies are and why we use them, as well as your rights to control our use of them.
In some cases, we may use cookies to collect personal information, or that becomes personal information if we combine it with other information. In such cases, our Privacy Policy (https://inevent.com/privacy.php) will apply in addition to this Cookie Policy.
Cookie consent pop-up
Users located in Europe will receive a cookie consent pop-up when accessing public pages such as the event website, the Virtual Lobby, login page, and forms.
The pop-up will only be displayed upon first access on one of these pages. Once the user selects their preferred cookie policy, the pop-up will not be displayed again, unless the user accesses one of these pages from a different device.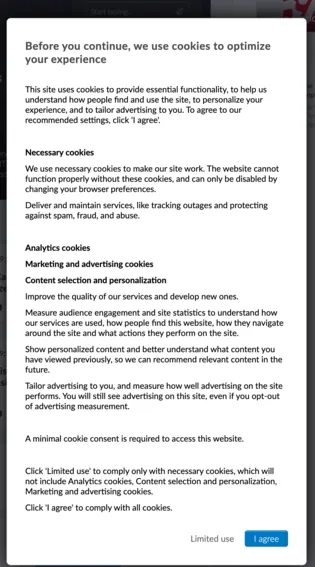 Essential website cookies
These cookies are strictly necessary to provide you with services available through our Websites and to use some of its features, such as access to secure areas.
| | | |
| --- | --- | --- |
| Who serves these cookies | | |
| Cookie name | Domain | Rationale |
| tokenID | inevent.com | This cookie is essential for our authentication process. |
| hubspotutk | hubspot.com | Required for marketing support across web assets. |
| intercom-id | intercom.com | Required for live chat support on the platform |
Because these cookies are strictly necessary to deliver the Websites to you, you cannot refuse them. You can
block or delete
them by changing your browser settings.
For more information about our use of cookies, other tracking technologies, how to control them, or how often the Cookies Policy is updated, refer to this page or email us at cookies@inevent.com.
Backup and Recovery of Disasters
Our server runs a script that saves platform-attached data at all times to minimize the impact of an unlikely critical failure.
---
---