White-label
White Label
The visual identity of an enterprise or company is essential so they can become a strong brand. InEvent platform allows the customization of images and colors in order for your company can have all the identity details reflected in the cloud and on the event app.
Which items can I customize for my event app?
By purchasing Basic, Advanced, or Full packages, you will have the ability to have a White-Label application to manage all your company events.
In this application you can customize:
Application name and colors (read Company Details );
Application images (read Company Images );
the four default texts on the activity buttons;
select which locks and moderations will be active ( Event Tools in the Control and Lockout sections);
define how to login to the app (read Login to the app ).
insert PDFs in the

hotel

and

restaurant

tips menu and external links with your Live Stream (read Customizable Tabs );
change tab names and visibility;
change the position of menu items.
How to publish my app?
Firstly you need to open the stores by creating an account in Google play store and a Business or Social account in the Apple store, click on the links below to view more information on the procedures:
Open a Google play store account - Click Here
Open an Apple Business account - Click here
Open an Apple Social (Individual) account - Click here
What has to be filled up in the InEvent platform for my app to be published?
Once you have the login access for the stores (email address' and passwords) input the credentials into the Company Details page of the platform.
When all items on the Company Details , Company Images , and Legal tabs are completed, you should bookmark your application for publication.
Click on Edit. In company details , make sure you have already entered the colors, names, app description, main link (your company website), keywords, and store logins and passwords (Android and iOS). Otherwise, update the information.
Check if the JSON key has already been entered in the Android specific field (for how to extract, see Adding users within stores ).
With this information filled in, check the Request Android update and then check the Request iOS update boxes.
If you need to receive the APK/IPA file (s), also check the corresponding checkboxes for each operating system.
When you are done, click END.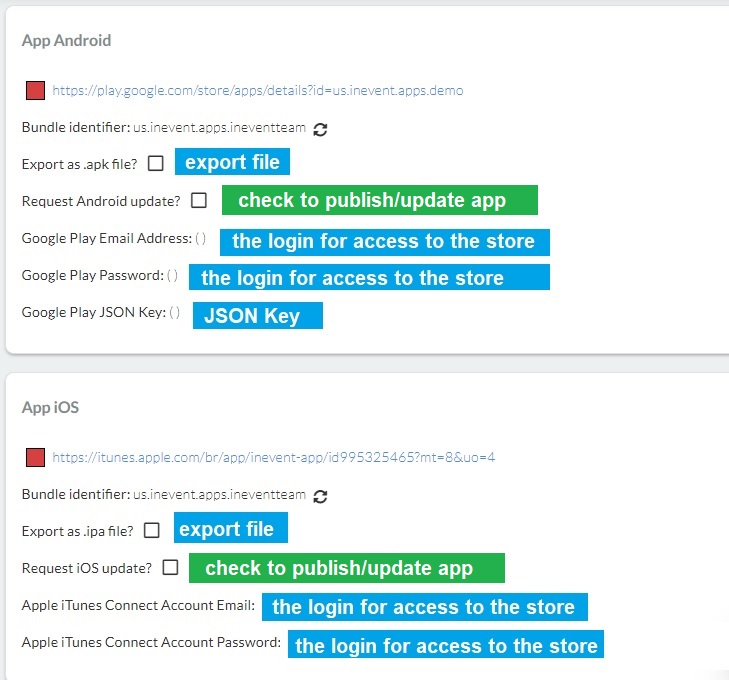 If your business does not allow you to share the Google Play and App Store stores login and password, please refer to the
APP Publishing Methods
document.
Where will the app be available?
Your event app will be available for both Android and iOS platforms and can be accessed and downloaded for free from the app stores. If the attendee does not have access to any of these services, he / she may also interact via email and website.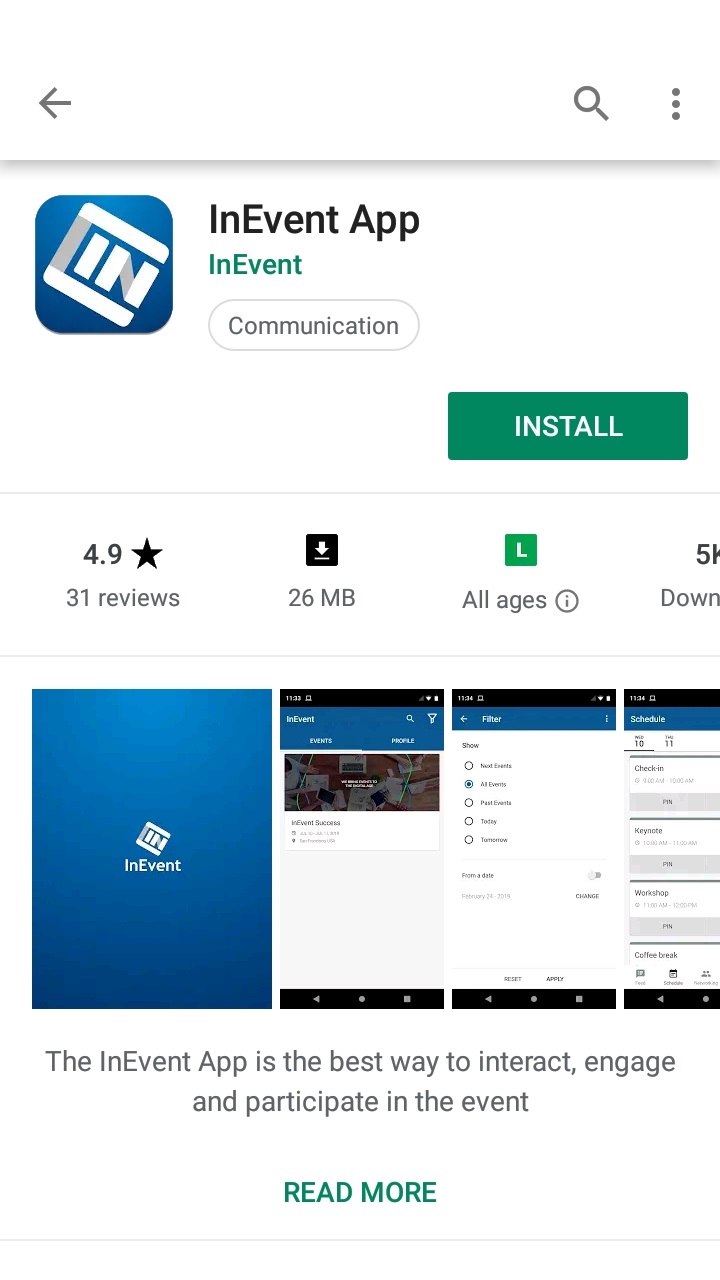 Tips for speeding up your app's approval
If you are an agency: Get your clients' signatures
Often the visual identity of the event is directly related to that of the contracting company. But Apple and Google stores have strict rules regarding image use.
You should get your client's image usage permissions.
Create an event
Your application will be submitted for the first time for publication, and may then undergo several updates over time. Therefore an example event, for this approval purpose only, should be created. That way you won't have to worry about updating content or access every time.
You can also use this event to conduct your training and testing.
Upload content to your event
Reviewers need to see that your app has information for participants to access. Therefore, fill your event with materials from your company.
Use public policies and manuals for your business as app tabs. That way the reviewer sees content and you don't have to wait for the actual data of your event.
Visible event and registration via app enabled
We understand privacy is important. But we advise you to have a visible event which allows registration via the application, because it speeds approvals in stores.
Frequently asked questions
I would like to change the application's initial phrase "Discover an even more inspiring experience during [...]". Is it possible?
This phrase is standard in our global applications. Its structure is fixed, but if you want to delete the screen, you must notify the Customer Success responsible for your account. It takes 5 business days to update the app and remove the screen with the phrase.
Can we delete the login and password fields so that the attendee can directly access the contents of the schedule?
The InEvent application requires the attendee to be authenticated to have access to syllabus. Therefore, we suggest that a simplified form of login, such as single sign-up, is used. Read more about ways to access in App Login .
Does the app charge money?
No the app does not charge users to download or does it have any in app charges.
I forgot my password or my attendee would like to change their password for the app how can they do this?
At the log in screen of the app you will find a "forgot your password?" link. Click on the link to reset the password.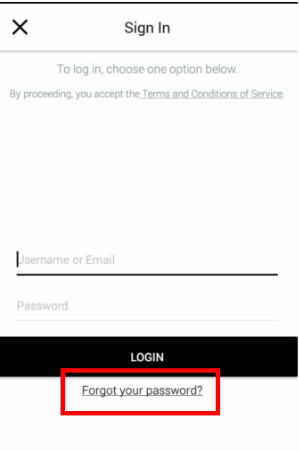 ---
How Did We Do?
---