Company Details
This article intends to show you how to change your company details that will determine some of the basic settings for all of your events.
How do I access the company details?
To access the company details, click on Details under the Company field at the company level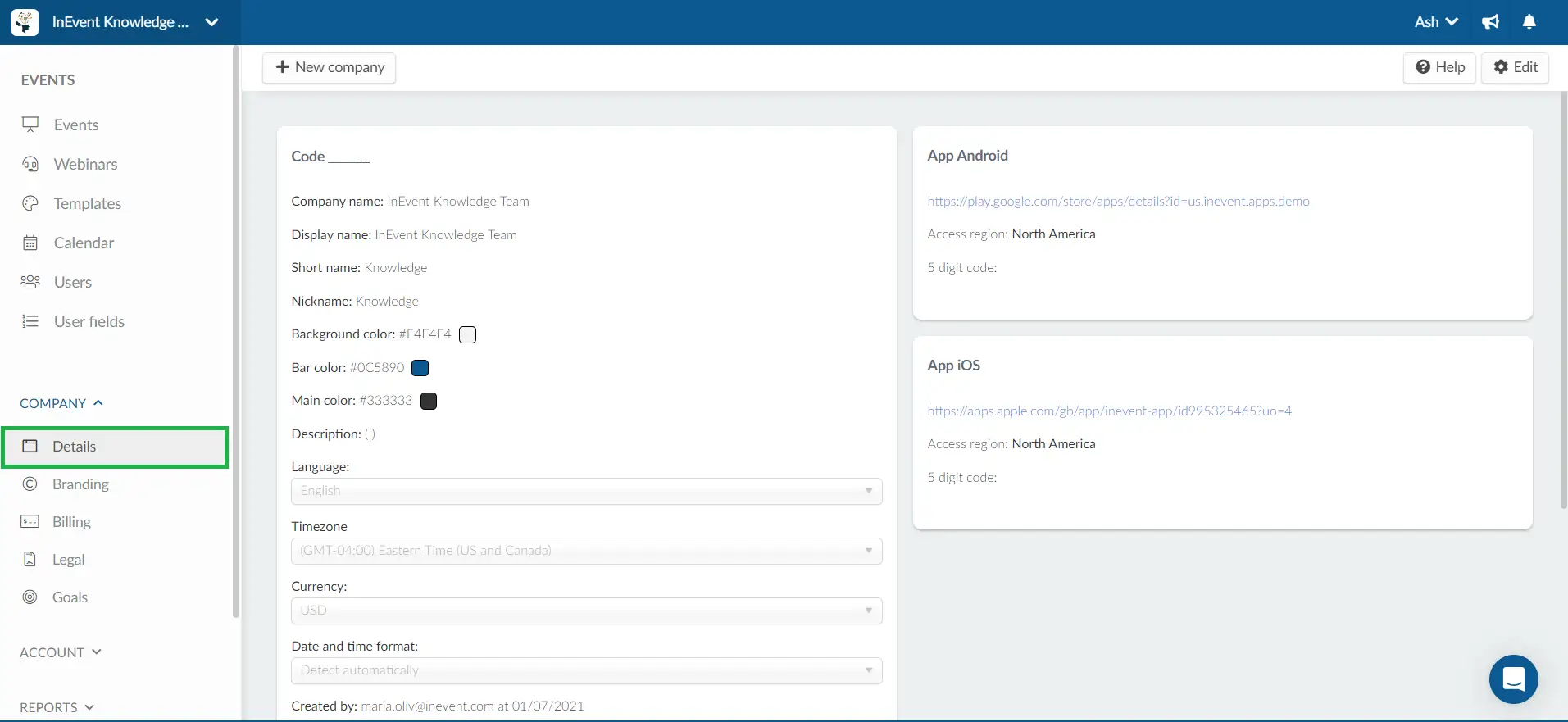 How do I edit the company details?
To edit your company details, click on Edit in the upper right.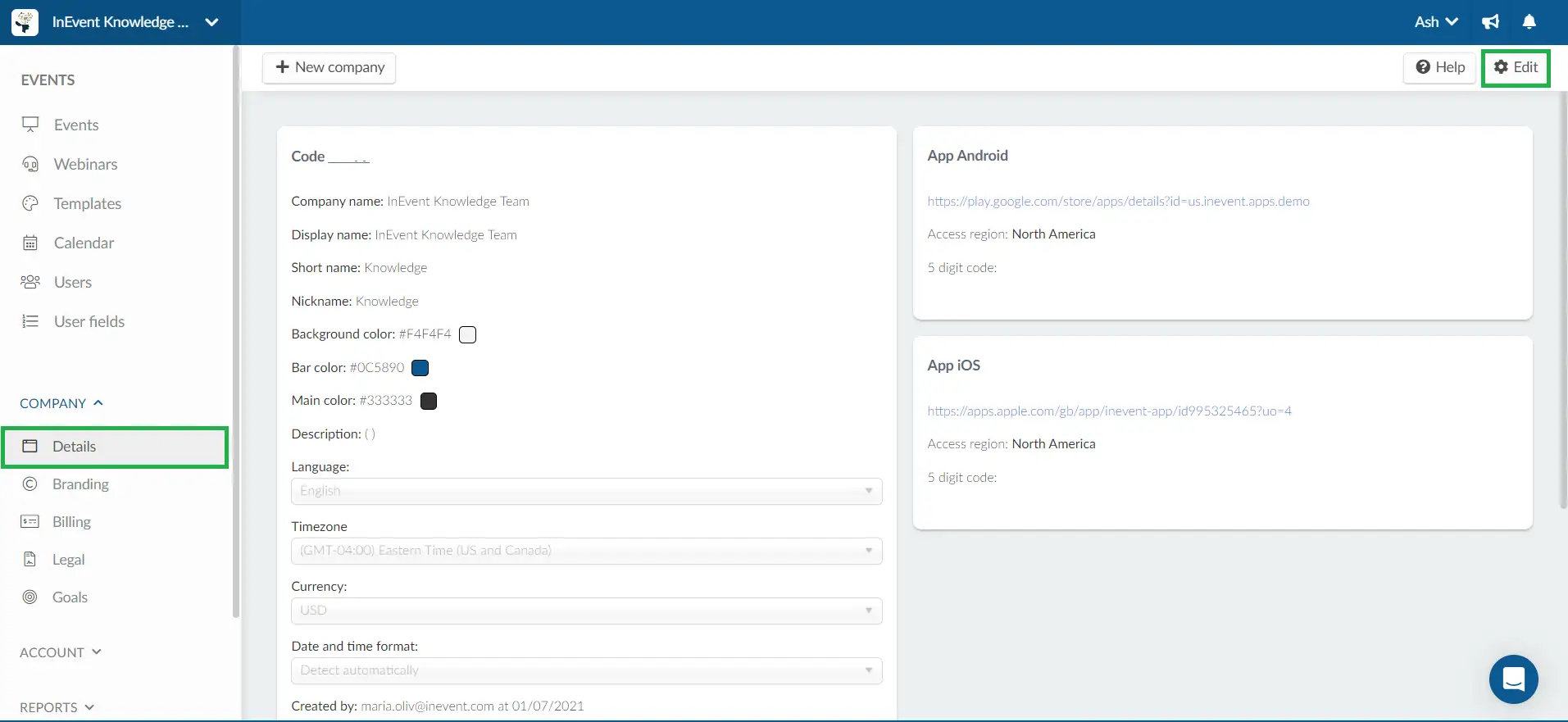 Next, click on the field you would like to edit.

Once you're done editing, click on End to save all changes.
Listed below are all fields that can be edited to customize your company and your events.
Name, colors, and app description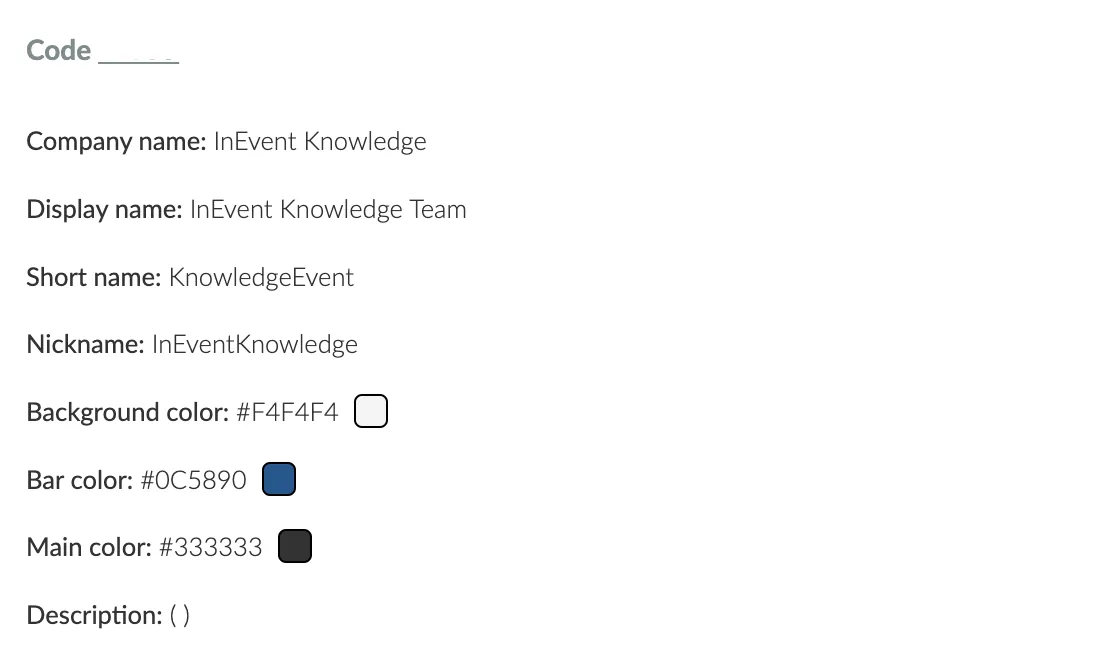 Company code: This is your company's reference code for the InEvent platform. This 5-digit number enables your access to your events in the InEvent App.
Company name: Name of your company.
Display name: The name representing your company that is visible to the attendees. The display name is also sent to the app stores during app approval.
The company display name should differ from existing app names in the app store (or app marketplace). For the in-store app approval to be successful, the company display name must be unique.
Short name: This is the name that will display on the app.
• It should contain a maximum of 15 characters, including spaces and uppercase letters (this counts as 2 characters).
Nickname: This refers to the word that will appear in your company URL. If not modified, this will be a numerical code.
Keywords: Search words for app stores (Google Play / App Store).

You should enter a minimum of 5 keywords

Background Color: It defines the background color for your app, using standard HEX code.
Bar Color: It defines the bar color in your app, using standard HEX code.
Main Color: It defines the main color of your app, using standard HEX codes.
Description: It's the app description displayed in the stores. It should contain a minimum of 250 characters minimum.
Additional Company Information
In this section, you can change the base settings for all your events. If you want to change these settings for specific events, you can do it at the event level, on the event details page.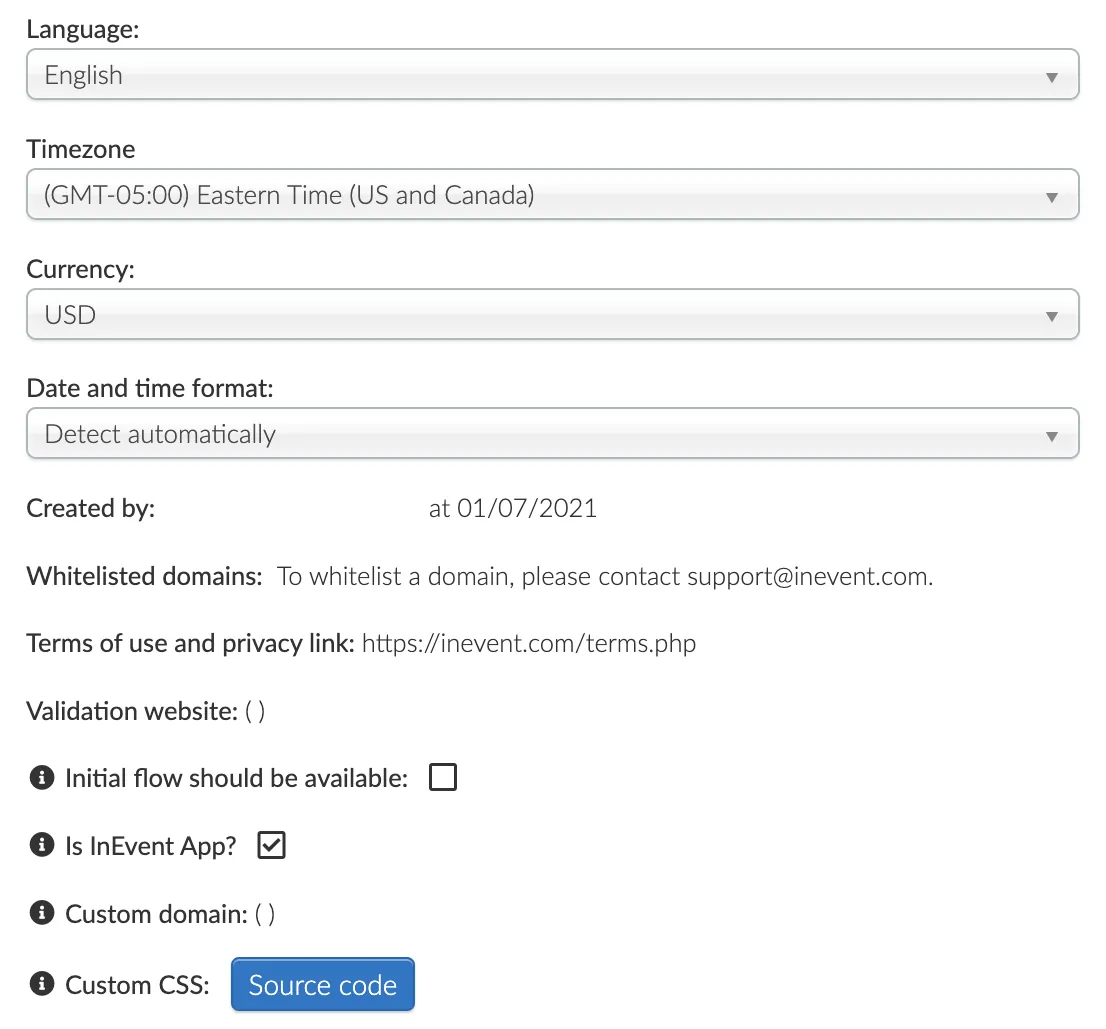 See below the fields that you can set:
Language: (English, Spanish, French, and German)
Timezone: Choose the timezone in which your event will happen. If you have multiple events happening on different timezones, you can set them up on the event level.
Currency: Currency unit used in events. If you have multiple events happening in different countries, you can set the currency up on the event level.
Date and time format on the platform: To change the date and time format, click on Edit and select one of the three options that best suits your company.

Onboarding link: Enterprise customers will use this link during their onboarding call with their dedicated project manager.
Created by: The company creator.
Whitelisted domains: You should add a list of domains approved for authorized access to data. Click here to learn more about it.
Terms of use and privacy link: Add the link to your terms of service. Click here for further information.
Validation website: Add the link to the main website of your event or company.
Initial flow should be available: If enabled, a standard welcome message that says 'Discover an even more inspiring experience during the event!' will be displayed on the mobile app once the user opens it.
Is InEvent App?: You should check this checkbox if you have decided to use the InEvent default native app. If you do not enable this option, you can build your own custom deployment. Click here to learn more about it.
Custom domain: You can enable a custom domain for your company. Click here for further information.
Custom CSS: It allows you to personalize your directory company page. Click here to learn more about it.
App information
If the option Is InEvent App? is disabled, it means you will be publishing a white label app. When you use the white label app, you will need to open Google and Apple store accounts. To publish your app, you will need to fill in the fields shown below: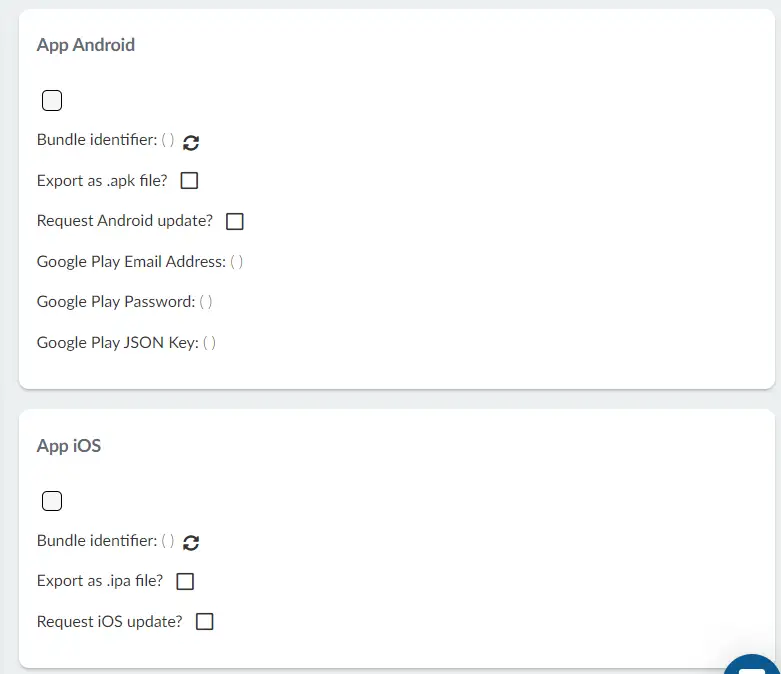 Click here to check the step-by-step guide on how to complete all fields and publish your white label app.
What is a bundle identifier?
A bundle ID or bundle identifier uniquely identifies an application in the app stores ecosystem. This means that no two applications can have the same bundle identifier.
You can create a bundle like this one: eventname.company.com. For example: summit.inevent.com
Changing the app bundle (iOS or Android) is not considered an update since a new app is created once you change the bundle.
---
---