Waitlists
This feature allows the administrators to manage admissions and having the option of accepting or rejecting those who have registered to the event. At the same time, they have the option on placing the attendees on a waitlist.
To use this tool, it is necessary to turn on 2 features at the platform: Waitlist and Approval requirement.
How to configure the tools
Go to SETTINGS > TOOLS. Go to Control and click in EDIT, and mark the 2 options Waitlist and Approval requirement. When done, click in END.

Note 1) if the Ticket feature is on, attendees will be automatically approved when their tickets are bought and validated.
Note 2) In case of tests, the company admin must be logged out from the platform or the form must be opened in a anonymous tab. If not, the user approval will be automatic. Keep it in mind that, once all those features are on, there is a need to have a registration form.
How to approve or reject invitees
After the invitees fill out their registration form or if you have added them manually on PEOPLE > WAITLIST > ADD PERSON, the invitees will be on the waitlist for approval or rejection. 
To view the waitlist go to  PEOPLE > WAITLISTS.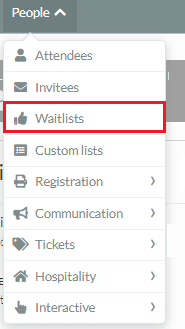 There will be an option to approve or reject the invitees that have completed the registration form.
As an admin you would need to click on the orange "X" box to reject the applicant or click on the green "tick" box to accept an applicant.

As you approve, the attendee status will change from "Pending Approval" to "Approved".  

As you Reject, the attendee status will change from "Pending approval" to "Rejected".

Once you have Approved the person if you click on PEOPLE > ATTENDEES, you will be able to see the attendee on that list. And the ones you rejected, they will still be on waitlist with a rejected status but if you wish to delete this entry, just click on the red remove button.

---
How Did We Do?
---