Implementation Plan: the customer journey
InEvent aims to align expectations and ensure you enter into a successful journey, teaching you how to best exploit the potentials that we can offer to the maximum. This journey outlines all the interactions from when you sign the contract to your post-event feedback, and everything in between, including every touchpoint.
As an Enterprise customer, you will enjoy a 4-week implementation plan. InEvent has designed this plan to get you all set up and ready to deliver the best virtual and hybrid event experiences to your customers.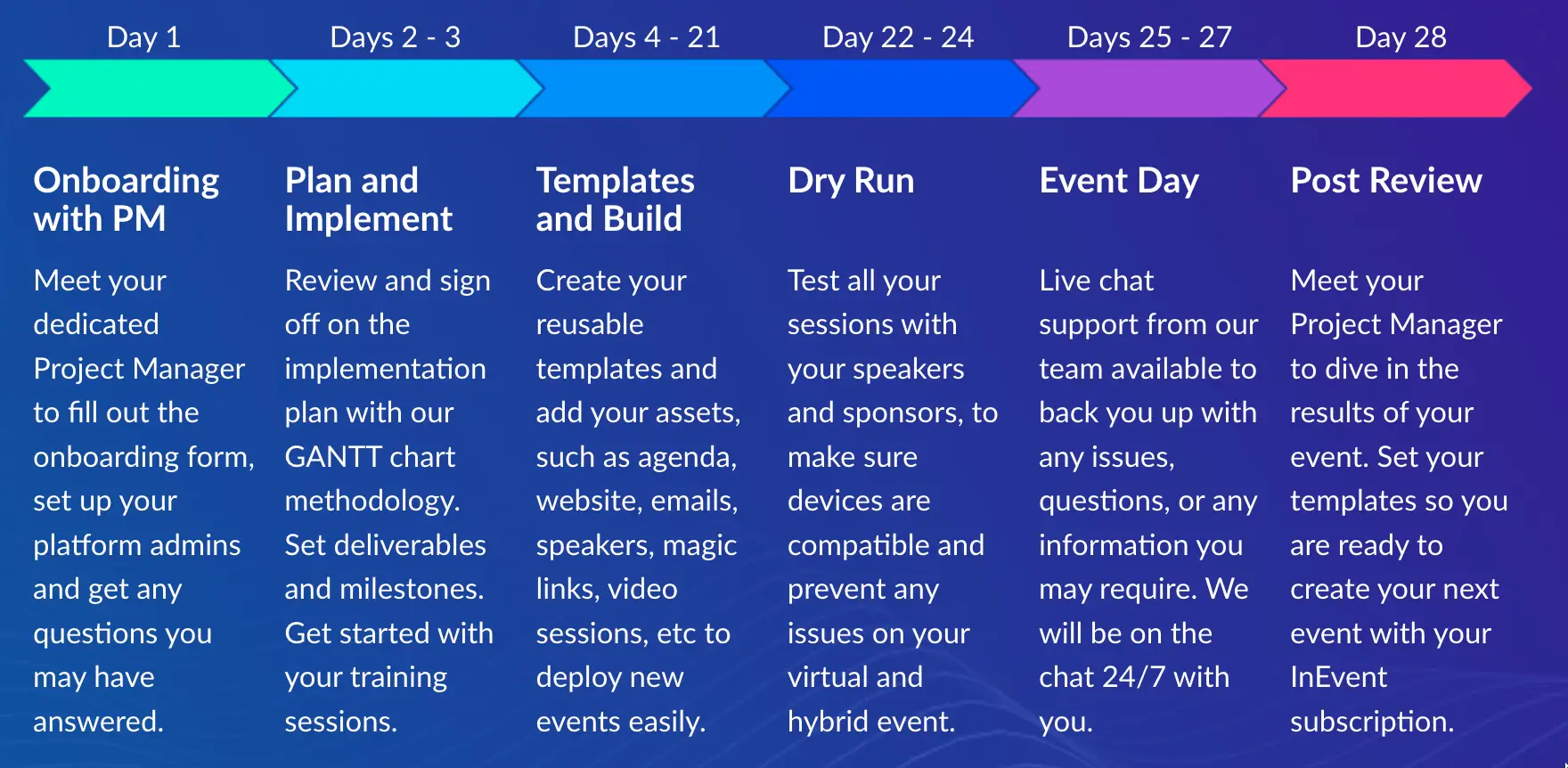 Onboarding
During the onboarding call, you will meet your dedicated project manager, and together, fill out the onboarding form, schedule your first training call, set up your platform admins, and have any and all your questions answered.
It is preferable that the person who is present during the onboarding call will also be the same who keeps contact with the InEvent team during the entire process.
If you would love to discuss some areas of improvement to your implementation support process, you can escalate by asking for a meeting with the Enterprise Manager. To do this, go to the
InEvent help center
and
email your assigned Project Manager
requesting a meeting with the Enterprise manager. You can also request it during
your video call sessions
, and the PM will forward this request to the manager.
Event Build
Now it's time for you to prepare your agenda, build your website, create and schedule your marketing emails, confirm speakers and sponsors presence, check your room video modes and connect your integrations.
Your project manager will help you to connect your platform integrations with other CRM systems to automate your events workflow on your InEvent subscription, as well as create reusable templates to deploy new events easily.
At this point, as the event organizer, you should also consider bringing someone from your IT department to assist with these technical parts and make sure everything is set up accordingly.
You can follow this guide to help you get started on creating your event! Additionally, you can arrange to speak with your project manager by booking a support call.
During every support call, your project manager will inform you of notable changes and releases made to the InEvent platform. You can also access our 
announcements page
 at any time, which includes records of changes such as fixes, improvements, and new features.
Dry Run
To avoid possible points of failure when going live, it is crucial to have your admins, room hosts, speakers/presenters, and sponsors join a dry run session, which will simulate the participant's experience on the day of the event.
This rehearsal should occur before the event goes live, helping to prevent and solve issues that the 20 minutes or less that speakers join you on the day of the event doesn't allow time for. Never assume your public is tech-savvy. Make sure you test internet connection and equipment and identify alternatives and backup plans should things go south.
Click here
for further information.
Event Day
Our support team is available 24/7 on chat to back you up with any issues, questions, or information you may require.
If you wish to have live support, besides chat, during your event, you can hire one of our partners. A certified partner will provide the best service and support so that your event occurs in the best possible way. Click here for further information on how and when to hire a certified partner.
Post review and next events
Once the event is over, you should review the event goals to find out whether or not they were achieved and document why. After this step has been completed, we recommend you book a support call to discuss your event with the project manager, help us get a sense of your satisfaction, and identify positive and negative practices with a view to improving future performance. On this call, we will run through your event analytics and draw insight to drive your upcoming events.
---
---