Virtual cameras: Changing your video background in the Virtual Lobby
When planing your virtual event you were inclined to use a virtual background to look modern and create a sense of artistry that static background images simply can't match up to?
At InEvent you have the option to choose from a native video background or you can also download a third-party virtual webcam.
This article intends to teach how to download a third-party virtual webcam and integrate your options while setting your video preferences.
Virtual webcam

A virtual webcam is a software application that allows users to use their computers' resources as an output during a video call. In other words, users can place images, videos, and other sources as their primary output during a presentation. By using a virtual camera, you will be able to apply virtual backgrounds, create layers, and add presets during activities in the Virtual Lobby without owning a green screen.
Third-party virtual camera
Downloading a virtual camera
First, you will need to download a virtual camera of your choice.
A few examples of virtual cameras that will allow you to change your background are Prezi Video, OBS, XSplit, ChromaCam, ManyCam, and Logitech Capture. Please note that some of those given options are not available for both Windows and Macs, check which one will suit you better.
Next, install and launch the virtual camera you have just downloaded.
Giving the Virtual Camera application access to your webcam
Windows: Check this article to learn how to turn on app permissions for your camera in Windows 10.
Mac: Check this article to learn how to control access to your webcam on Mac.
Setting the background
Virtual background for Windows and Mac users
Once you have downloaded and launched your virtual camera, it's time for you to explore it!
One simple but powerful virtual background desktop application for Windows and Mac users is ChromaCam. Click here to download it.
There is a free-to-use edition that lets you replace your background with a standard image or virtual green screen. With a ChromaCam Pro account, you can customize your background and logos, unlock additional images, and use PowerPoint content as a dynamic background.
When opening ChromaCam, the image below is the main page you will see when opening your virtual camera.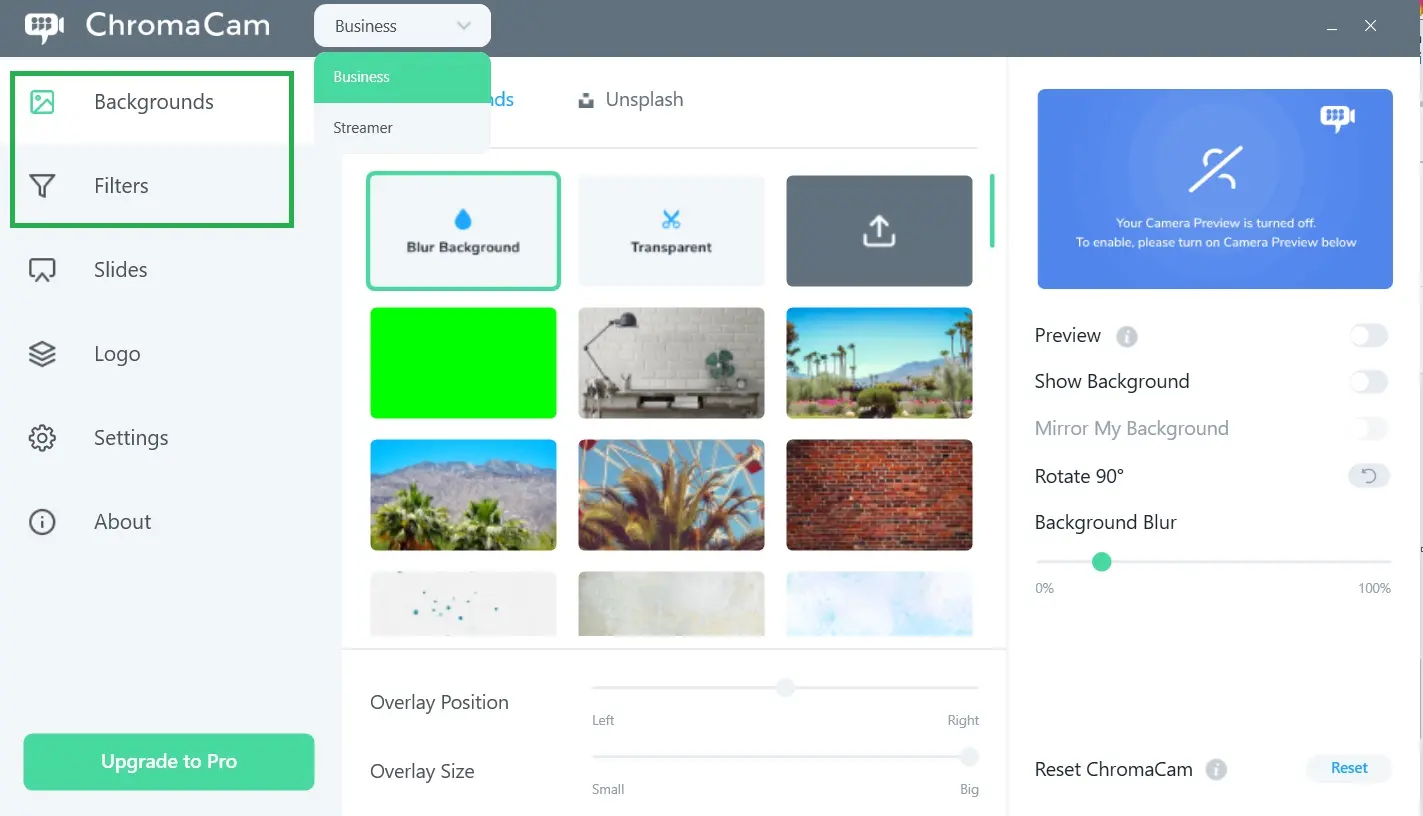 In the top left, you will see the Business and Streamer background options for you to choose from.
On the left, you can also navigate through Backgrounds and Filters options.
Once you have chosen your background option, you can skip to the topic Selecting the virtual background to continue the setup of your event.
Another option for both Windows and Mac users is
Prezi video
. After installing the Prezi Video application and setting up your layouts, choose the
Go Live
option on Prezi and choose
Prezi Video
as your Virtual Camera source when accessing the activity or sponsor room. Please check the official
Prezi Video Tutorials Website
to learn more about Prezi Video's features.
Virtual background for Windows users
Another alternative for Windows users is XSplit. Click here to download it.
When opening XSplit, the image below is the main page you will see when opening your virtual camera: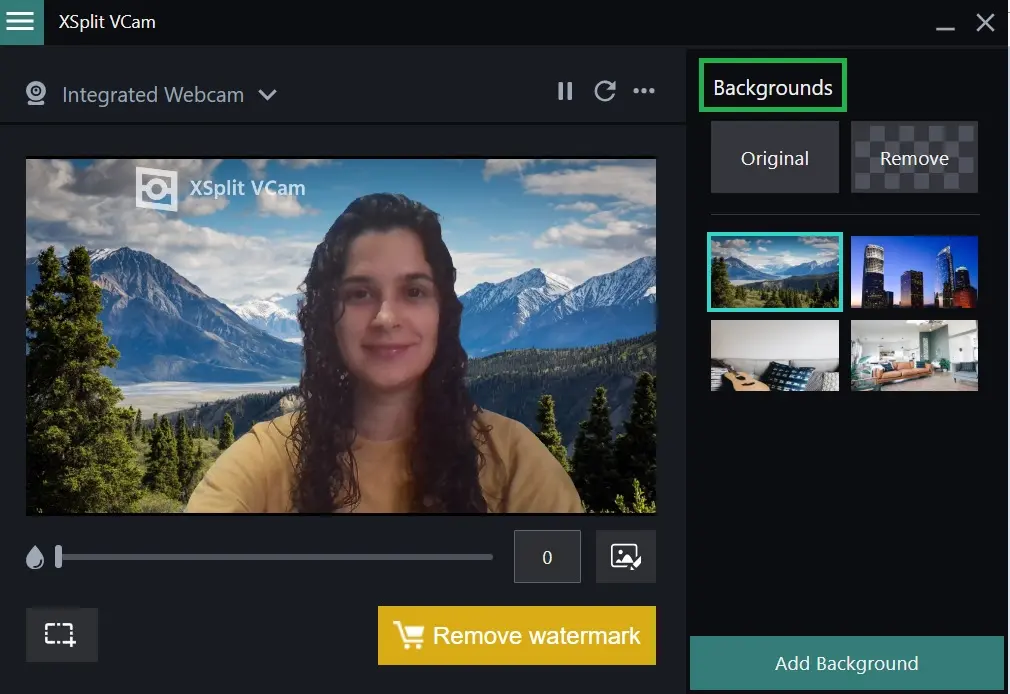 To change the background, simply click on an image on the right-hand side or press Add Background to upload a Media File, YouTube video, Webpage, or Unsplash photo as your background. For further information, click here.
Selecting the virtual background
Now that you have installed the virtual camera, you should access the Virtual Lobby.
If you are:
A speaker, room host, or administrator joining a session you'll be taking part in
An attendee being invited to speak by a room host
A speaker, room host, administrator, or attendee networking with other people
You will be prompted to configure your devices such as a camera, speaker, and microphone so that people can hear and see you in the room you are in.
If you try joining a room with presenter permissions to share your camera and audio but you haven't given InEvent access to your camera and microphone, you should see a pop-up notifying you about that.
Click here
for further information.
Under Camera, you should select your virtual camera as a video source. Now, the output image you see in your virtual camera with all effects and layers will be transmitted to the Virtual Lobby.
When you see your self view in the virtual camera, it will be flipped, but when the other participants in the meeting see your video, they will see it the correct way.
---
---