Follow up sessions
"What session should I attend now?" "How do I move from one room to another?" "Which sessions will be most helpful to me?" These are possible questions that are going through an attendee's mind during an event. To help your attendees, you can define an order of activities by setting up follow-up sessions and moving attendees to the room you would like them to go to next.
How do I configure my follow-up sessions?
First, you will need to create all event activities. Once all activities have been created, it's time for you to configure them.
In the platform
Go to Agenda > Activities > select the activity and click Edit (top right).
The Details tab contains the settings for your activity, including the possibility of making it a virtual room.
Now, on the activity's details page, scroll down until you see Follow up session.
To learn about all possibilities on this page, including speech-to-text transcription, access policy, room video modes, and more,
check this article
.
In the gif below you will find an example of how to set up the follow-up session. By selecting the 'Join here' activity on the left, press Edit, scroll down until you see Follow up session, and select 'Breakout room'.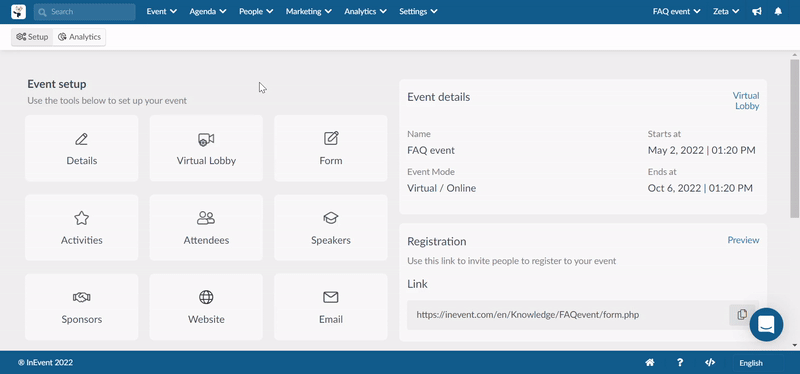 Once the first activity finishes the users will be automatically moved to the selected following session!
In case the first activity finishes before the schedule and you wish to send the participants straight away to the next one selected, all you need to do is press the Send now button!

The admins will receive a pop-up message asking to confirm if they are sure they would like to move viewers to a different session.

Setting up a follow-up session is optional. By default, if you do not set any follow-up session, the next session will be based on the event's agenda.
In the Virtual Lobby
There is also an option to do this within the activity. The admins, staff, and room hosts can choose the follow-up sessions from the activity rooms. To do so, they should click on the Move viewers to next session button that will appear at the top of the page in each room.

By clicking on Move viewers to the next session, the admin, staff, or room host will see a pop-up window asking them to select the next session. After selecting which session the attendees should be moved to, they should click on Move now.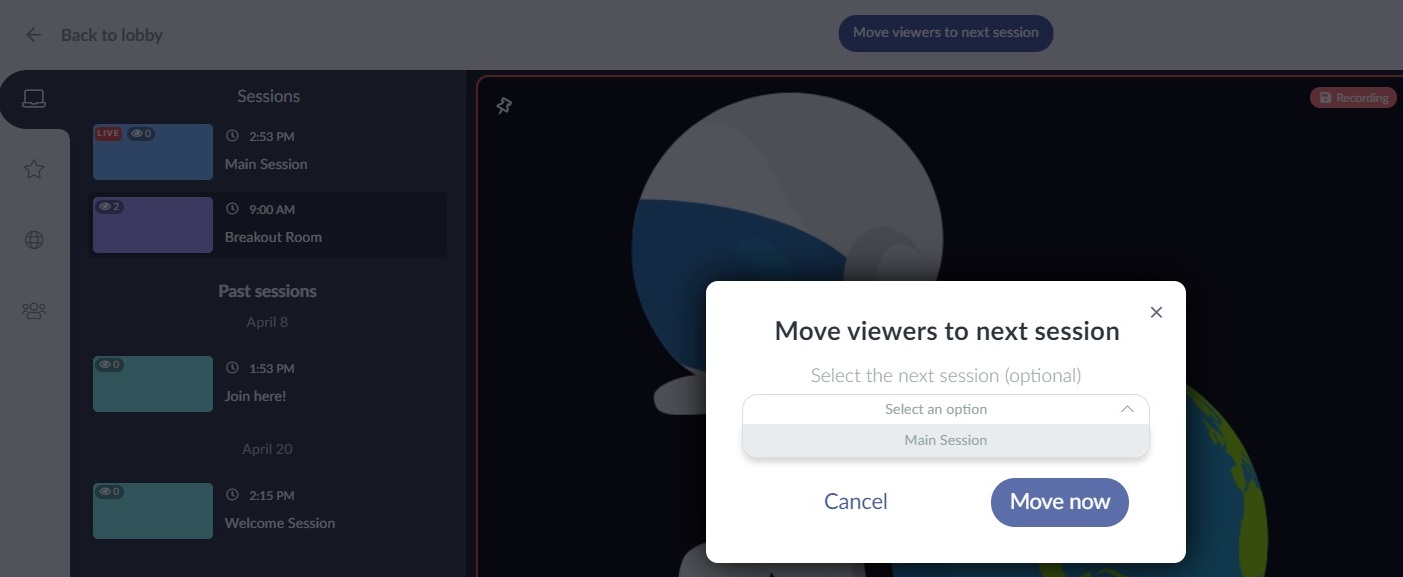 Then, the admins, staff, or room hosts will receive another pop-up asking them to confirm their decision to move viewers to the next session.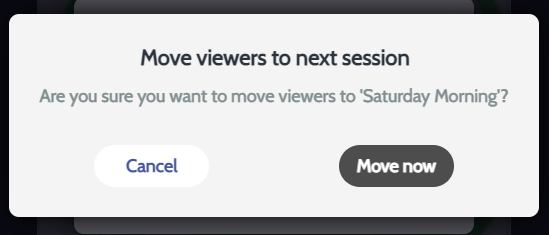 Once the action is confirmed, all participants will see a message that says Loading next session and will be taken to a different room.
---
---