Setting up your online activities
To set up your activities, go to Agenda > Activities > select the activity and click Edit (top right). The Details tab contains the settings for your activity, including the possibility of making it a virtual room.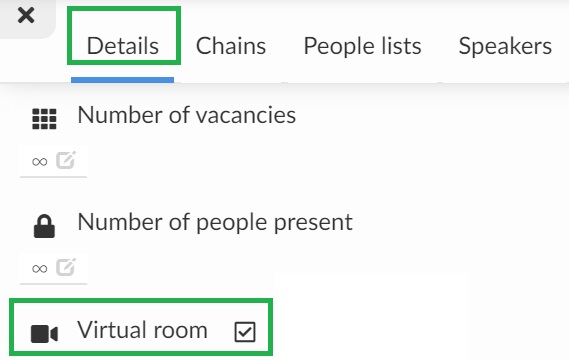 By checking the Virtual room option, a link will be generated, making the activity accessible within the Virtual Lobby.
Click here to learn how to edit your activity's details.
Room cover
Adding a room cover to your activity will display a thumbnail icon for this session. If you do not add a room cover, this tile will be a plain, block color.
To add an image, click on the red folder icon, and upload a Room Cover from your computer, which will be viewed by the participants in the lobby. The desired image size is 280x160 pixels.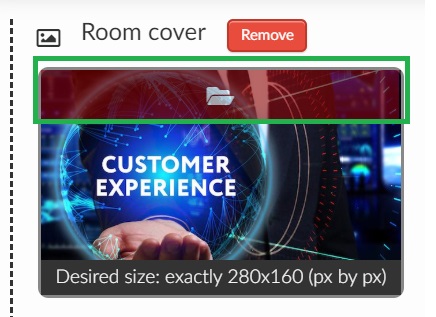 Pre-control cameras and microphones
To ensure that your speakers will enter the activity with microphone and camera enabled, go to Event > Speaker and select your speaker. Link the attendee profile to the matching speaker, and then add this speaker to the activity.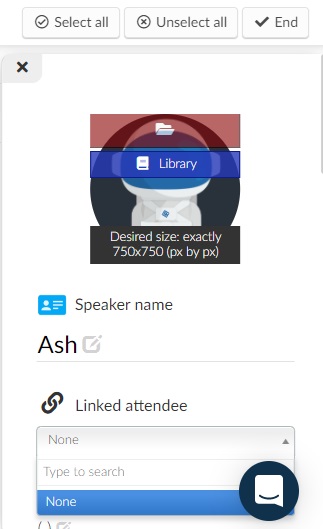 Adding the speaker to the activity will ensure their attendee profile is recognized as a speaker, and they will be able to join the event prior to the event starting, as well as having presenter capabilities

Setting a room host
You can select who will be the host of the room. The host will need to be in the room to start the Control room stream, and ensure that the session is being recorded. The host can be anyone from your attendee list

Choosing your Room Video Mode
Once you have activated your virtual room, you will be asked to choose your Room Video Mode.
Please refer to your
plan
to understand what room modes are available to you
Your room video options (plan dependent) are
Open the drop down menu to make your selection, then complete the required steps based on your choice.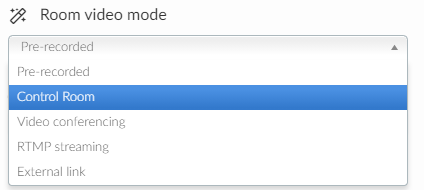 If an administrator changes the room video mode while a live session is happening, it will be updated instantaneously in the Virtual without the need of users refreshing their page. All attendees should see a pop-up message informing them that "Live content changed" and the new room video mode will be displayed for everyone in the room.
Control Room
Please review the
Control Room FAQ
to learn more about the benefits and function of using the Control Room option.
Pre-Recorded Video
If you have chosen pre-recorded as your room video mode, you have many options to choose from here. You can paste a link of a web based video, or upload a video of your own.
To use a web based video via web URL, simply select 'use link', and paste the link into the text box.
The video format should be MP4. It can be a direct video or an iframe.

If you are using a video from Vimeo, you will need to include the embed link when connecting a link to your activity. Click on the Share button on your Vimeo video, and find the embed link as shown below.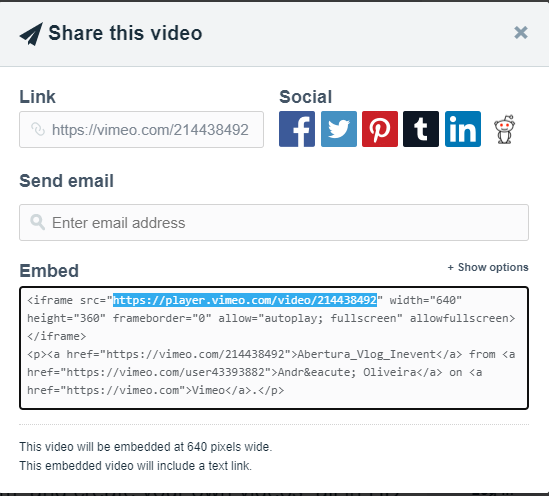 Once you add this, please select 'Treat pre-recorded video as an embed frame'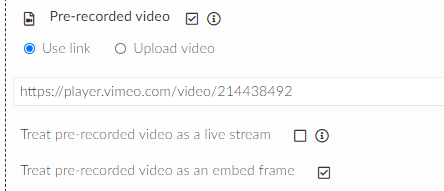 To upload your own video file, select 'Upload video', and click on the green upload button to find this file on your computer. There is no limit on the file size for your video

Setting your Pre-recorded video as a Simulated Live Stream
This feature allows you to set a pre-recorded video to be streamed live at the time and date you have selected for your activity.
To activate this option on the above plans, simply go to Settings>Tools, and enable the option 'Simulated Live Streaming' in the Live section of the tools.

Doing this will make your pre-recorded content act exactly the same as a live stream, users will watch as if it is a live event. They will be unable to pause, rewind or re-watch the content, unless you then set it as an on-demand video.
Simply upload your video, and then select 'Treat pre-recorded video as simulated live stream'.
We will create a URL for your video.
External links are not supported with this function.

Video Conferencing
If you choose Video Conferencing for your room video mode, the Control Room will be disabled and WebRTC (Real Time Communication) will be enabled. With this option, we recommend all attendees have a i7 Quad Core (physical core) CPU or higher, and a minimum connection of 0.5Mbps per speaker.
You will see the below when selecting this option.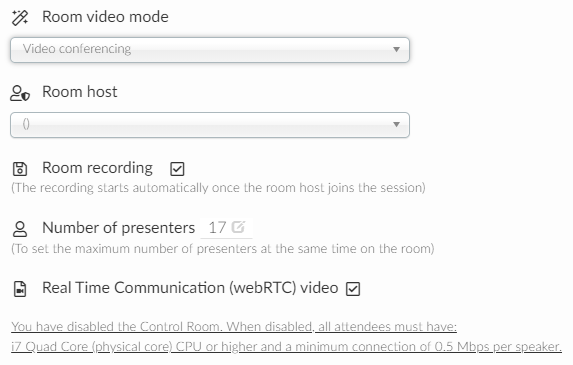 Speaker and gallery view
There are two video layouts when using video conferencing as the room video mode:
Speaker view: will switch the large video window between who is speaking with other participants in the meeting.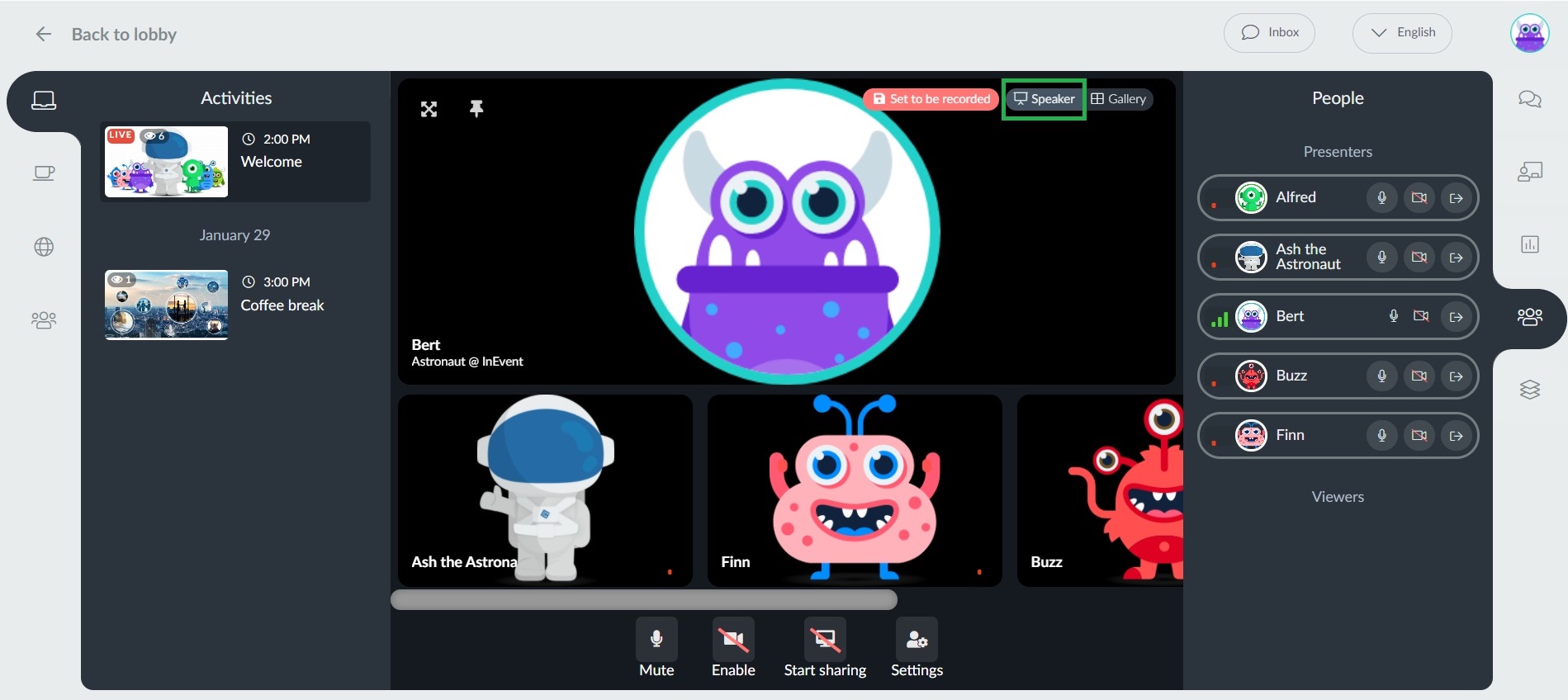 Gallery view: lets you see thumbnail displays of participants, in a grid pattern, which expands and contracts as participants join and leave the meeting.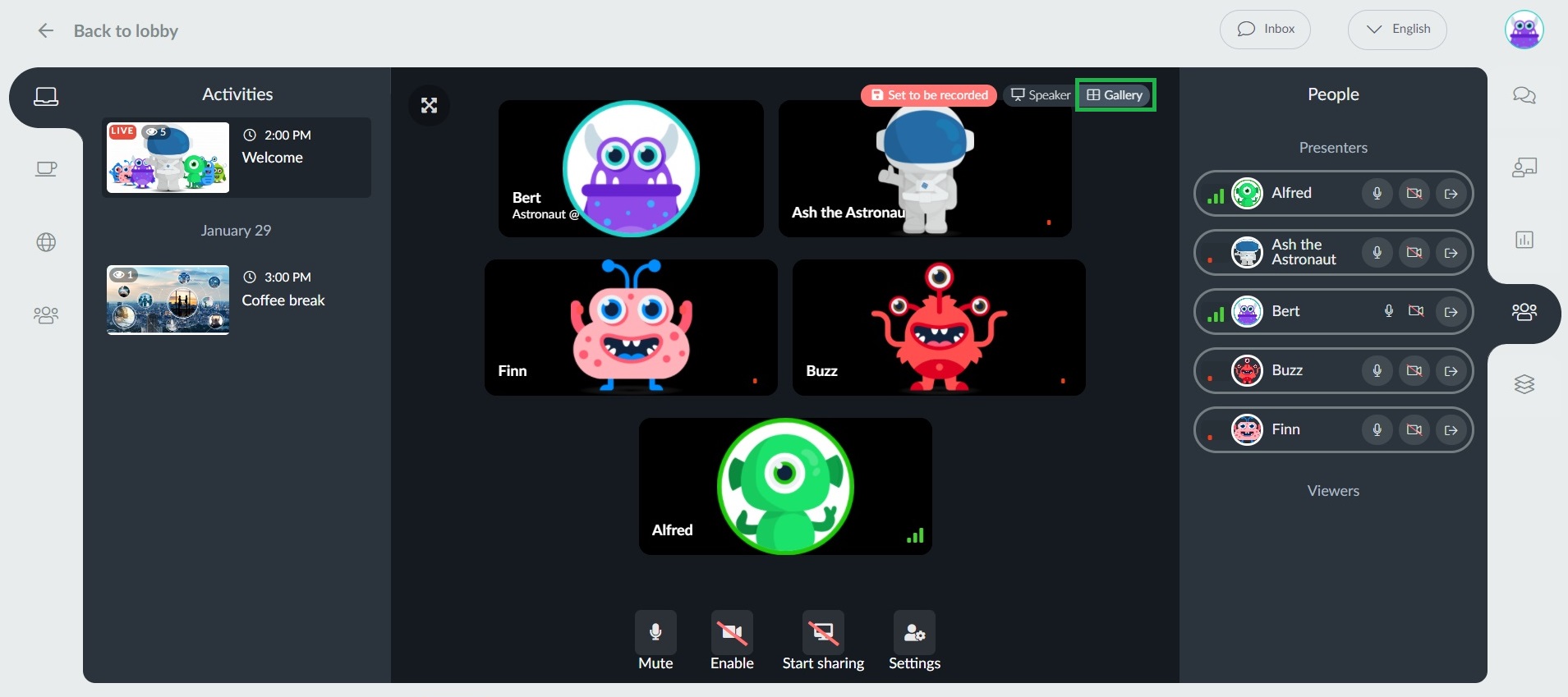 The attendee will be able to select their preferred layout as shown in the image below:

Video conferencing is the only room video mode with the option for the user to select Gallery view as the video layout option in the Virtual Lobby.
RTMP Streaming
You can choose RTMP streaming as your room video mode to live stream a session using an external software such as OBS, Wirecast, vMix or any other live streaming platform. When you select this option, a blue button will appear titled View Information. Click on this button to open the pop up window with the RTMP code you need to copy to your software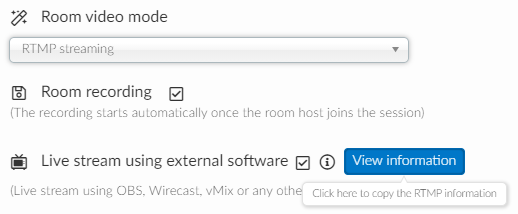 .
InEvent provides two endpoints, as a failsafe. Both endpoints do not need to be enabled.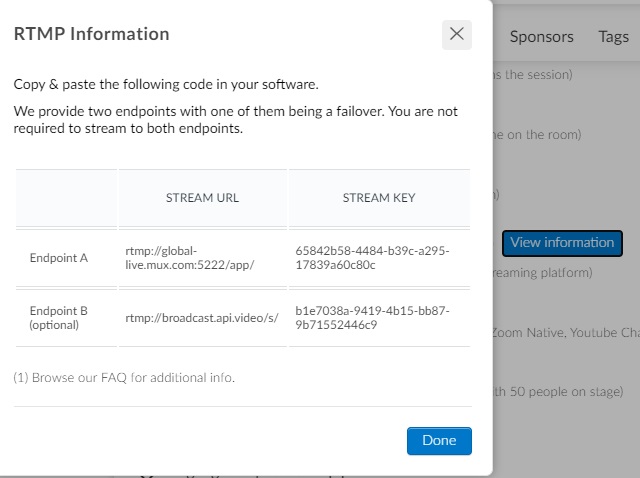 If you have provided two sources, in the session, all attendees will be able to switch between these by clicking on the settings wheel on the stream.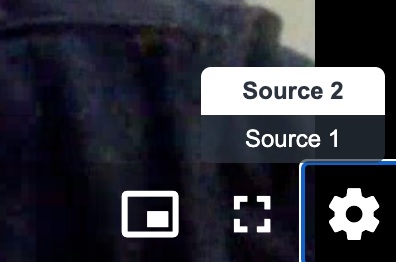 RTMP requirements
720p
Bitrate: 2,500kbps
Frame rate: 30fps
1080p
Bitrate: 5,000kbps
Frame rate: 30fps
We recommend 10 Mbit for uploads.
We do not recommend 60fps as the bandwidth requirement is too high and our RTMP server will probably cut down to 30fps.
External Link
When choosing this option as your room video mode, you will see the following fields

You can enter your external link in the text box to configure your activity. You will be able to use an external platform such as Webex, Zoom Native, YouTube to manage this call.
Recording your session
You can record sessions in the virtual lobby. The session starts to be recorded from the moment the host enters the room.
Once the session ends the recording is automatically available in the Recording tab, to be played or downloaded.
Downloading the recording
Follow the steps below to download your recording after your session has ended.
Click on the blue button Prepare download.

The blue button will turn to grey with a new message; Preparing download

Once the download is complete, it will change to Download ready. From here you have two options; open and download the recording, or set it as your pre-recorded content.

When you select the Download ready option, a new window will open with the video player. In the bottom right of the player, click on the 3 dots and select Download

To set it as the pre-recorded content for this room, click on the orange option Set as pre-recorded. This video will automatically be set as your pre-recorded video for this session.
To ensure your attendees can access this content after your event, please be sure that this activity end date is changed to reflect this, and guarantee your attendees can access the session.
Setting the maximum number of presenters
All administrators when entering a session can enable the camera and microphone, if you want to define the maximum number of administrators who will have that access in that room, just enter the amount in the Maximum number of presenters in the room field.

People
In the People tab, all participants who are online in this session will be listed.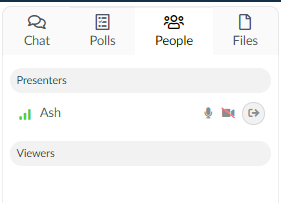 If you are an admin or the room host, you'll have the permission to mute people and also to invite them to share their audio and video.
Adding files before the event starts
To add a file to an activity, select an activity, in the right side corner press Edit and then on the right hand side press the Files tab. After that click on the red button to choose a file to upload.

Which formats are supported?
"html", "htm", "js", "css";
"zip";
"xlsx", "pdf", "ppt", "doc", "docx", "xls", "csv", "pptx";
"mp4", "mov", "3gp";
"gif", "jpeg", "jpg", "png";
"ttf", "woff", "woff2", "eot";
"ics"
There is a limitation of 100MB per file when uploading files to Materials. In case you would like to upload bigger sized videos, you can upload these videos to other video hosts and copy and paste the link to the pre-recorded content field in the activity's details.
.
User control options
The participants who join the sessions as presenters will be shown control options.
They will be able to enable or disable the microphone and camera by selecting the icons on their profile picture.
They can also choose which camera, microphone and speaker to use for the session (helpful for those using external hardware)
They can also choose to join the session as a viewer, and perform connection tests if any of these configurations fail.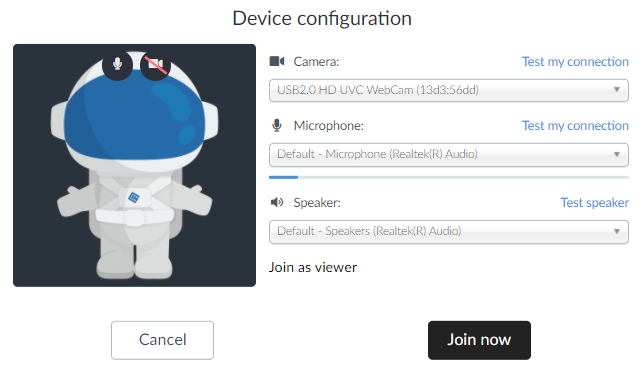 ---
---