Interacting with attendees during your virtual activities
Inside your activities, there are many ways that you can interact with those attending your event.
Each activity has up to five tabs within the right-side panel: Chat, Questions, Polls, People and Files.
Each of these interactive tools can be controlled and will assist you in increasing engagement with and from your attendees.
Activity's configuration
All of these options are auto-enabled in each activity; each activity can be configured differently.
To hide any of these tabs inside a particular activity, go to Agenda > Activities, and select your activity. Scroll to the end of the Details tab.
Click on Edit and simply tick the box beside the option you wish to hide from view.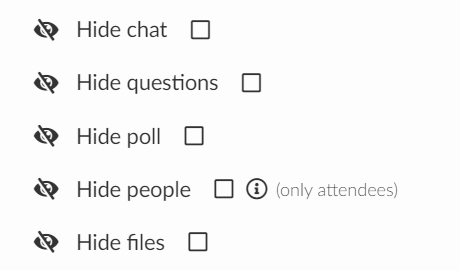 Chat
In the Chat tab, participants will be able to chat during the session. The chat can be viewed by all participants in the room.
Inside the room, all participants (presenters and viewers) can interact in the chat area simply navigating to the Chat tab, typing a message or selecting an emoji in the emoji keyboard and pressing Send.
Participants with
User
permission will not be able to see the
Private Chat
. To learn more about it,
click here
.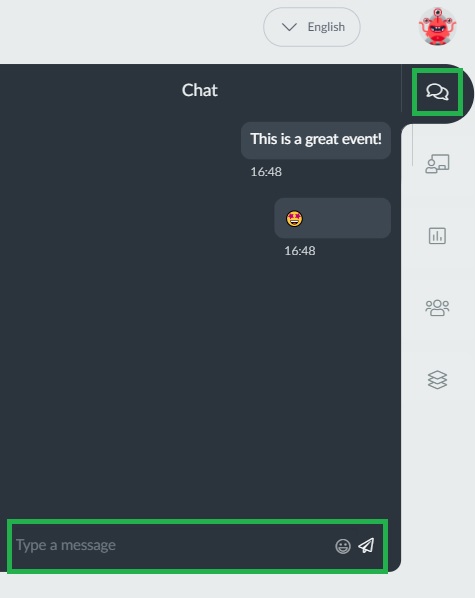 Pre-approval of chat messages
If you prefer to have control over the chat messages that are being sent, you can choose to either approve or reject each of these messages.
To do this, simply go to Settings > Tools, and search for Comments of Attendees. If you untick this option, this will be set to No, and all comments will need to be approved before being made visible to your attendees. You will also have the option to reject chat messages with this setting.

With this setting deactivated, you will now see that all comments need to be approved. Admin and Room Hosts will have the ability to approve or reject these comments inside of the activity.
If approved, the message will then become visible to attendees. If rejected, they will be removed from the activity, and the system.
Comments from administrators will always be approved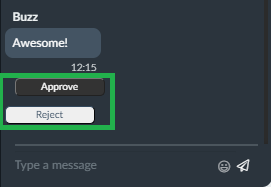 Pinned messages
If, as an admin, you take your cursor and hover over any message, you will see a drawing pin icon.
The drawing pin enables you to pin the message you have selected, and this will be duplicated into a Pinned messages area.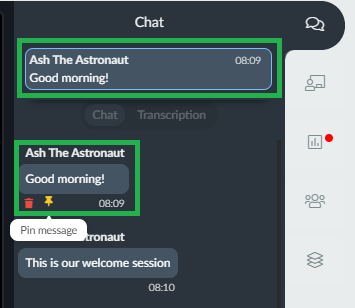 To unpin, simply click on the drawing pin icon again, and this will be removed from the Pinned messages area.
Deleting messages
Admin and Room Hosts can delete a message from the chat easily. Simply hover over the message with your cursor, and select the trash can icon. When you do this, you will be presented with a warning message, asking you to confirm this action.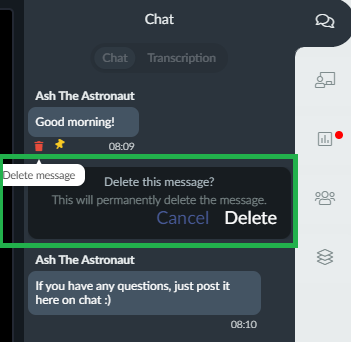 Questions
The Questions tab can be used to collect your attendees' questions in a single location, making it easy for your attendees and speakers to see what questions are being asked, and which questions are most popular.
Questions can be added simply by typing a question in the text box, and pressing send.
All questions will be visible here, and attendees can upvote popular questions. The more votes, the higher on the list that question will appear!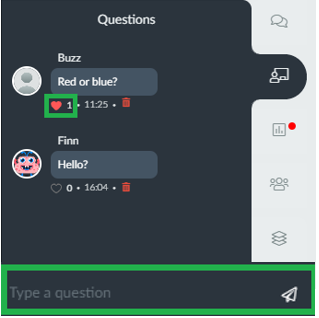 Pre-approval of Questions
Similarly to Chat, you can choose to require pre-approval of questions before they become visible to your attendees.
To activate pre approval of questions, go to Settings > Tools, and search for Questions of Attendees. All Questions will require approval before becoming visible to your attendees if you untick this option. Like Chat, you will also have the option to reject Questions with this setting.

After deactivating this setting, all questions will have to be approved or rejected before being publicly visible.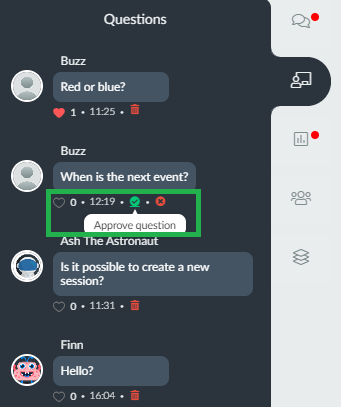 Deleting Questions
Admin and Room Hosts can easily delete a question from the questions tab if they deem necessary. To delete, just click the Delete option below the message. When you do this, you will be presented with a warning message, asking you to confirm this action.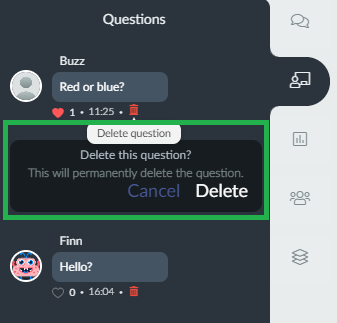 Polls
The Polls tab is where all attendees can interact with surveys or optioned questions created by presenters, room hosts or admin.
Creating polls
To create a poll inside your activity, simply click the Create Poll button inside this tab.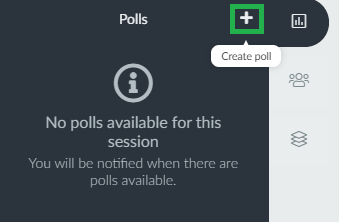 You will then see a popup, where you can write the name of your poll, add different answer options, and select whether or not you want this poll to be visible to your attendees.
When you are happy with your poll, click create.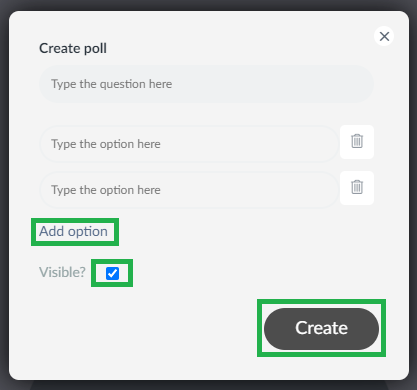 The poll will now be posted in the poll tab for your audience to answer.
Besides being available in the
Polls
tab in the room, the polls will also be displayed in the attendees' agenda.
Click here
for further information.
You can see the number of votes under the poll itself, and review how many votes each option received by hovering over that option.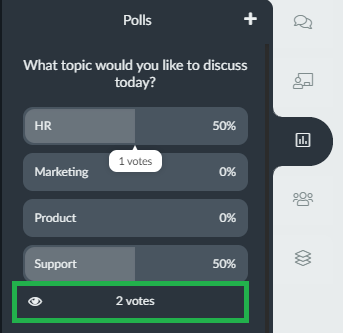 Making polls in/visible
The small eye symbol depicts if this poll is visible to your attendees. If you wish to hide this poll from view, simply click the eye, and you will be presented with a confirmation pop-up to make this poll invisible.
Click Yes to make this poll invisible, and you will now see your poll depicting an eye with a strike through it. If you then wish to make it visible, simply click on this symbol to reverse the process

To know more about deleting polls, polls orders, and polls reports,
click here
.
People
The People's tab displays who is in attendance, presenters and viewers. You can also use the side-bar to see all the participants present in that specific activity and click on the Load more button.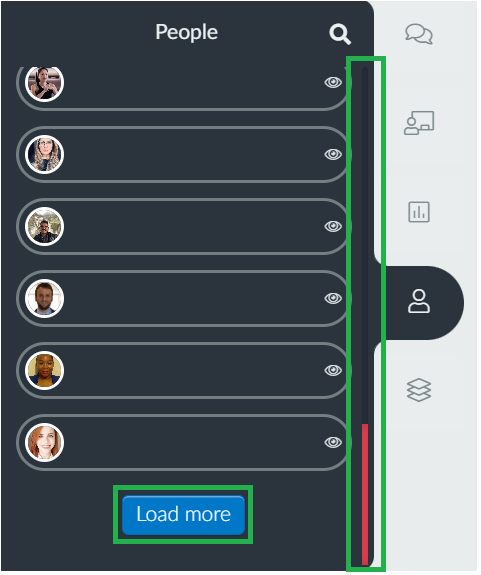 At the Neo layout you can also search for the participant's name: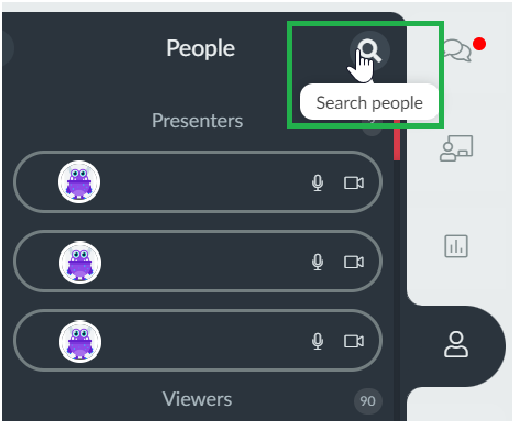 Raise hand
Attendees can raise their hands if they want to notify the presenters and/or want to be invited on stage.
The raise hand icon will only appear to viewers. Those who are presenters shouldn't see the raise hand icon in the top left.
To raise your hand, simply click on the little hand icon in the top left of the room.

If the presenters/ host have a different tab opened inside the session, they will see a notification (red or blue dot) on the people's tab, and once this tab is open a little hand icon waving next to the attendee's name.
Below you can see on the left image how it looks like at the Neo layout, and on the right image at the Classic layout.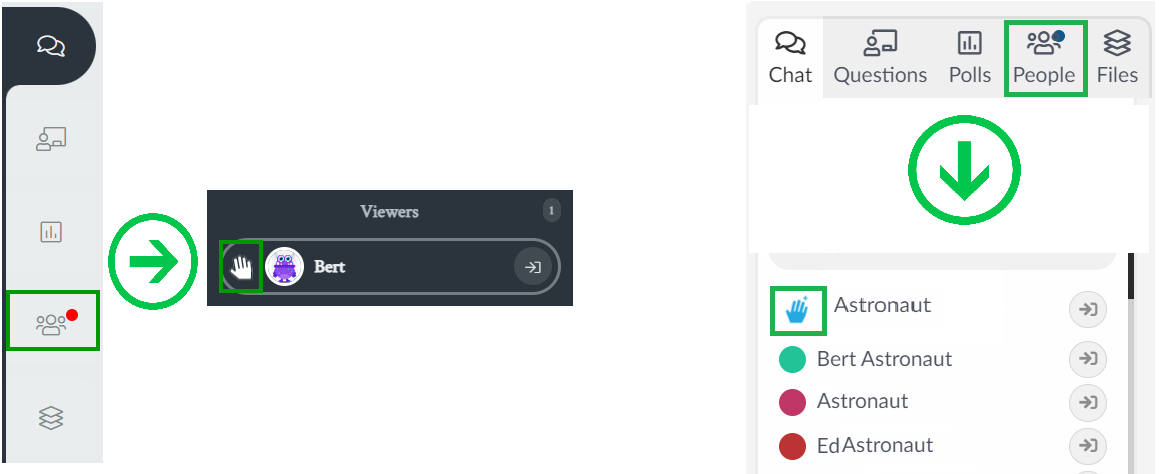 Once the meeting's host notice that the attendee has raised their hand, what they can do is click on the icon in the right-hand side to invite this attendee to speak.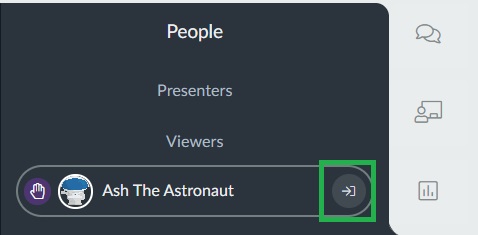 After being invited to speak, the attendee should receive a video call request. If they accept it, they will become presenters and will be able to speak and have their cameras on.
Hide people count
Besides hiding the people's tab (only for attendees, admins and speakers will still be able to see the tab), you can also hide the people count on Virtual Lobby session tiles by clicking on Event > Virtual Lobby > Tools, press Edit and scroll down until you see Hide people count.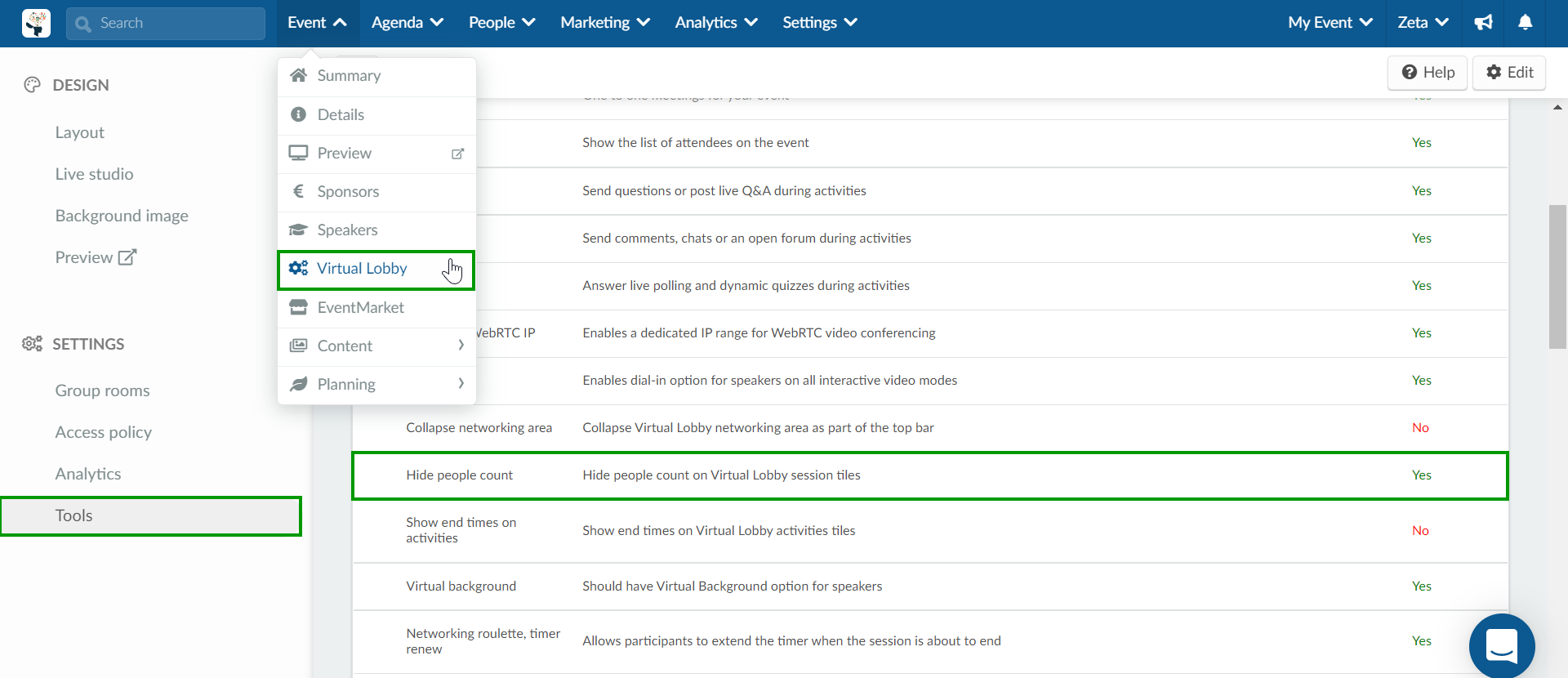 And this is how it looks like inside the activity: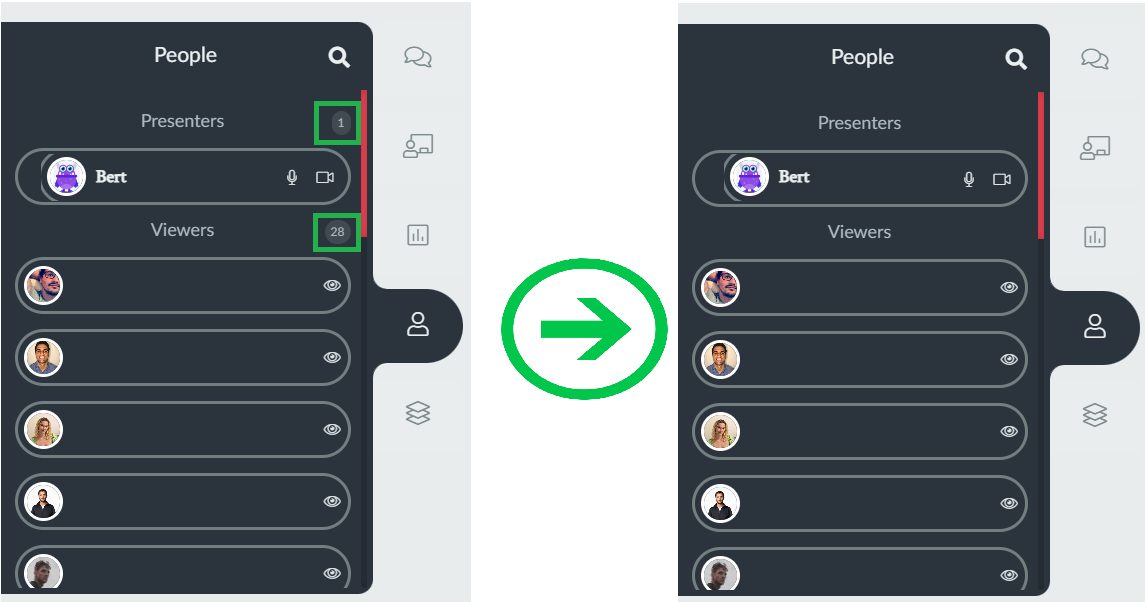 Files
The Files' tab is where additional material can be added for your attendees while your session is happening.
This option is great for presenters and speakers to upload documentation, slides, or any other files they would like to share without having access to the InEvent platform.
To upload a file, simply click on the text Upload a file, and choose the file from your computer.
To complete the upload, click on the circular send icon.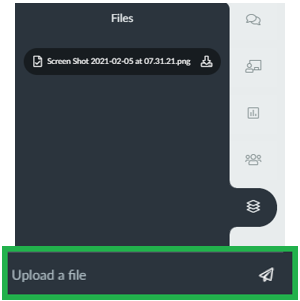 Can I change the name of these tabs?
Yes! As an admin, you can rename any of these tabs by navigating to the Headings section of your platform.
Each of these options will start with Virtual Lobby -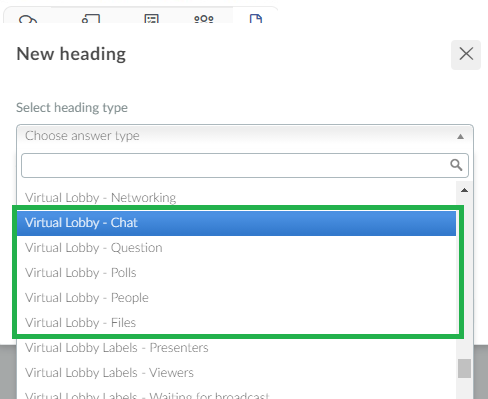 Simply select the heading you wish to change, and enter the heading value you wish for it to change to. The default value will show you what the original name of this heading is.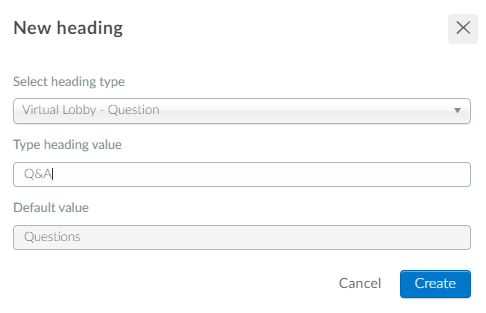 How do I invite someone to join the session I'm in?
If you are in a session and you'd like to invite another participant to join the room, just click on the Networking tab on the left, look for the attendee you would like to invite, and click on the button with a forward icon to invite this person to this session.

Embedding a whiteboard into the Virtual Lobby
You can embed a whiteboard into the Virtual Lobby and collaborate with the participants and speakers of the event while the session is happening. You can set any level of access to the board and allow people to view, comment, or edit the embedded boards. Click here for further information.
---
---