Room recording
InEvent allows you to download any type of live broadcasting you created and use it to promote your virtual and hybrid events. Recorded videos are great for building hybrid and virtual events case studies on virtual live conferences, virtual meetings, virtual networking, virtual exhibitions, offsite meetings, offsite events, and any other live stream broadcast for events.
How do I enable room recording?
To enable room recording, go to Agenda > Activities > select the activity and click Edit (top right). Scroll down in the Details tab until you see Room recording and make sure to tick the checkbox to enable this functionality.
Click here
for further information on how to set up your online activities.

How do I download the recording?
Once the session ends the recording is automatically available in the Recordings tab, to be played, downloaded, set as pre-recorded, or deleted.
Follow the steps below to download your recording after your session has ended.
Click on the blue button Prepare download

The blue button will turn to grey with a new message: Preparing download

Once the download is complete, it will change to Download ready

When you select the Download ready option, a new window will open with the video player. In the bottom right of the player, click on the 3 dots and select Download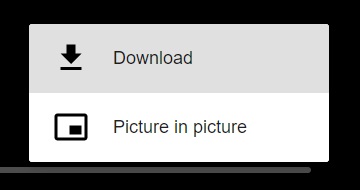 If you select Picture in picture, it will allow you to watch the recording in a small window pinned to a corner of the screen while navigating between tabs.
Recording types
There are three types of recording that will be indicated on the left-hand side of each file:
Backstage: recordings of the moments before the live stream starts and after it ends.
Live Stream: recording of the live stream.
Audio Interpretation: recordings of audio interpretation channels.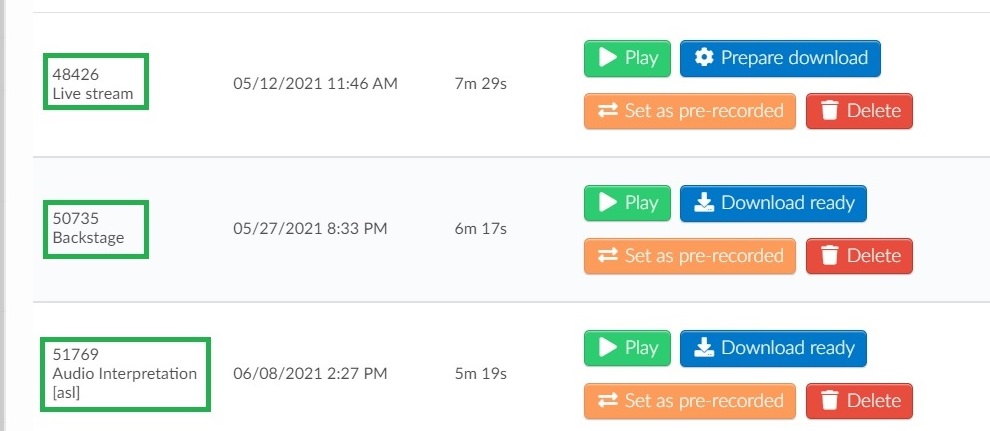 Setting the recording as pre-recorded content
To set it as pre-recorded content for this room, click on the orange option Set as pre-recorded. This video will automatically be set as your pre-recorded video for this session.

Click here for further information on the pre-recorded room video mode.
To ensure your attendees can access this content after your event, please make sure that the
Access Policy
has been set to
Yes
under
Join sessions after ending
.
How do I delete a recording?
To delete a recording, press the red button Delete. A window will pop up asking you to confirm if you should like to delete the recording.
Type DELETE RECORDING to confirm and press Delete.

Room recordings and room video modes
The way the recording works will depend on the selected room video mode:
When using Live Studio, videoconferencing or videoconferencing pro, the Layout of the recording will be pre-determined: If only cameras are active, you will see a Gallery View type of recording while if there's a screen sharing/PDF sharing/Video sharing, you will see a Focus Mixed type (cameras positioned on the left corner as a vertical grid).
RTMP Streaming: The recording starts the second you start the streaming on the third-party software.
External Link: Since this session happens outside of the InEvent platform, we are not responsible for its recording.
Our recordings are stored on Amazon Web Services (AWS).
---
---