Terms of use: privacy and data security
The InEvent platform allows the organizer to add the events privacy policy to your platform. This way, it is possible to inform the application users of the terms and conditions of use, as well as the rules of publication and storage of data.
How do I add my privacy policy to all my events?
To add the privacy policy to all your events in the company, you must click Details on the Company admin screen. Then click on Edit and scroll down and click on the Terms of use and privacy link to edit it.

Insert the external link in this section and click End in the top right corner, to save.
How can I add my privacy policy to one specific event?
At the company level, click on Events and select the events you would like to add your privacy policy.
Then, go to Event > Details and scroll down until you see Terms of service and add the link of your terms of service for the event.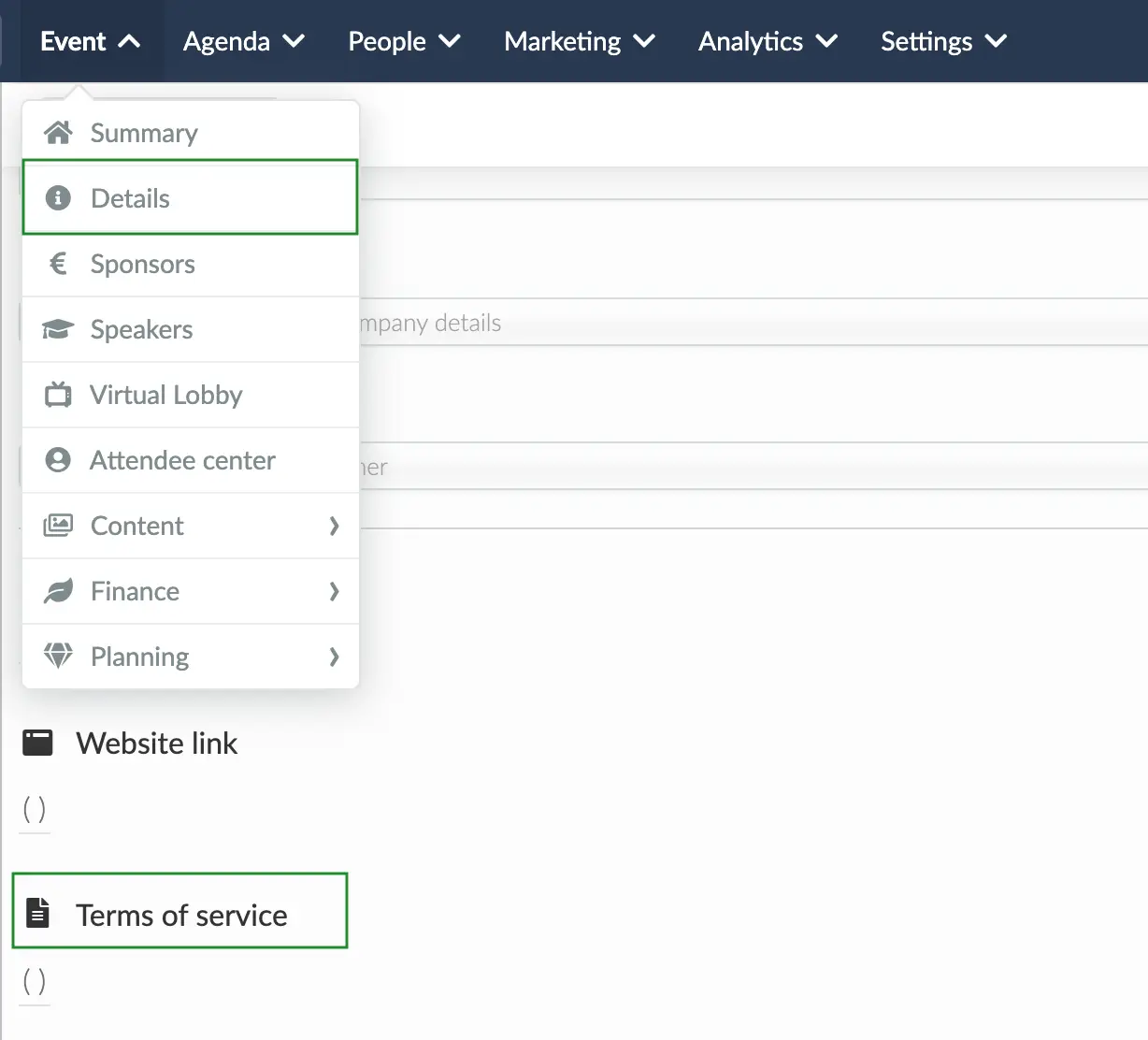 Where will the terms of use be displayed?
When the attendee accesses their mobile application, forms or the login page in the Virtual Lobby, all privacy validations, and user consent will be requested in the login/registration flow, including the privacy and security terms placed on the platform.
Virtual Lobby

Forms
Mobile app
Can I add my own Terms of use in a PDF file format to the platform?
Yes! If you don't have the URL for your own Terms of use, you can use our platform to upload your PDF file and generate a URL. Go to Event > Content > Files > press +Add files and upload the document by clicking on the green button with the folder icon.
Once this step is done, simply click on top of it and a new tab will open up. Copy the file URL and paste it to the correspondent field under Event > Details > Terms of Service, as shown below: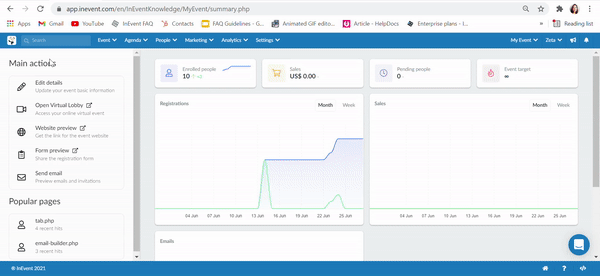 How do I customize the standard Terms of use text?
To customize the standard Terms of use text in one specific event, go to Settings > Headings.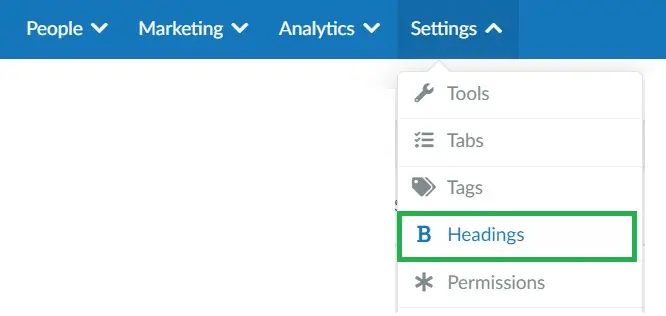 Click on the button +Add Headings. A new window will open, and you can choose the default text you want to change on the Select heading type.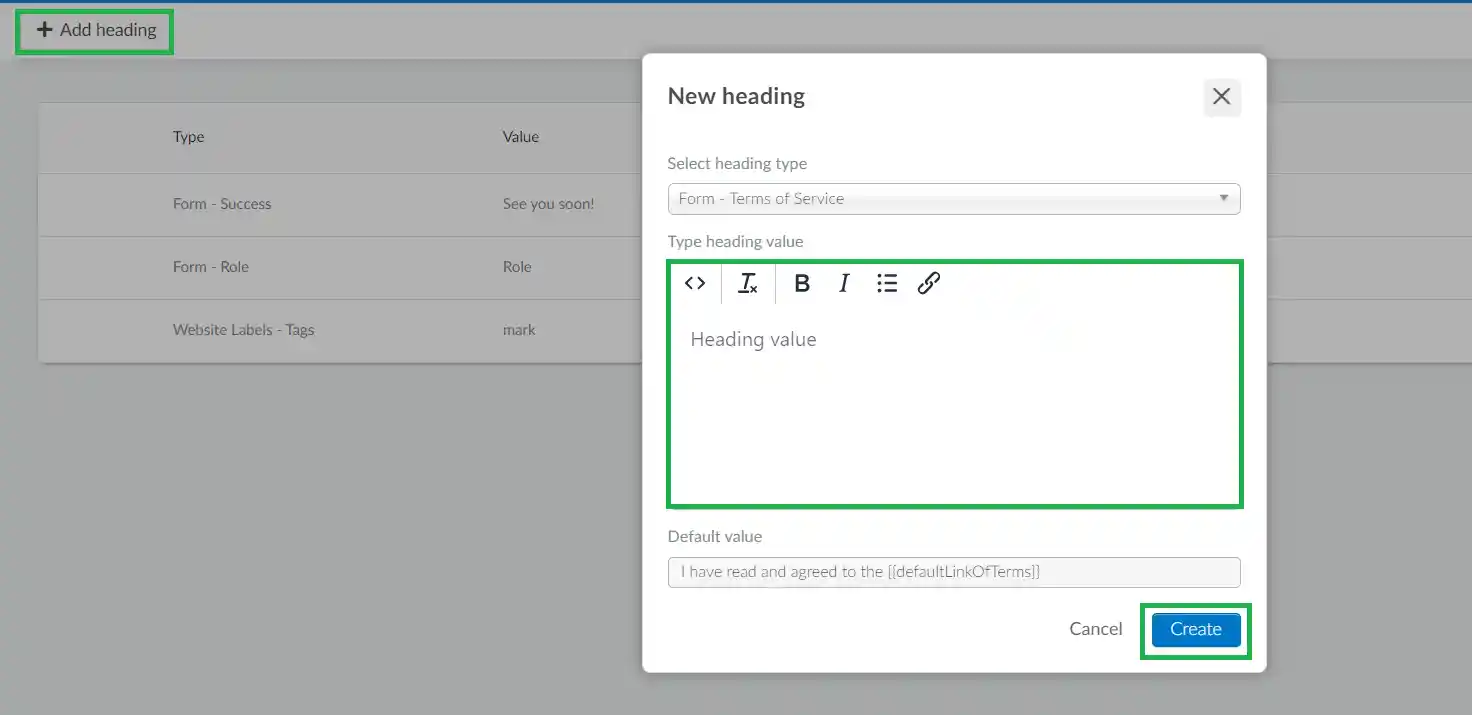 To change the default value, you should select either Form - Terms of Service, Purchase - Terms of Service or Custom Form - Terms of Service, depending on your needs, and add the desired new text under Type heading value text box. Then, press Create.
Click here on further information on Headings.
Can I create multiple Terms of service ?
Yes. You can create multiple terms of service using the Headings feature. To learn more about this, refer to this article.
---
---