Which webRTC provider I should use: TokBox or Agora.io?
Web real-time communication (webRTC) is a free, open-source project that provides web browsers and mobile applications with real-time communication via simple application programming interfaces. It allows audio and video communication to work inside web pages by allowing direct peer-to-peer communication.
Which webRTC provider should I use?
The InEvent platform offers two webRTC providers for you to choose from: TokBox and Agora.io. We recommend TokBox as the primary webRTC provider for all regions.
If you wish to use Agora.io as your main server, you can, but please go to Settings > Tolls > press Edit > and enable the 2nd WebRTC server.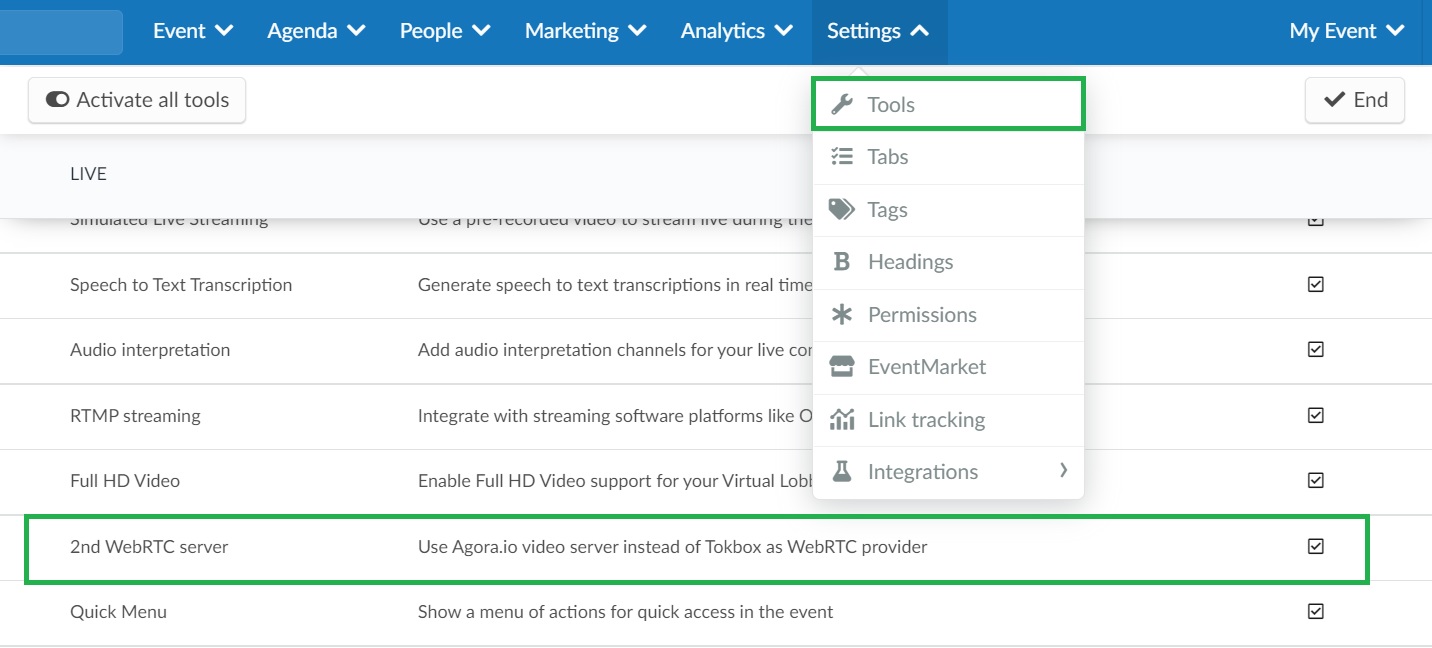 Where can I define which webRTC provider I will use?
To select which one you will use, go to Event > Virtual Lobby > press Edit > and scroll down until you see WebRTC provider. In the dropdown selector, you can choose either Agora.io or TokBox.
By default, you will only see TokBox, the webRTC provider we recommend. But if you have enabled the 2nc WebRTC server as described in the previous section, you will see both options.

Specifications
Check below the specifications for webRTC connectivity:
Maximum resolution 1080p
Recommended resolution 720p
Maximum framerate 60fps
Video framerate 30fps
Video bitrate 5000bit
Video adaptive bitrate
No video degradation
Recommended 4 Mbit for uploads
Firewall configuration
If the Virtual Lobby stays in a connecting state or you can't join a session due to a Network Error, it could mean that your networking is blocking our IP addresses through a Firewall, a Gateway, or a VPN.
If you or your company uses a firewall whitelist to restrict network access to only specific websites or software, you can use the information below to ensure that your service can connect.
TokBox and Agora.io services require access to specific ports, so if you have selected Tokbox as your WebRTC provider, click here to check the requirements that must be met. If you have selected Agora.io as your WebRTC provider, click here.
You can always test if your connection is going through by running a 
system check
.
Choosing the streaming protocol
Streaming protocol

A streaming protocol is a standardized method of delivering multimedia, usually video and/or audio, over the internet. Selecting the right protocol starts with defining what you're trying to achieve. Latency, playback compatibility, and viewing experience can all be impacted. 
You don't necessarily need to use WebRTC, there are other streaming protocol options.
Click here for further information about the room video modes offered by InEvent.
---
---