Choosing your room video mode
Once you have activated your virtual room, you will be asked to choose the Room Video Mode.
Please refer to your
plan
to understand what room modes are available to you
Your room video options (plan dependent) are
Open the drop-down menu to make your selection, then complete the required steps based on your choice.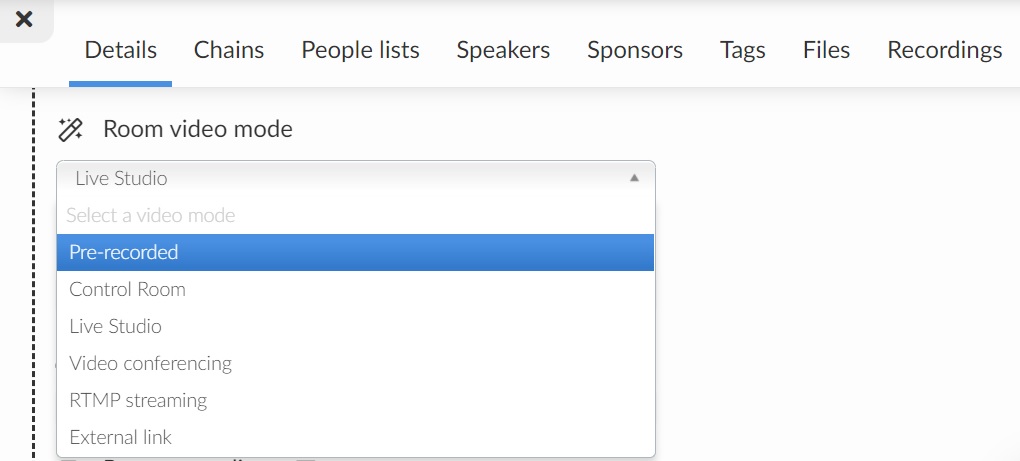 If an administrator changes the room video mode while a live session is happening, it will be updated instantaneously in the Virtual without the need of users refreshing their page. All attendees should see a pop-up message informing them that Live content changed and the new room video mode will be displayed for everyone in the room.
Pre-Recorded Video
The Pre-recorded room mode will enable you to have Video On Demand (VOD), allowing viewers to watch the selected videos whenever at their schedule's convenience. Click here to learn how to activate and use the Pre-recorded room video mode to have On-Demand content in your online activities.
Control Room
The Control Room clearly separates your virtual events' on-stage and off-stage tasks, enabling you to manage speakers' and viewers' settings in one control bar and choose different screen layouts. Please review this article to learn more about the benefits and functions of using the Control Room option.
Live Studio
With the Live Studio, you can enhance your streaming by adding animations, lower thirds, chyrons, and custom backgrounds to it.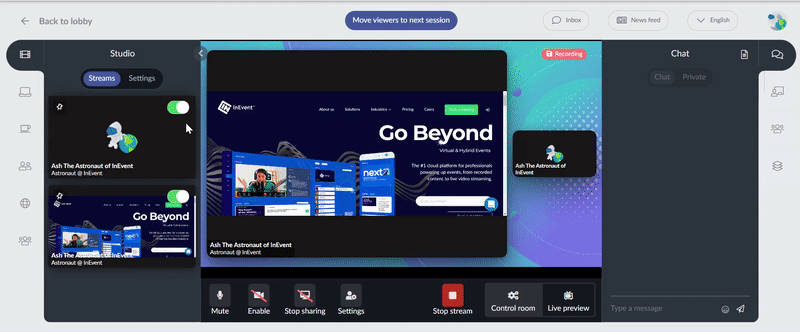 Check this article to learn how to use the Live Studio as the room video mode in an online session.
Video Conferencing
By choosing the Video Conferencing mode, the Control Room will be disabled and WebRTC (Real-Time Communication) will be enabled. You will be able to have up to 9 presenters live at the same time in a live session that can be easy, inclusive, and accessible. It can be accessed from any modern device and requires low Internet connection bandwidth.
When disabling the Control Room and enabling the Video conferencing mode, all attendees must have  i7 Quad Core (physical core) CPU or higher and a minimum connection of 0.5 Mbps per speaker.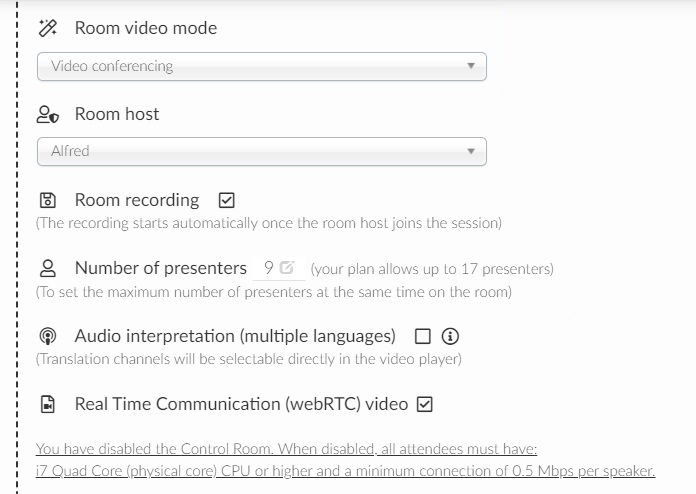 Clean video feed
Clean video feed

A clean feed is identical to the main program output but without any captions keyed into it. In other words, a clean feed is a video signal that does not have added graphics and text.
When using the video modes Video conferencing, video conferencing Pro, and Control Room, administrators and the staff will see an option to open a clean video feed.
By the use of a clean feed, they will be able to obtain a video signal with no graphics or text added to it, put this video in a mixer, and then send the feed back out to another source.
To open a clean video feed, inside a room set up with the room video modes listed above, you should click on the button on the bottom-right corner (highlighted in the image below).
It will take you to a new window and you will see a pop-up message asking you to press the Start button to start a clean video feed.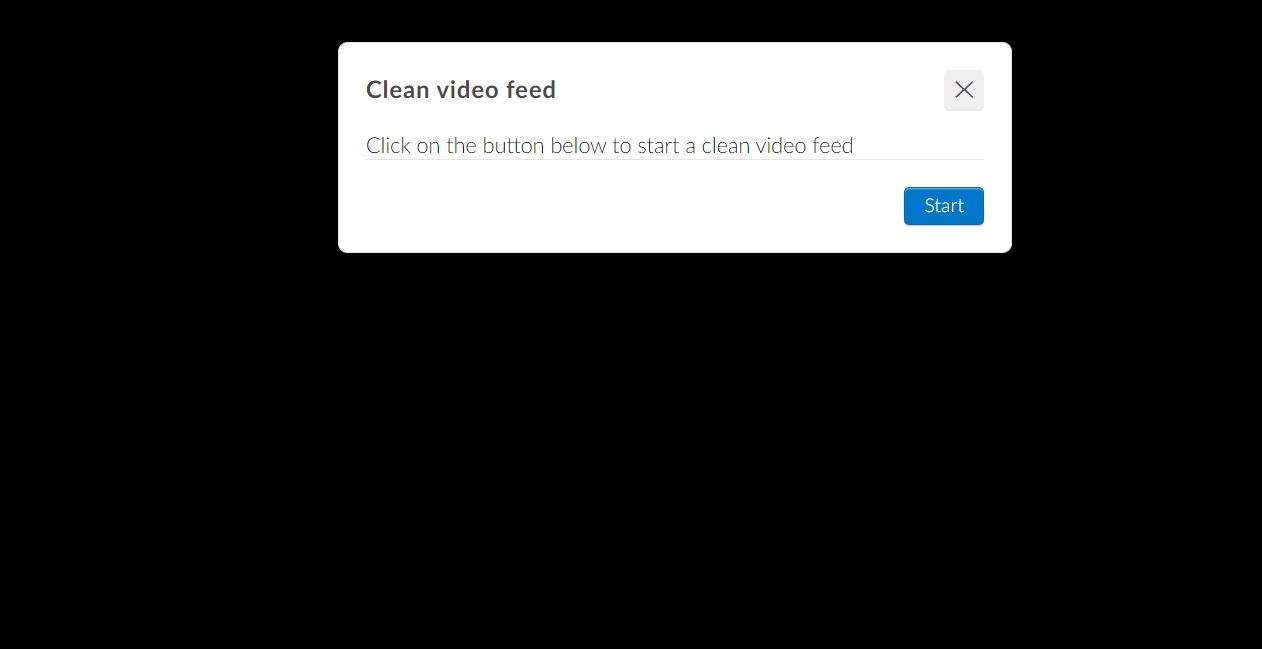 After pressing Start, a clean video and audio output of that specific stream will start in full-screen mode. The clean video and audio stream have isolated audio.
Video Conferencing Pro
This option is similar to video conferencing, but with a larger room capacity for presenters. If you choose Video Conferencing for your room video mode and you have purchased a plan that includes Video conferencing Pro, you will be able to have up to 17 presenters in a room.
To enable Video Conferencing Pro, go to Settings > Tools > press Edit > scroll down until you see Video Conferencing Pro under the Live Section and enable it by ticking the checkbox. If it says Purchase it's because this option is not included in the plan you have purchased.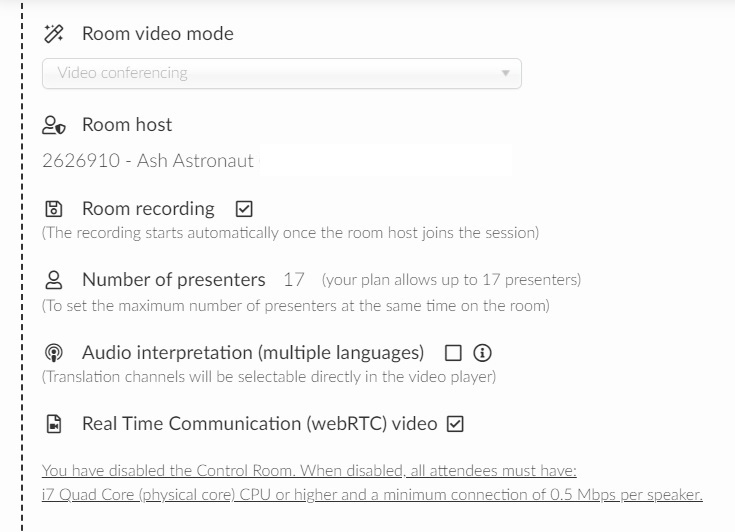 Speaker and gallery view
If the Virtual Lobby layout selected is Neo, the users will see two video formats when using video conferencing:
Speaker view: will switch the large video window between who is speaking with other participants in the meeting.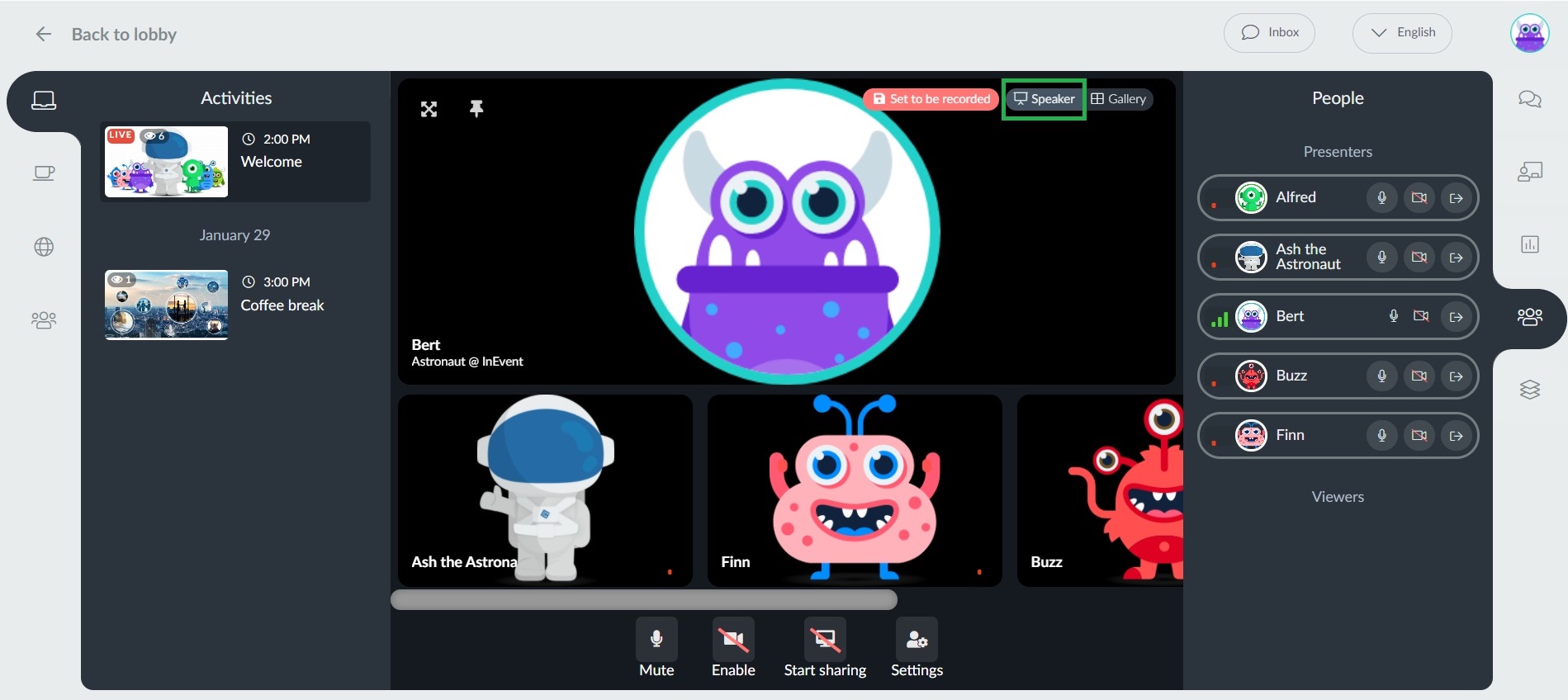 Gallery view: lets you see thumbnail displays of participants, in a grid pattern, which expands and contracts as participants join and leave the meeting.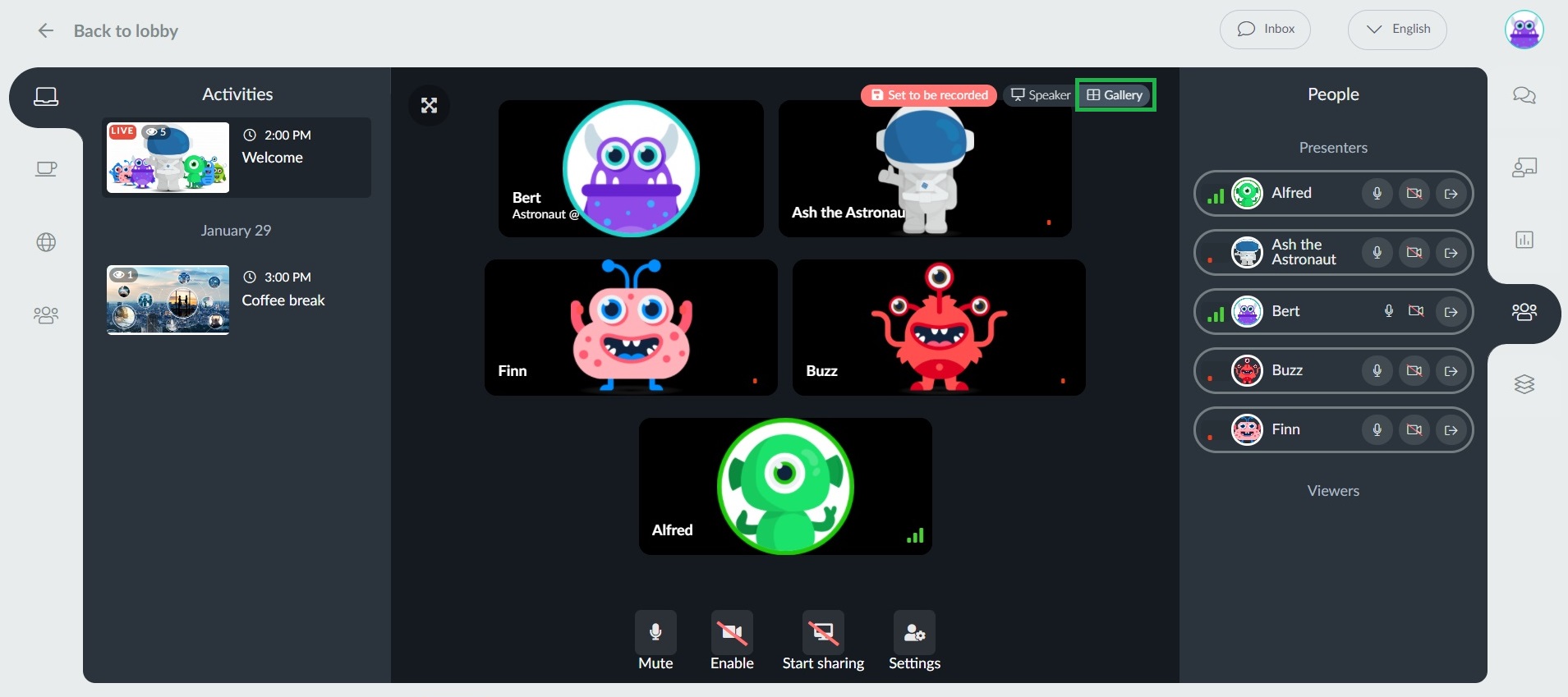 The attendee will be able to select their preferred layout as shown in the image below:

Video conferencing is the only room video mode with the option for the user to select Gallery view as the video layout option in the Virtual Lobby.
RTMP Streaming
You can choose RTMP streaming as your room video mode to live stream a session using an external software such as OBS, Wirecast, vMix or any other live streaming platform. When you select this option, a blue button will appear titled View Information. Click on this button to open the pop up window with the RTMP code you need to copy to your software
RTMP has better support in terms of video player and cloud vendor integration. On the other hand, WebRTC offers a faster streaming experience with near real-time latency. Since each technology has its own strengths and limitations, they can be selected interchangeably based on the use case, dev efforts/timeline, and people's skills.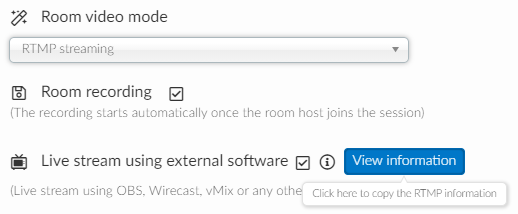 InEvent provides endpoints as a failsafe. All endpoints do not need to be enabled.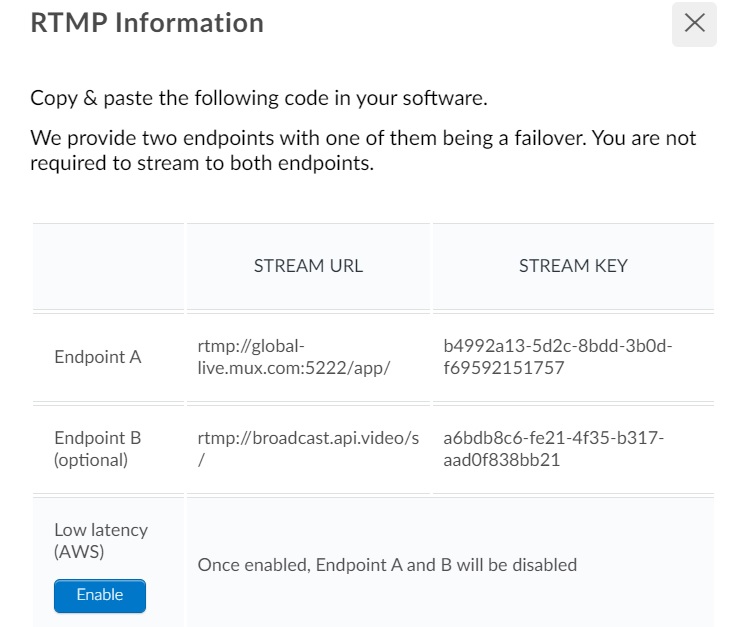 If you are facing buffering issues when using the first two endpoints, you can Enable the Low latency (AWS) as your endpoint.
If you switch the room video mode from RTMP to a different one and then switch it back to RTMP, the streaming will not resume automatically because a new Stream Key will be generated.
RTMP requirements
720p
Bitrate: 2,500kbps
Frame rate: 30fps
1080p
Bitrate: 5,000kbps
Frame rate: 30fps
We recommend 10 Mbit for uploads.
We do not recommend 60fps as the bandwidth requirement is too high and our RTMP server will probably cut down to 30fps.
External Link
When choosing this option as your room video mode, you will see the following fields

You can enter your external link in the text box to configure your activity. You will be able to use an external platform such as Webex, Zoom Native, YouTube to manage this call.
If the selected Room video mode is External Link, the user will leave the Virtual Lobby to watch the session.
---
---