Virtual Lobby: troubleshooting guide
InEvent works with new and dynamic platforms to always deliver the best experience. If you are facing minor inconveniences, make sure to check if you are using a compatible browser, if you are meeting the minimal technical requirements and if your settings are correctly set.
First steps

Troubleshoot button: Check connectivity issues and follow recommendations for a better experience by checking the Status, Recommendations, Video & Audio troubleshooting, and Extra Troubleshooting.
Review our requirements page to make sure you are meeting those specification.
Browser compatibility: We ask you to give preference to Google Chrome. Click here to download. But you can also use:
Chrome (Mac / PC) 56 or newer (better experience, required for presenters)
Firefox (Mac / PC) 44 or newer (recommended alternative)
Safari (Mac) 11 or newer (recommended alternative)
Chrome (Android) 80 or newer
Safari (iOS) 11 or later
Internet Explorer is not compatible. Other browsers must have the latest update installed.
If you are:
A speaker, room host, or administrator joining a session you'll be taking part in
An attendee being invited to speak by a room host
A speaker, room host, administrator, or attendee networking with other people
Perform a system check using our Virtual Lobby testing tool to make sure you are good to go! Click here to learn how to do so.
Do not share your Unique link with other people. If someone else accesses the event using your link, you will be disconnected.
Click here
for further information on unique links.
Video tutorial on how to troubleshoot
Troubleshoot button
You have now followed all the steps mentioned above and accessed the Virtual Lobby but are still facing issues? The good news is, that you can click on the Troubleshoot button located at the top right of any page in the Virtual Lobby!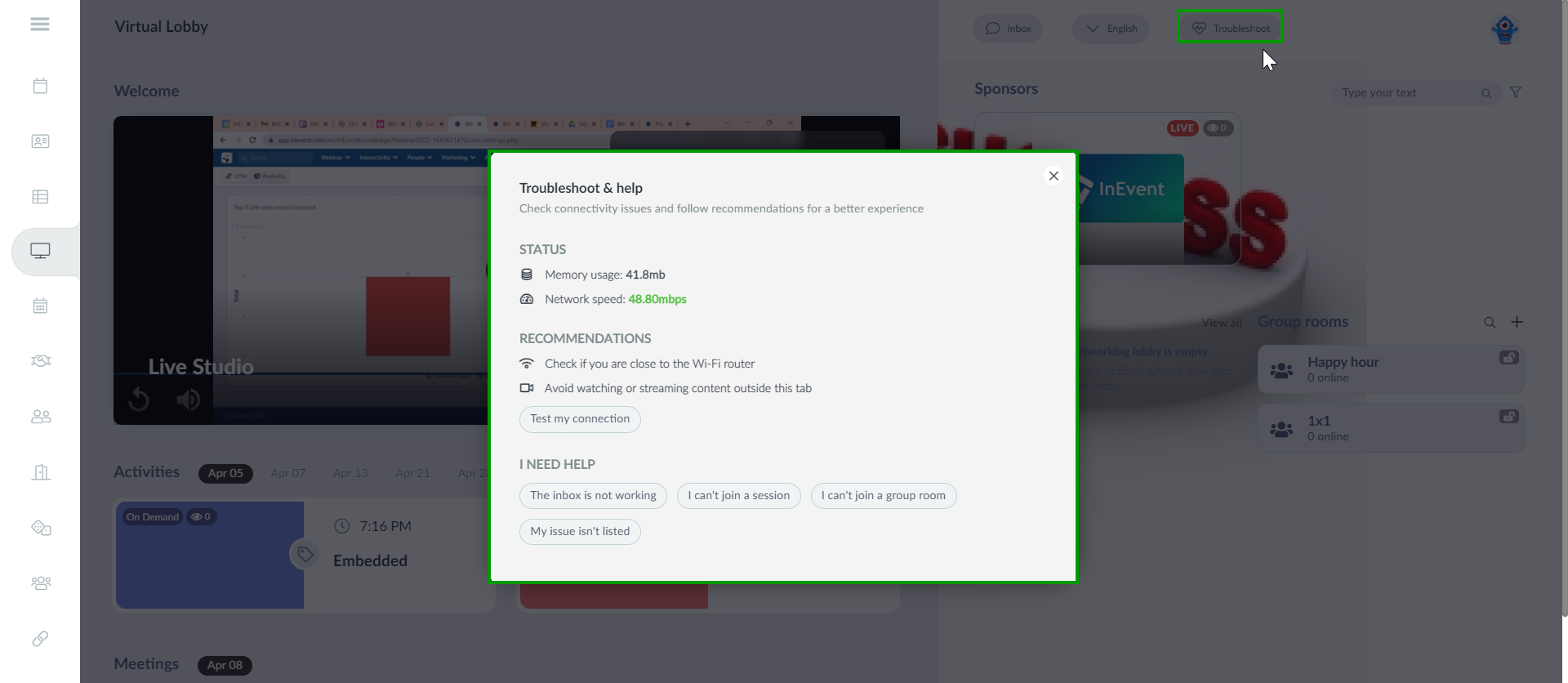 Here you can find options with the most common issues and simply click on top of it to diagnose.
When inside the Activities, Sponsor rooms, Breakout room, or any type of session that requires video and audio troubleshooting, some extra options are available to fix the issues straight away as the example below: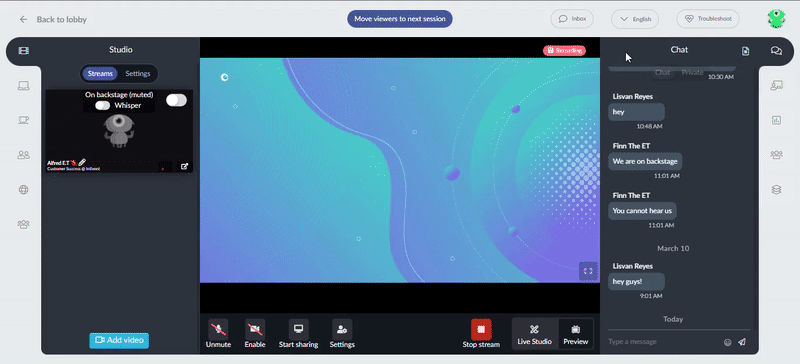 If a report needs to be submitted, the product team will be informed immediately and handle the case accordingly.
As a company/event admin, you can see the Troubleshoot reports by going to Event > Virtual Lobby > Settings > Troubleshoot. Over there you can see the ID, Person, the message sent, and the date.
In case you are receiving many reports of an issue other than those listed on the troubleshooter, please use the 
Issue Report Tool
.
Mobile access
Currently, the video streaming feature for viewers is ensured for mobile and tablet users.
In order to ensure a great User Experience, give preference to using a Computer.
Mobile phones and tablets will work on up-to-date devices, but you may have to do the following steps:
Copy the link and paste it into the browser.
Use Google Chrome (Android) or Safari (iOS).
Network firewall or web security gateway
If the Virtual Lobby stays in a Connecting state or you can't join a session due to a Network Error, it could mean that your networking is blocking our IP addresses through a Firewall or a Gateway.
Setting up your Firewall
You will have two video providers available in the Virtual Lobby: Agora.io and Tokbox.
If Agora is your WebRTC provider, click here to check the requirements that must be met.
If Tokbox is your WebRTC provider, click here to check the requirements that must be met.
Virtual Private Network: VPN
If you are a speaker, we recommend turning off your VPN.
If you are an attendee of the event, using a VPN should work fine but we do not recommend using Cisco VPN as it may cause Connecting issues.
Each VPN can not have more than 2000 requests per same IP. If more than 2000 requests are being routed by the same IP Address, our servers will identify this as a potential DDoS attack and it will throttle the connection.
Password recovery
Click here to learn how to recover your password.
Giving InEvent access to your camera and microphone
You will need to make sure you have given InEvent browser permissions to access your devices such as camera and microphone. Chrome and macOS have different privacy settings which may interfere when connecting them.
Click here to learn how to give InEvent access to your camera and microphone.
Accessing and navigating the Virtual Lobby: User Guides
In order to ensure you have the best experience in the Virtual Lobby, we have created user guides for you to smoothly access and navigate a virtual event build within InEvent.
---
---