Social media links
You can link your social media accounts in several ways through the InEvent platform:
App post feed
Event website
Email  
App Post feed
In the app post feed you can link these social media accounts:
Facebook - 1 x public page
Instagram - 1 x Instagram username only or 1 x Instagram hashtag only
Twitter - multiple usernames and hashtags
To add your social media accounts go to Event > Details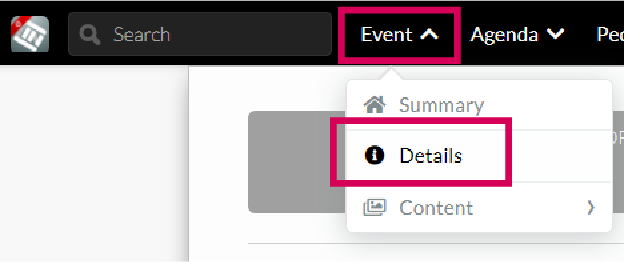 Click Edit in the top right corner then scroll down to the social media icons. You can enter the information by clicking inside the brackets to edit.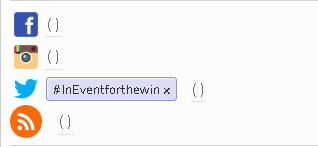 Your account and hash tags will now be linked to the live feed.
Website
Using the same procedure above will allow the profiles of your social media to be displayed as an icon on your event website.
The social media icons will only appear on certain website templates.
The list of website templates in which support social media links are as follows; Andromeda dark, Andromeda light, Aquila, Callisto, Castor, Cosmos, Gemini black, Gemini white, Hydra, Janus, Mercury, Oberon, Oberon dark, Ophelia and Vulcan.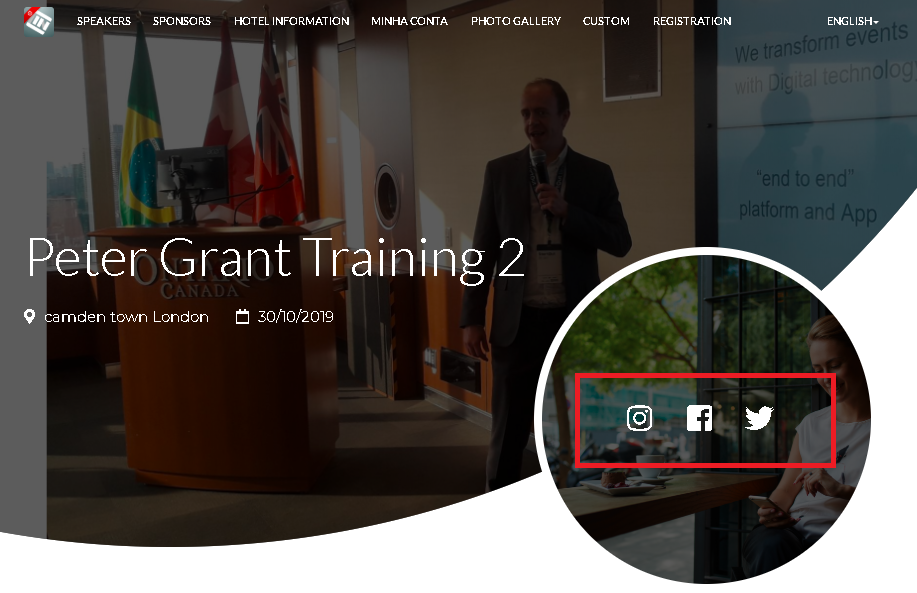 Email
To incorporate your social content onto your automatic confirmation emails or communication emails, go to Marketing > Communication > Email Creator or Automatic Emails. (basic package will only have automatic emails)
Once on the design page of your email (either by creating a new one or selecting a line item), look on the menu to your left and click Social.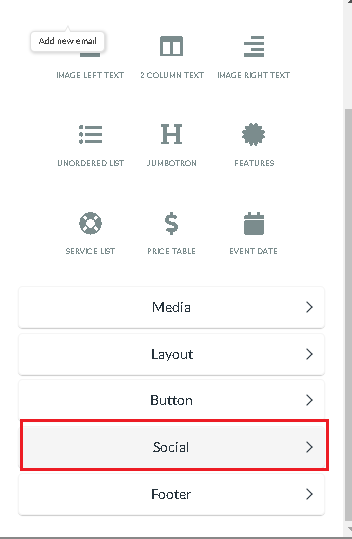 You can choose from 3 tab designs of social links, to choose a tab design simply drag and drop from the left, to your email on the right.

Once you have chosen the tab design and placed it on the email to the right, click on the social media tab and a new set of options will be displayed on the left side menu.
Click on Social content here you can add the hashtags of all the social content which include:
Instagram
Pinterest
Google+
Facebook
Twitter
Linkedin
Youtube
Skype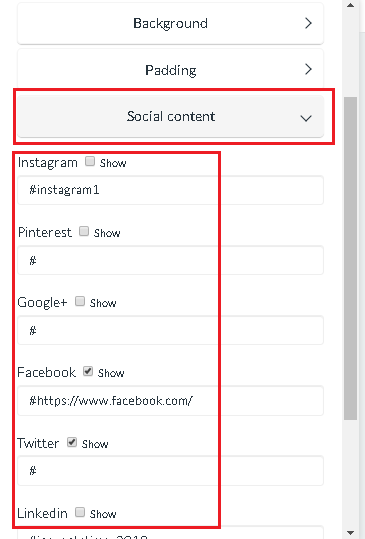 My social media link is not working in the app or the website what can I do?
Go to Event > Configuration > Details > Scroll down to the social media section.
If you see a block in front of your profile or hash tag then please remove the block by pressing the x. See the image below for more details:

How do I hide the social content in which I am not using on the email?
You can remove the social content icons from the email by going to the design page of your email, click on your social content box which you input on the email to the right, then in the menu to the left click Social content.
You will see a check box which reads Show if you would like to remove the social content icons from your email then untick the box.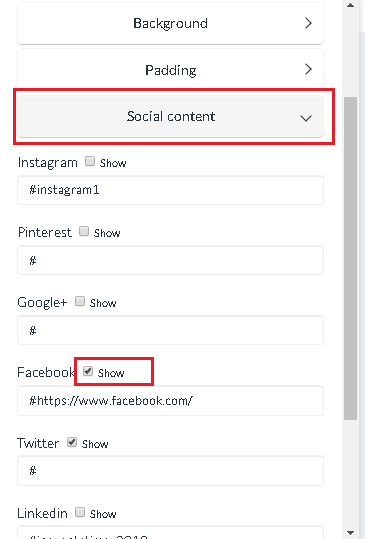 ---
---