Photo Gallery
Add event photo's to a single album that the attendee can access and view through the app at any time.
How to insert photos for the Event?
Click Event > Content > Photo Gallery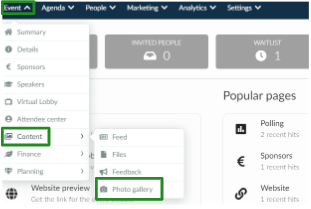 To insert the images, click the Add Photo button in the top left corner. The recommended size is 750x750 px per px.
Press the red button containing the folder icon then choose the image you wish to upload.

How do I delete photos from the gallery?
To delete photo's from the gallery, press the Edit button.

Tick the check box on the top corner of the photo that you would like to delete and press the Remove button. To confirm the removal of the photo, click the red remove button. Once you have finished, press the End button.

How can the attendee see the photo gallery of the event?
The photos of the event will be in the Photo Gallery tab of the App. Press Menu then press Photo Gallery inside the App to view.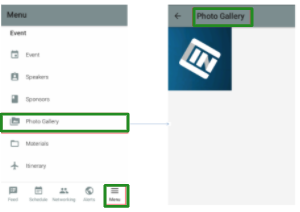 Can I insert other graphic material (gifs or videos) in the gallery?
Our Photo Gallery accepts only image files. If you need to insert videos or Gifs, we suggest using posts in the Corporate Feed (Timeline).
 Inserting as downloadable materials in the Files folder or inserting as Customizable Tabs.
---
---