Calendar invites
What is an ICS file extension?
Calendar invitations, or .ics files, are calendar files saved in a universal calendar format used by several email and calendar programs, including Google Calendar, Microsoft Outlook, and Apple Calendar. It allows users to share the event information on the web and over email.
How are the calendar invites sent to event participants?
You can add a calendar invitation to the emails you sent out from the platform. By adding these files to your emails, the event participants will be able to add the event and the activities information to their own calendar.
How do I enable the ICS file on the confirmation email?
To enable a calendar invite to be automatically attached to the confirmation emails, go to Settings > Tools > Edit > enable .ics file on confirmation email and select End.

How do I send a calendar invite for my event activities?
This option will generate an invite .ics file containing all activities as separate events blocks for your calendar, which is useful for multi-day events and events that may run for several weeks. Go to Settings > Tools > Edit > enable .ics file with activity list.
If your event is open for a few days, we recommend enabling the .ics file with activity list. Otherwise, it will block people's calendars for the duration of the days.

Google Calendar automatic link is not supported. You must download the attached .ics file and import it into your GCal. It works out of the box for any other calendar app.
Check this page
to learn how to import events to your Google Calendar.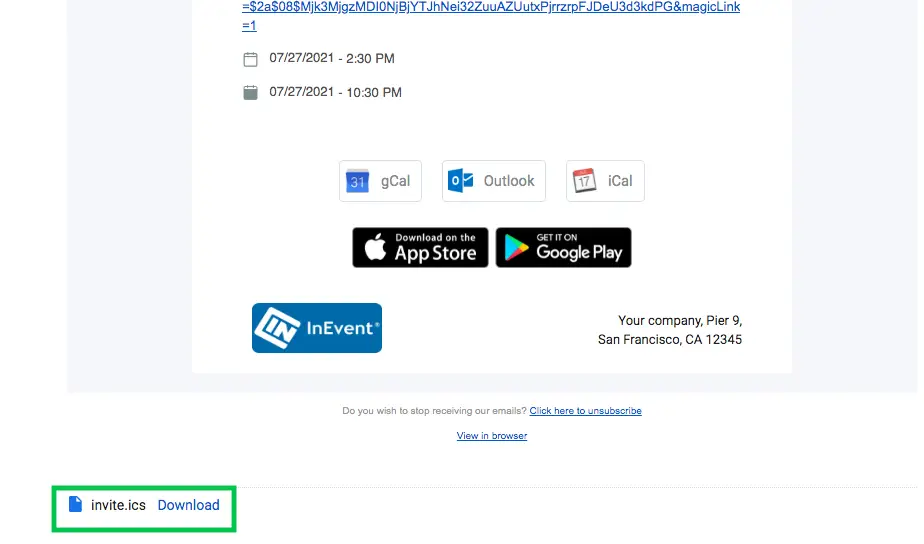 What information does an ICS file contain? Where in the platform it is collected?
Event information
Displayed when the .ics file with activity list tool is inactivated. All the information below will be collected from your Event Details page: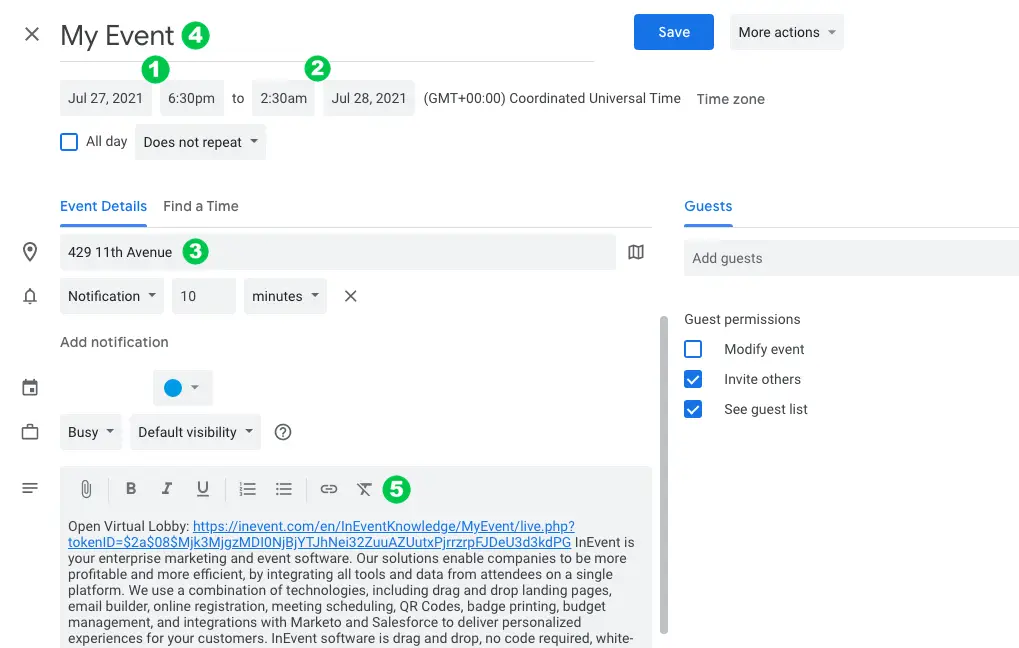 Activities information
Displayed when the .ics file with activity list tool is activated. The information below will be repeated for each activity in your event's agenda, being collected from your Event Details and your Activities Details page: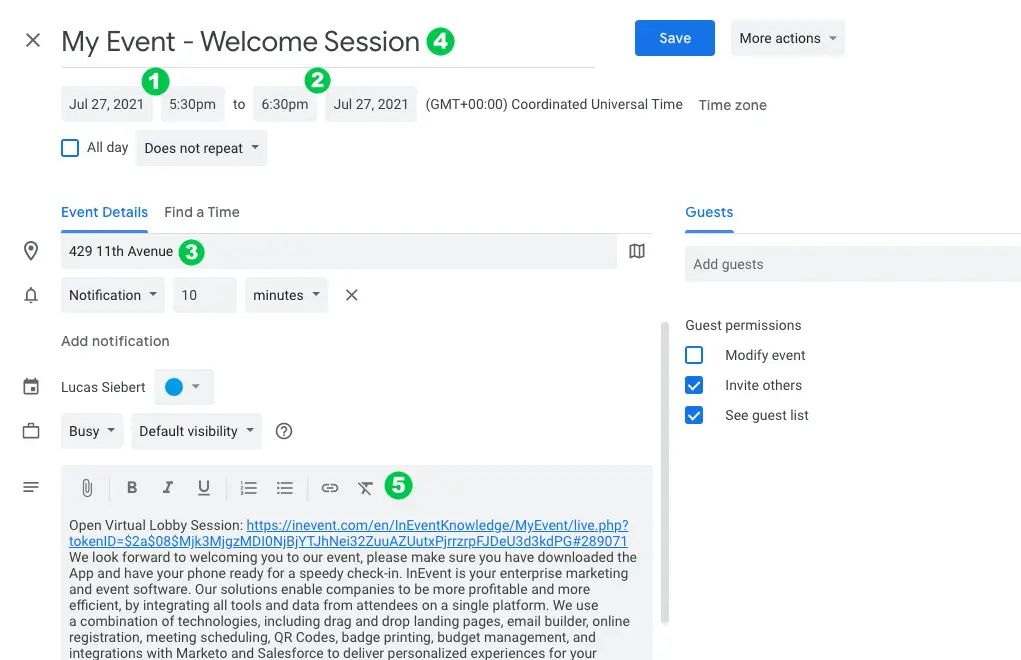 At the moment, it is not possible to change the .ics file content directly, it will always contain the information collected from the platform.
How do I add a calendar invite for specific activities?
To add a calendar invite for specific activities to your emails you need to add a typograph box first. After you have added the box, in the left side menu under Text contents you can click on Activities and then choose the activity from the dropdown menu.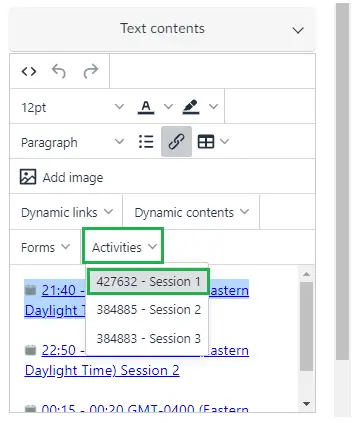 This is how the content will look like in the email creator. Please note that the activity time zone is displayed between the activity starting and ending time and its name.

This is what the attendee will see when they receive the email and click on the link, which will enable them to add the invite directly to their calendars in their respective time zones.

If you are having trouble importing your .ics file into your calendar application, you can open the file in any text editor to view the information it contains. For example, you can see the event's start and end times (including time zone) listed in the file's DTSTART and DTEND lines. Opening a .ics file in a text editor is not the best way to view an event's details, but it does allow you to view the information without a calendar application.
How do I convert an ICS file to a CSV file?
If you need to import a calendar event into Microsoft Excel or another spreadsheet program, you can convert your .ics file to a .csv file. To do so, use a free online ICS to CSV converter, such as IndigoBlue's free .ics to .csv converter.
You can also add a .ics file to your activities files tab, letting participants access future events related to the activity they are attending. For more info, please check
this article
.
---
---