Meetings: instructions for participants
You will be able to see a list of other attendees and their information about who is present at the event. You can select another attendee among those at the event to connect with and open a group room to begin a private or public discussion.
Using the Meetings feature in the Virtual Lobby
To network with other attendees, scroll to the bottom of the Virtual Lobby homepage. On the right-hand side, active attendees will be listed under Networking. To see all online attendees or search for an attendee, press View all.

When you have found the person you wish to connect with, click on their name. A pop-up will display the attendee's details, and allow you to connect with them via message or a video call.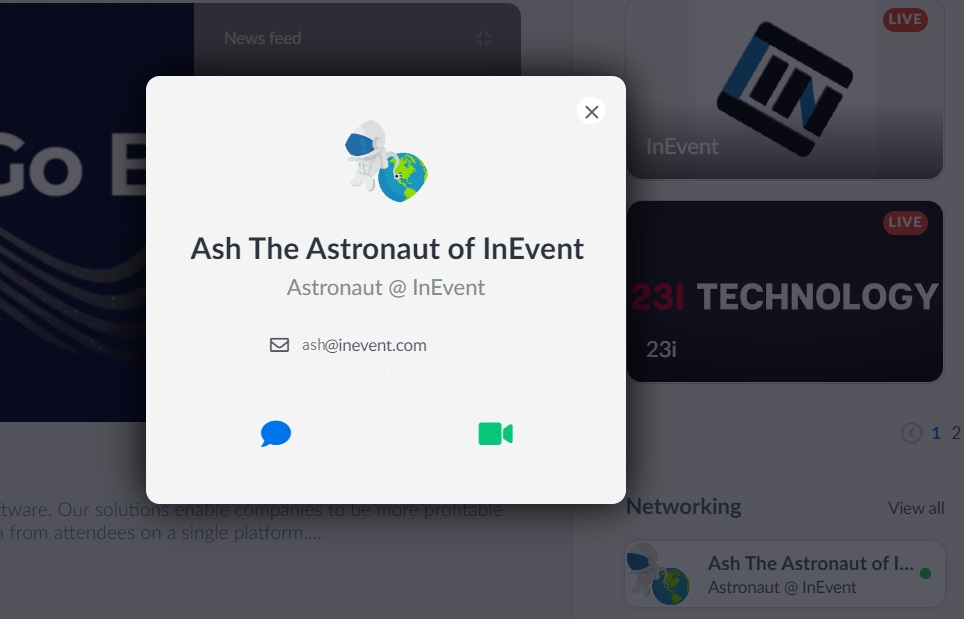 When you select Ask to meet (camera icon), you will be taken to a screen that will ask you if you would like to Meet now or Schedule Meeting.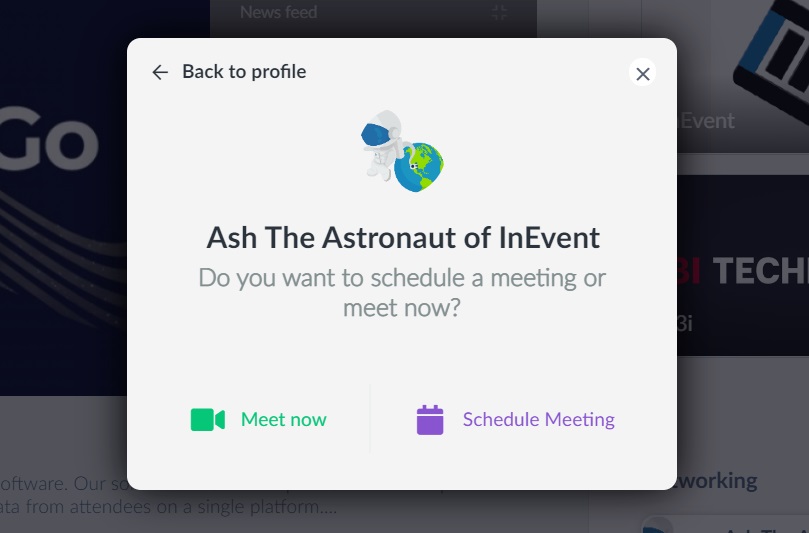 Meet now
Click here for further information on this kind of video request.
Schedule meeting
If you select Schedule meeting, you will be taken to a new screen for you to select the best day and time for your meeting. The times will be shown in your local time zone.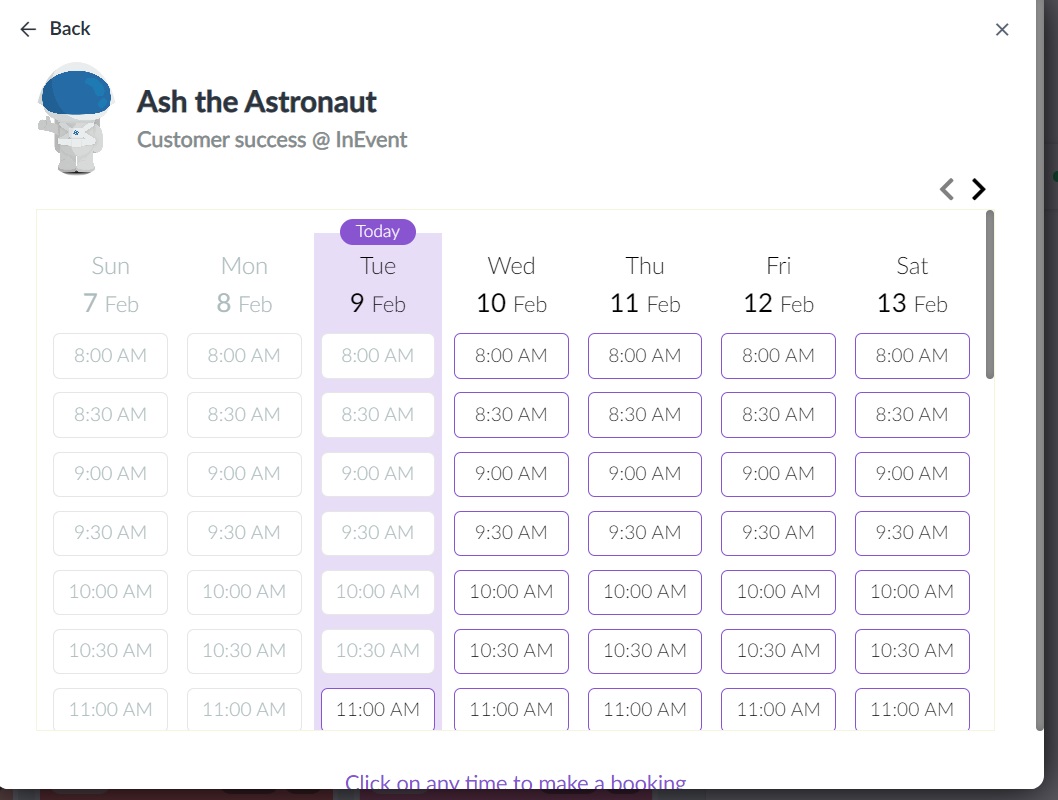 Once you select the best day and time, you will be taken to a screen where you should define the meeting's topic and press Confirm Booking.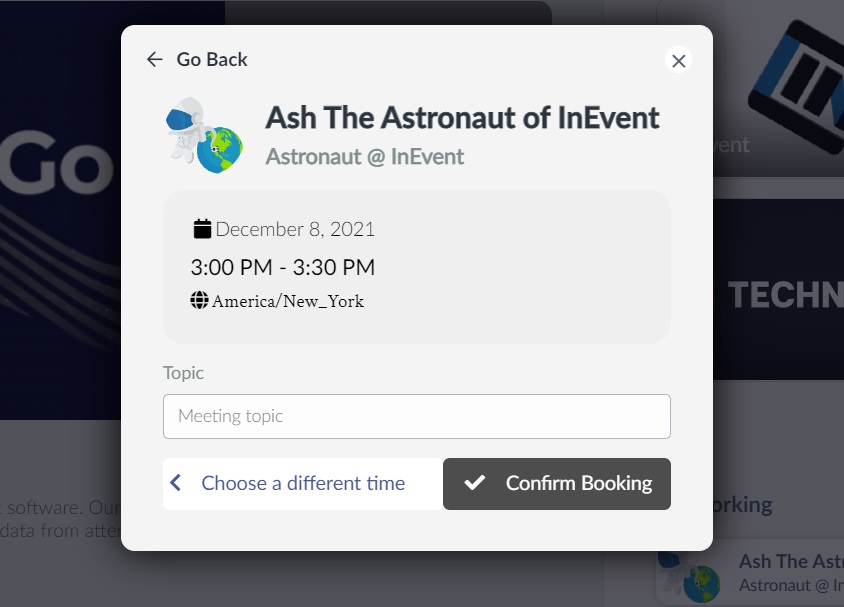 Once you confirm your booking, you will see the screen shown below.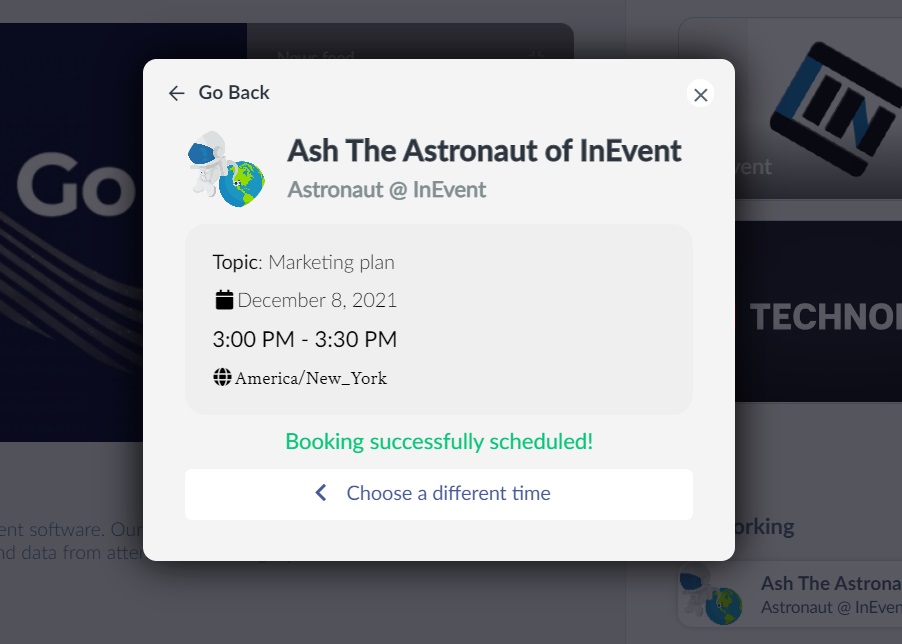 Will the person I invite for the meeting receive a notification?
Yes, both you and your invitee should receive emails with the meeting details.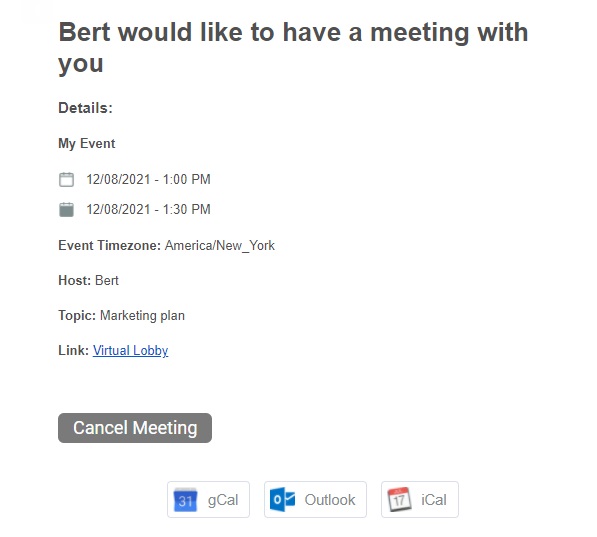 Your invitee should also receive a notification in the Virtual Lobby.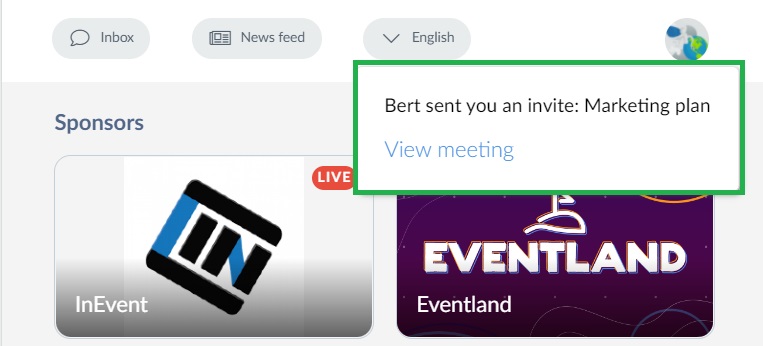 If they click on View meeting, they will see the meetings' details with information such as the meeting's topic, date, and information about the person who created the meeting.
How do I view all my meetings?
All your meetings will be displayed on the main page of the Virtual Lobby.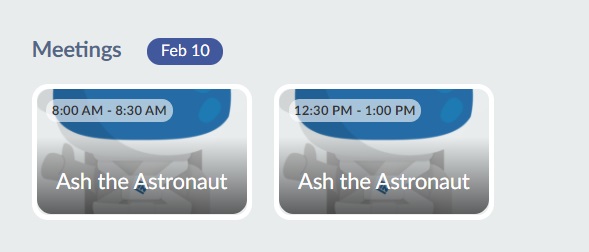 But you can also visualize your meetings by going to My Agenda > Meetings.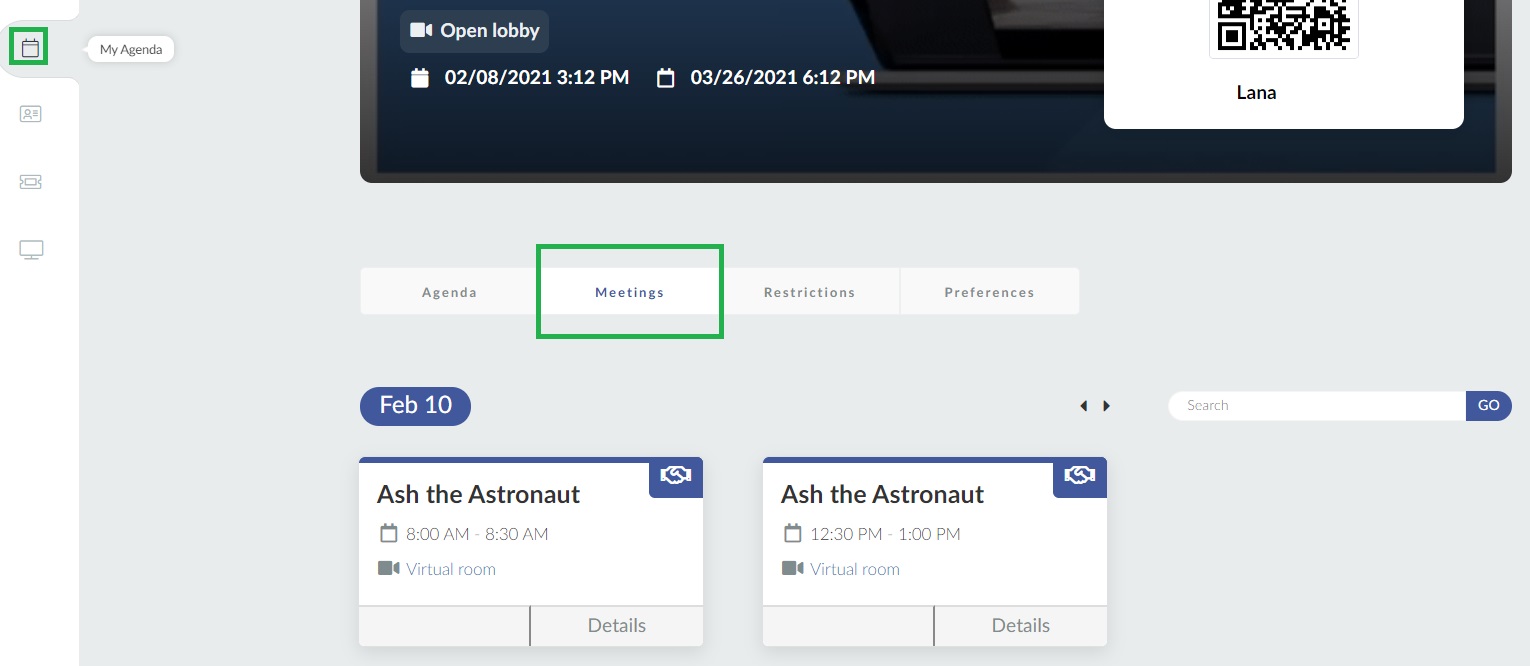 Inside the meeting's room, both participants will be able to enable their camera and microphones to begin a discussion, besides having the capability to screen share.
Dedicated page for meetings
If you wish to have a dedicated page for scheduled meetings in the Virtual Lobby, you should make sure that the correspondent tab is set to visible in order for the option to be displayed on the left-hand side menu.
Click here for further information.
How do I cancel a meeting?
You have two options to cancel a meeting:
By pressing the Cancel Meeting button in the email you received with the meeting details.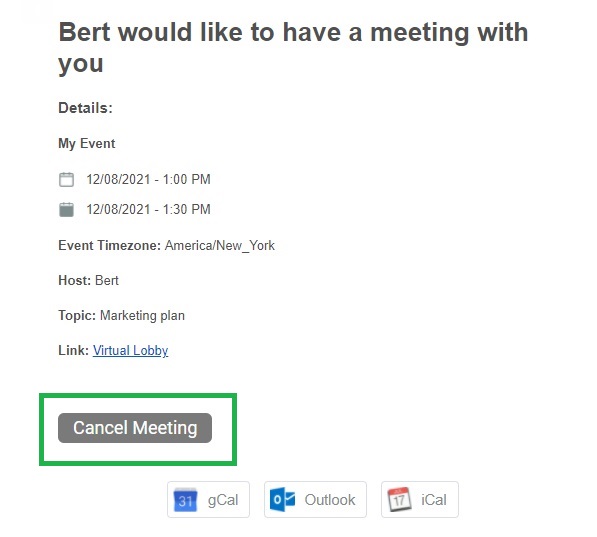 By pressing the Cancel meeting button at the My Agenda dedicated space for Meetings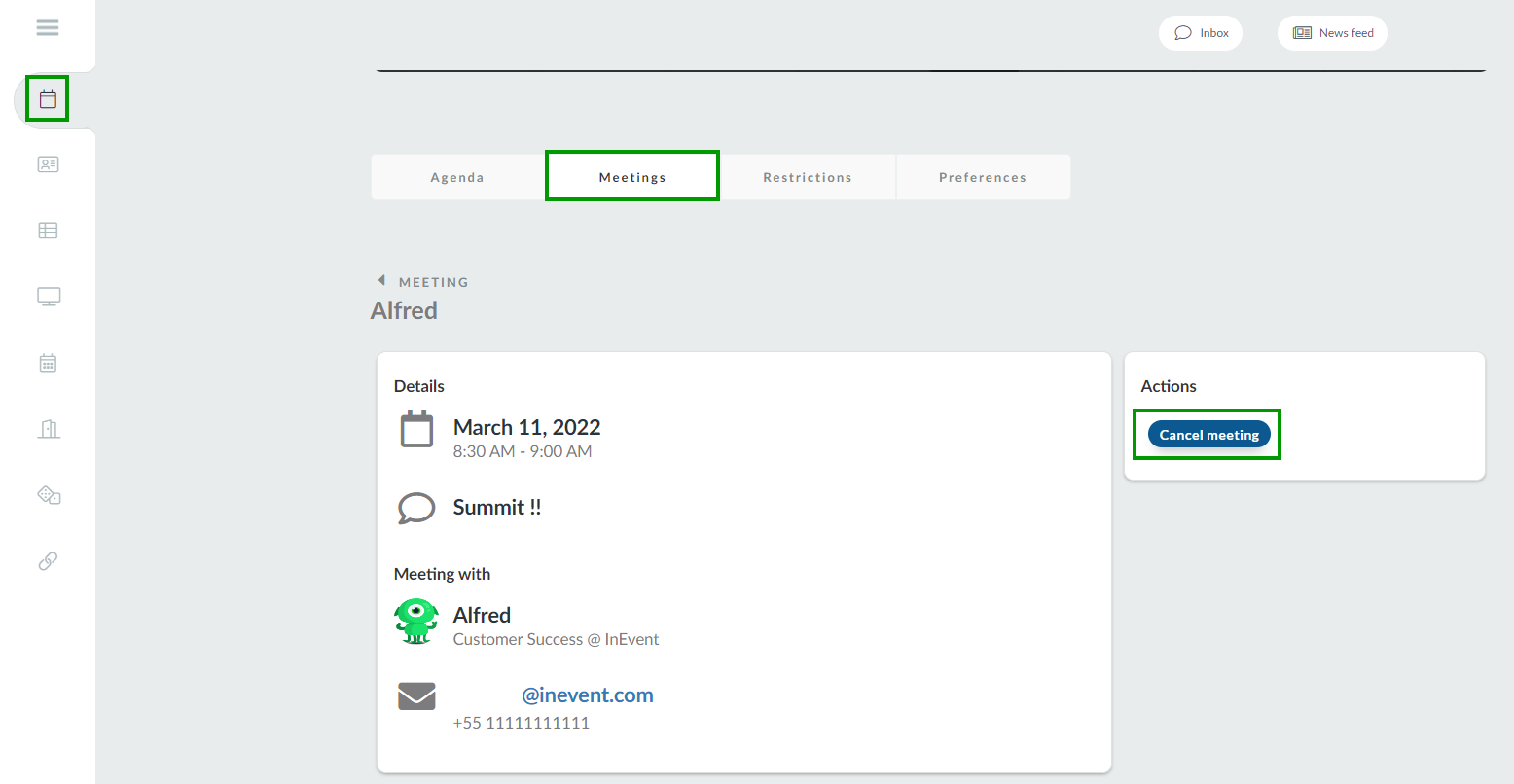 How can I set restrictions and preferences?
You can set restrictions for when you won't be available for meetings. To do so go to My agenda > Restrictions > New restriction.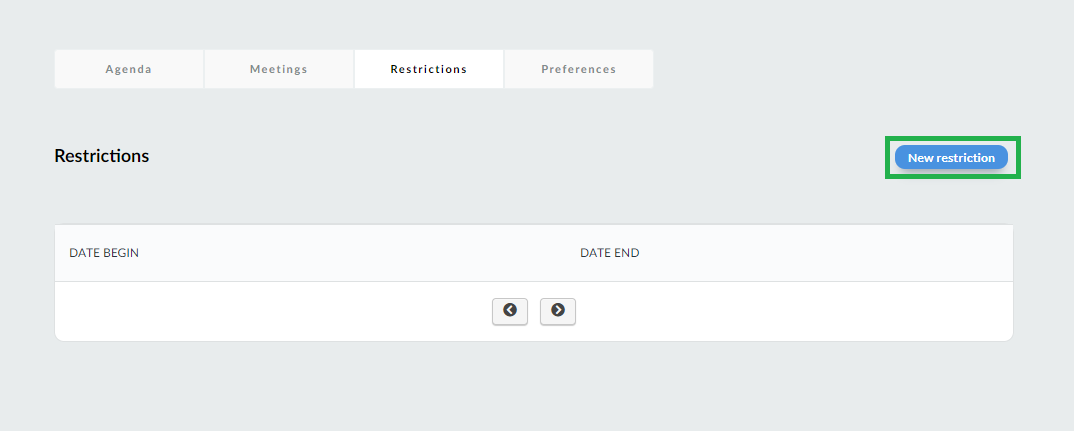 Besides that, you can also search and filter attendees who have free slots on the meeting schedule and add them as a preference to meet.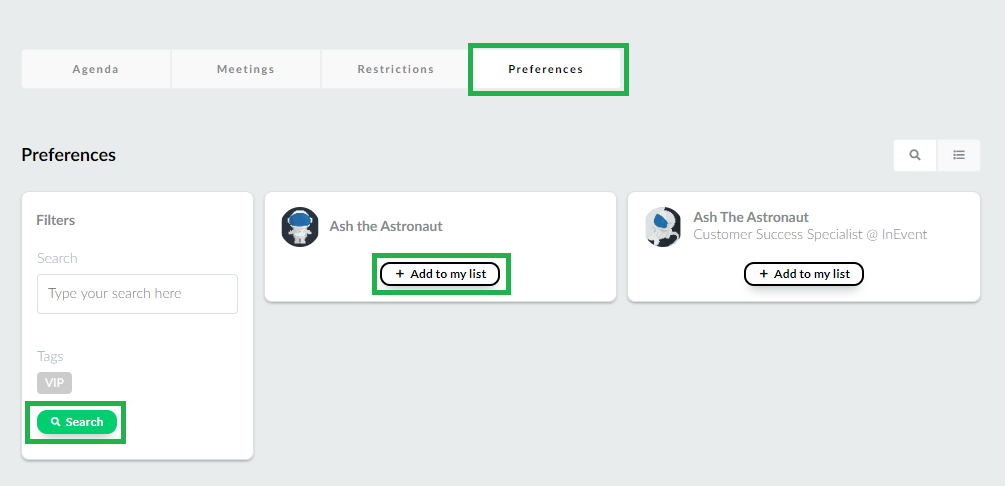 How can I evaluate a meeting?
After each meeting, you can send your feedback to the organizers. To do this, click on the Meeting Details and then on Respond feedback.

Instructions for event organizers
If you are an event organizer and you wish to learn how to create a meeting, places, feedback forms, and more, click here.
---
---