Creating a backstage area for your speakers
Within the InEvent platform, you have a few options to create a backstage area where your speakers can meet and prepare themselves before the activity they are speaking in starts.
Below you will find a step-by-step outlining how to proceed with each of these.
Backstage area
When using Control Room or Live Studio as the room video mode for an activity, you will be able to have a backstage area for everyone who will be presenting on that session.
Click here to learn how to add and remove speakers from the stage when using the Control room.
Click here to learn how to add and remove speakers from the stage when using the Live Studio.
Allowing speakers early access to activities
If you want to give the speakers early access to an activity, there are two options:
Early access to all activities
To give speakers early access to all activities, go to People > Attendees, and add an attendee with Presenter permissions.
Then, go to Event > Speakers
Create a profile for your speaker with all their information.
Still, on this page, click on a specific speaker and press Edit.
A new window will open up on the right-hand side. You should link the speaker's profile to their attendee profile.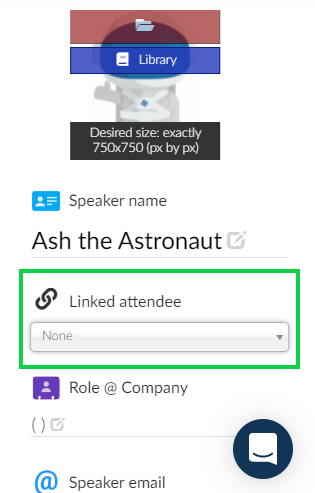 Early access to specific activities
In Agenda > Activities, go to the Speakers tab and add the respective Speakers to that activity. To learn more about this, click here.

After this step, you're done! With these settings, speakers will be able to have early access to the activities they'll be presenting at, to prepare themselves and interact with other speakers.
Create a Green Room
You can also create a green room where speakers can meet before and after their activities. Using people lists, you can create a room that will only be visible to the people on the list.
Create a list of speakers
First, you need to create a list on People > Lists > + New list.
Then provide a name for this list, for example, the Backstage list.
Click on the Create button to finish the process. To learn more about creating New Lists, click here.
Add speakers to the list
You can run a bulk operation by adding multiple attendees to the list you just created.
Go to People > Attendees, and click on Edit. Tick the check box of each speaker you would like to add to that list, and in the pop-up menu at the right side of the page, select your list within the Add to list drop-down menu. Then click on Run bulk operation to finish.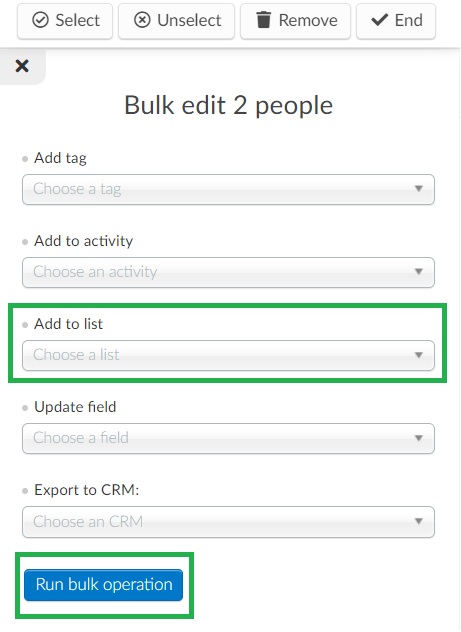 You can also add your speakers manually or via spreadsheet. To learn how to do it,
click here
.
This process can be used if your speakers have not registered yet. Once completed, the speakers will now be added to your list.
Create the room
Go to Agenda > Activities > Add activity.
Set the title, dates, and times of this activity and click on Create.
Next, inside the activity Details tab, you will need to set up the following tools:
Make sure the Virtual Room option is ticked
Select the room host
Untick/disable Automatic enrollment
To learn more about these configurations, click here.
Link the list to the room
Inside the activity you created, click on the People lists tab. Click Edit and choose the list of speaker you created in the drop-down menu. Then click on the blue button Add list.

Once you follow those steps, you'll have a separate room for speakers to test their cameras and microphones, as well as prepare for the sessions. This activity will only be visible for the people in the linked list, so your event's attendees won't be able to see and join this session on their Virtual Lobby.
In both options, your speakers either need to be linked and added to the activity as a speaker, or the room host/admin will need to be able to invite them to talk. Alternatively, you can set their permission to
Presenter
in
People > Attendees
, however, this will grant them access to mic and camera for all activities. To learn more about different permissions and what they enable each attendee to do,
click here
.
Create an Invisible activity
Another backstage option is having an invisible activity on both the Virtual Lobby and Website. In order to do that, under Visible to attendees, you need to select No in the drop-down menu when creating an activity.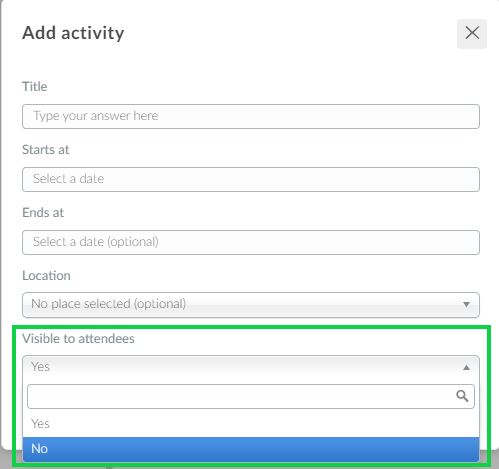 If the activity has already been created and you would like to edit it, you will need to select the activity, press Edit and scroll down the Details tab until you see the option Visible to attendees. Then, make sure the checkbox isn't ticked.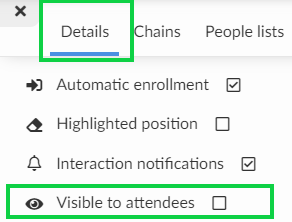 This session will only be displayed in the Virtual Lobby for the admins of the event, to invite your speakers to join this room you can share the link with them via Inbox.
Private chat
When presenting, the speakers will also have the option to switch from public to private chat. By doing so, they will be able to communicate with other presenters, admins, staff, and room hosts.
Click here for further information on the private chat.
---
---