Virtual Lobby Control Room
The Control Room clearly separates your virtual events' on-stage and off-stage tasks, enabling you to:
Manage speakers and viewers settings in one control bar
Choose different screen layouts 
Optimize the experience for all users; in particular mobile users
The Control Room is the recommended setting for all activities. This is auto-enabled on each activity you create.
To disable or enable control room, go to AGENDA>ACTIVITY, and after selecting the required activity, navigate to the option 'Live Stream with Control Room. Click EDIT to enable or disable this function.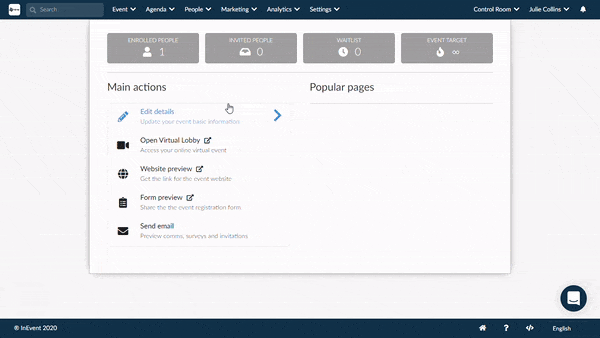 Please note, once you choose to disable this function, you will receive a message. If you disable this option, InEvent recommend that all attendees present at your event are enabled with
i7 Quad Core (physical core) CPU or higher, and
a minimum of 0.5Mpbs

Once Control Room is activated, you will be able to use the new features.
Attendee view
To view the activity like a attendee, you can select 'Live Preview'.
When an attendee joins the activity and the host has not joined, they will see a message 'Waiting for Broadcast'.
Here, attendees will be able to interact prior to the stream starting, such as using the chat function and accessing polls and files.
The session name, along with any speakers and sponsors will be visible here for all attendees.
Once the hosts initiates the session, the video will be visible for all attendees.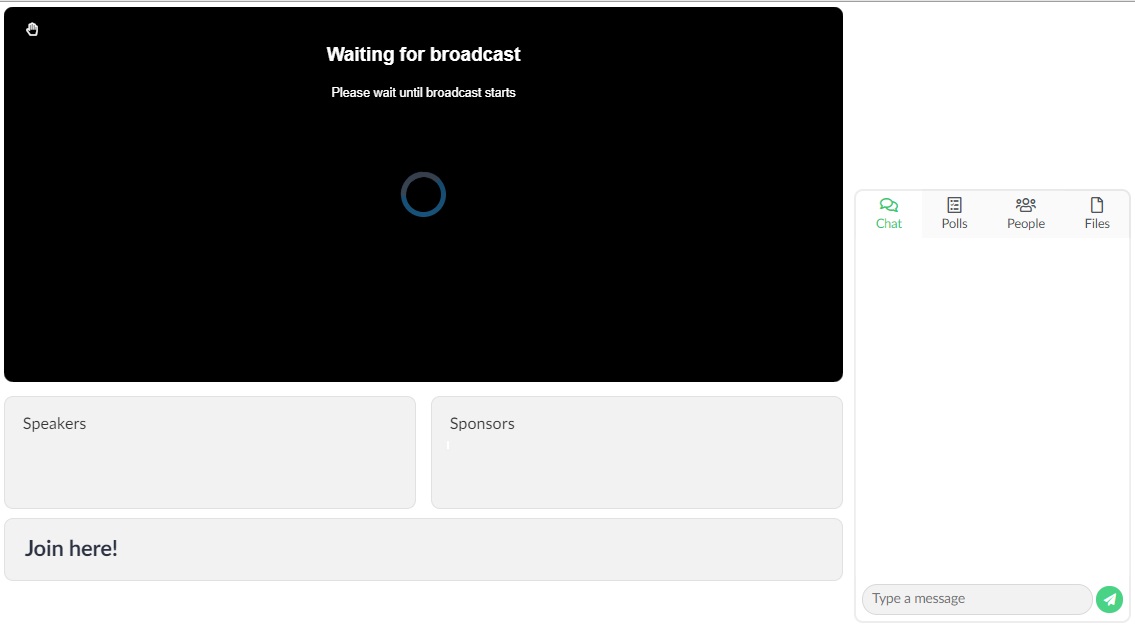 Manage speakers and viewers settings in one control bar
In the Control Room, your own video is not highlighted for you; all videos will be mixed together. The controls for your video are also visible below your video, creating much more space and easier to use controls.
Choose different screen layouts 
To change the layout, select the up arrow on the Stop Stream button to open the menu. You can choose from three options
Space Between

This is the default layout. This layout stacks presenters evenly and equally in the frame.

Focus Mixed

This layout showcases the person who is speaking on the left side of the screen, with other presenters tiled along the side in a smaller view

Focus Only

Only the person that is speaking will be showcased on the screen. The host can also choose who to focus by clicking on the presenter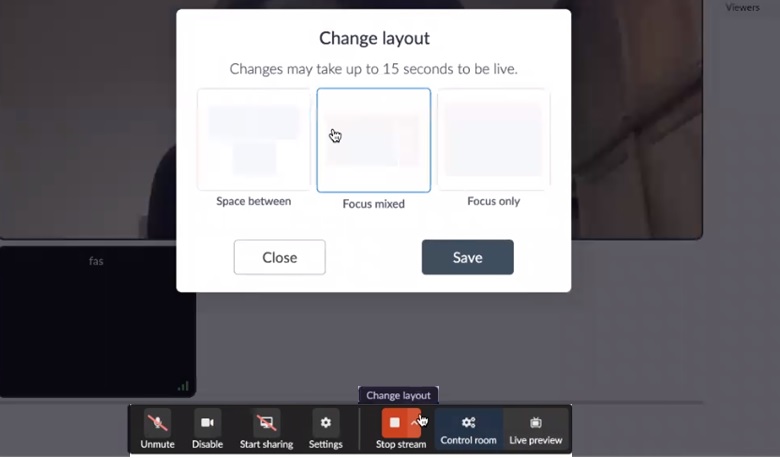 Optimize the experience for users and mobile users
Using the Control Room, streaming is supported for attendees via desktop. laptops, tablets and even their mobile browser.
Attendees will be able to connect directly from the browser, or you can configure your app to hold the Virtual Lobby as a tab. From here, the attendee can simply select the activity and join the broadcast as a viewer.
Your event attendees can only be signed in to the Virtual Lobby from one location, so if they are accessing the Virtual Lobby via their app, they cannot be connected from another location.
---
How Did We Do?
---