RTMP Streaming
This article intends to teach you how to select RTMP Streaming as your room video mode, where to find the necessary information to live stream using an external software and how to operate its endpoints.
Choosing RTMP as the room video mode
Once you have created activities for your event's agenda, you will need to set up its details and configurations, such as the room video mode.
To set RTMP Streaming as the room video mode, go to Agenda > Activities > Select an activity on the left-hand side and press Edit in the upper right corner of the screen. Then, scroll down until you see Room video mode and choose RTMP Streaming from the dropdown bar.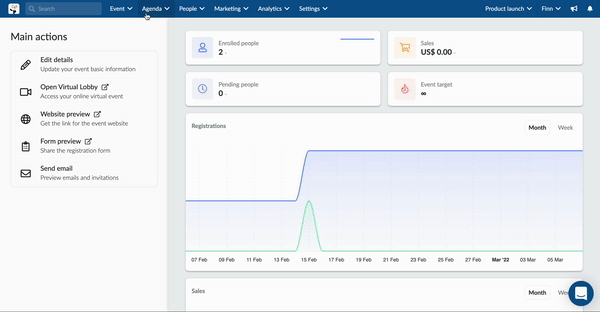 You can choose RTMP streaming as your room video mode to live stream a session using an external software such as OBS, Wirecast, vMix or any other live streaming platform. When you select this option, a blue button will appear titled View Information. Click on this button to open the pop up window with the RTMP code you need to copy to your software
RTMP has better support in terms of video player and cloud vendor integration. On the other hand, WebRTC offers a faster streaming experience with near real-time latency. Since each technology has its own strengths and limitations, they can be selected interchangeably based on the use case, dev efforts/timeline, and people's skills.

InEvent provides endpoints as a failsafe. All endpoints do not need to be enabled.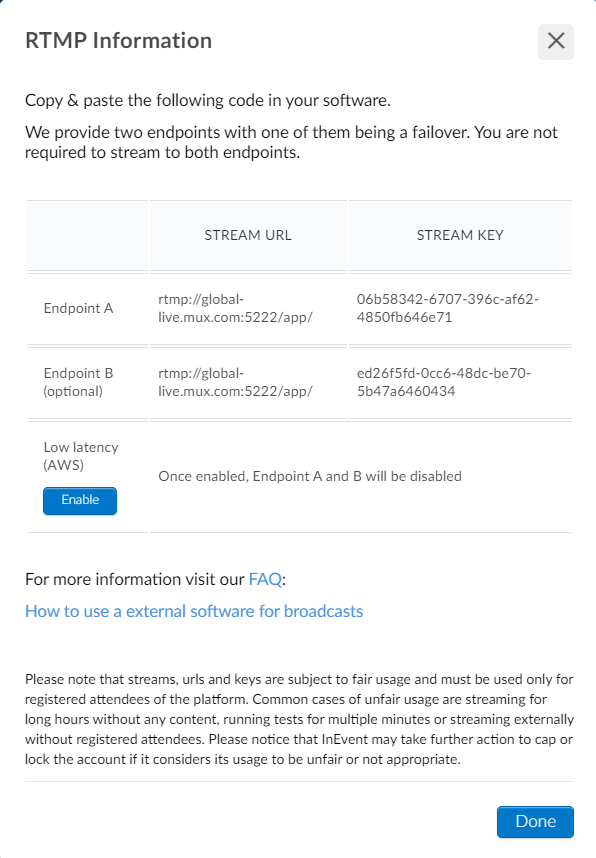 If you are facing buffering issues when using the first two endpoints, you can Enable the Low latency (AWS) as your endpoint.
If you switch the room video mode from RTMP to a different one and then switch it back to RTMP, the streaming will not resume automatically because a new Stream Key will be generated.
Session replica
If you create replicas of a session you will be able to stream the same video across multiple replicated sessions using a single stream key.
To replicate an activity you should follow the steps below:
Make sure you have created two activities: the activity you wish to make into a replica and the main session (the activity the settings will be copied from)
Click on the activity you wish to make into a replica, press Edit, and click Enable replica.

A window will pop up asking you to select the session you wish to copy the settings from. Once you have selected the activity, press Enable replica.

Once the settings have been replicated, you will see a note explaining that the activity is a replica and the option to Disable replica.

To change the content settings, you will need to edit the main session and the changes will be automatically reflected on the replica too.
What can each permission level do in RTMP Streaming?
Choosing the level of access your attendees will have on the platform means that they will have different permission levels throughout your event.
Here is what each permission level can do in the RTMP Streaming room video mode: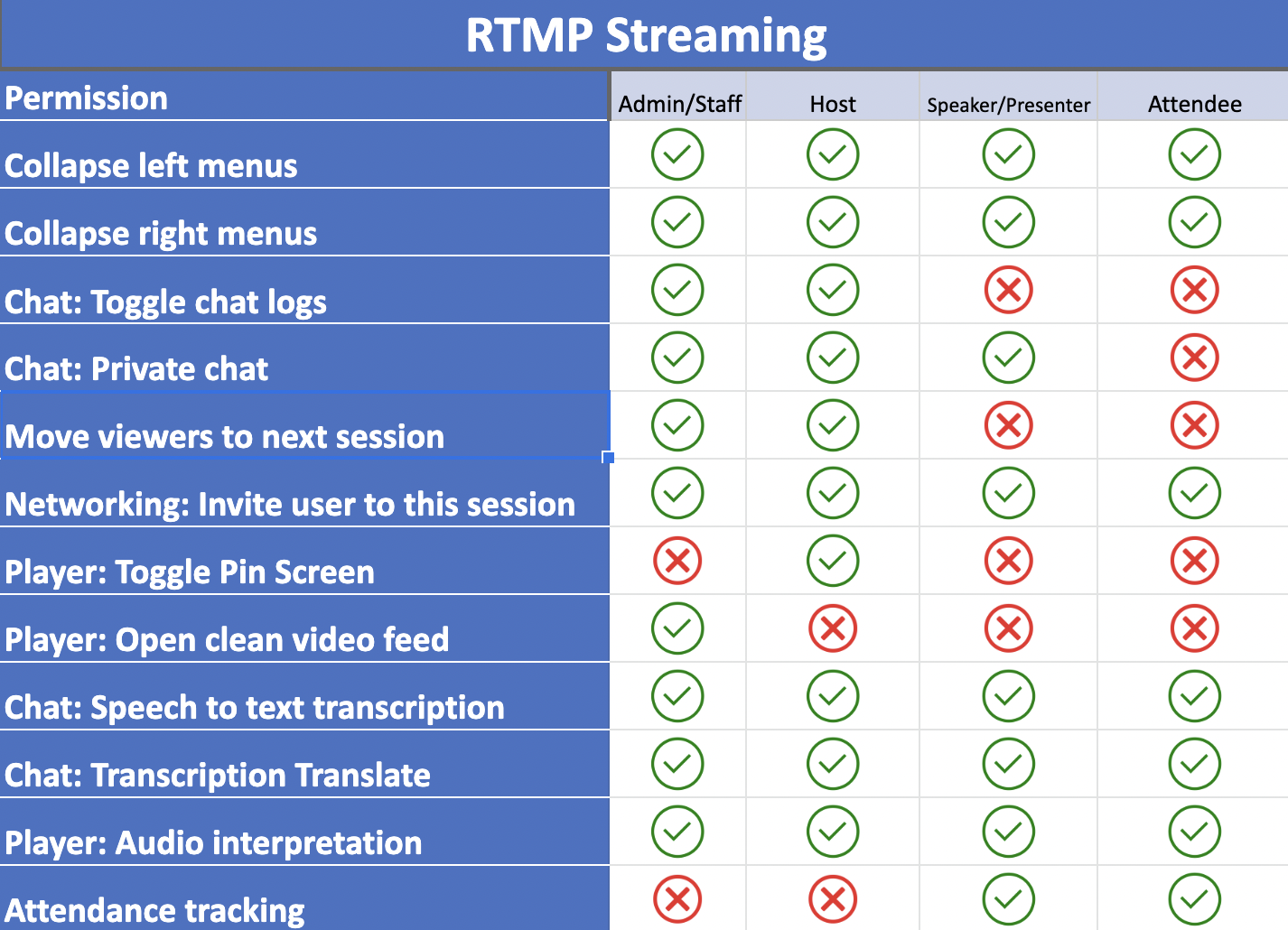 ---
---