How can I share the certificates of attendance with the participants?
Event attendees are often looking forward to receiving a certificate once the event is over so they are able to add it to their CV, and set themselves apart in a competitive industry.
First, you will need to create and customize the certificates of attendance. If you have already completed this step, now it's time for you to share the certificates with the participants of the event. To do this, you have two options:
Give attendees access to download the certificates directly from My Account.
Sending the certificates of attendance to the participants via email
Creating and customizing the email
To access our email creator, go to Marketing > Communication > Email Creator.
To create a new email, click on the + New Email button, type the message's subject, select one template and press Create.
Now, you will need to customize your email and add the attendance certificate to it. To do it, edit the text displayed in the body of your email. ​
A window will open up In the left-hand side menu for you to edit the text content. Press Dynamic links > Certificates > select the certificate you wish to add to the email.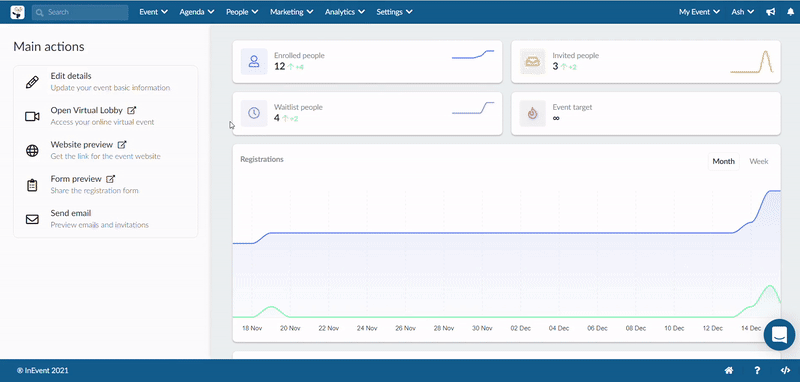 Click here for further details on how to personalize your email.
Defining the recipients of the email
Now you will need to define who should receive the emails. You can send it to all participants by selecting All attendees in the dropdown menu, or to specific lists.

Click here for further information on how to define the recipients of your email.
Reviewing and sending the certificates to the participants
Now it's time for you to review and send the certificates! You will do it in step 3, Review.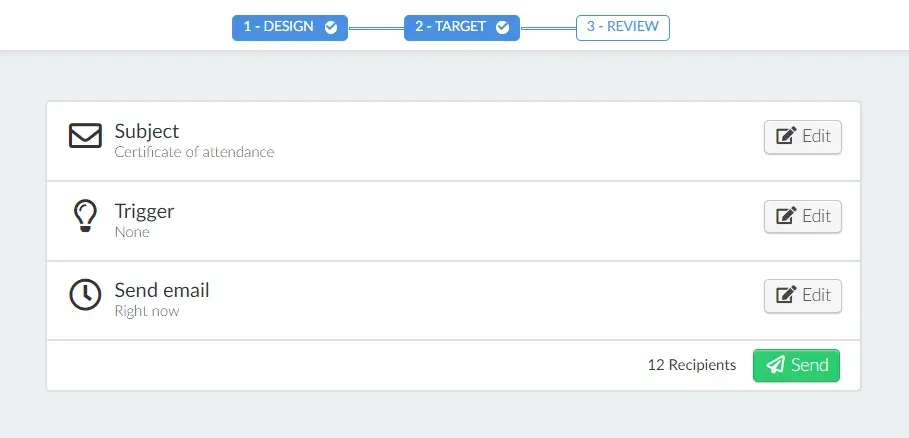 You can send the certificate right away or schedule the e-mail for a date and time you prefer. Click here for further information on how to review and send emails.
Your participants will receive a link to visualize and download the certificate, as shown in the image below: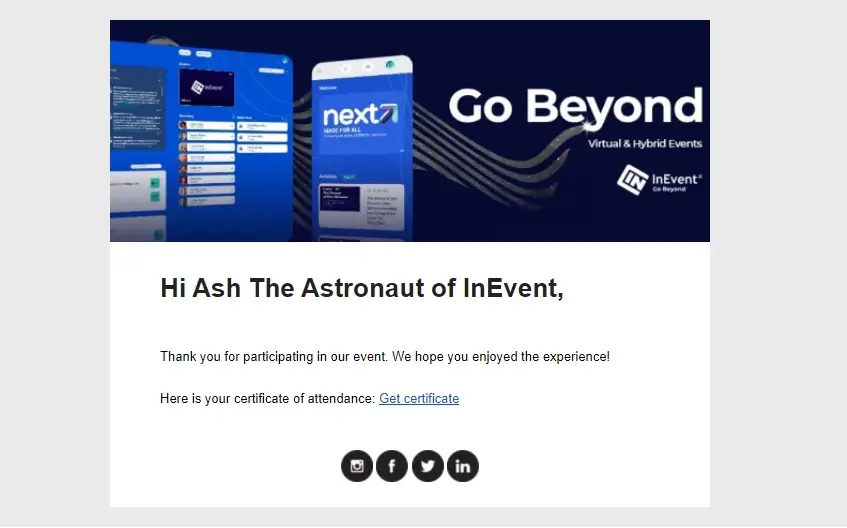 Downloading the certificates from My Account
For event organizers
Once you have your certificates ready, follow these steps so attendees can download them from the My Account tab in the Virtual Lobby:
Go to People > Certificates
Click on the certificate you want to allow for download > click on Edit
Click on Disabled to change the certificate permission.
Click on Enable > End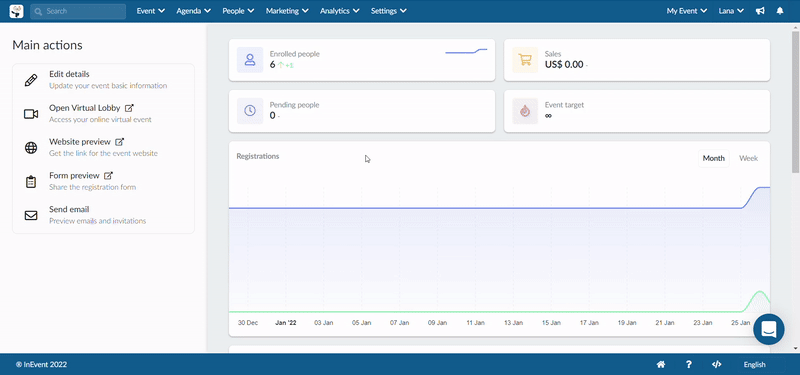 If you want to hide the certificate from the My Account tab, click on Edit > Enabled > Disable > End.
For participants
To download your certificate, follow these steps:
Go to the My Account tab on the left side of the screen.
In the certificate area, click on the certificate you want to download.
A new tab will open. Click Download.

---
---