Email creator
This article intends to teach you how to send personalized emails or some specific communication that you want to pass to your event attendees or some predetermined list.
Types of email
There are two types of email: automatic emails and custom emails.
Automatic emails
You can use the email creator tool to customize automatic emails such as:
Confirmation email
Admission emails
Ticket invite emails
Rejection emails
To learn more about automatic emails, click here.
Personalized emails
The Email Creator also allows event organizers to send invitations and customized emails to the event invitees, attendees and also to custom lists of people.
How do I create a personalized email?
To create a personalized email press Marketing > Communication > Email creator.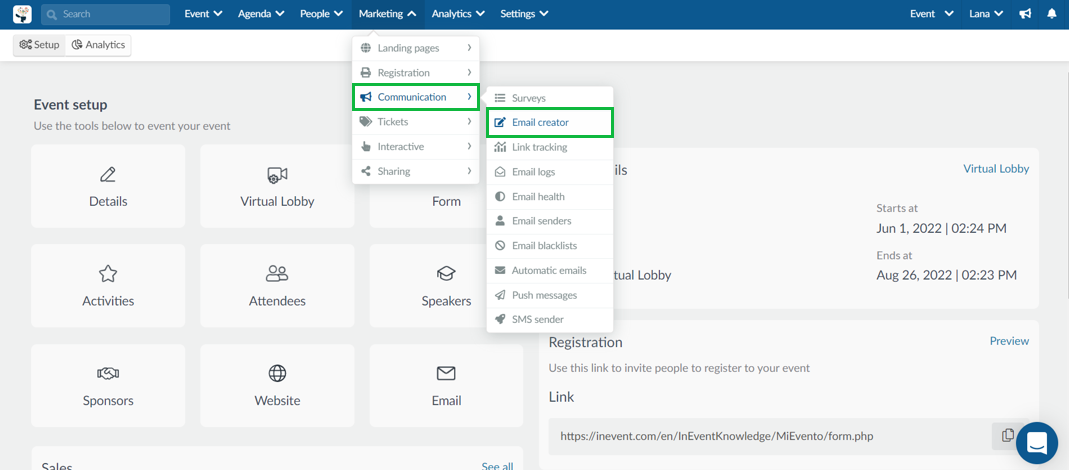 Then in the top left corner press the + New email button, enter the email subject, then choose a Template and press the blue Create button.

Design
After adding the subject of your email and choosing the email template, you will be directed to the design and customization page of the email. 
Adding sections
You will find six categories that contain different options to create sections on your email. To add a section, drag it from the left to the email on the right.
Typography: In this section you will find headings and text templates of different font sizes and formats, with and without editable icons and buttons, lists and tables.
Media: Here you will see options to insert images, an editable QR code, a section with all your event sponsors that you previously added under Event > Sponsors, as well as a section with all the event Speakers added under Event > Speakers. Click here for more information about the Sponsors' section on the email and its customization and here for more information on the Speaker's section on the email and how to customize it.
Layout: Add divisions to your email sections.
Button: Insert different buttons, such as 'App download', 'Add to Calendar' and the attendee's Digital Ticket Voucher.
Social: Add social media links to your email. To edit them navigate to Event > Details.
Footer: Choose between 2 footer options for your email.
The recommended dimensions for email header images are 750px x 275px or for lower resolution this can be 600px X 220px.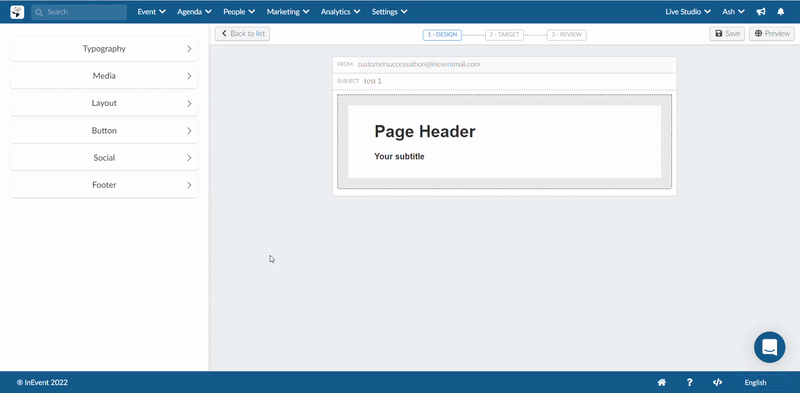 Editing sections
You can reorganize, duplicate, and delete sections using the menu bar in the top left corner of each section.
You can also change icons and make them clickable as shown below.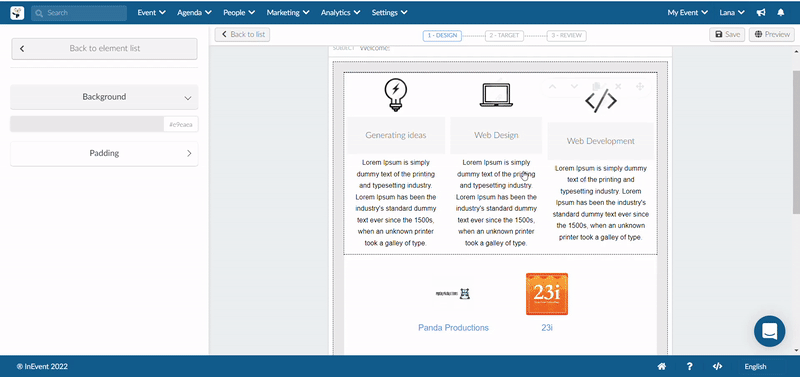 Sections settings
To add text and links to a section, click on the text and an edit box will open up on the left side. Here you can enter your Dynamic content which contains either information about your event or information about a person. You can add Dynamic links for example to your website, registration form, download page, and account page. Also, you will be able to add images, tables, links, forms and edit the format of the email. 
Click here for further information on how to use the dynamic content.
For a good view of email in Outlook, we recommend the application of dimensions 600 X 200.
You can choose the section's color on the color picker or enter the hex code of the color you would like to have. You can ask Google what hex code represents each color. For example, blue is #0000FF.
Padding goes around all four sides of the content and you can target and change the padding for each side (just like a margin).
You can decide whether to show or hide certain content from a section. Not all sections have this option available.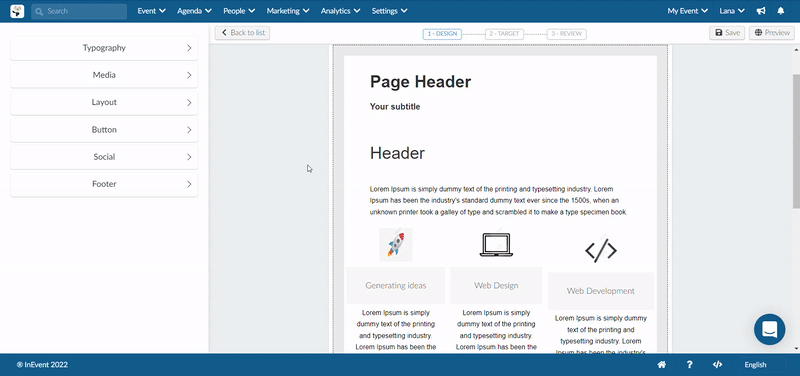 Target audience
Once you have finished editing the email, click on the Target button to choose the recipients of your email.
Using the two drop-down bars available, you can select a range of options.
On the first one, you can choose to send to all attendees, all invited, or to any custom list already created.
On the second bar, you can select the group of people who will receive the email, such as participants with approved enrollment, denied enrollment, attendees present and absent, RSVP accepted, refused or waiting, and several other options.

Besides selecting groups of people, you can also pick individuals manually. In order to do this, just select Manual selection on the second drop-down bar. Then you'll be able to choose, by clicking on the checkboxes, the individual email addresses you want the emails to be sent to.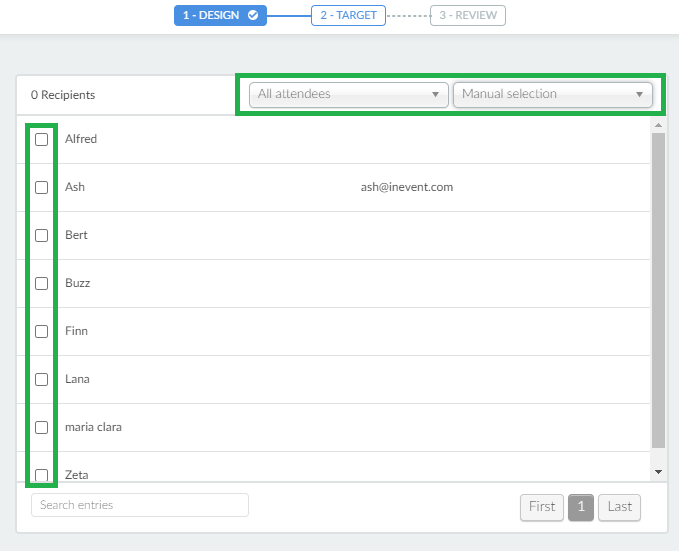 Review & Send
Next press the Review tab at the top of the screen. Here we can confirm the subject of the email and also set the time the email will be sent. You can schedule the specific date and time that you prefer to send the email. To do this click on the Edit button in the Send email field.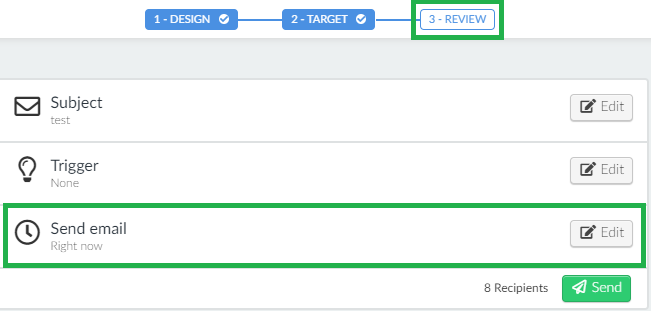 After setting this information, click on the blue Save button and then press the green Send button.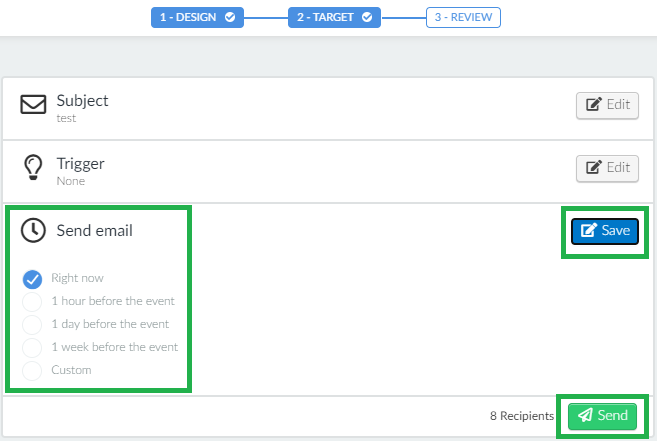 All scheduled messages are scheduled following your event's time zone. To check it, click on
Event
>
Details
> scroll down until you see
Timezone
.
In addition, you can also create a trigger for your email, such as sending it as soon as someone responds to a specific form. To do this, click Edit in the Trigger field.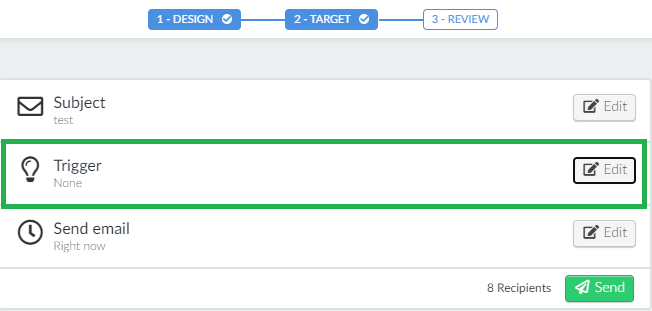 Select the form option that you want to link to the email and click the blue Save button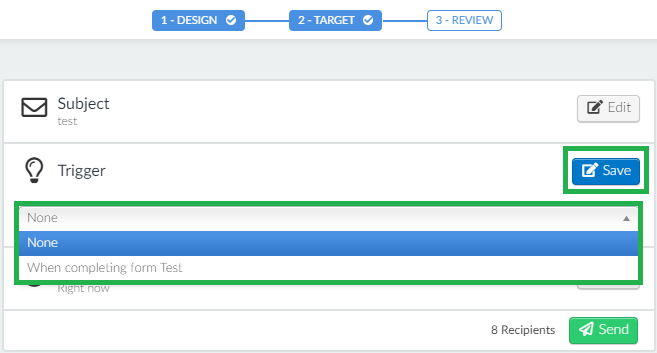 Once sent, the custom email can no longer be edited. If you want to edit an email that has already been sent out, you should copy this email, make the necessary adjustments, select the target audience, then send it.
How do I preview an email before sending it?
You can preview the email on a computer or on a smartphone, or you can send a preview to your email.
To preview the email, press the orange Preview button in the top right corner of the email creator page. Then, press the blue Send preview button if you would like to send the preview email to yourself or another user.
The preview email will not cost an email credit.
Click here
for further information.

Choose the email address from the drop-down bar and press the blue Send preview button.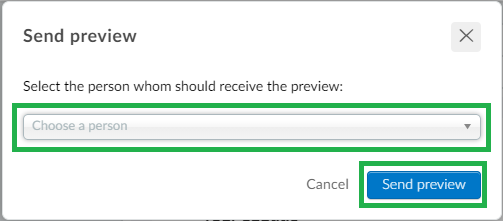 You can preview automatic emails even after they have been sent out to attendees. But when it comes to custom emails, you can only send yourself a preview before sending it out. Once you send a custom email to the attendees, this option won't be available anymore.
Email management
To learn how to check email statistics, resend, copy, delete an email and unsubscribe from the email list, click here.
If you wish to white label your event app as well as have custom emails, take a look at this article.
To prevent your event's email quota from being blocked due to a high bounce rate, check this one.
---
---