Speakers - InEvent Webinar
Manage the InEvent Webinar speakers in a simple and efficient way. All inserts and changes made to the platform are automatically updated in the Live Stream.
How do I add a new speaker?
Adding speakers manually
To add a speaker, go to Webinar > Speakers, then click on +Add Speaker and write the speaker's name and category. Press Create.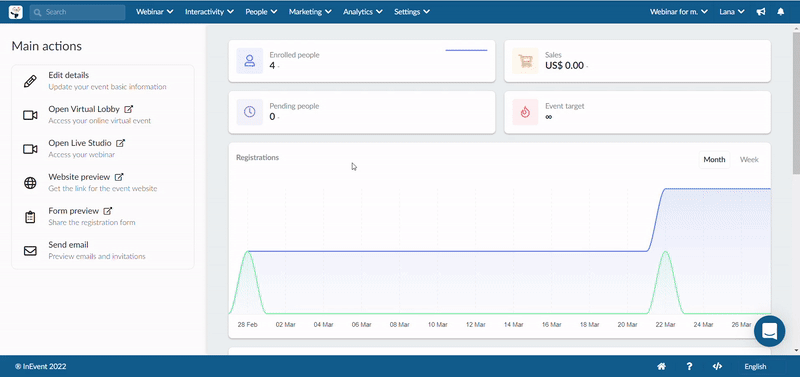 Adding speakers in a bulk
You will be able to add multiple Speakers at once via spreadsheets. To do so, you will need to import an excel spreadsheet with all the information filled out. At the Webinar > Speakers page, press  Edit > Import > Download demo file.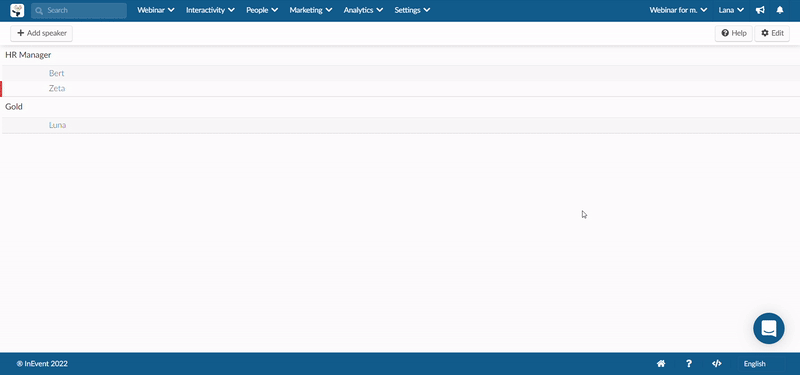 Only the Name field (Column A) is required, the other columns are optional and can be left blank.
Then, enter the speaker's information onto the excel sheet. After saving the changes to the file you must upload the excel sheet back to the platform. To do this, click Edit > Import. Then, press the green button, select the file, and press Import.

After adding your speakers, you will see a popup window opened in the right side. Press Edit to add the speaker's information such as linked attendee, company, email, social media accounts and minibio.
Can I edit the Speaker's information?
Image
The desired image size is 750 x 750 (px by px). There are two options to insert photos: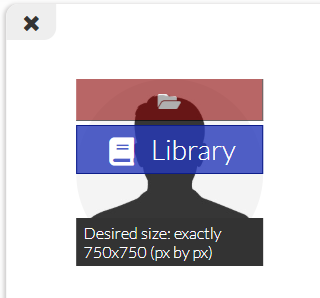 External folder - click the red button and select an image from your computer, cloud, etc
Internal folder - When you select the Library, a new window will pop-up where you can Upload and select the images for all the speakers at once. It is also possible to insert images through ZIP archives. After uploading, you can associate the images with the correct Speaker profile.
Linked attendee
This feature is to ensure your speakers will have access to the Webinar and therefore be able to enter the session they will present prior to the Webinar's starting time. It will also ensure having presenter capabilities (control over camera and microphone).
First, press Edit and link the attendee profile to the matching speaker, and press End when you're done.
Additional information
It's possible to create a complete Speaker's profile by adding the role, company, email, and all related social networks such as: Facebook, Instagram, Linkedin, Twitter, and website.
You can also write a text telling the Speaker's story and achievements at the Mini-bio field.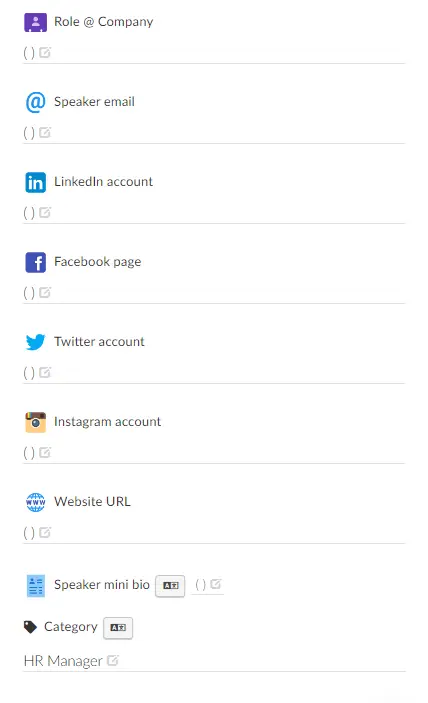 Can I change the order of the speakers?
To change the order the speakers are being displayed, click on Edit and then drag the speaker to the correct position using the dotted icon, outlined in the image below.

---
---