Billing
The billing feature allows the admin to control the number of Registrations, emails and text messages that can be sent out to Invitees and Attendees.
This Page shows you how many Registrations, emails and SMS you currently have available and how many have been used.
You can also purchase more registration credits through the billing tab.
How do I view my billing tab?
Click on your name in the top right corner of the platform, then press "Company Settings".
Then in the Company structure menu on the left side, Click on "BILLING". Then you can view your available Registrations, Emails and SMS.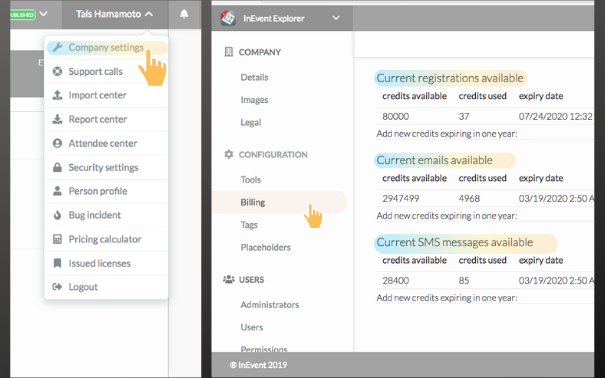 Please be aware of the Credits available, credits used and the expiry date. You need to have registration credits as to add new attendees to your event platform.
How do I purchase more credits?
If you require more, please speak to your Account Executive Representative (sales) or you can click on the "Buy more registrations" button in the top right corner of the billing screen.
Once you have used 90% of your registration credits, you are going to receive an email alerting you about it. In case you have used 100% of your registration credits, whenever an attendee tries registering on your event, they won't be able to to so.
If you would like to purchase more credits on the billing tab you can pay via credit card.
First navigate to the billing tab and click on "Buy more registrations" in the top right corner.

You will be notified of the price per registration originally agreed with your account executive:
Click Next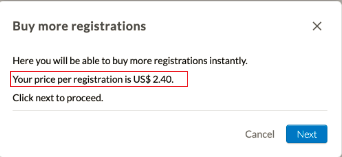 Click Next and type the number of registrations you would like to purchase, the price will be calculated in the field below: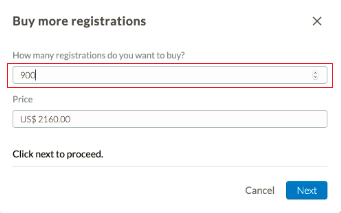 The final step is to enter your credit card details and click Next, the registration credits will then be added on your platform.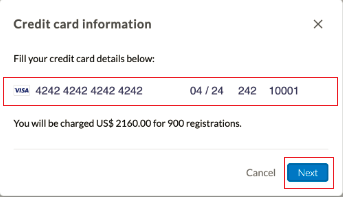 What features consume credits?
All those registered to the Participant List will consume the purchased credits. Thus, all attendees (participants, admins and collectors) subscribed to this list will consume company credits.
Your custom lists, waiting lists, and guests do not consume credits. This way you can do all the management of possible participants in the event in these tools.
By organizing the flow of your invitees you have better control over your attendees , only being charged to those who confirm attendance
In addition, automatic emails triggered by the email editor, as well as invitation and ticket billing, consume email trigger credits (second billing line).
If I delete an attendee, will I get the credit back?
No. Our platform considers that the previously registered participant has already consumed the credit, even if it is later deleted.
How long do credits last?
Credits purchased at the beginning of a contract last for 12 months, and any credits purchased during the contract period will expire at the end of the current contract period. For example, any additional credits purchased at the six-month mark of a contract will have a validity of six months.
Is it possible for me to be charged only when my attendees download the app?
Our app requires the attendee to be subscribed to access your content.
If you only want to be charged after the attendee has downloaded the app, we suggest the following flow: registration via app and a Visible and Private event (see more in App Download Restrictions).
Remember to disable Invitation Requirement from the Event Tools.
---
How Did We Do?
---