Integration with HubSpot
It is now possible to integrate InEvent with your HubSpot Marketing account. You can easily send your registrations to HubSpot and import details using bidirectionally workflows. Please, see the following details and actions to follow.
How do I integrate the InEvent platform with HubSpot?
You can integrate the InEvent platform with HubSpot through our native integration or by configuring it through Zapier.
Native integration
To integrate your HubSpot account with the InEvent platform, at the company level, click Integrations > HubSpot.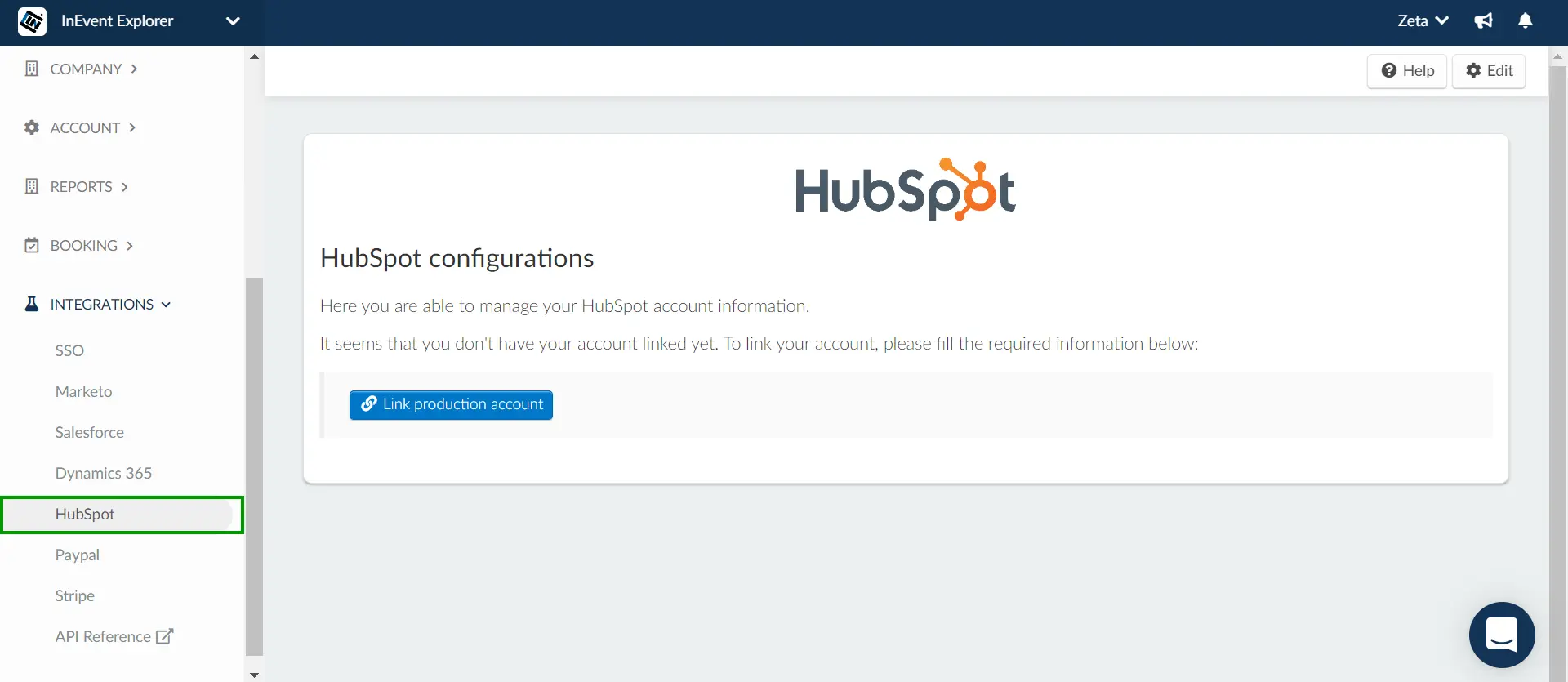 Now you are going to click on the Link production account button and get redirected to the HubSpot page.
Accessing your HubSpot account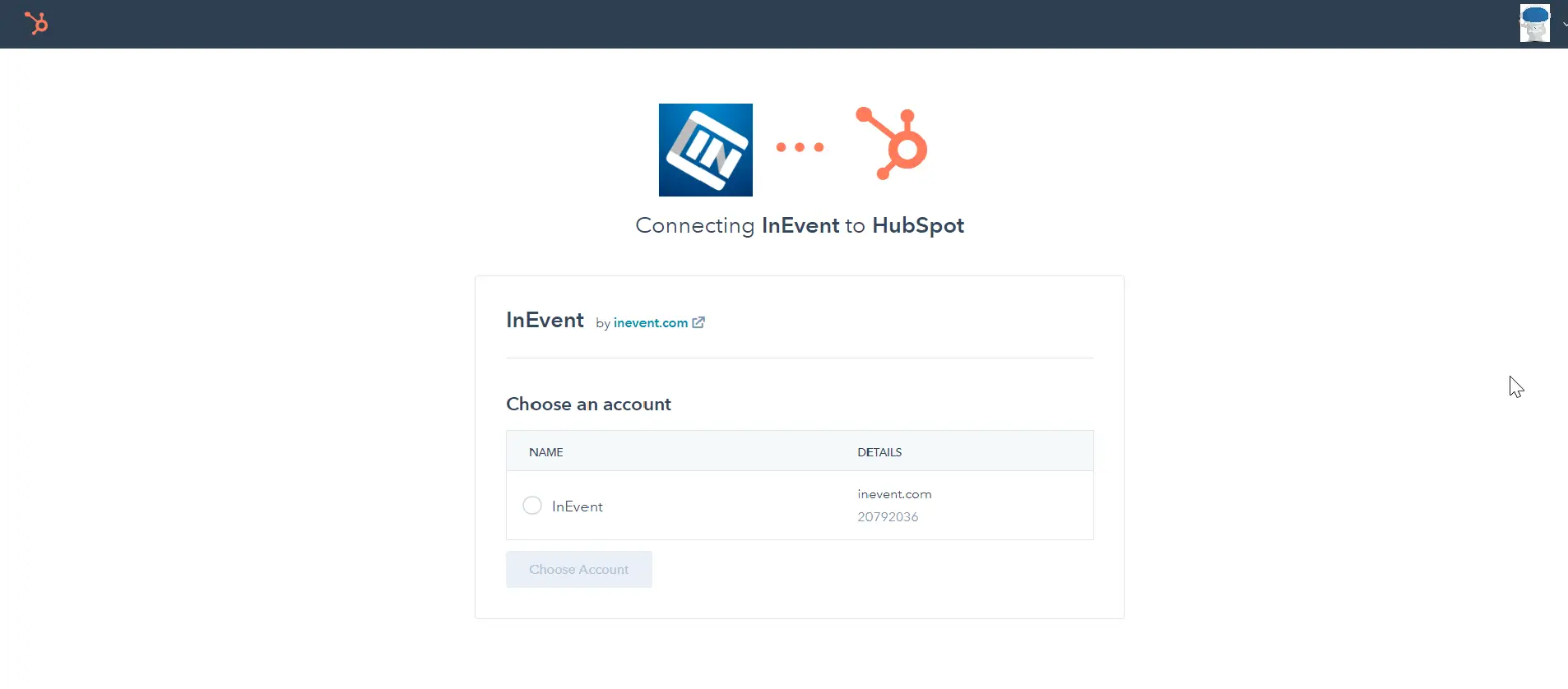 When you enter the HubSpot page, you have to log into your account. Once you are logged in, you can choose the InEvent account and then press select 'Choose account'.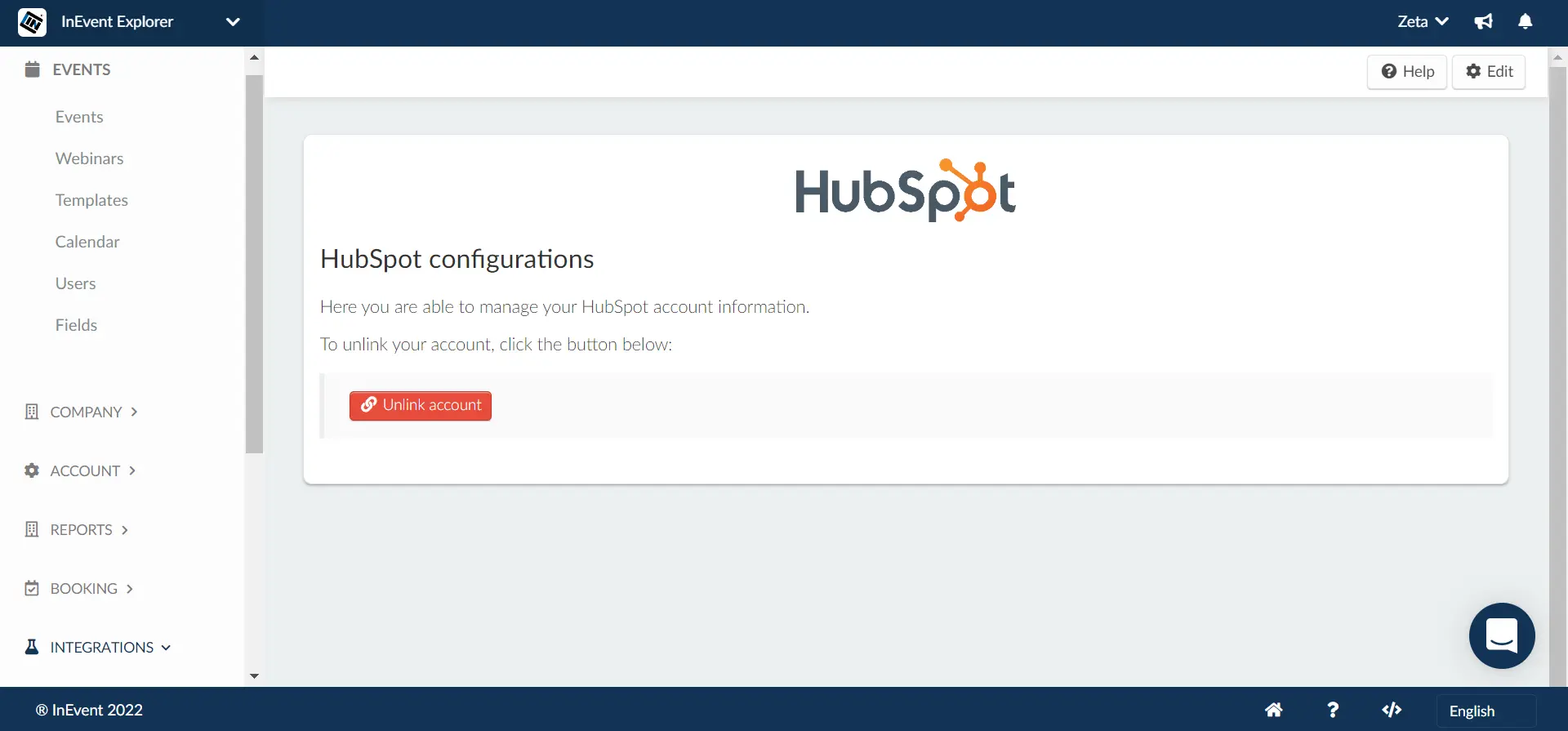 You will be redirected again to the InEvent and, congratulations, your event is integrated with HubSpot now.
Importing leads to your event
You can use the Import from HubSpot option when adding attendees, and invitees to your events and also when adding people to lists.
Below, we will teach you how to import leads from HubSpot and add them as attendees to your event:
To import attendees, click on People > Attendees > Edit on the right upper corner. Then, you will see the button Import from HubSpot.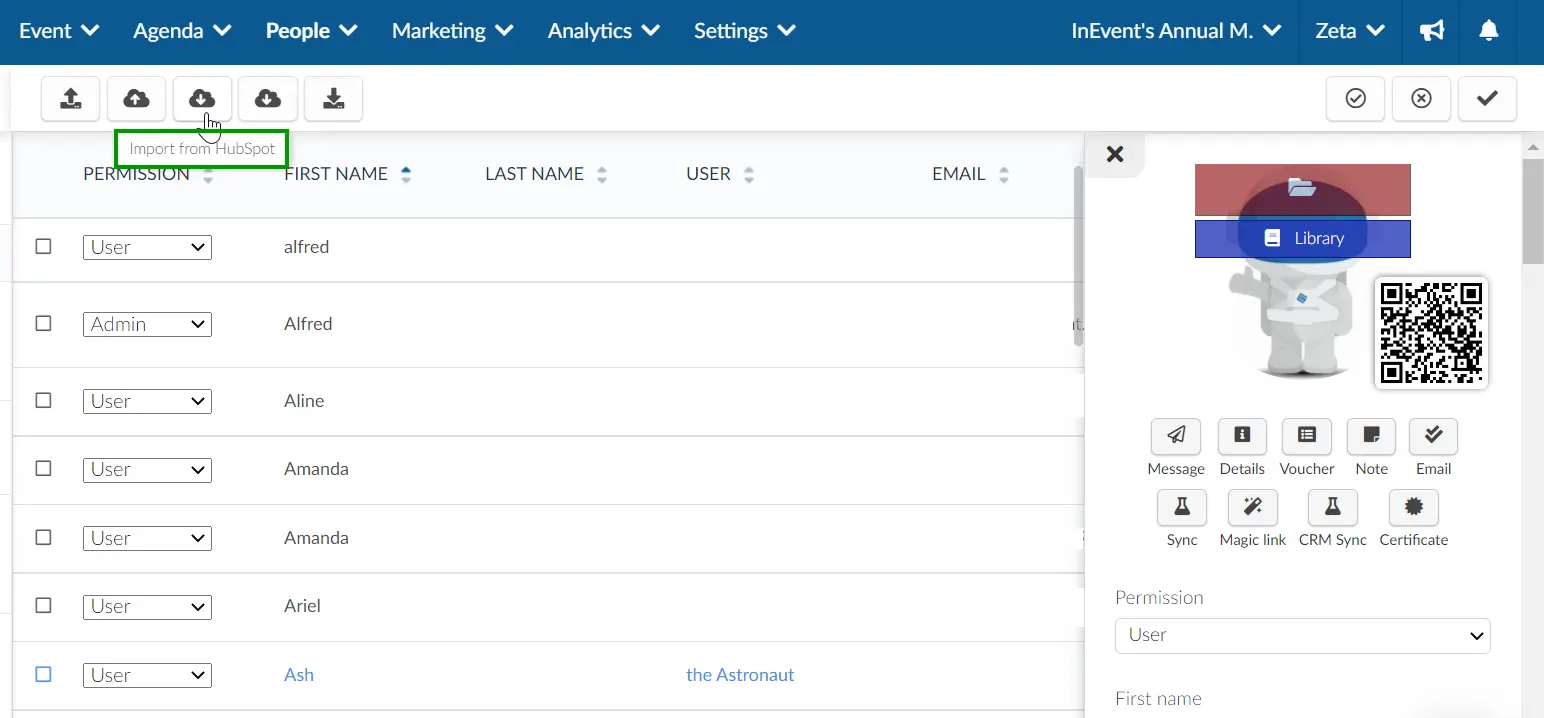 By clicking on the Import from HubSpot button, a new window will open for you to search the names from your HubSpot account that you would like to import to your event. Once you have found the person you wish to import, click on the arrow corresponding to this lead on the right-hand side of the screen.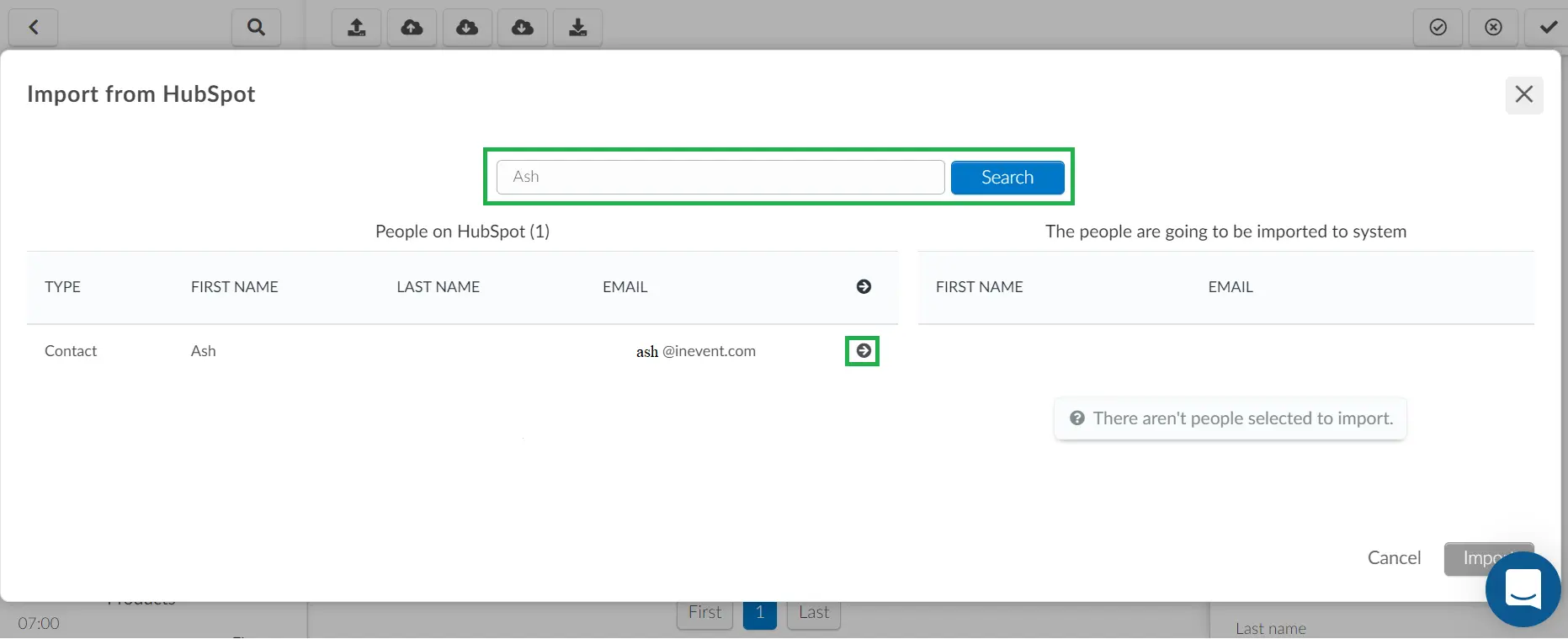 Then, this contact will be moved to the list of people that are going to be imported into the system on the right-hand side, and to confirm the action, you should press the blue button Import.

After clicking on the Import button, you will be able to see all the contacts that were imported on the attendee's list. To identify the attendees imported from HubSpot, you will see the HubSpot icon next to their names.

 By using the Hubspot integration you are able to synchronize your event attendees with a static list on Hubspot automatically.
To import invitees (People > Invitees) or to add people to lists (People > Lists), you should follow the same process described above.
Exporting leads from your event
If you wish to export leads from your event to HubSpot, you should go to People > Attendees and choose one contact by clicking on top of it. A window with this person's details will appear. Click on Edit > CRM Sync. A new window will pop up and you should select HubSpot from the dropdown bar and press Export, as shown below:

The person will be exported to your contacts on HubSpot and there will be an InEvent icon close to their name to let you know they have been imported from the InEvent platform.

Zapier integration
Actions to take within Zapier for InEvent
Create new attendee
Create new event 
Update attendee
Attendee check-in 
Attendee check-out
Poll answers
API request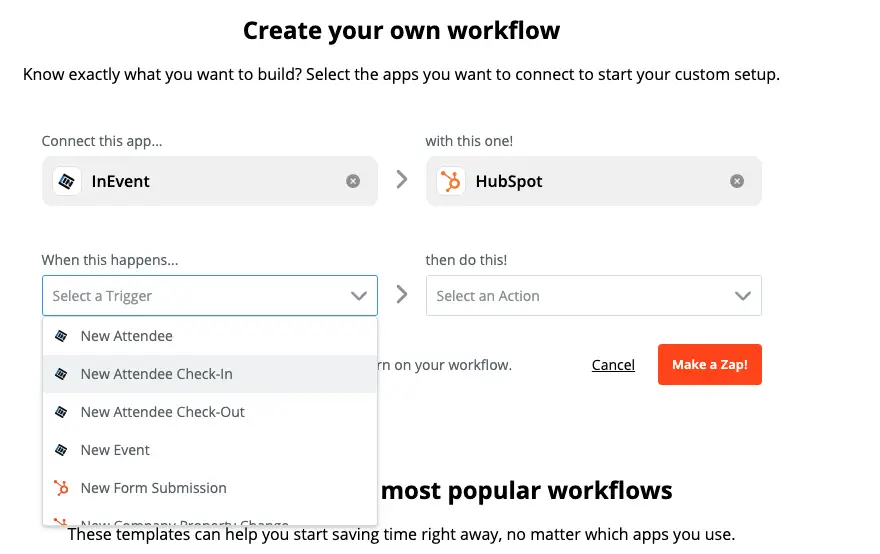 Actions to take within Zapier for HubSpot
Add Contact to List - Adds a contact to a specific static list.
Create Form Submission - Creates a new submission for a selected form.
Create or Update Contact - Creates a new contact or updates an existing contact based on email address
Create Calendar Task - Creates a new calendar task.
Create Engagement - Creates a new Engagement for a contact, in HubSpot. 
Create Social Media Message
Creates and immediately publishes a message on a specified social media channel.
Create Ticket - Creates a Ticket in HubSpot.
Add Contact to Workflow - Adds a contact to a specific workflow.
Create COS Blog Post - Creates a blog post in your HubSpot COS blog  
Create Enterprise Event - Creates a new custom enterprise event.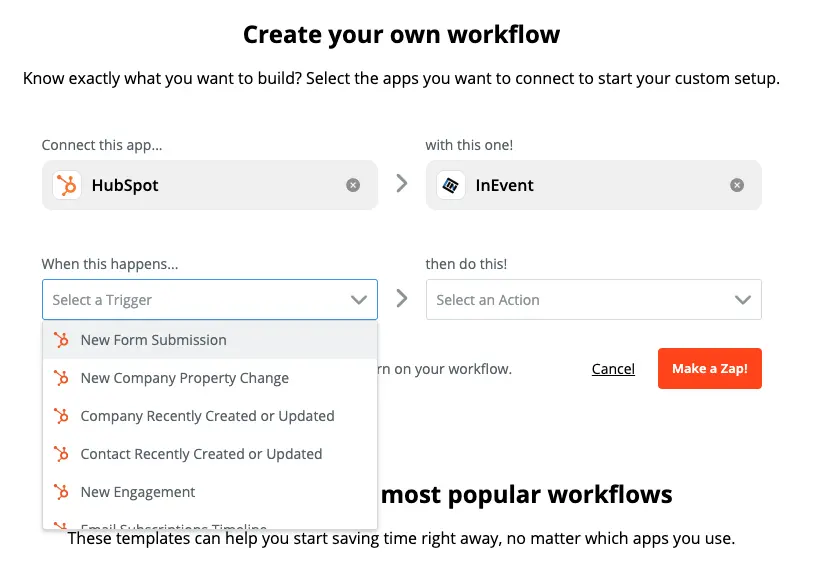 Once you have identified and mapped the action to the intended output, please follow the steps in the subsequent Zapier process flow.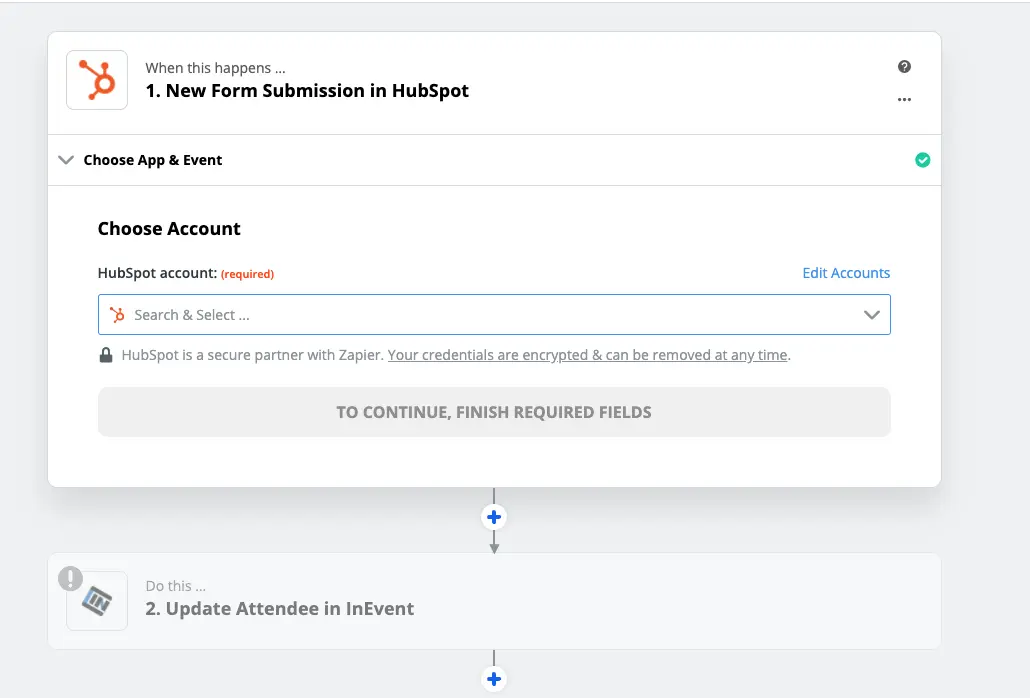 For a more detailed overview on how to use and create Zaps with Zapier, please check out their instructions here: Zapier Getting Started Guide
---
---