Integrations
The InEvent platform offers a wide list of integrations that make it easier for you to manage your event or InEvent Webinar.
See in this article all available integrations and how to configure and use each one of them.
The integrations are available for both solutions,
V&H
and
InEvent
Webinars
.
Click here
to see which integrations are available for each plan.
Company Level
At the company level you can setup the following integrations: Single Sign-On (SSO), Marketo, Salesforce, Dynamics 365, HubSpot, PayPal, Stripe and Cvent.
Simply scroll down to Integrations on the left hand menu at company level as shown below: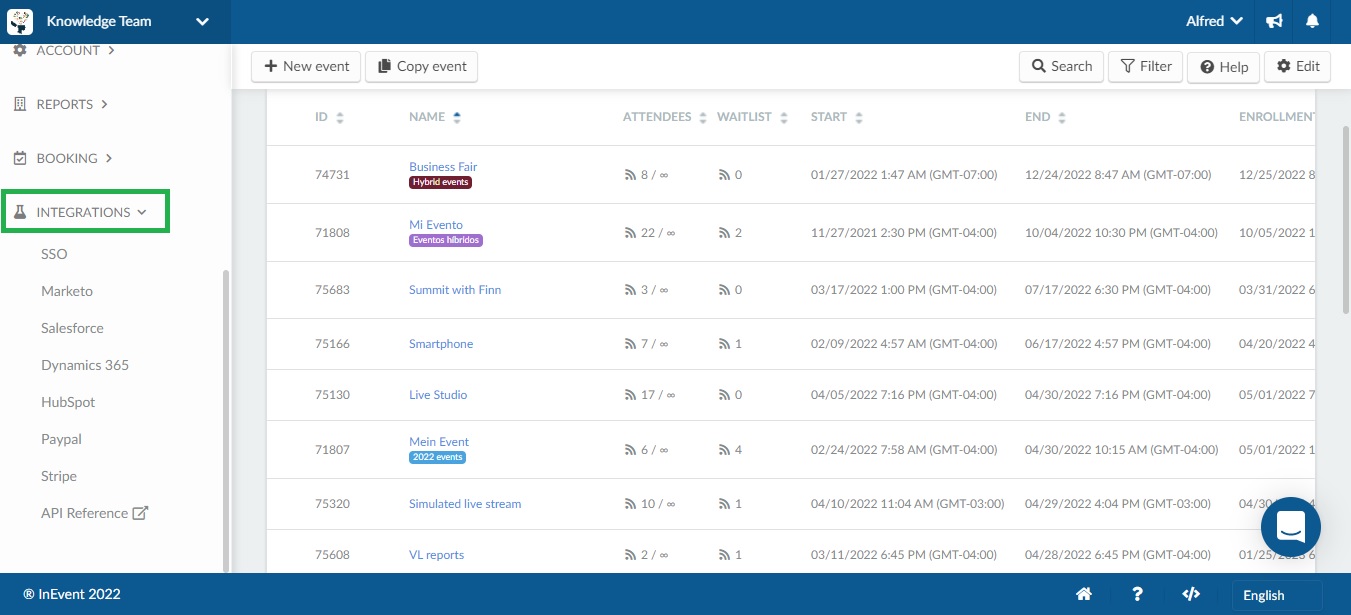 Single Sign-On (SSO)
Single sign-on (SSO) is an authentication method that allows a user to securely log in with a single ID and password to any of several related, yet independent, software systems. True single sign-on allows the user to log in once and access services without re-entering authentication factors.
Checkout this article to learn how to setup the SSO authentication method to your event or InEvent Webinar.
Marketo
Your Marketo integration with InEvent can include created lists, associated emails, given names, or attached tags. You will be able to automatically import all data captured on Marketo's landing pages to the InEvent platform, and also export your data from the InEvent event platform to Marketo. Synchronization occurs automatically and allows custom fields to be used.
If you want to know how to integrate your Marketo account with the InEvent platform, visit our article on Marketo integration.
Salesforce
Integrating InEvent with Salesforce can shape a whole new way of creating a customer-centric view of your event attendees that will help you get more results out of your customer database, mitigate risk and enable a frictionless sales process. This integration works two ways, so data that is synchronized to your Salesforce database will also appear on the InEvent platform.
Learn here how to integrate your Salesforce account with the InEvent platform.
Microsoft Dynamics 365
Dynamics CRM is a business software tool, produced by Microsoft. It is a customer relationship management software that assists businesses in managing their customer database, generating new leads, engaging with their customers, and solving customer service concerns.
Click here to learn more about Microsoft Dynamics 365 and how to set it up on the InEvent platform.
HubSpot
Integrating HubSpot into your InEvent platform will help you align sales and marketing teams, foster sales enablement, increase ROI, and optimize your inbound marketing strategy to generate more qualified leads.
In this article you will discover how HubSpot can be integrated with the InEvent platform.
PayPal
With the PayPal integration, you can charge your attendees for tickets. Your attendees will be able to purchase tickets via the registration form, website, or my account page.
Access our page covering PayPal integration.
Stripe
The integration with Stripe will also allow you to charge your attendees for tickets. Your attendees will be able to purchase tickets via the registration form, website, or my account page.
Here you can learn how to integrate Stripe to your event.
Cvent
It is now possible to integrate InEvent with your Cvent account. You can easily import Attendees and Invitees using standard and custom fields.
This article will show you how this can happen in a very simple way.
If you want to
enable/ disable
one integration, go to
company tools
and adjust it as you wish.
Event & Webinar Level
To access the integrations click on Settings, on the top menu > then click on Integrations on the drop-down menu.
On the Event level it will look as follows: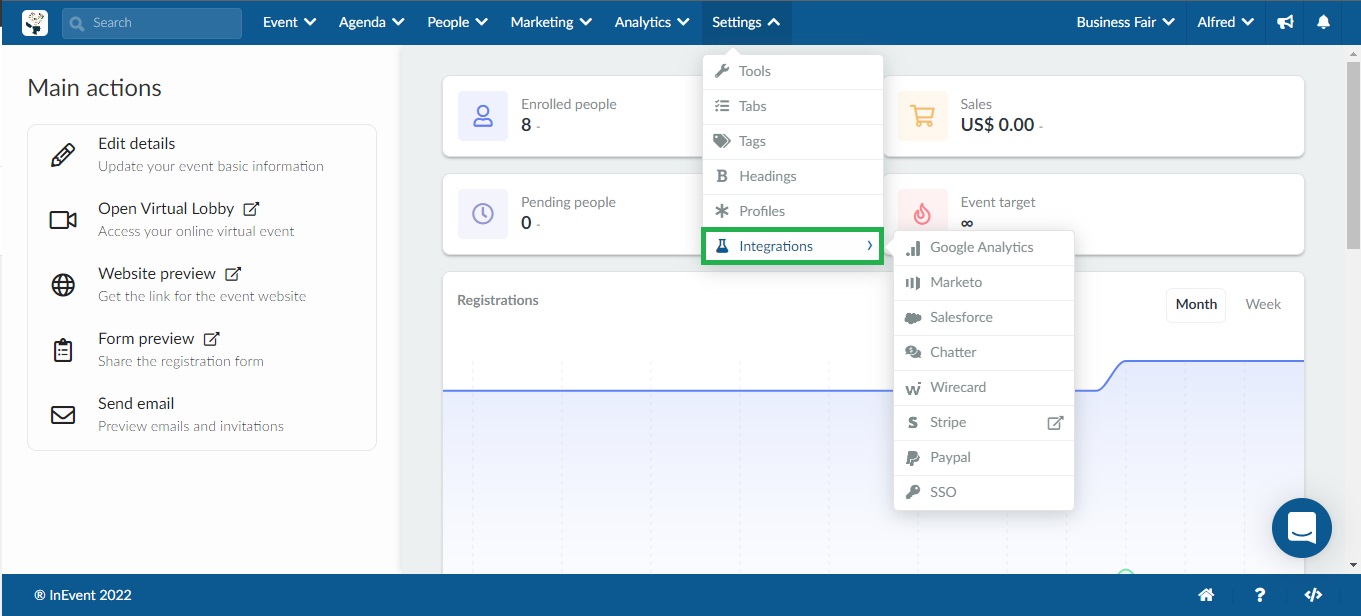 And on the Webinar level, this is how you will see it: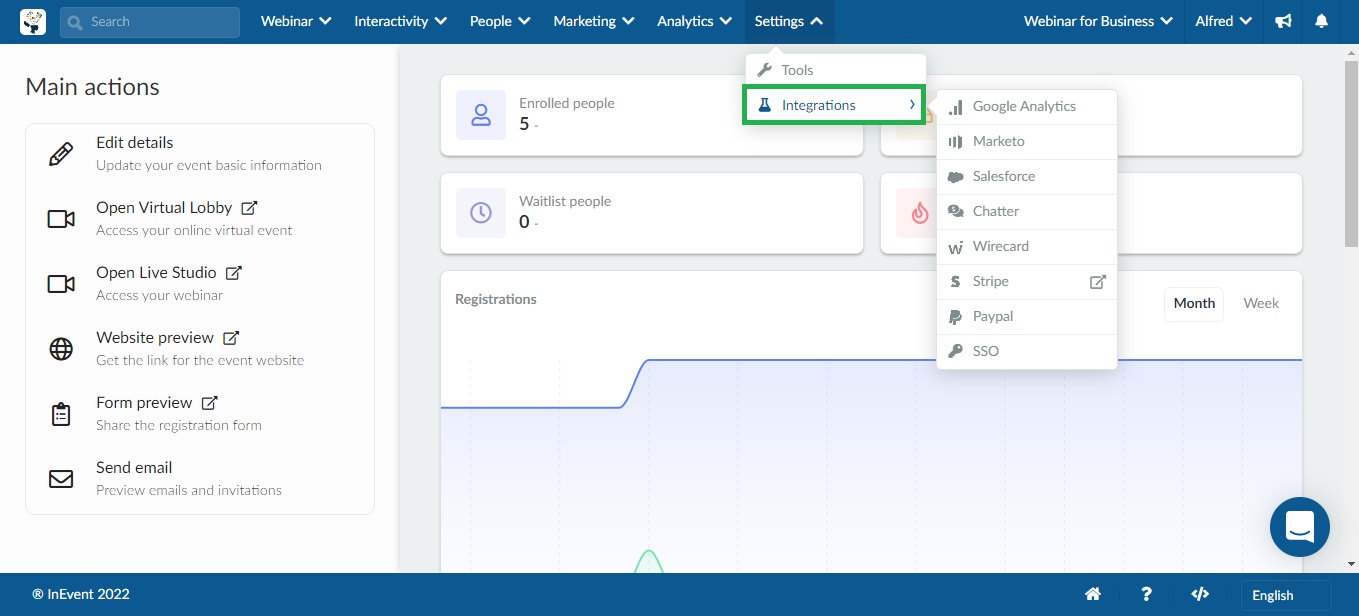 Some integrations can be configured at both, the Company level or the Event/Webinar level.
This section will cover only the integrations that can be accessed from the Event/Webinar level.
These integrations are: Google Analytics, Chatter and Wirecard.
Google Analytics
InEvent will map all the sections of your website, landing page, registration form, and purchase page and send these clicks automatically to your linked Google Analytics ID. You will be able then to manage all your analytics using Google Analytics console to find insights such as buying behavior, funnel optimization, and other statistics to improve your event delivery and survey satisfaction. Easy, simple, reliable, and yet powerful, the integration allows you to get up and running in less than 30 seconds.
To see how to add Google Analytics to the InEvent platform, click here.
Chatter
By integrating Chatter with our platform, you can connect with your employees to work efficiently. At the same time, not missing out on sales opportunities, embedded app projects, custom actions, and more. With Chatter, you are able to share insights, new ideas, opinions, knowledge, files, and data surveys. 
Here you can read how to easily add Chatter to the InEvent platform.
Wirecard
Your ticket sales payments can be processed automatically, if using a personalized webpage for ticket sales. Your system can obtain the amount received, as well as withdraw money directly from your bank account. Taxes can be negotiated directly with company credit cards, in order to find the best value for your event.
To find out how to integrate Wirecard with your event, you can visit this page.
---
---