Attendees' list: registering participants in your event
This article intends to show you, in a simple way, how to add attendees to your event, either manually or in bulk, using a spreadsheet.
What happens if I register an attendee with an email that does not exist?
InEvent follows international policies in order to guarantee the best solutions globally. Our policy determines that every email with 5% or more rejection will be automatically blocked from our system.
If this happens and the amount of fake, wrong, or non-existent emails reaches the limit, the confirmation email feature will be blocked.
Learn more about our Internal Policy Requirement.
How do I add attendees?
You can manually add attendees or you can add attendees by using a spreadsheet.
Before you go ahead, keep in mind that, by default, when you add attendees to your event, they will receive an automatic confirmation email.
Click here
to learn more about the confirmation email. If you'd like to disable the confirmation email,
click here
.
How do I add attendees manually?
On the InEvent platform, Attendees are people who will be attending the event that they are invited to. We can add attendees to the InEvent platform in several ways.
When attendees are added to the platform this counts as a registration credit.
Click here
to learn more about registration credits.
Go to People > Attendees. To insert a new attendee, simply click on + Add Person > Insert attendee's information > confirm the action and finish by clicking Create.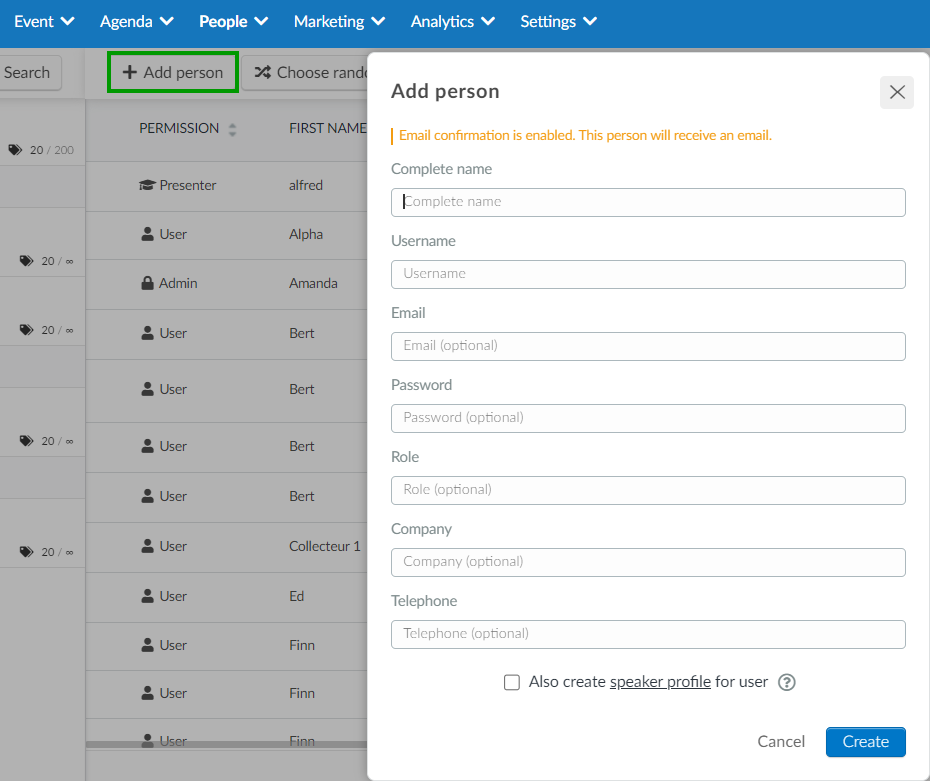 Please notice that you can also create a speaker profile for this new user if you select the box at the bottom of this window. To learn more about speakers please
check this article
.                                            
We do not allow apostrophes as part of email addresses. So when adding emails, make sure not to add any apostrophes (').
How do I add attendees using a spreadsheet?
There is an option to upload data of attendees with the Import Spreadsheet feature.
The import spreadsheet tool allows event organizers to add a large amount of data of people onto the platform at once to list them as attendees. The spreadsheet contains the following information: name, email, password, company, position, summary, image URL for attendee's profile, unique itinerary message, an option to choose whether the profile will be publicly visible or not, and their preferred language.
To import the spreadsheet, follow the steps below:
People > Attendees > Edit > Import > Download Demo File. 
The spreadsheet comes with an example of how to fill each of the columns. Note that the email and name fields of all people on the spreadsheet are the only two requirements, otherwise an error will occur when the file is uploaded.  Once completed, the file should be saved on your computer and then imported using the green file button next to Import on our platform as shown below. Then, click on the Import button: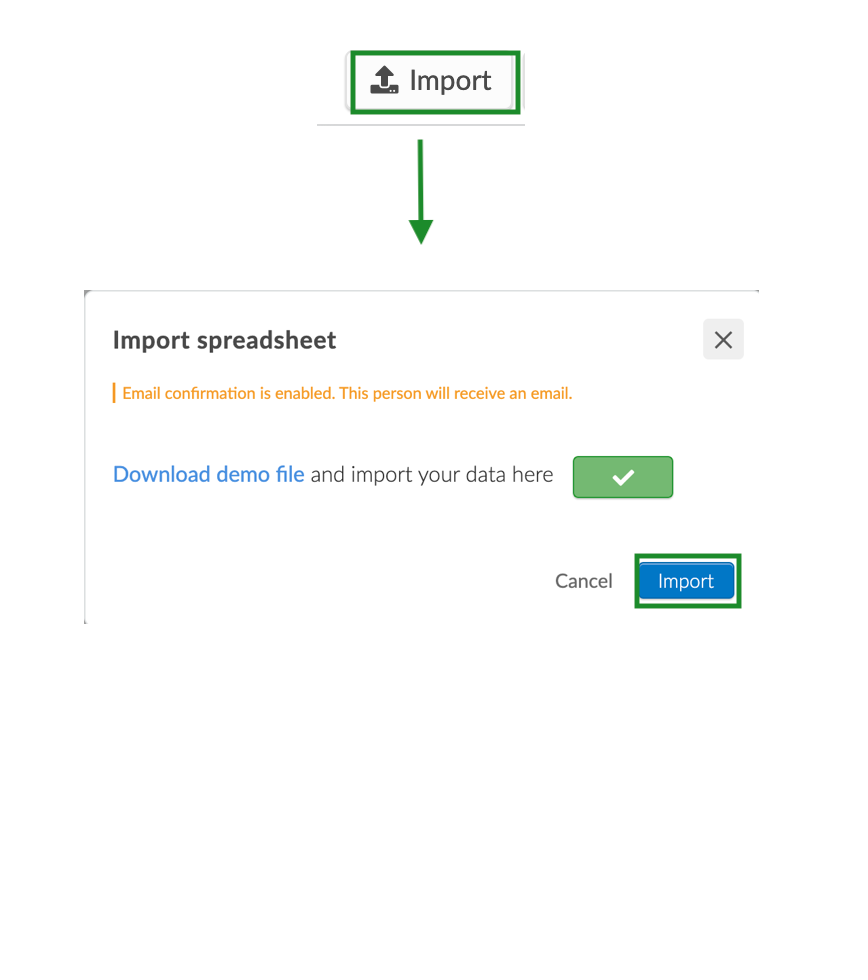 How do I insert multiple lists of attendees with overlapping data?
To insert new Attendees via the Spreadsheet, you must download the standard Spreadsheet, fill in the information, and upload it to the platform.
To update Attendees' data already enrolled, you need to have Spreadsheet Synchronization contracted. In this case, you must complete the user/email field in the standard Spreadsheet, in the same way as previously registered. After that, complete the columns with the new information and upload it to the platform. It is possible to change all the information, including password, except user/email (when this is the login).
What happens when I upload the spreadsheet without the attendees' passwords?
When we upload a spreadsheet without a password, the platform creates random passwords for each attendee that was added to the event. At the end of the upload, an automatic email with login and password is sent to the users with the event access information. For it to work, the functionality "Confirmation email" must be enabled in the panel.
When we have the "username" feature enabled, a confirmation will only be sent if an email address has been attached to it.
How do I add attendees without using emails?
To learn how to add attendees without using email Click Here.
How do I export and import attendees' information from and to Salesforce?
You can export/import this information to/from your salesforce. Click here to learn more about it.
How can I manage my attendees' data?
Click here and learn more in our article Managing Attendees.
How can I see an attendee's agenda?
To learn more about the attendees' agenda click here Agenda Management.
To learn more about My Agenda click here My Agenda.

How do I disable confirmation emails?
If you do not want the attendees to receive a confirmation email, click here to learn how to disable it.
How do I delete an attendee
Click on Edit > Select the Checkbox next to that Attendee > Remove.

If you delete one attendee from the attendee's list and they are online in the Virtual Lobby, they will be instantaneously expelled from the Lobby. The same thing happens if they are removed from a session that they are watching, they will be instantaneously expelled from the room.
Is it possible to receive a notification when the attendees register for my event?
Click here and learn more in our article Automatic registration notification emails.
Is it possible to send a message individually to an attendee?
Click here and learn more in our article Push Notifications.
---
---