All Leads
Control all of your event leads in one tool. Manage your guests, confirmed attendees and waiting lists. Filter your attendees by ticket and RSVP status.
How to manage your event leads?
See all your lead data by clicking People > Leads. You can also search for the word Leads in the quick search field.
What is the status of a lead?
Status tells us at which stage of the application the lead is, which can be:
Guest: still needs to confirm attendance (requires Invitations feature enabled);
In a list: the person is present in a custom list (requires Lists functionality enabled);
Waiting List: waiting for your approval at the event (Requires Waiting List enabled);
Attendee: confirmed attendance / has already been approved;
How to check your leads by status?
To segment all leads by status, just click on the checkboxes on the left side of the screen and choose which filter you would like to select.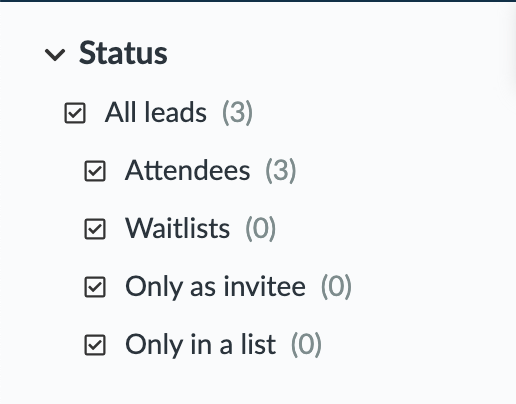 How to change a lead status?
You can change the lead status by clicking Edit and then ticking ​​the leads checkboxes and changing the status in the right side window in the Change Status To field.
After selecting the status, click on the blue button Run Bulk Operation.

How do I edit a lead's information?
You can change a lead's data by clicking Edit and then modifying the person information fields and clicking End.
What filters can be used?
On the left side, you can select all leads that are linked to one of the statuses, custom lists, and tickets.
How do I extract a report?
For a list of all leads, click Edit and then Report.
---
---