Leads
You can manage and segment your event's leads on the Leads page. You will be able to create different databases for your attendees, invitees, guests, and everyone else who is participating in your event. Besides that, intelligent automation is available for segmented list databases used on ticket sales, item purchases, registrations, private sessions, or additional add-ons.
How do I manage the leads of my event?
To see all your lead's data, go to People > Leads.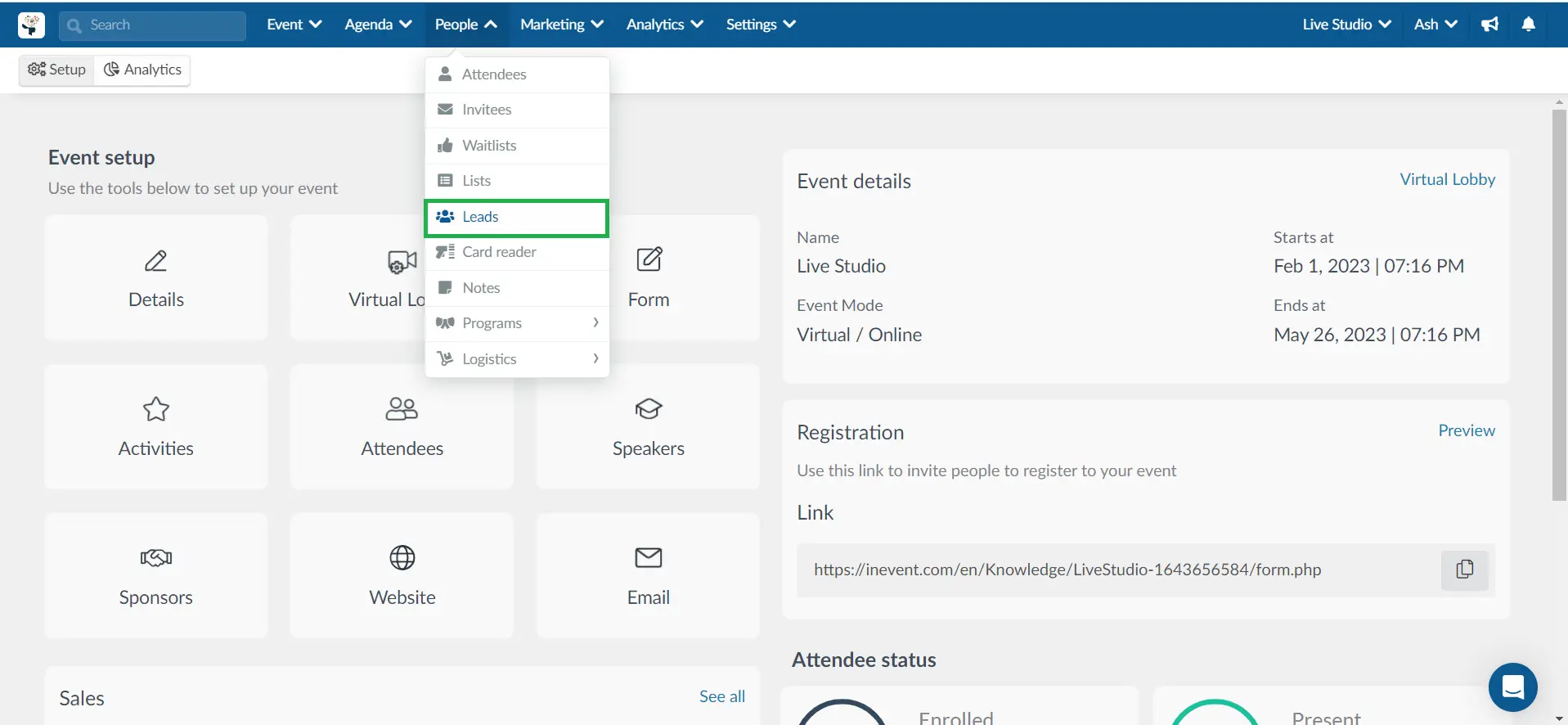 Which status can leads have?
The leads status will inform you at which stage of the application the lead is: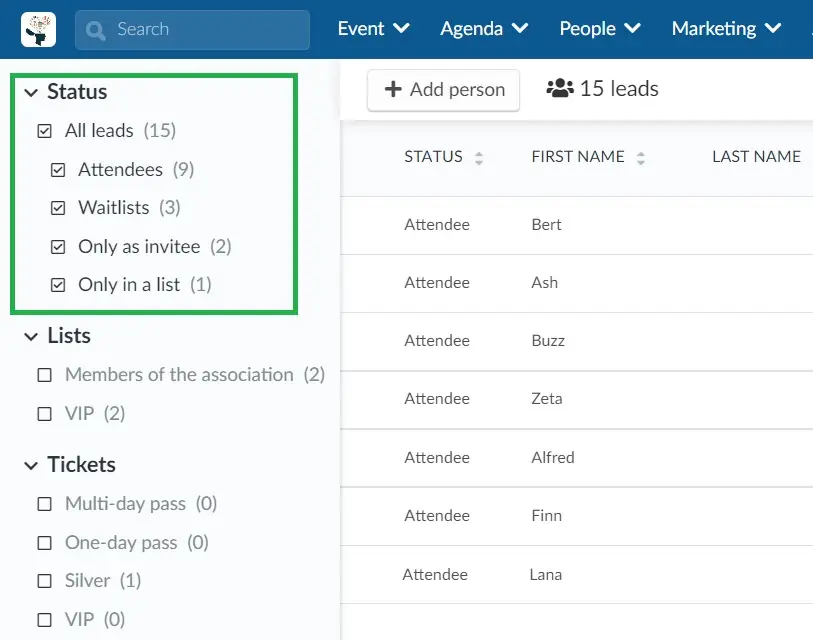 Adding new leads
You can manually add leads or you can do it using a spreadsheet.
Manually
To manually add leads to your event, click on + Add person button > define the lead's status (Attendee, Invitee, Waitlist, Lists)> insert the lead's information such as username and password > confirm the action and finish by clicking Create.

Please, note that adding leads as attendees will consume
registration credits
. Adding leads as invitees, sending them to the waitlist, or adding them to lists will not consume registration credits.
Using a spreadsheet
You can also upload the data of attendees using the Import feature. This feature will allow you to add a large amount of data of people onto the platform at once.
You can import leads' data by pressing Edit > Import > and defining which status the imported leads should have. Next, you will have two options: you can either use the demo file provided by InEvent or your own spreadsheet to insert your leads' information. Click here to learn how to do so.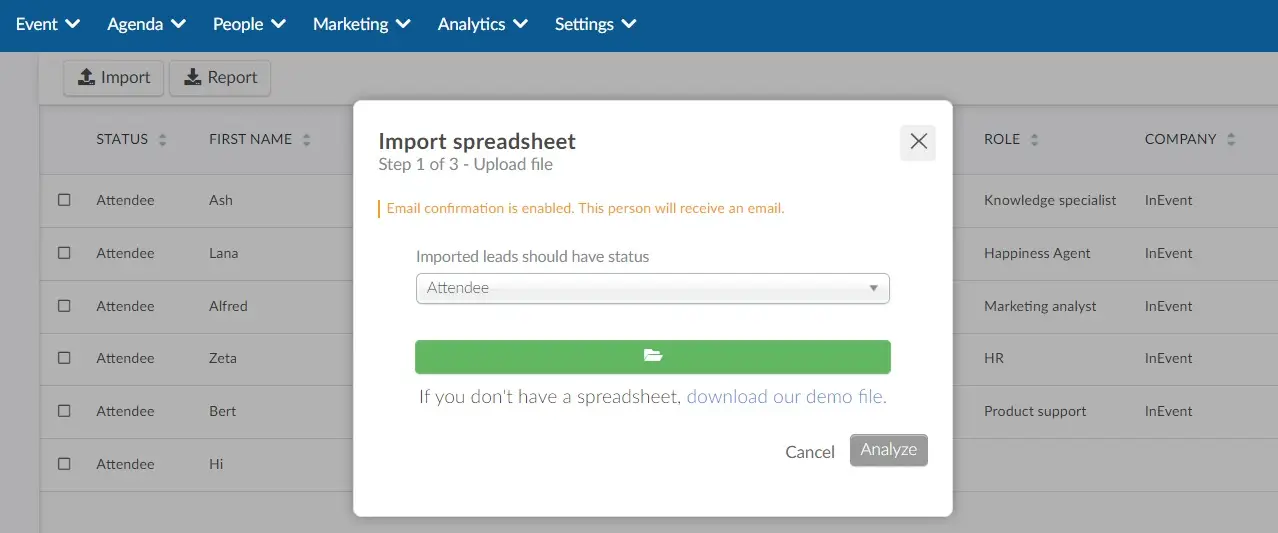 How do I edit leads' information?
You can change leads' data by clicking Edit and then modifying the person information fields that will be listed on the right-hand side of the screen. Press End to save the changes.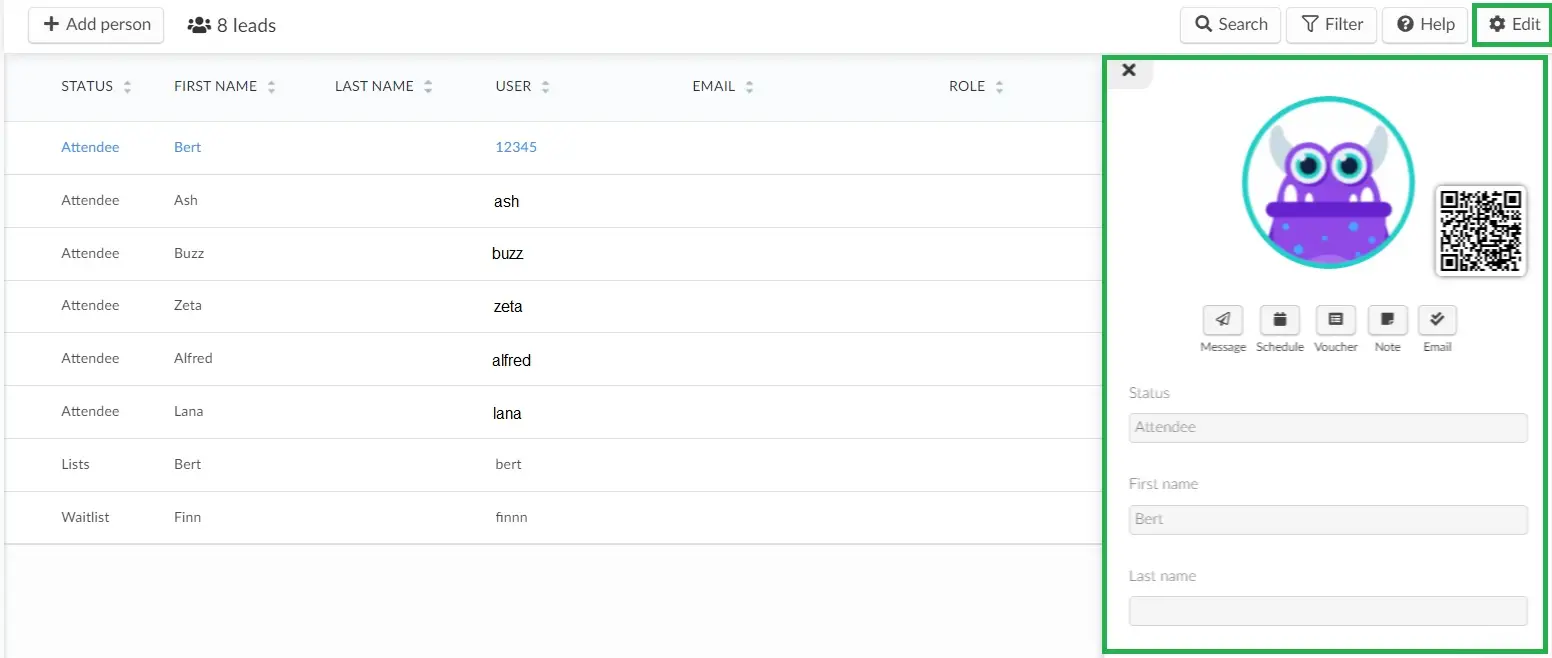 How do I run a bulk operation on my Leads?
You can run a bulk operation on one or more of your Leads. To do so, click on Edit then tick ​​the checkbox(es) corresponding to the Leads(s) you wish to perform the operation(s) on. A window will appear on the right side from which you can make changes. Select an option from the drop down menus of the following operations:
Add to list: You can add leads to a custom list which you have already created.
Change status to: You can change their status to Attendee, invite or waitlist.
Update field: You can edit their fields: First Name, Last Name, Role, Company, Telephone, Email, Assistant Email.
Once you have selected from the drop down menu of one or more the above operations, click the blue button Run bulk operation and then press End to save your changes.
Which filters can be used?
On the left side, you can filter leads based on:
Status: Filter leads that are on the attendees' list, invitee's list, on a waitlist, and the ones added to custom lists.
Lists: Filter per list and see who has been added to each list.
Tickets: Filter per ticket and see who has purchased each ticket.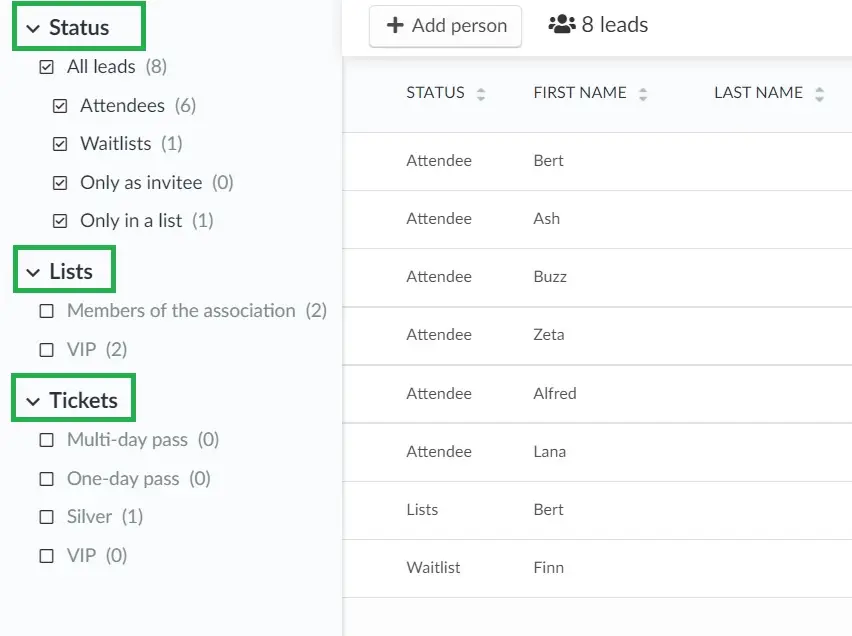 You can also use the Filter button in the upper right corner of the page. To do so, click on Filter > select the parameters that will be used to segment your leads' list > click on Add Filter.

You can also use the Search button to search for specific leads.

How do I extract a report?
To have this information available in an excel sheet, press Edit in the upper right corner > and click Report in the upper left corner. Once you click the button, a message will appear at the top of the screen, warning you that you will receive the file with the data in your email when the process is complete.

---
---