Integration with Salesforce
Integrate your Salesforce account with the inEvent platform to help you with the import of leads and contacts.
Linking your account at the company level
The first step is to activate the feature at the InEvent platform. To do so, go to the company level and click on your company logo on the left side, look for Account and click on Tools. Then mark the field Salesforce - Integrate Salesforce to import Leads and Contacts.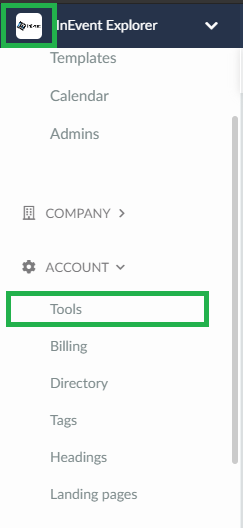 After the step above, still on the company level, look for Integrations on the left side menu and click on Salesforce.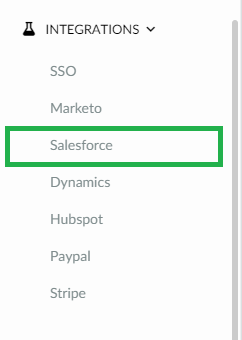 After this, you will select one of the options below:
Link Production Account
Link Sandbox Account
If you wish to have a Sandbox account, there are two options: you can either create a new trial account to test your registrations or have a permanent paid sandbox that you can use for a year. If you would like to go with the second option, please contact your sales rep.

Next the Salesforce login page will open up, please log in with your Salesforce account information.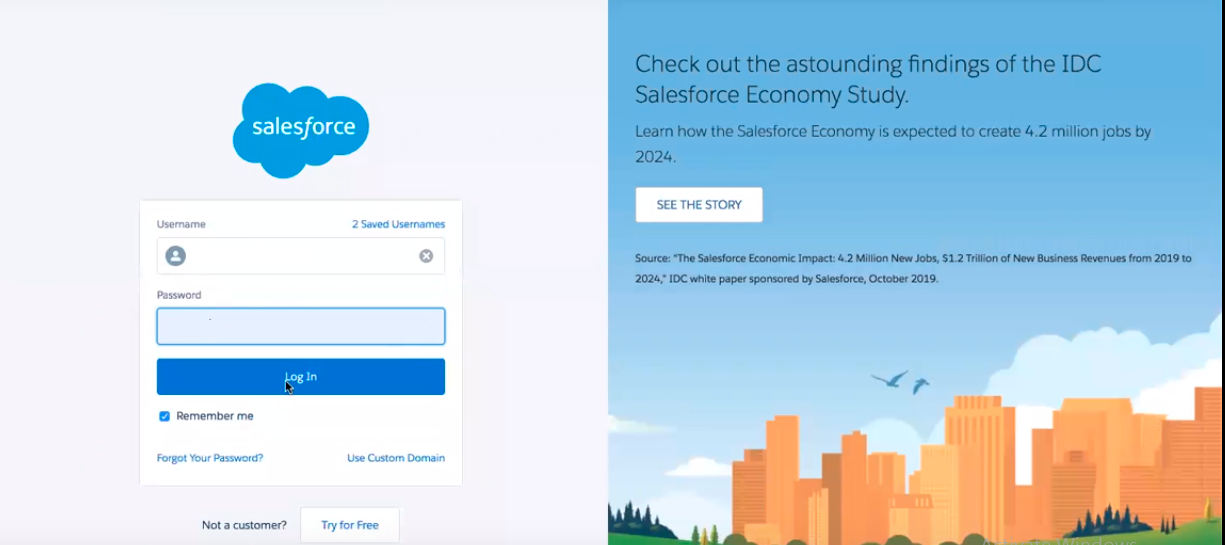 Now your Salesforce account is linked.
You can now select which "folder" the data will be saved:

Create a new campaign automatically when creating a new event
You may configure your salesforce settings at company level to create a new campaign at Salesforce every time you create a new event in the InEvent platform. To enable this tool go to Company Settings > Integrations > Salesforce > Edit > select Yes from the dropdown bar of the question: " When creating an event, should we create a campaign?"

Linking your account at the event level
Make sure the Salesforce tool is switch on, click in Event > Settings > Tools. Press Edit button and tick the Salesforce checkbox.

Then, with your event opened in the InEvent platform, go to Settings > Integrations > Salesforce.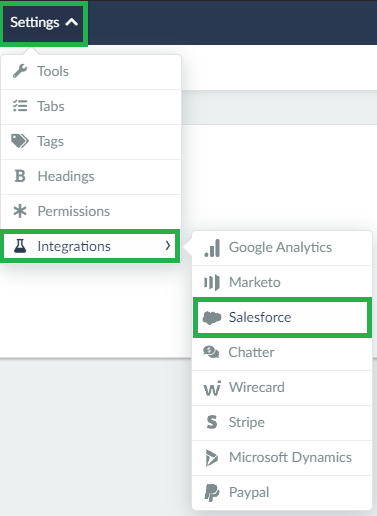 Here you can link your custom fields from Salesforce with your custom fields from InEvent.
If the lead is a new entry on Salesforce, we will automatically collect information like first name, last name, job title, etc.
First of all you must choose whether the default fields will be automatically overwritten or you can select exactly which fields will be overwritten. Choose by enabling or disabling the tool below

To learn how to create custom fields on your registration form in InEvent, click here: Registration form (only fields set as plain text answers will be accepted for the link to Salesforce)
On the InEvent platform, we have two different kind of forms: we have the registration form and we have custom forms. We don't integrate custom forms with Salesforce, only with the registration form.
To link your fields from Salesforce with InEvent click on the Edit button in the top right corner and then you must link the fields under the "Salesforce fields" to mach the InEvent fields.

How do I import Contact Names, Leads, Lists or Campaigns?:
You can import your contacts, leads, lists or campaigns to Invitees or Attendees on the InEvent platform.
Import to Attendees or Invitees
Click in People > Invitees.
Click on Edit, at the right upper corner. You will see a new button: Import from Salesforce.

By clicking on the Import button, a new window will open, where you can select what you wish to export: Contacts, Leads, Lists, Campaigns or ALL.

Choose one option, search the names that are on your Salesforce account you would like to import, and press the Import button at the bottom.
If your search term is campaigns, a new field will appear, so you can select the campaign you desire, and below all the leads from that specific campaign will appear.
Select your desired fields and click on Import.
After clicking on the Import button, you will be able to see all the contacts that were imported. To identify the names from salesforce, you will see an icon next to the name.
To import to Attendees go to People > Attendees and follow the same process as above.
How do I sync my campaigns?
Now you can sync your campaigns from Salesforce to InEvent meaning data will be shared between both platforms.
To sync a campaign go to Settings > Integrations > Salesforce.
Click Edit in the top right corner and scroll down to Event configurations.
You can choose from the drop down bar, one of your campaigns and the set the configurations which are as follows:
Sync new registrations
Sync email opt-outs
Sync leads from Salesforce automatically
Once you have configured the settings click on End in the top right corner to save.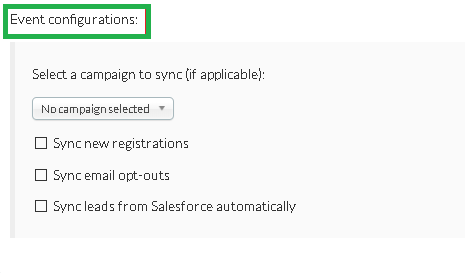 If you choose to set Sync leads from Salesforce automatically another setting will appear to ask you which InEvent target list to use, Attendees or Invitees.

Once your campaign is linked you can manually sync the data by going to People > Attendees and clicking on the Salesforce refresh button.
This refresh will take up to 30 minutes to sync the data.

Exporting edited information to Salesforce from the InEvent platform
You can edit the details in the InEvent platform and send the new info directly to Salesforce.
To do so, go to People > Attendees and choose the contact name (from Salesforce). A window with this person's details will appear. Click on Edit. Change the information, and after click on the Export to Salesforce button (as shown below):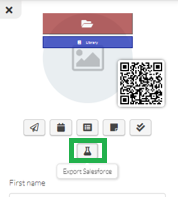 It is also possible to import contacts / leads from salesforce to the Invitees List (People > Invitees) and to your custom lists (People > Custom Lists). Just follow the steps described above.
---
---