Device configuration and system check
This article will explain how to conduct system checks to evaluate the system's compliance with its specified requirement.
If you are a room host, speaker or attendee, it's suggested that you perform a system check to make sure you are meeting the minimal technical requirements and that all settings are correctly set.
Device configuration
If you are:
A speaker, room host, or administrator joining a session you'll be taking part in
An attendee being invited to speak by a room host
A speaker, room host, administrator, or attendee networking with other people
You should see a pop-up to configure your devices such as camera, speaker, and microphone, as well as the video quality.
You can toggle your microphone and camera on or off by clicking on the icons on the left and selecting the desired device with the dropdown menu on the right.
You can also choose to join the call without using a camera by selecting the Without Camera option from the camera dropdown. This option is helpful for low-end devices or bad connections and for users that don't have a camera connected to their computer. It is also great for the Raise Hands option when people just want to ask a question.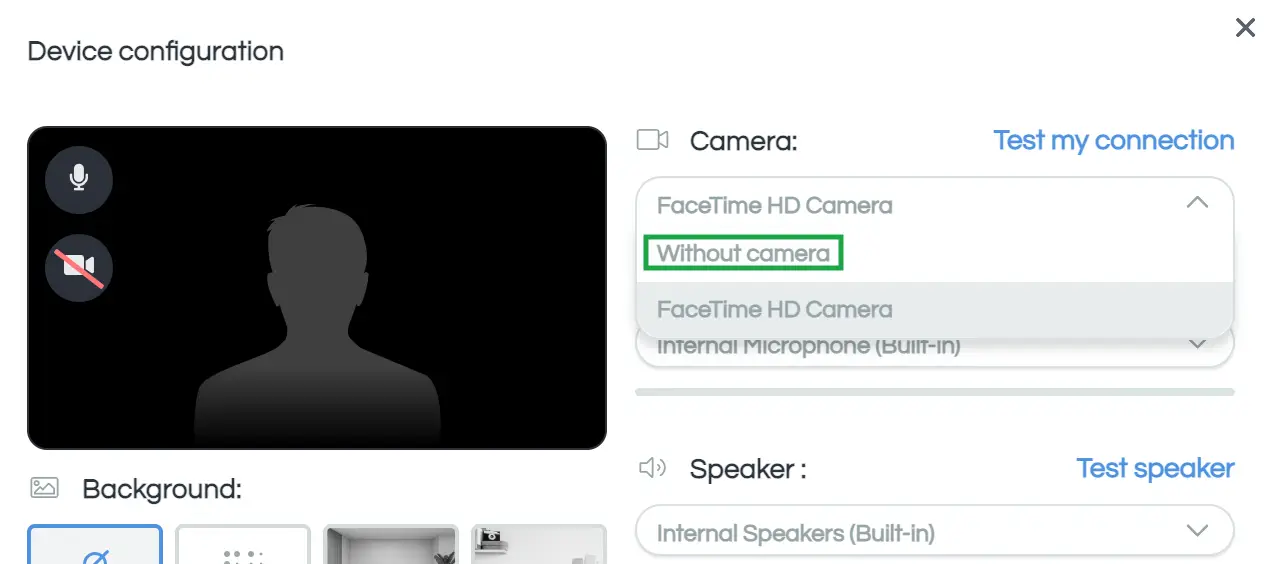 Camera Switcher
If you have any of the permissions mentioned above, you can connect multiple cameras to your Live stream and easily switch them when inside a session. To learn how to connect and switch cameras, read this article.
High-fidelity music mode
The High-fidelity music mode will disable any audio processing features and will output high-quality 256kbps audio.
You should enable it if you have a high-quality audio source.
If you don't have a professional audio input or are in a noisy environment, we recommend keeping it disabled.
To have the High-fidelity music mode available you need to check the box that says 'Show advanced options'.
Changing the video background
There are two options to change the background:
Using a third-party virtual camera. To learn more, click here.
Using the InEvent virtual backgrounds. To learn more, click here.
System check
If you are experiencing any issues or would like to run a system check, you can click Test my connection.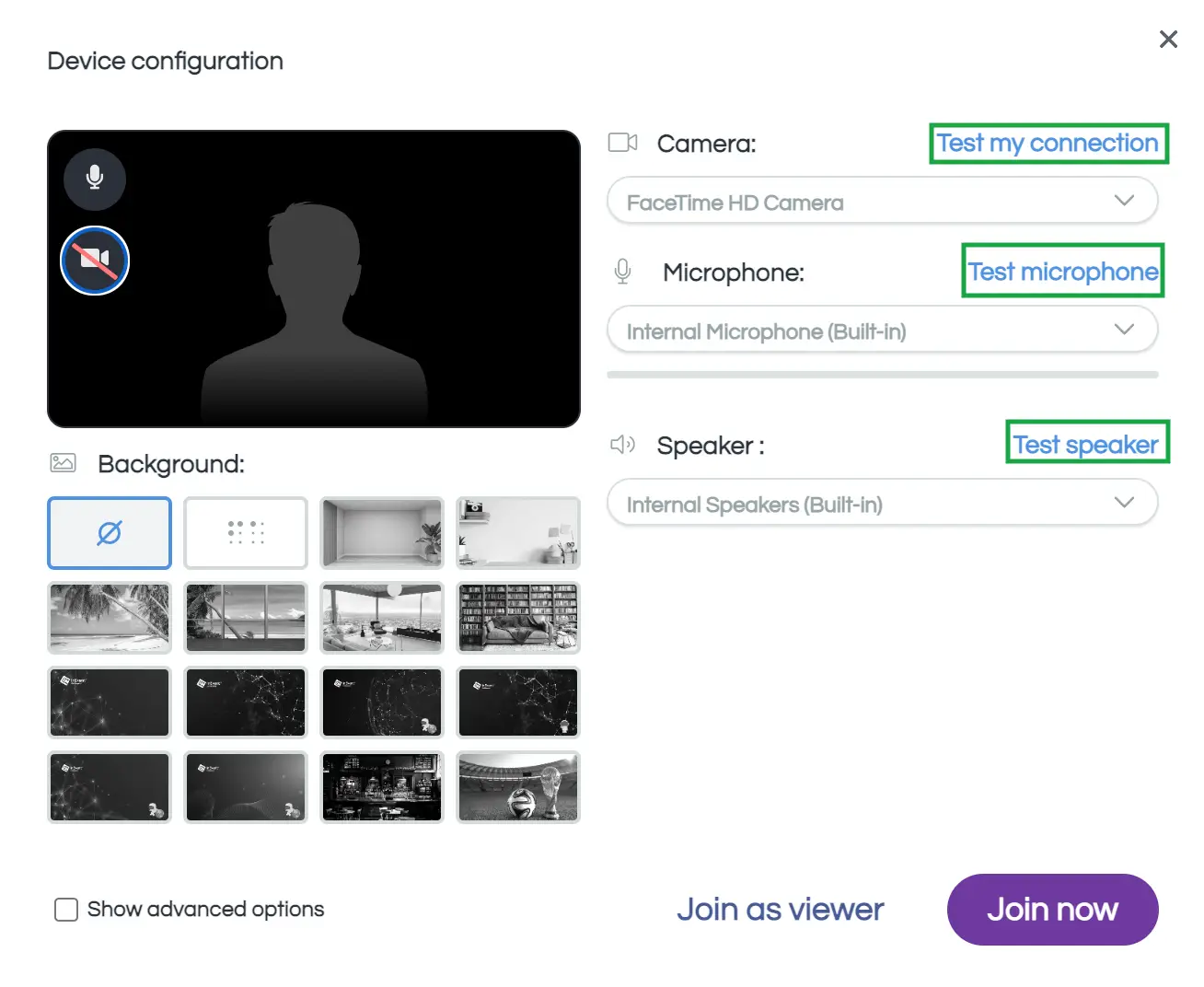 If you press Test microphone or Test speaker, you will be able to test them without opening the Virtual Lobby testing tool.
Once you click on Test my connection, you will be taken to the Virtual Lobby testing tool to perform the following tests:
Browser compatibility
Microphone
Speaker
Resolution
Connection
Before performing a connection test, please disable your AdBlocker and refresh the page.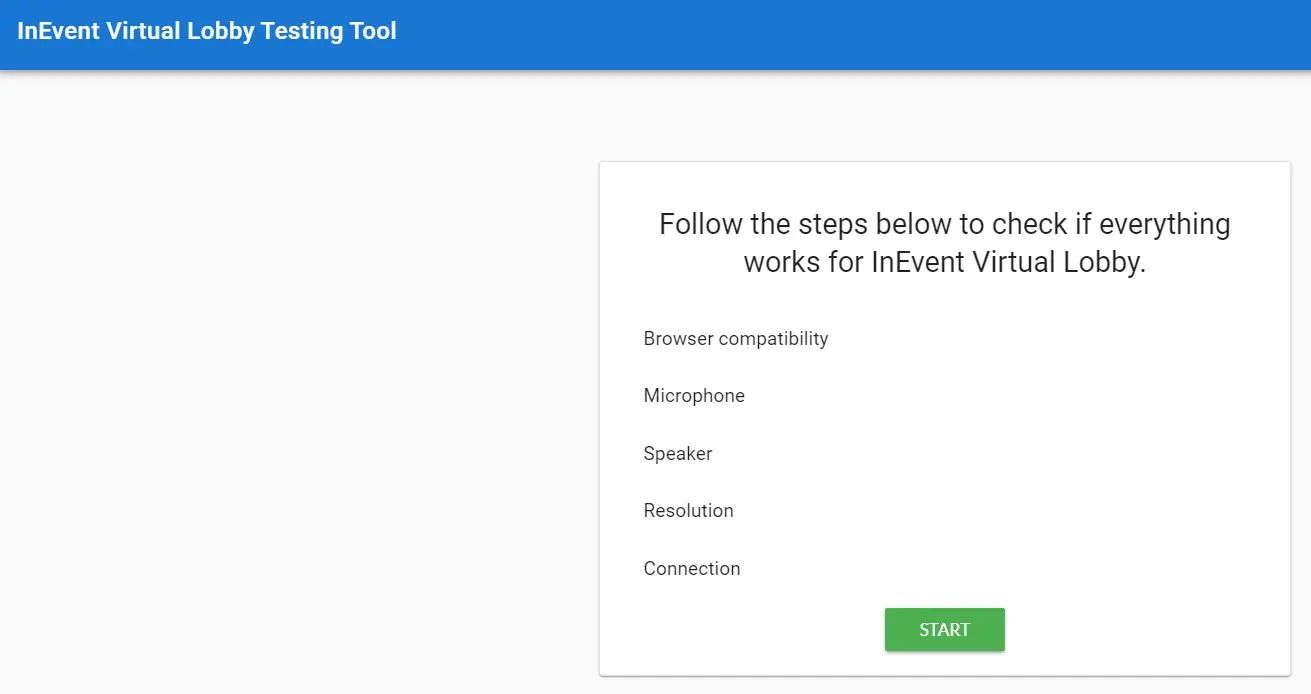 How to run a system check before the event starts?
If you, the event organizer, would like the speakers, room hosts, and attendees to run a system check before the event starts, you should go to the Virtual Lobby to retrieve the Virtual Lobby testing tool link for your event.
In order to do so, simply follow the steps as described below:
First, go to the Virtual Lobby by pressing Event > Virtual Lobby > Preview.
Then, join an activity.
A pop-up will appear for you to configure your devices, press Test my connection, as shown in the previous section.
You will be taken to the Virtual Lobby testing tool.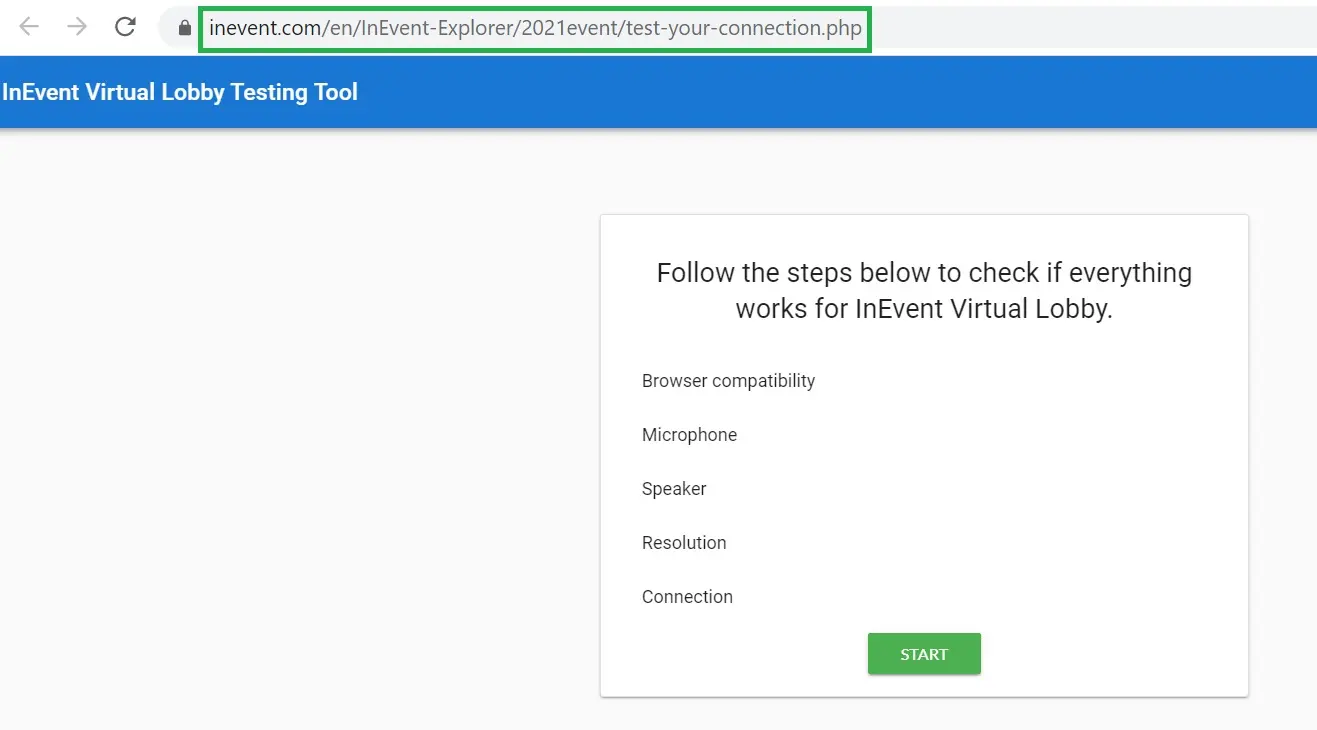 The page's URL will be similar to the one highlighted above. It should contain the company nickname and the nickname of the event: inevent.com/en/companynickname/eventsnickname/test-your-connection.php
Copy the page's URL and share it with your attendees or copy the URL shown under Event > Details > Event nickname and manually add /test-your-connection.php to it.

Now, share the URL with room hosts, speakers, and attendees so they can all run a system check before the event starts.
What if I'm facing an issue with InEvent's platform?
In case you are facing issues with InEvents platform, please have a look at our articles about troubleshooting:
If you are still experiencing an issue with the InEvent platform, you can raise an issue report to be reviewed by our Product team.
---
---