Files and documents
The Files feature allows you to upload different types of documents such as scientific articles, sponsors' catalogs and even presentations for your participants. It is possible to make files available to all attendees or link them to specific activities.
Supported formats
InEvent platform supports the upload of different file formats, such as:
Documents: "xlsx", "pdf", "ppt", "doc", "docx", "xls", "csv", "pptx";
Video: "mp4", "mov", "3gp";
Images: "gif", "jpeg", "jpg", "png";
Transcription audio files
Adding files
Adding files to the Content tab
To add a file click on Event > Content > Files > +Add file. After that, click on the green button to choose a document in your device to upload.
Once you have chosen the file click on Create.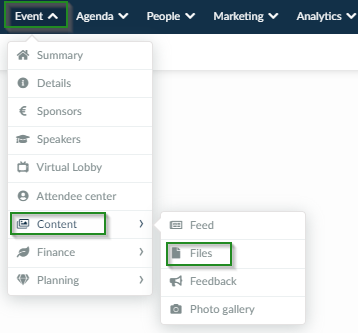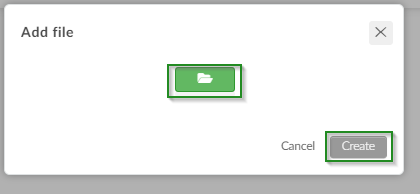 All documents in the Files tab will be available to all of your event's attendees in the app.
Adding files to an activity
To add a file to an activity, go to Agenda > Activities and then in the right side corner press Edit. Click on an activity, then on the right side select the Files tab. After that, click on the red button to choose a file to upload - once the file finishes uploading it will be visible for the attendees. Click on the End button when you finish to save changes.

It is possible to add files to an activity from within the Virtual Lobby if you are the event Admin - to learn more about this feature click here. Files are instantly available to the attendees once upload is finished.
Files in activities are limited to a total of 100MB, and 20MB in sponsors' virtual booths.
How to delete a shared file?
To delete a shared file you must go to Event > Content > Files, press the Edit button and choose the file you wish to delete. An editing tab will appear on the right hand side, containing an orange Remove button. Press End to finish editing and save changes.
Viewing files
Viewing files on a computer
Attendees can access pre-uploaded files linked to an activity to which they had enrolled to in their Agenda - click here to learn more about it.
To see all documents linked to an activity: choose the activity, click on Details and then on Files.
An attendee must be enrolled in an activity in order to view its files.
Viewing files in the app
To view a file in the app, tap on Menu > Files. For your files to be displayed in this tab, they should be added to the platform via Event > Content > Files as mentioned above.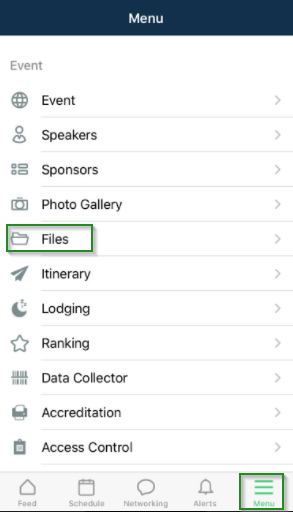 Viewing files in an activity using the app
Tap the Schedule tab in the app, choose an activity and press Details > Files.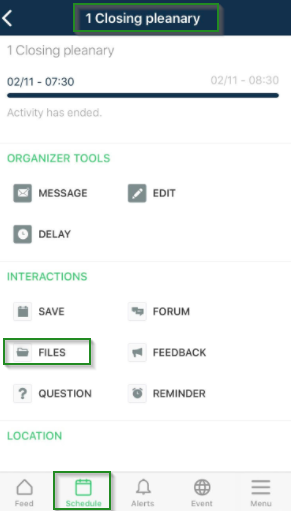 Can I download the file without internet access?
To download you need to be connected to the internet. However, once downloaded, you no longer need to be connected to the network to access it
---
---