Multi-Events
The platform allows you to create and manage multiple events, with different permissions, sorted in a list separated by dates, names, and visibility. Each event is separated from the other and can be navigated by each participant independently, which means that access to an event does not necessarily give access to another event.
This article intends to show you how to create, edit and manage your events through the InEvent platform.
Who can create events?
Company administrators can create, access, and delete events, as well as create templates, add other company admins, set up the features for all events, and much more.
Besides this option, booking users can use the event booking forms to request the creation of an event.
How do I create an event?
You must click on Events > + New event, complete Event's name field, and then click on Create button. You can choose if your event will have a pre-defined template.

Creating an event will consume one credit, as the creator will be automatically added as an admin in the attendee list. Besides that, 
creating a template event
 will also consume one credit.
Click here
to learn more about registration credits.
Additional settings
Instead of simply creating an event by just defining its name, you can also use the additional settings of the event.
By clicking on Additional settings when creating an event, you'll be able to define not only its name, but also to add information such as:
Basic information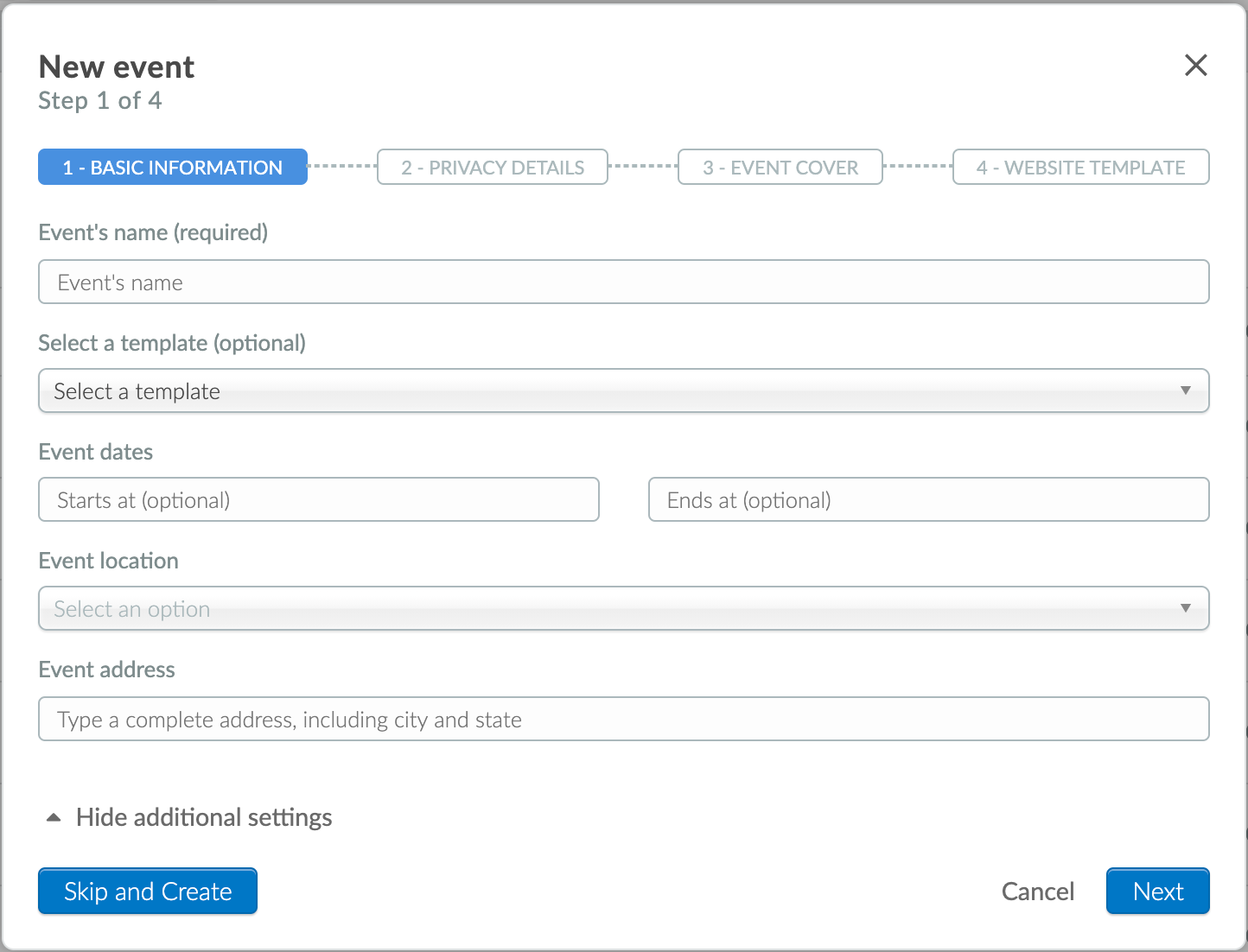 Privacy details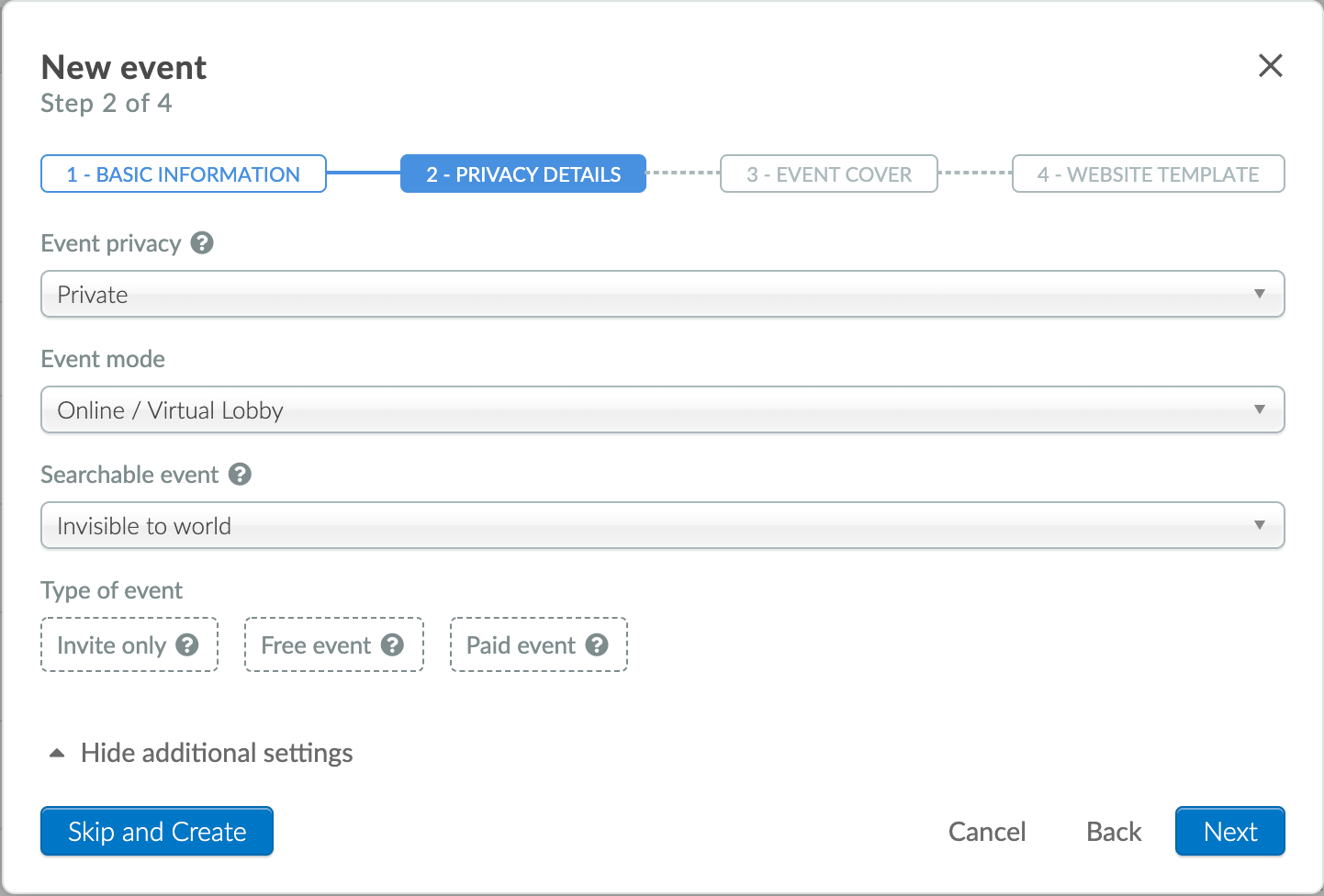 Event cover

Website Template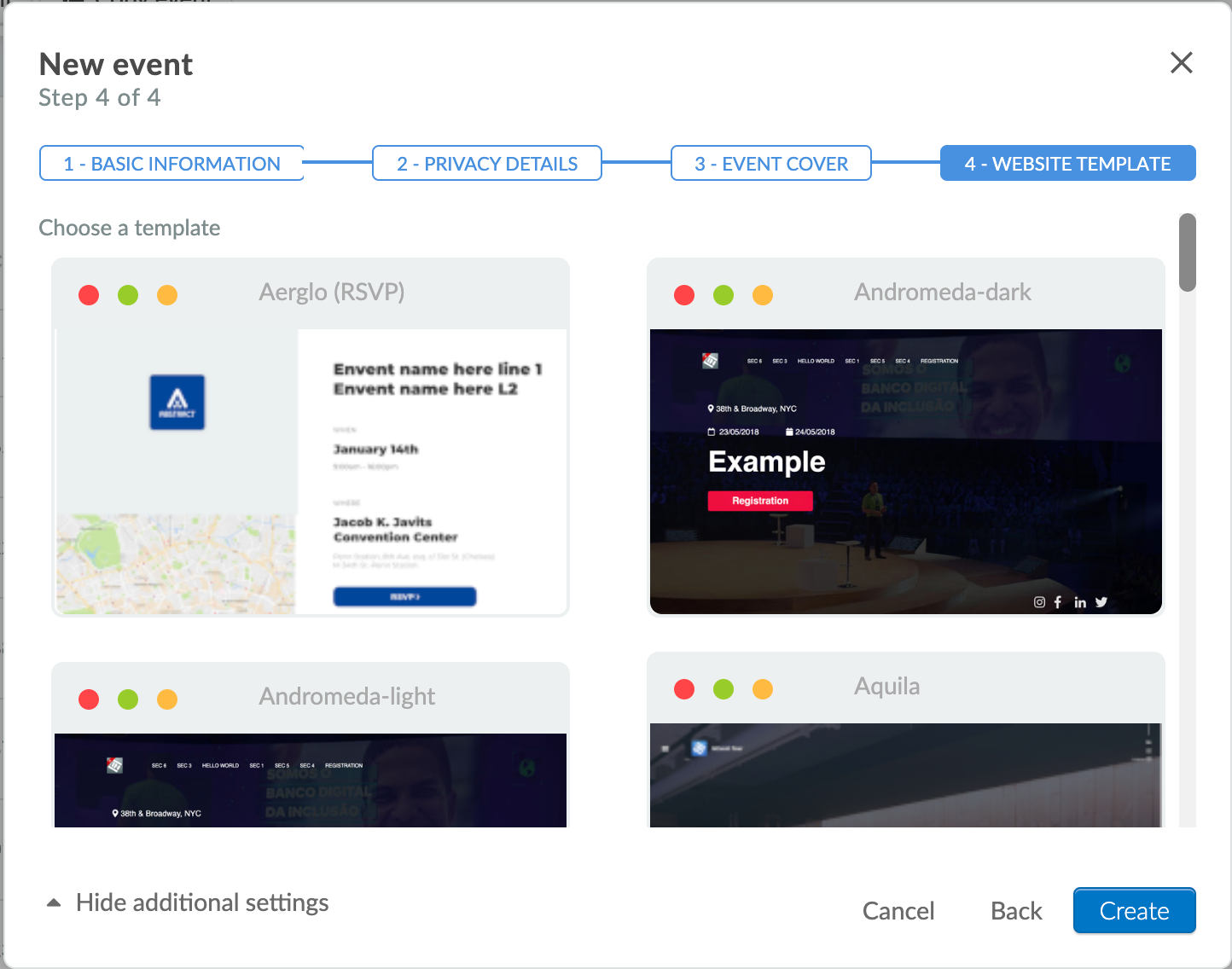 You customize your event's design and colors to reflect your company's colors. Check
White Label
for more information. 
Where can I find the events I have created?
In the events screen, you can see a complete list of all events that have already been created in your Company. You can view the number of attendees / Capacity, and also the number of people on the waitlist of each event, as well as dates, and other information.

In addition, you can also change the way the list of events is displayed, including the cover image selected for each event. To do this click on the icons on the top right corner to change the event's list format.

How do I create a template?
Creating event templates is a great way to save time when creating the same multiple events. Here you can set your overall layout for your event and then use the template to duplicate certain events of the same structure. Click here for further information.
How do I archive events?
You can archive events, which allows you to free up your event list page without having to delete old events. To archive an event, click on the Edit button in the top right corner, tick the check box of the event you wish to archive, then click on the Archive button in the top right corner.

To view the archived events, simply click on the Archived tab.

You can un-archive an event, by going to the archived tab, pressing the Edit button, checking the box of the event you wish to un-archive, and then pressing the Unarchive events button. The event will be returned to the events tab.
How do I search for events?
You can search for events, by clicking on Events > Search (upper right corner). It is possible to specify your search by Name, City, In Person, Public, Visible.


How can I filter events?
To filter your events, press Events on the left side, then in the top right corner press the Filter button.

Click the dropdown box and choose from the following filters: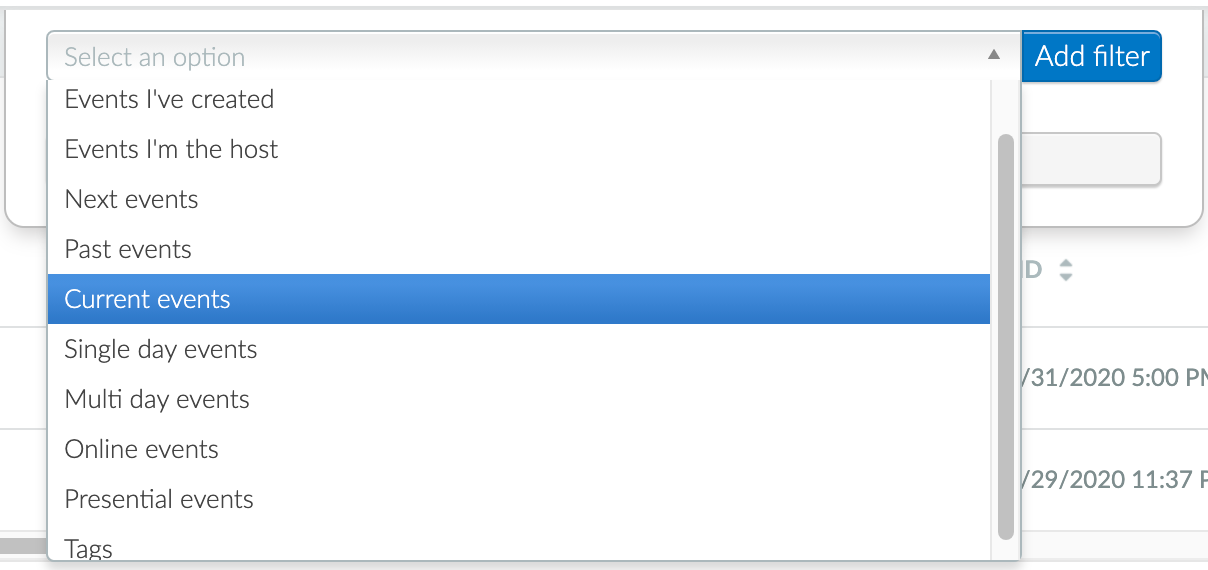 You can choose a filter or multiple filters by selecting the filter(s) and pressing the blue + Add filter button.

To remove a filter, simply click on the red trash icon on the right side of the filter you wish to remove as highlighted in the image below:

How do I delete an event?
To delete an event, after clicking on Edit, select the event checkbox you wish to remove, and then click on Remove > End.

How do I change the company tools?
To define which tools will be available to all of your events, go to Account > Tools > Edit. According to your needs, select or unselect tools checkboxes and click on End.
Changes in the company tools will reflect in all events under that company.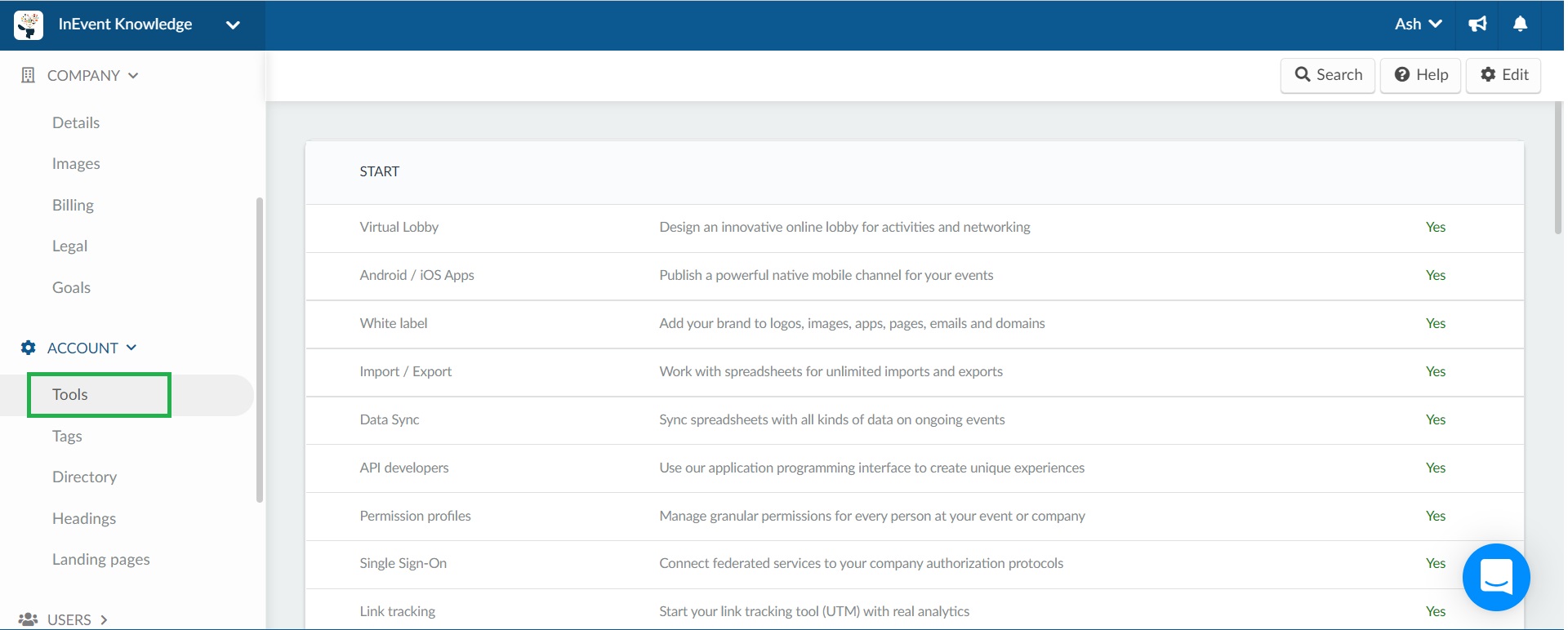 You can also change the tools available for a specific event by changing the
event tools
.
---
---