Live Analytics
Track various types of information and controls in real-time. This feature presents a variety of information so that you can carry out your decision-making and process improvement. This functionality also makes it possible to analyse ROI, post-event information, and more!
For further information on the Analytics menu and all of its options, click here.
How do I enable/disable this option?
First of all, you should check if this functionality is enabled to be consulted. To do this, access the company level, and go to Account > Tools. Then search for "Analytics", and under Compliance section, click on Edit > mark the checkbox to enable it, or uncheck the box to disable it > click on End.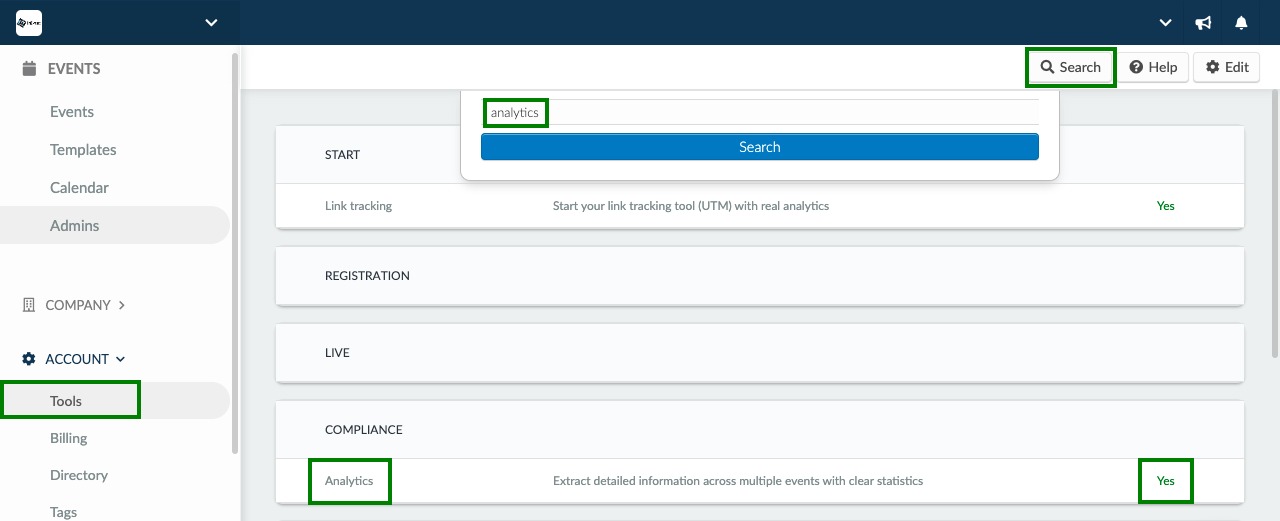 How do I access the Live Dashboard?
To access your event information click Analytics and then select Live Dashboard.
See the app accesses during the event, beacons information, and activity-related questions.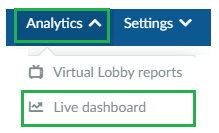 Event Screen Overview
The Event analytics summary screen will provide you a summary of live and general attendee data.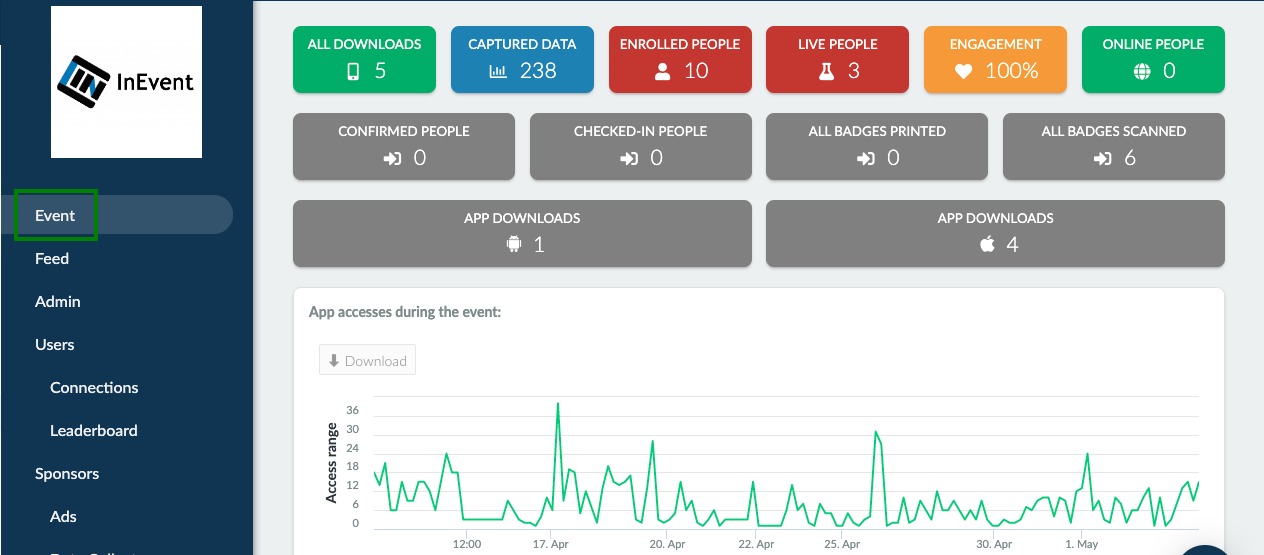 The fields you will see in the summary section are:
All Downloads - the total amount of app downloads.
Captured Date - the total number of data points captured from users.
Enrolled Peopled - how many people are enrolled in the event.
Live People - how many are currently logged into the App.
Engagement - relates the number of enrolled people and app engagement.
Online People - number of logged-in users accessing the website right now.
Confirmed People - attendees that have confirmed they will attend the event.
Checked-In People - attendees that are currently checked-in to the event using accreditation (ie. QR Code or NFC) and have not checked-out.
All badges printed - the number of physical badges that have been printed.
All badges scanned - the number of QR codes scanned.
App download - number of app downloads by device type (iOS or Android).
App access during the event - number of times attendees accessed the event at specific points of time.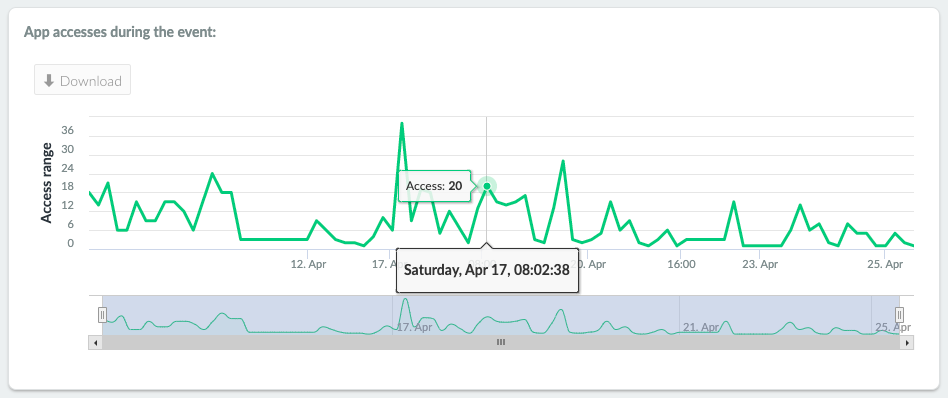 Email statistics
Email statistics provide information about your:
Quota - number of emails available to send.
Sent - number of emails sent.
Opened - number of emails opened by attendees or leads.
Link clicks - number of links clicked within opened emails.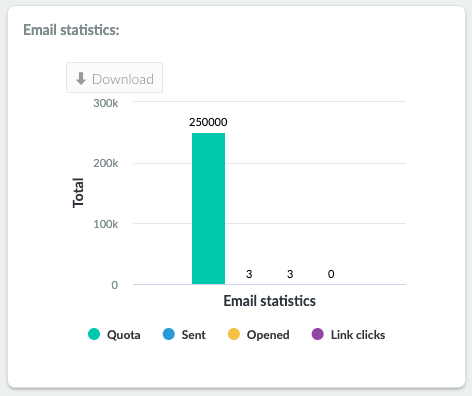 Email bounces / Spam Complaints
It provides information about:
Clean emails - emails delivered without issue.
Hard bounces - emails that were not able to be delivered due to incorrect addresses or non-existent domains.
Spam complaints - emails marked as spam by the receiving party or their email provider or spam solution.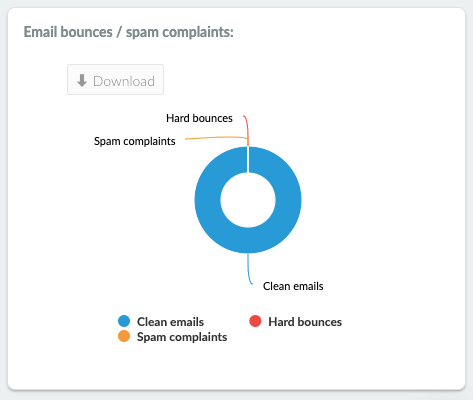 Data captured
Active - the user provides data
Passive - user data captured automatically such as operating system data of the phone
Screen changes - the number of time users interacts by changing screens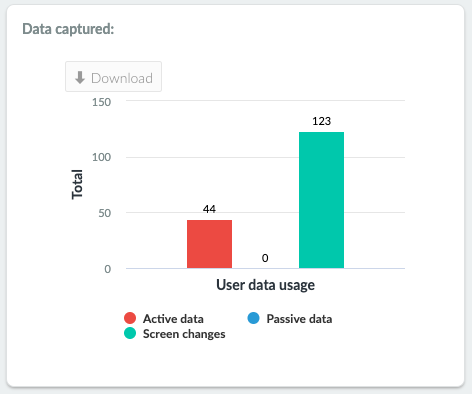 Origin of access
It will show where the traffic came from, i.e. Facebook, LinkedIn, or email.
Usage of tags
Tag data points.
Distribution of privacy between users
Users that have chosen to note share their profiles with other users (private accounts) and public accounts (sharing with other users of the event).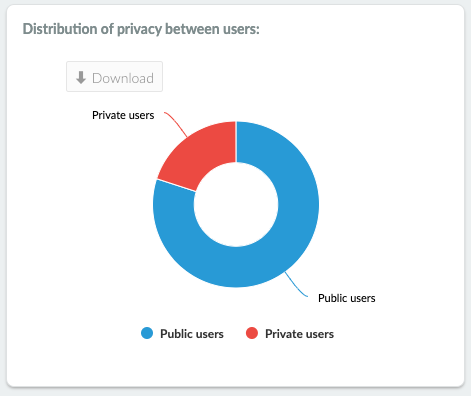 Feedback submitted
Attendee generated feedback.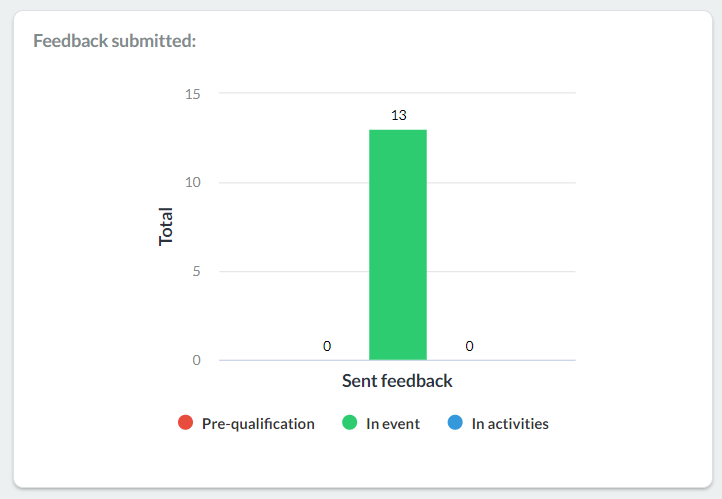 Social Messages Sent
Direct Messages - private messages sent to attendees
Activity announcements - messages sent in activities
List announcements - messages sent to lists
General announcements - messages to all attendees
Tweets with a hashtag - number of tweets with the registered hashtag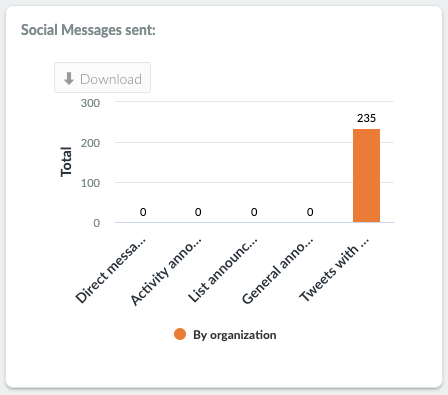 Questions sent
The number of questions sent by attendees.
General engagement of the app during the event
This value is calculated based on past reports and on our successful cases. The engagement is calculated as: Collected data / Number of users.
The maximum engagement occurs when there are 90 or more data points collected per user.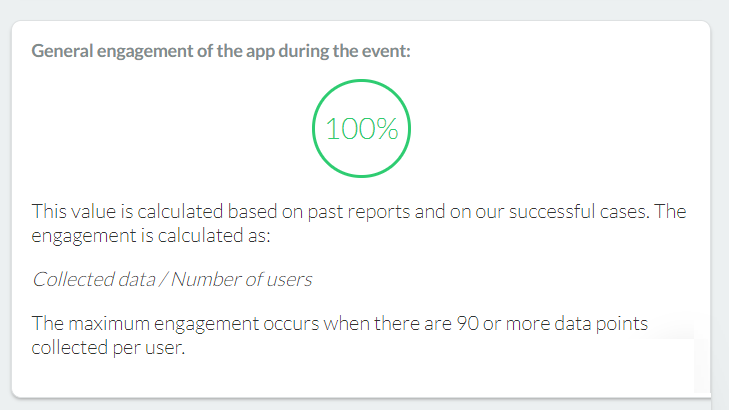 Live Dashboard Menu
To navigate through the Analytics/Reports use the menu on the left side as outlined in the image below.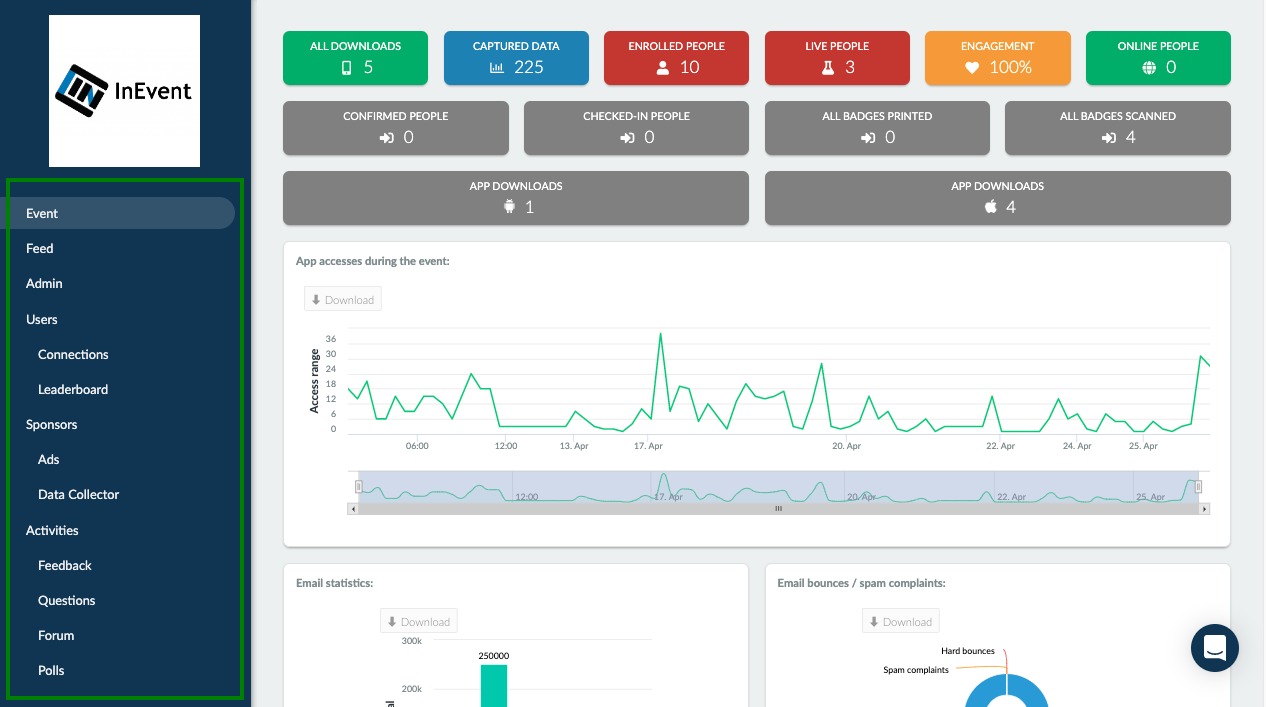 Event - Shows you an overall analytic view of your event.
Feed - Shows the posts and overall engagement in the event.
Admin - Shows data from all admins and their individual ranking.
Users - Shows data from all users and their interactions.

Connections - Spider web connection screen that shows the interactions between attendees.
Leaderboard - Shows ranking of the most engaged attendees, according to their interaction in the event.

Sponsors - Shows an overview of views and clicks on sponsors.

Ads - Shows the number of views and clicks each Advertisement has received.
Data Collector - Shows the data collected on each sponsor.

Activities - Shows a statistical overview of interactions in the activities.

Feedback - Shows feedback answers in each activity.
Questions - Shows questions in each activity.
Forum - Shows comments in each activity.
Polls - Show polls answers in each activity.
Feed screen overview
Information regarding the feed in the event app: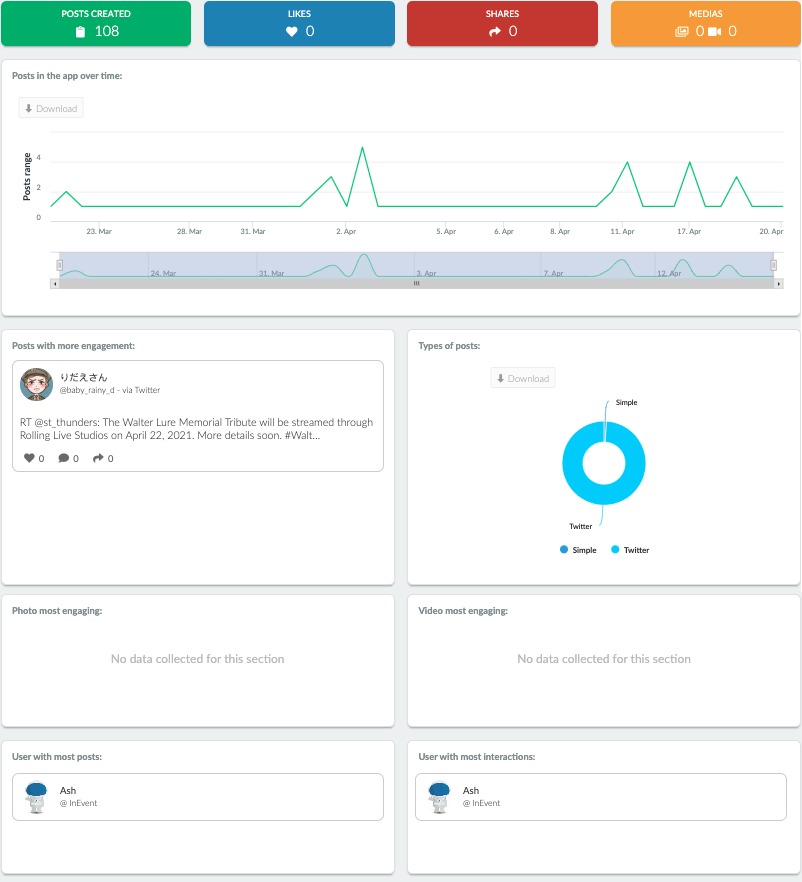 Posts created - How many posts created by attendees and admin
Likes - How many likes given on all posts
Shares - How many posts have been shared
Medias - How many images, gifs, or videos have been uploaded to the feed.
Posts with more engagement.
Types of posts chart.
Photo most engaging.
Video most engaging.
User with most posts.
User with most interactions.
Admin screen overview
Here you can track your administrators, view the most visited pages, and which administrator has engaged the most.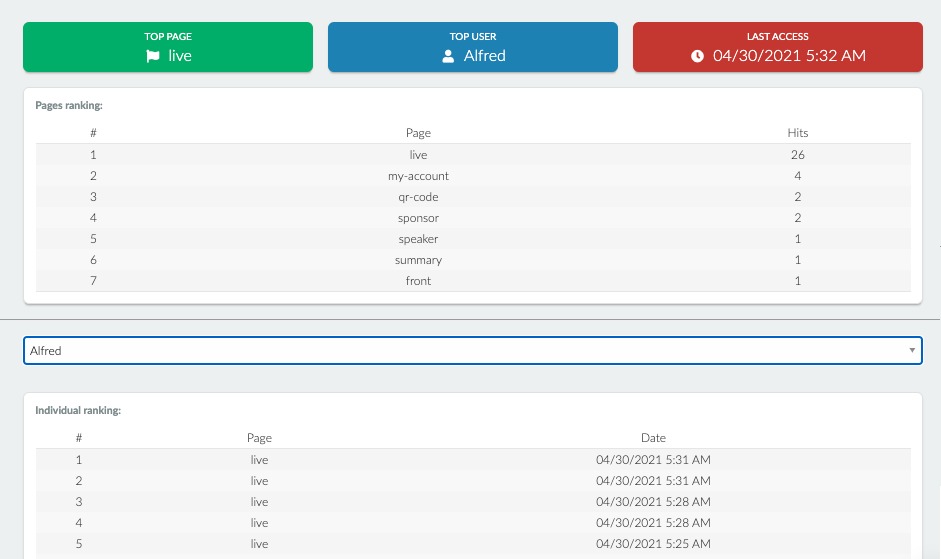 To track the administrators, click on Data from all admins then choose the administrators name from the drop-down list to view their page navigation throughout the platform, accompanied by dates & times.

Users screen overview
In the users' screen you have an overall look at the networking feature, previewing the stats of synchronized contacts, messages exchanged and total favorites made.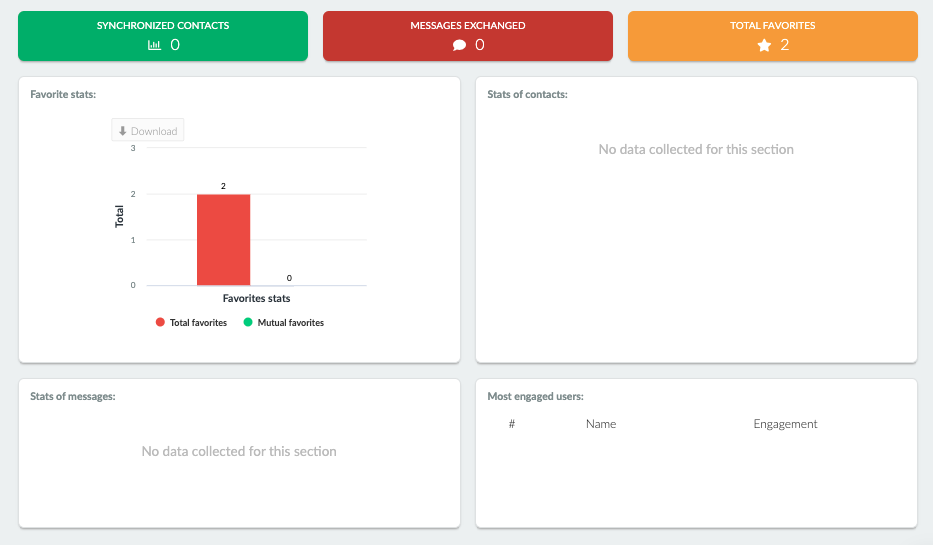 You can view bar charts presenting favorite stats, contact stats, and most engaged users.
The Stats of messages show:
Sent messages
Seen messages
mutual contact messages
mutual favorites messages
Connection screen overview
Once you interact with a fellow attendee using the networking tab on your event app, they will become a connection. The administrator has the ability to view a spider web connection screen to see an overlook of how many connections were made at their event.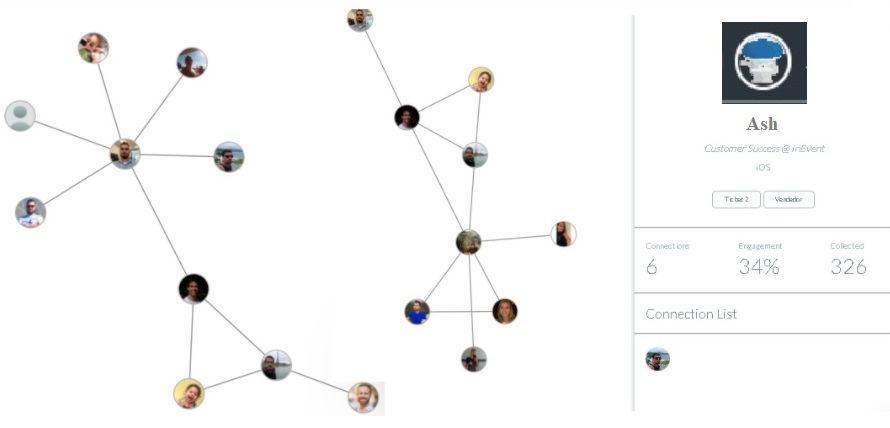 You can click on each attendee to open the sidebar menu, which lists the number of attendees they have connected with.
Leaderboard screen overview
The leader board shows the most engaged attendees using your event app. To view each attendees navigated pages, click on Data from all users and choose the attendees' name from the drop-down box.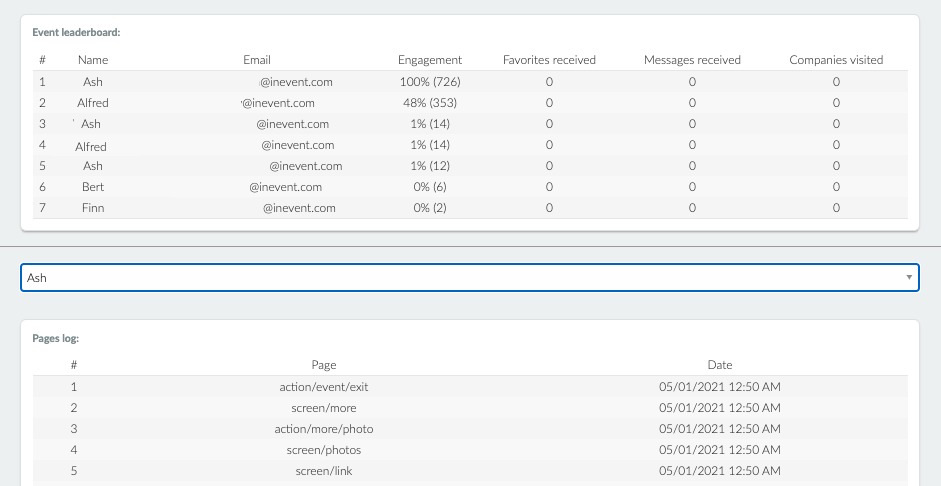 Sponsors screen overview
Once you have set up sponsors in your event, you can view the statistics here, to understand more about sponsors Click Here
You can create advertisements for your sponsors which will be available in the app, you can also link the sponsor profile to their website. These statistics will help you understand the number of clicks and views each sponsor has received.

Click on Data from all sponsors and choose the sponsor from the dropdown bar to view individual statistics.
Ads
Click on Ads to view the number of views and clicks each Advertisement has received. Select the Sponsor clicking on "Data from all sponsors:

Data Collector screen overview
Here you can see the data collected by the each sponsor using the Data collector tool. Click Here to learn more about the Data collector.

Activities screen overview
The Activities screen gives you a statistical overview of interactions within your activities such as questions, feedback, comments, and polls.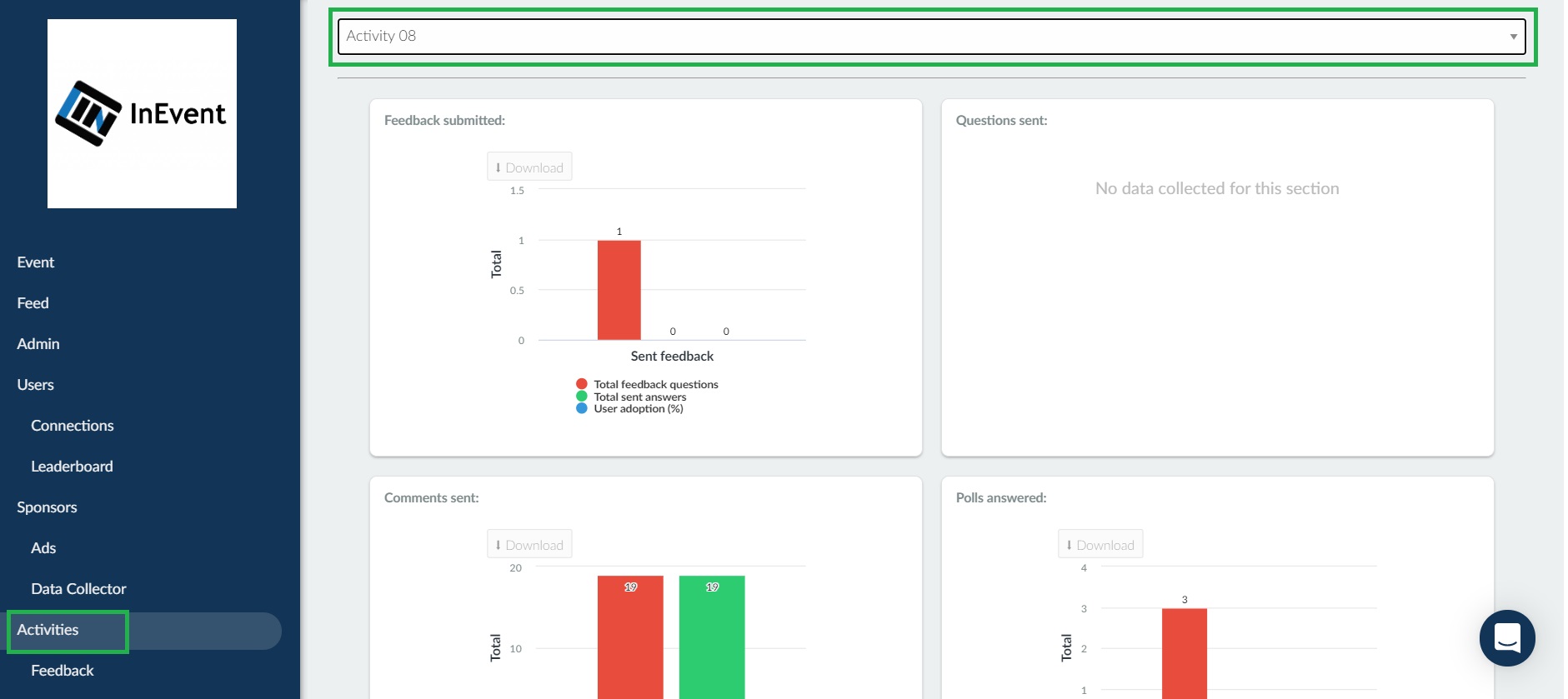 Click on Data from all activities and choose an activity to see the individual statistics for each activity.
Using the menu to the left, you can then browse through the interactions:
Feedback
Questions
Forum
Polls
Click on an interaction, then at the top of the screen, choose the activity to see the interaction performed by each user.
Reports
You can download the generated reports by pressing the Download button in the left top corner of your chart.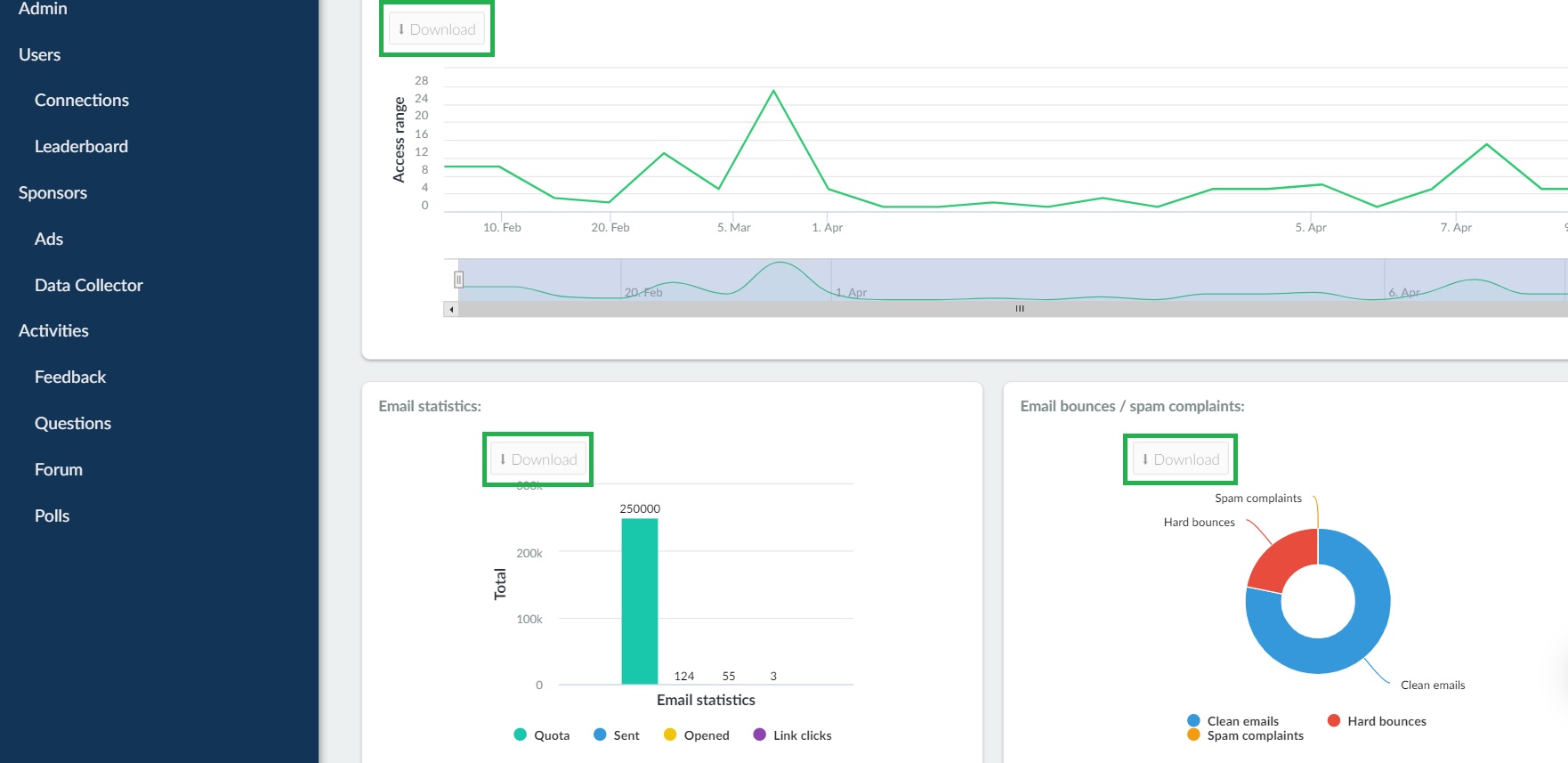 All charts will be downloaded as pictures. When downloading graphic widgets, the picture will show exactly what you are seeing on the screen. The file will be saved in your default download location.
---
---