Set Event Tools
Set Event Tools
Choose the tools you will be using in each event you are hosting.
Choose your Tools
Click on SETTINGS > TOOLS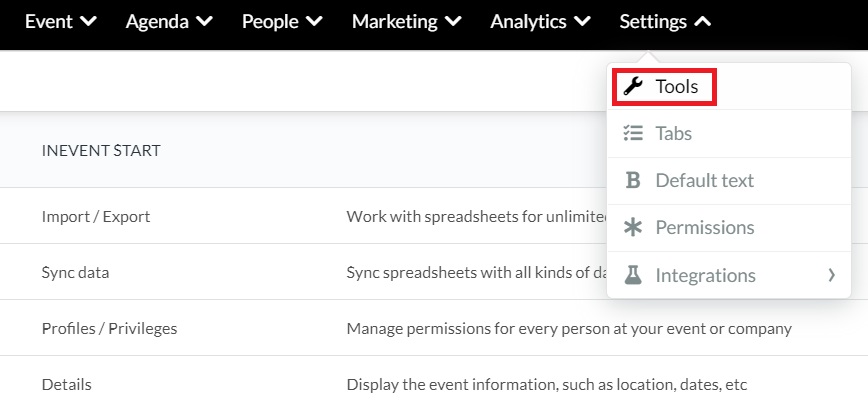 Click on EDIT, then check or uncheck the feature box selected and click END.

Control Section
There are some categories that enables some features, even though the features are not established in your contract.
An example: Control Category. Please see the tools enabled:
Admission e-mail: Authorizes the sending of e-mail confirming the pre-registration of the person in the event.
Confirmation email: Authorizes the sending of e-mail confirming the person's entry into the event.
Postsfrom Attendees: Disable if you want to moderate all Attendees posts in the internal feed of the event.
Posts on Social Networks:Disable if you want to moderate the posts of Attendees linked to social networks.
Comments from the Attendees: Leave it as "no" if you want to moderate the Attendees comments on the activities.
Questions of Attendees: If disabled, all questions submitted by the Attendees are approved by the admin.
Gamification Missions: Automatic confirmation of the missions of Attendees in any gamification.
Ticket Requirement: Defines whether tickets are a requirement to sign up for this event.If tickets and invitations are disabled, anyone can register for the event during valid registration dates.
Approval Requirement: It defines if the administrator must approve the enrollment of the Attendees.If tickets are enabled, Attendees will automatically be approved when their tickets are purchased and validated.
Invitation Requirement: Sets that only guests who have their mail in the Invitation List can sign up for the event and access the application.
Waitlist: Set whether guests can be added to the event waitlist when it reaches its full capacity.Guests will automatically be added to the event's admission list and can be approved by administrators. 
RSVP Form: Create a quick practical form of yes or no for your attendees.
Edits on form: Allow edits to occur after the form has been submitted.
Quick form: Allows people to reply only to RSVP and automatically terminate their registration.
Allow guest: Allow people to bring a guest during the event
Activities on form: Add an extra step during the registration form to select activities
Please note: Invite Requirement will always be enabled as a standard. If you do not wish to use the tool, you must unable. If your event does not have an
Invitation List
, unable it as well. If not, your attendees will not be able to access the app.
Block Section
For this category, there are tools that blocks the attendee from modifying their profile, chats, posting or editing the agenda.
Profile lock - Restrict access to all the tools with personal data, such as networking and profile editing
Password lock: Block passwords on relevant channels, such as forms, emails, websites or apps.
Logout lock: Block attendees from changing accounts or logging out.
Email lock: Block email from attendees in networking interactions
Telephone lock: Lock the phone of attendees, including calls or messages through WhatsApp.
Social network lock: Block attendees in networking interactions via Facebook, LinkedIn and Twitter.
Schedule lock: Disable access to personalize or edit the event personal agenda.
Sharing lock: Block attendees from sharing content or event information.
Favorite lock: Does not allow any favorites to be added by attendees.
Chat lock: Block any conversation between attendees.
Full rooms lock: Hide rooms from list when they have no more vacancies.
Extra Section
This category refers to features involving agenda, importing and exporting spreadsheets and access log.
Foreign support:Add custom details relevant to organizations outside the United States.
Promote InEvent: Allow our brand to be advertised on minimalist sections
Excel Sheets with Activities:Export excel sheets with activities (must have import/export feature enabled).
Two-tab Schedule: Enable My Schedule and General Schedule tabs (customizable if custom tabs is enabled).
Concurrent Schedule: Enable attendees to enroll on activities which occur simultaneously. By default one person cannot enroll on sessions which dates are overlapping.
Multiple Rooms: Enable support for a attendee to be hosted at multiple lodgings. When enabled, the mobile app lodging will be disabled due to screen space constrains.
Offline Notification: Allow attendees to receive offline feedbacks notifications while using the mobile app. Once enabled it may take up to one week before the tool is disabled on all devices.
Short QR Codes: Create 14 digits number-only QR Codes (this will result in a loss of security). Such feature is useful for systems which can read short strings only.
Access log: When enabled, access control acts as access log. This means that it will only validate the QR Code, and not the entry status of the participant.
Check-in after printing or syncing NFC: Checks-in person after their badge is printed or their NFC tag is synced. Useful for events that everyone printing badges or syncing NFC are essentially doing their check-in as well.
Date on Passbook: Should show dates on Passbook
Count guests as attendees: Count registration guests as if they were regular attendees (This will not use a credit for guests)
Guests email: Should ask email from guests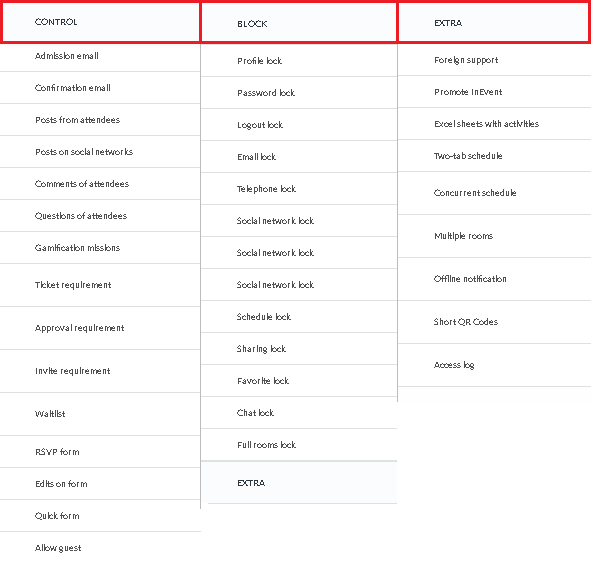 This article is regarding tools for your individual events. To learn about setting the tools at company level, click here:
Company Tools
---
How Did We Do?
---